There's a number of players across the Big 12 that are going to be highly influential in the events of 2020 that are currently, in my estimation, flying under the radar. Of course, once I write up this bit then they won't be overlooked much longer…
I've got my eye on West Virginia as a potential dark horse contender in the Big 12 next season. They've got Jarrett Doege back at QB after he flashed strong potential at the end of 2019 along with most every WR that showed potential a year ago. All their young interior OL that were blooded in 2019 return and the big question mark is offensive tackle, where they took in a couple of JUCOs. That position could definitely sink them, but sometimes people talk about West Virginia as though Dana Holgorsen left a smoking crater rather than a roster.
The issue for Holgorsen in 2020 wasn't going to be that there was zero talent on the roster, just that they'd be in a recovery cycle because all of their most talented components to the 2018 offense were moving on and the next generation would have to take over all at once. Also, you know he was going to end up filling a bunch of those holes with transfers, just as Neal Brown did in his own fashion.
Defense is where West Virginia showed unique promise in 2019 though and where they could be quite good in 2020. They got a lot of mileage out of setting up the Stills bros (Dante and Darius) a year ago and next year they are adding another big piece to the puzzle.
VanDarius Cowan
Cowan was once a 4-star Alabama recruit that was in line to be the next great OLB for Nick Saban and the Tide.
Then he punched out some dude at a bar, was charged with third degree assault, and was kicked off the team by Saban. It's curious to me that Saban would permanently remove him for an incident like that, he's had guys get caught for fairly serious incidents before and not removed them from the team. Perhaps Cowan was deemed expendable, maybe on Saban's chart this was a less forgivable offense, I don't know the details.
At any rate, he sat out a year and transferred into Holgorsen's halfway house for talented transfers. Once Brown took over Cowan was an obvious fit for West Virginia's "bandit" position. That's a DE/OLB hybrid spot that wasn't necessarily stocked with talent by the previous DC Tony Gibson who emphasized a 3-3-5 stack system and hunted for 5-11, 220 pound LBs that could run and play multiple roles rather than NFL-sized pass-rushers.
Cowan ended up playing in just two games last year before hurting his knee against Iowa State. The Texas Longhorns were the lucky team that got to face him when he was ready to play heavily in their package but hadn't yet been injured. He had four tackles in that one, including this play: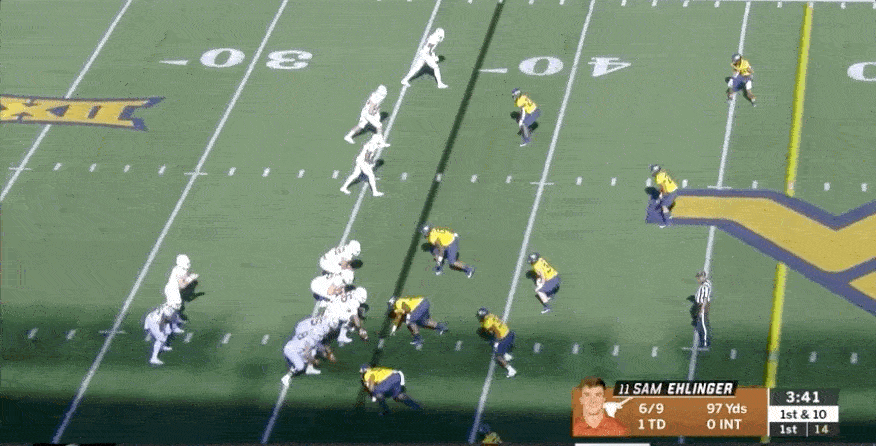 This is a six man/half slide protection by Texas that West Virginia ironically abuses with what Todd Orlando would label a "rover" insert blitz in the Texas playbook.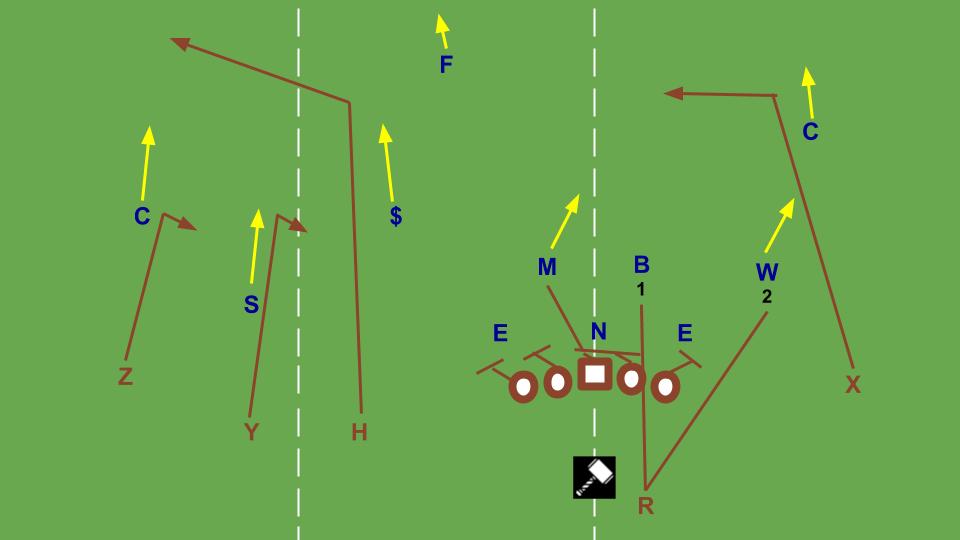 In that protection scheme the Texas OL slides over to handle that field DE and nose with double teams and the center keeps an eye on the middle linebacker if he blitzes. On the backside the right tackle worries about the DE while the RB is responsible for blitz pickup, prioritizing the inside guy first, then the OLB. The field DE is Jeffery Pooler, not really a big problem, the nose and boundary DE are both Stills bros. Interestingly, the Mountaineers play their weakside linebacker out in the boundary flat (match 3 coverage) and align the bandit more like a weakside linebacker.
That inversion should have maybe tipped Texas off but this was the first game that Cowan had played in so they may not have had a scouting report to tell them not to leave a RB in charge of blocking him on the blitz. But VanDarius Cowan is a 6-4, 241 pounder that once ran a 4.65 40 in the SPARQ so it doesn't work out terribly well for the Longhorns.
Cowan runs over Keaontay Ingram (6-0, 220 pounds) and then catches Sam Ehlinger while he's trying to find a way to put a move on Shea Campbell in space. Sack for West Virginia, ultimately his only one of the season as he'd tear his knee the following week against Iowa State. Ingram was shaken up on this play and had to head to the bench.
VanDarius Cowan in the 2020 Mountaineer defense
That's just one play from 2019, but it reveals something that's long been suspected of Cowan. Namely that he's a special talent because of his size and explosiveness that could be real trouble rushing the passer.
That's not all though, consider Cowan's deployment blitzing from different angles in the specific West Virginia defensive scheme. The Mountaineers already have 6-1, 282 pound Darius Stills (six sacks in 2019) and 6-3, 275 pound Dante Stills (eight sacks in 2019) for opponents to worry about up front. Both of those guys are pretty good beating OL in isolation, slanting and stunting, and working at different angles. It's a lot to worry about before adding a 240 pounder with NFL measurables lining up off the ball and charging behind them from varied angles.
The other LBs for West Virginia, Dylan Tonkery and Josh Chandler, are both small and rangy in coverage and will likely move around to suit Cowan getting favorable matchups and angles like he did in our example above.
The main concern in Morgantown is at cornerback where Keith Washington, Josh Norwood, and Hakeem Bailey are all departing. Safety should be fine, nickel Tykee Smith and safety Kerry Martin were both good last year as freshmen. At cornerback they're probably a little ahead of where you'd expect because another sophomore named Nicktroy Fortune played a lot last year and a former 4-star JUCO named Dreshun Miller is back with two years of eligibility after redshirting in 2019 with an injury.
DC Vic Koenning's scheme has been largely oriented around playing some quarters and match 3 schemes from three-down fronts that allow them to play the cornerbacks almost like safeties while covering underneath with linebackers dropping from different spots. The weakside linebacker (Josh Chandler when healthy) is often used like above, dropping into the boundary flat, while the featured pass-rusher hangs out closer to the box in a fashion somewhat akin to Oklahoma State's scheme with Jim Knowles.
It's basically an 8-3 scheme but with a specialist hovering around the box at LB that will tend to rush the passer. Todd Orlando tried to do this at Texas but struggled to find an ILB that could rush the passer effectively while still serving as an ILB and he didn't show as much flexibility as Koenning or Knowles to set them up to serve primarily as a rusher. Brent Venables used to do this with guys like Jeremy Beal but typically only on passing downs. Now it's becoming a base defense for teams with the star pass-rusher a versatile LB that can hit from different angles rather than a pure arc-runner always coming off the blindside edge.
So Koenning is well aware of the best practices for using three-down structures to move coverages around and keep defenders in position to take away dangerous vertical combinations. He also knows how to deploy pass-rushing linebackers to create a base, four-man rush. In 2020 he'll need to get the new deep defenders up to speed in his system, but with Cowan joining the Stills bros he'll also have arguably the best four-man rush personnel in the entire conference. How much analysis of the 2020 Big 12 is factoring in that potential for the Mountaineers?
********
Read up on the history of the Big 12 conference in my book!