If you told me a year or two ago that Kenneth Murray was on the verge of leaving Oklahoma early in order to be drafted by the second round I would have been surprised, to say the least. He's always been a great athlete and a willing student of the game, but the Mike Stoops gap control 3-4 scheme didn't make the most of his twitch.
Then Alex Grinch took over, evolved his position of middle linebacker into a spread-busting attack piece, and Murray made 102 tackles, 17 TFL, four sacks, four pass deflections, and might have ended Charlie Brewer's career. He went on to the combine and measured at 6-2, 241 while running a 4.52 40 and posting a 38″ vertical leap.
A re-occurring theme in today's Big 12 is what I once dubbed (per the recommendation of current Tyler Lee HS HC Todd Willis), the 8-3 defense. Everyone else is calling it the 3-3-5 but things are changing now and "8-3" is arguably the better nomenclature. The idea is that everything goes outside-in, starting with the coverage and eight off-ball defenders, putting less emphasis on controlling the point of attack and more on having the flexibility to send numbers where they're needed.
Anyways, within that structure there's less of an emphasis on traditional edge-rushers and more on having multiple athletes who can get after it and fielding linebackers that can blast into the backfield with suddenness and power. Guys like Kenneth Murray, who is now leaving Oklahoma for the NFL.
Alex Grinch has already made several moves to try and get explosiveness and athleticism at LB, including spinning down safeties Jamal Morris and Robert Barnes:
For 2020 the plan appears to be to slide will linebacker DaShaun White over into Murray's position. White spent 2019 playing a pretty different role than Murray, reflected in his stats of 51 tackles, 3.5 TFL, and one sack.
Oklahoma's 8-3 defense
The traditional 3-4 scheme was designed attack offenses with the threat of a fast edge-rusher coming off either side, mastered most effectively the Dick LeBeau's zone blitz schemes at Pittsburgh. Spread offenses murdered that system because 250 pound OLBs that had to split their time between covering slot receivers or rushing the edge, rather than covering TEs or rushing the edge.
Here's the Mike Stoops 3-4 against the spread, which they utilized only when they had Eric Striker to play the sam LB spot.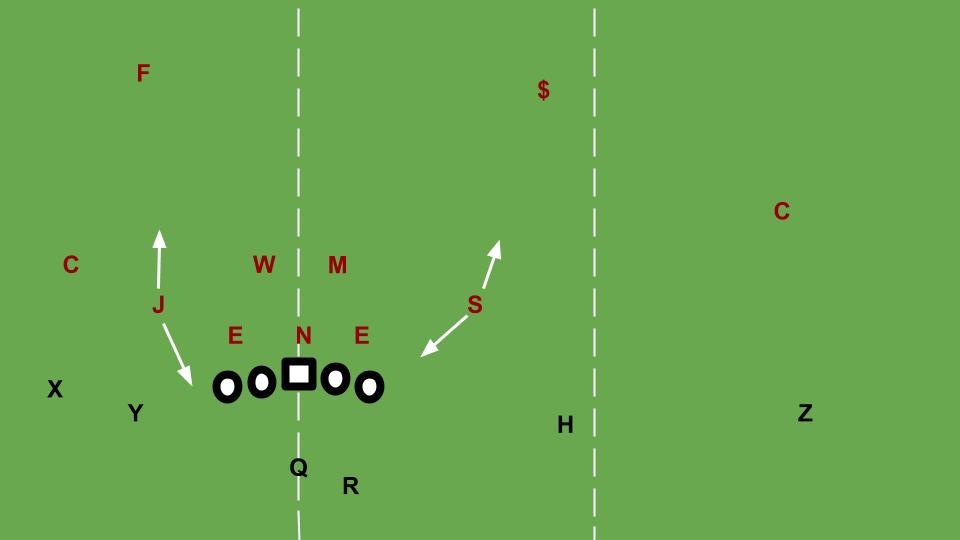 It worked a little bit, because Striker was fast enough to play in space and they used guys with a corner's coverage ability at strong safety behind him that could drop down and match the slot. Without Striker they'd move to a 3-3-5 nickel under Stoops in which the jack LB was the main pass-rusher, which made their pass-rush more transparent and kinda limited unless one of the three-down DL was effective.
Todd Orlando's Texas scheme was designed to replace the loss of an OLB/pass-rusher by keeping one guy out there in the jack LB (B-backer in Texas parlance for "boundary backer") and then converting the will linebacker into the "rover" who would become the second primary pass-rusher.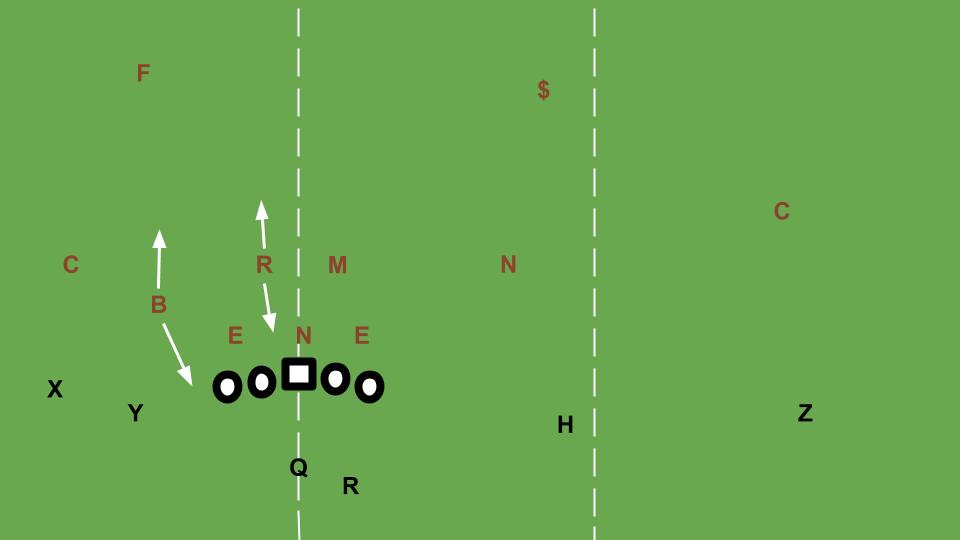 The problem with either approach, which is plainly evident here, is that the B-backer/Jack/Leo defender still ends up dropping to cover a slot receiver at times. That's not always a good matchup, particularly if that player is a 250 pound OLB who's specialty is beating tackles around the edge. Big 12 offenses know how to get after that guy with option, vertical, and wheel routes that test his ability to turn and run.
So then there are four directions to go from here with the three-down approach. One is to play smaller LBs or safeties everywhere except at one spot where you intend to deploy your main pass-rusher, like West Virginia is doing with VanDarius Cowan or OSU is doing with Trace Ford. You can move that one guy around to maximize his opportunities in the pass-rush and keep offenses guessing on where to set their protections. Texas sorta did this a year ago except they weren't creative with how they utilized main pass-rusher Joseph Ossai but instead relied on blitzes…blitzes that were often burned.
Another is to play a 2-4-5 so that your OLBs stay in the box and don't have to flex out to cover slot receivers but you can still bring variety in where pressure is coming from.
Then there's the option to rely more on three-down pass-rush and mix in some blitzes now and again to shake things up. The inverted Tampa 2, Iowa State approach to things. The Cyclones try to deploy their DEs some like four-down DEs so they can get pressure off the edge while still dropping eight into coverage and forcing the QB to hold the ball. If you have a James Lynch or Jaquan Bailey, that tends to work out pretty well.
Finally there's the Oklahoma method: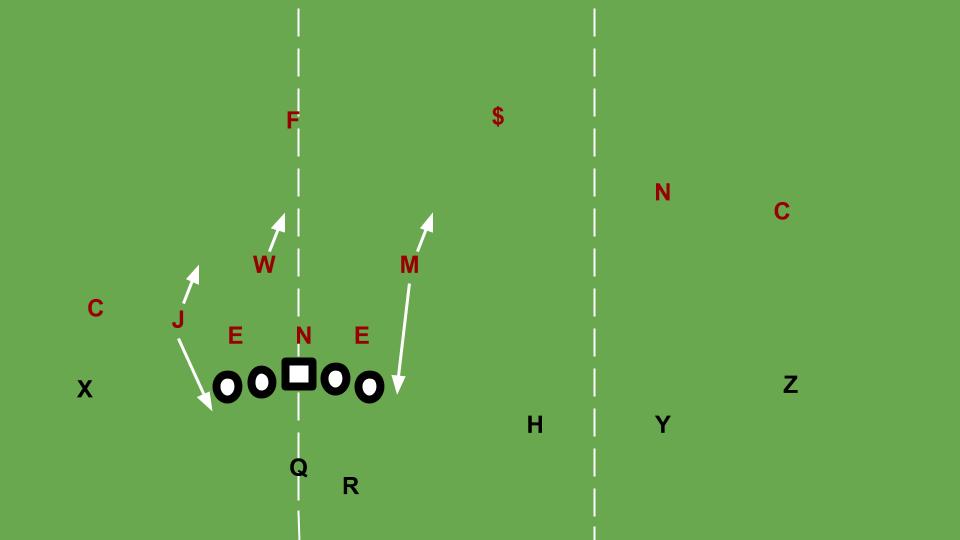 The middle linebacker becomes a sort of hybrid pass-rusher rather than the will like in the Texas system. So Oklahoma can threaten pressure off either edge, or get into their bear fronts and show pressure on both edges before slanting guys inside.
Oklahoma's method calls for a lighter jack LB, I don't think they're looking for a 250 pound OLB that specializes in rushing the edge so much as a versatile 230-pound type that can rush the edge but is also effective dropping into coverage. Then, rather then trying to set up a specialist, the Sooners want to overwhelm opponents by having multiple athletes that can rush the passer across the front and do so from different angles. Including the middle linebacker.
DaShaun White
The will linebacker in the Grinch defense is more akin to a 3-4 LB like you would see from the Mike Stoops defense. From that position last year White had to read flow, scrape, and plug creases. He was alright, he's really pretty quick laterally but he's not a big or particularly powerful guy and as a true sophomore and first time starter in a new scheme he wasn't calibrated to make lightning quick reads all the time.
For 2020 the Sooners figure to upgrade that spot by inserting the bigger and more experienced Caleb Kelly (6-3, 234) into the will position. Kelly played there some down the stretch in 2019 once he was cleared and he had four games to give before losing his redshirt. You'd have thought he'd be the middle linebacker in this scheme given that he was a 5-star out of HS for his pass-rushing ability, but his lateral quickness and overall explosiveness has declined some with injuries over the years.
So the 220 pound and quicker moving White is moving into the more spacious grounds and edge alignments of the middle linebacker spot.
There's a few different dimensions to that position. Murray played in a lot more space last year than White and made a lot of plays due to his ability to change direction and accelerate to run things down, White is not as fast as Murray but he is a quick player that can handle that role. He's also going to be strong in the coverage and edge defense aspects of the position, the big question mark is what he can be as a pass-rusher.
The jack position didn't offer much for OU a year ago until Nik Bonnito took it over, he ended up with 6.5 TFL and 3.5 sacks after starting the final eight games of the year. He'll be back in 2020 and likely more effective and more prominently involved in the plan. The field DE position was a big plus thanks to Ronnie Perkins landing six sacks but he's expected to be suspended for as many as the first five games of the year. The other DE spot went to Jalen Redmond, who had 6.5 sacks and could have a huge year coming back after a healthy offseason.
Of course the Sooners also have to replace Neville Gallimore, who had four sacks a year ago but was a consistent menace in the middle of the field that regularly tied down interior OL who were then unable to pick up slants and stunts from the LBs and DEs.
So Grinch really needs White to avoid being a major drop-off in production from what Murray offered a year ago. He was solid in limited snaps as a pass-rusher a year ago: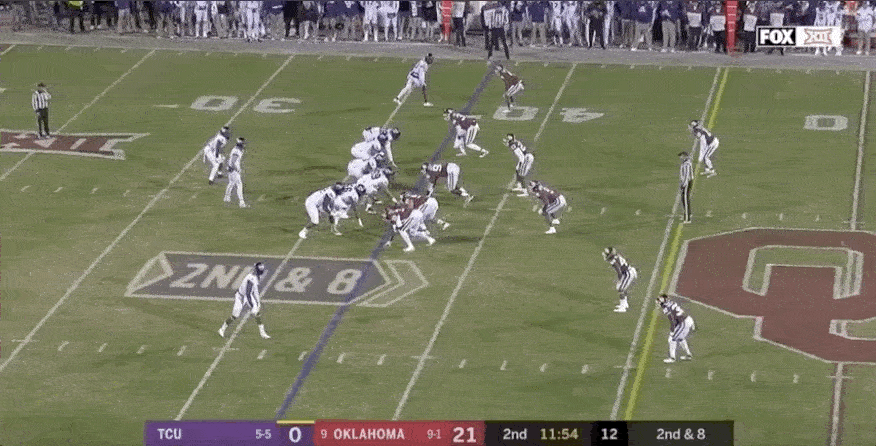 The Sooners show three pass-rushers for two OL here, moving the boundary DE into a 3-technique while leaving the jack outside the TE and mugging White down. The DE ends up working back to the A, the jack shows pressure before dropping into the flat, and they take the attention of the left guard and left tackle while the RB runs a route into the flat. Essentially the RB and LT account for the jack and no one accounts for White so he takes a running hit at QB Max Duggan.
There isn't a ton that can be gleaned from this, any LB worth his salt at last makes this play when he's coming unblocked through a B-gap. The real questions are what happens if a guard can get a hand up or there's a RB waiting for him? Can he win a favorable matchup? Can he hit gaps coming laterally on stunts like Murray did? At 220 and probably a touch slower than Murray who was 240, a safe guess is that he's probably an inferior pass-rusher. He may have a knack for using his hands or avoiding blocks in ways that make him productive but it's hard to believe he'll match Murray's impact.
At any rate, the Sooners are going to be counting on White to contribute to the pass-rush as one of many athletes attacking the backfield and in particular one that will work off the field edge pretty often. They also need him to be effective cleaning up in space on scrambles, screens, and quick passes since they're in a nickel package rather than more of a dime. The degree of drop off that OU experiences from Murray to White could be pretty important in a year where the competition around the league is going to be much higher than in 2019.
********
Read about OU's three-down approach against Art Briles' Baylor offenses under both Brent Venables (more akin to Grinch) and Mike Stoops in my book: