TCU went into their final game of the season at 5-6 coming off what would have been a miraculous win on the road against Oklahoma. Going to a bowl game is a big deal for the Horned Frogs under Gary Patterson, but not so much for the bowl game itself.
Everyone benefits from those extra bowl practices, but Patterson's TCU is a particularly developmental program that is at their best when he has time to rep all his well scouted defenses with his players and download his defense and notes into his players. Losing those bowl game practices for a team that figures to start as many as seven sophomores next year was not an acceptable outcome. Fortunately, the final game was a home contest against the West Virginia Mountaineers.
Then TCU lost it, 20-17, missing bowl eligibility and losing bowl practices before losing spring practices due to the coronavirus fallout.
In light of all the Max Duggan controversy of late over whether he's a promising freshman or the guy that held back Jalen Reagor, I decided to take a look at TCU's offense in this game against the Mountaineer D.
Of course the obvious answer to that question is, "why not both?" It's not hard for freshmen to be limited in executing a passing game yet still very promising. I have some more extensive notes though after watching that game carefully and reflecting on Duggan's performance.
A quick word on the West Virginia defense
It was very good by the end of the year and that was unquestionably a complicating factor for the Horned Frogs in this game. The Mountaineers settled on a pair of freshmen at their two outside safety positions in Kerry Martin and Tykee Smith and DC Vic Koenning took things a little easier in the zone blitz game and started trusting the D-line (Stills bros) to get pressure without sending five as often.
What was also interesting to me about the 2019 WVU D was that they had their own take on the inverted Tampa 2 that was effective for similar reasons as the Iowa State model: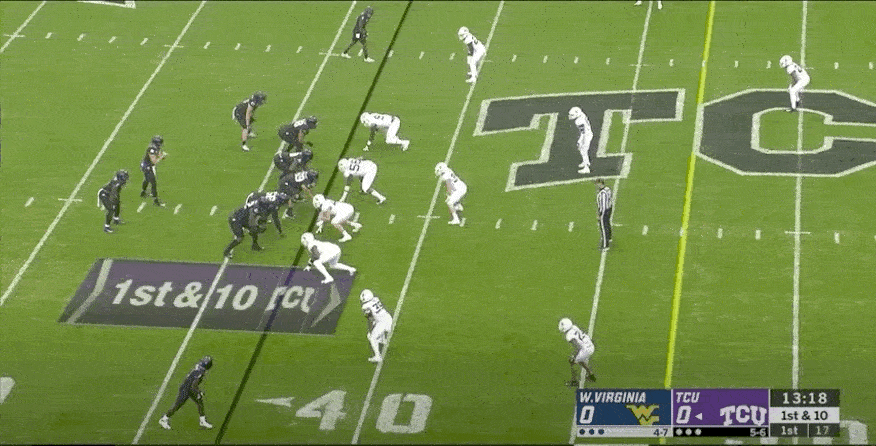 This looks sorta ordinary until you see who's lined up where.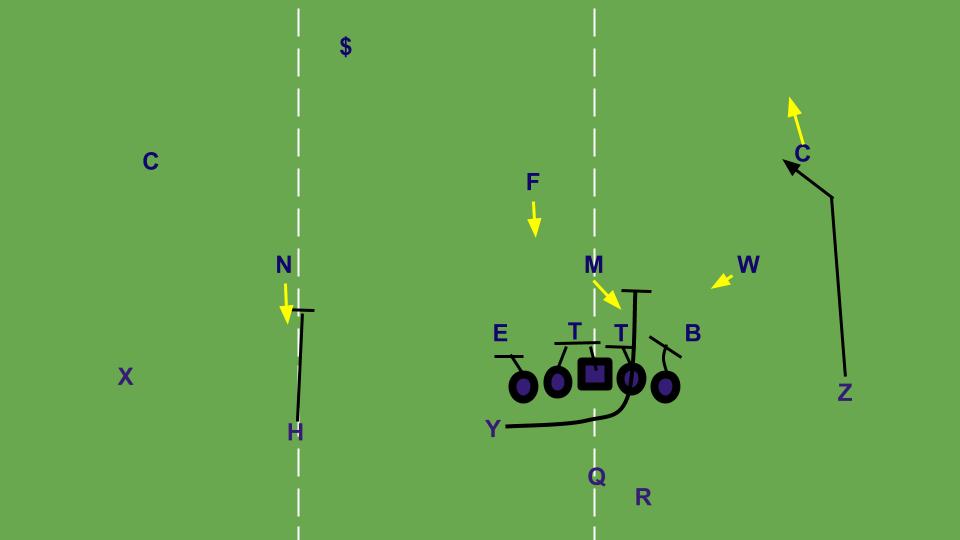 The trick with running Tampa 2 in the college game is the trouble you put your middle linebacker into. But if you play a safety at intermediate depth that can read the tight end like the free safety (Kerry Martin) can do here? Then he can play like a Tampa 2 middle linebacker from depth and insert against the run.
The cost that West Virginia pays is they use their boundary corner at depth like a shallow, half-field safety and support him underneath with the weak side linebacker (Josh Chandler). That's the price you pay trying to play this coverage and get the free-hitting safety over the top while also playing 4-down, but the Mountaineers do okay.
Texas ran something like this in 2018 but they did it to get Brandon Jones as an overhang and not an over the top hitter and they asked the B-backer to help the cornerback underneath rather than parking a linebacker out there in space. That was tougher, it helped Jones have a bigger impact that year in the run game but it left boundary cornerback Kris Boyd on an island at times outside, sometimes he held up and sometimes he did not.
Also notable, this is a trips defense for West Virginia. They roll their players this way when the offense has three to the field side, they don't play this against a 2×2 set.
TCU banged their heads against the wall with this defense for a while and couldn't get much going. Darius Anderson and Sewo Olonilua combined for 24 carries that yielded 61 yards and a TD (on a wild Sewo goal line run). Later on they started playing two or three receivers into the boundary to free up the solo-side wide receiver or to get Kerry Martin out into coverage rather than playing over the top and adjusting to their tight end in the run game.
West Virginia also had a nice zone-busting run stunt they mixed in regularly against TCU's zone-read game.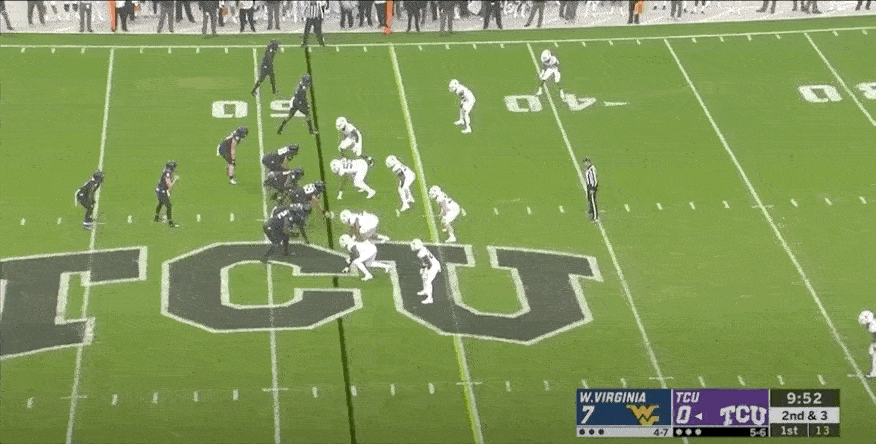 It's like a bear front stunt and very similar to New England's "fill and fold" scheme that they used against the Russell Wilson Seattle Seahawks. One inside-backer shoots an A-gap, the defensive tackles play in the B-gaps, the unblocked DE plays contain against the QB keeper, and the ball is funneled to where the other linebacker can scrape.
It's a lot like a crossfire zone blitz, maybe it even is, but it's obviously been drilled as a run defense because the the second linebacker isn't blitzing hard, he's headed to where the ball is going against the run. It's a tough defense to run zone against because that hard-charging A-gap linebacker and the DTs can all get penetration against 1-on-1s and penetration kills zone schemes. It takes a play that can potentially hit at multiple points and channels it into lanes that can be filled.
I've already written on the Mountaineer defense this offseason but the more I watch of them the more I see of them the more I think Vic Koenning knows what he's doing and could bring real disruption in 2020.
A few key plays by Max Duggan
Duggan had a couple of good runs against the Mountaineers, including a play where he misread an RPO and just pulled the ball down and ran the inside zone track the running back gave up on when he didn't get the ball, and then a quarterback draw on 2nd and 15 that got about 13. The zone-read game though that was an underpinning of the TCU offense couldn't do much against West Virginia's run blitz or against their superior play at defensive tackle.
TCU had chances to win this game that centered around Duggan in the dropback passing game.
Here was an early one that obviously hurt the Frogs: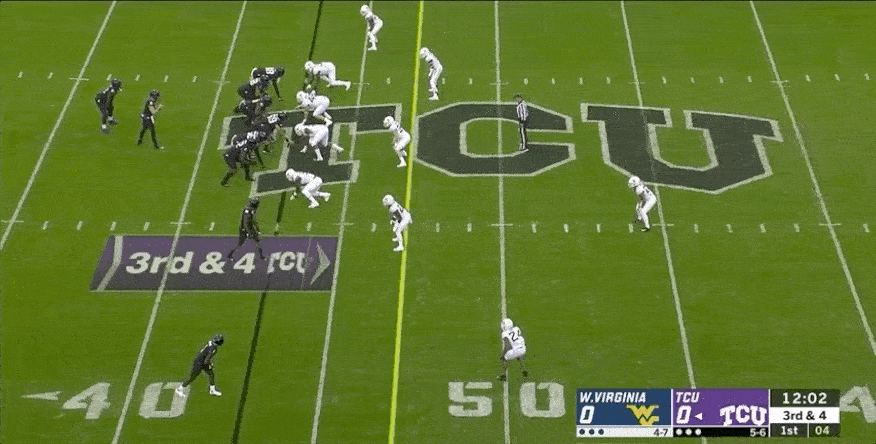 There's a lot to discuss with this play, which on the surface looks really innocent by Duggan and the Frogs, and partially the fault of 1st-rounder Jalen Reagor who's lack of production has been so famously blamed on everyone else.
It's good defense by West Virginia, who's bringing the sort of fire zone blitz that I normally decry. Notice that the deep safety plays fairly shallow and keys the inside receivers for hot throws rather than bailing to 20+ yards deep to prevent a touchdown. That's increasingly how fire zone teams are doing it because the chances of your ultra deep safety making a score-saving tackle if the offense hits a hot throw underneath or hits a run are often not very good.
That safety is Sean Mahone, who is returning next season. He identifies what's going on here very quickly, he knows where the ball is going against that coverage with "spear" Tykee Smith escorting the first slant inside, and he gets a great break on the ball.
Max Duggan makes two mistakes here, in my estimation, and both are pretty small. First, he takes just a little bit longer than he should to get to Reagor and secondly he leads him too far in. The ball hits Reagor's hands when he's nearly at the hash marks.
This play reminds me of how Justin Fuente, who made his name at TCU with Andy Dalton, would run double slants to the field, often opposite three-man combos into the boundary.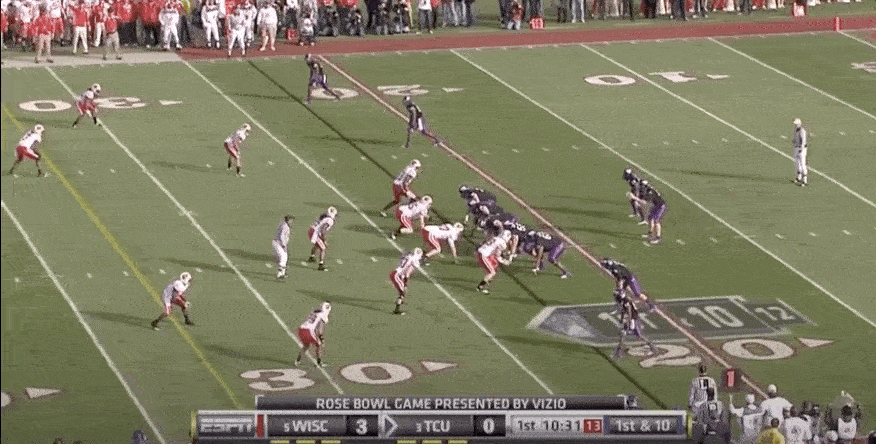 I could give more examples from that game but the key is the spacing. The outside receiver would convert that to a hitch if he found himself in all that space rather than heading towards defenders and you can find clips where both receivers run slants and they don't get nearly as far inside as Reagor does here.
If you watch carefully and count you'll see that Dalton gets the ball out one second faster than Duggan did and his receiver gets hit at the numbers rather than a yard outside of the hash marks. Better timing and better spacing allows the receiver to make a play with the ball and pick up extra yardage. So part of this interception is on Duggan and Reagor and a lot of it is on the TCU coaching staff.
Incidentally, if you look back at that Rose Bowl TCU offense it's wild how talented that unit was. Basically comparable to 2019 TCU if the more recent Frogs were quarterbacked by a senior Max Duggan. They had an NFL tackle, a couple of NFL wide receivers, a pretty cutting edge spread scheme, and of course Dalton.
Let's talk Duggan's other pick. First, let's run the play before it on 2nd and 7: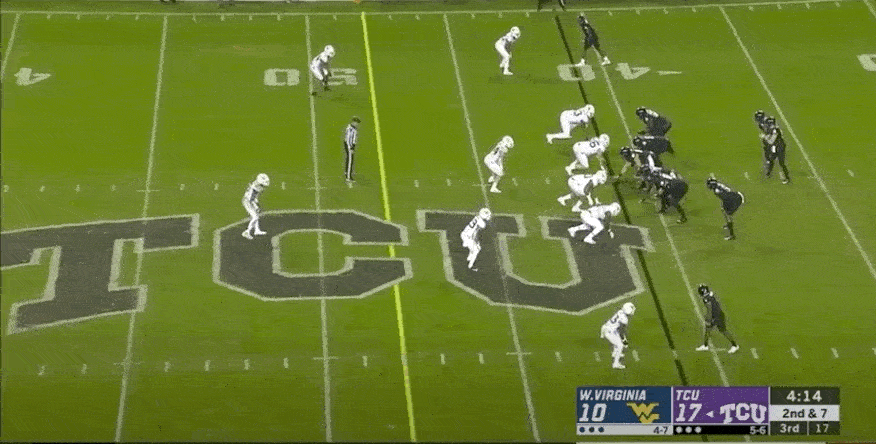 This is a play that TCU had already run for a big gain earlier in the game. They're attacking that Tampa 2 coverage by running the slot receiver through the middle safety's zone and then sending the tight end behind him to settle into the vacated space. They hit the tight end on that earlier, this time it appears that the slot is running free, but TCU's protection scheme that mimes a power play-action run gets murdered by the pass-rush and Duggan is bailing and throwing away pretty quickly.
Maybe he could have kept his eyes downfield and gotten that throw off, maybe he could have adjusted his protection. But maybe the pulling guard could have met the defensive end anywhere near that side of the line rather than setting so quickly. Maybe the running back chips that free-running end rather than urgently getting out into that check down route. A lot of plays from this game reminded me of watching Trevone Boykin in 2013 before TCU was competently protecting him or giving him better options in the pass game.
Here's the INT that followed on the next snap: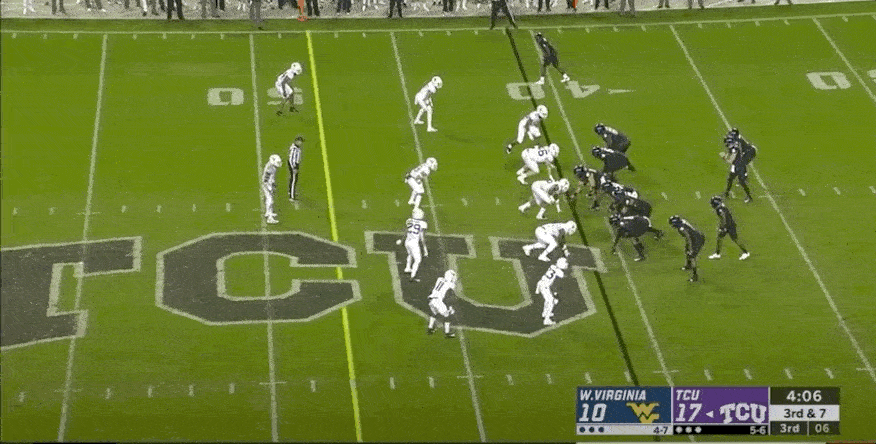 This one looks worse than it really is. When they showed it from the end zone angle you see two things clearly that aren't as clear here. First, there is a window to throw that route. Secondly, the ball is tipped at the line of scrimmage by a Stills bro and is deflected off course and into Mahone's arms.
The passing concept is a curl-flat deal from a bunch set and the spacing and timing is kinda awkward again.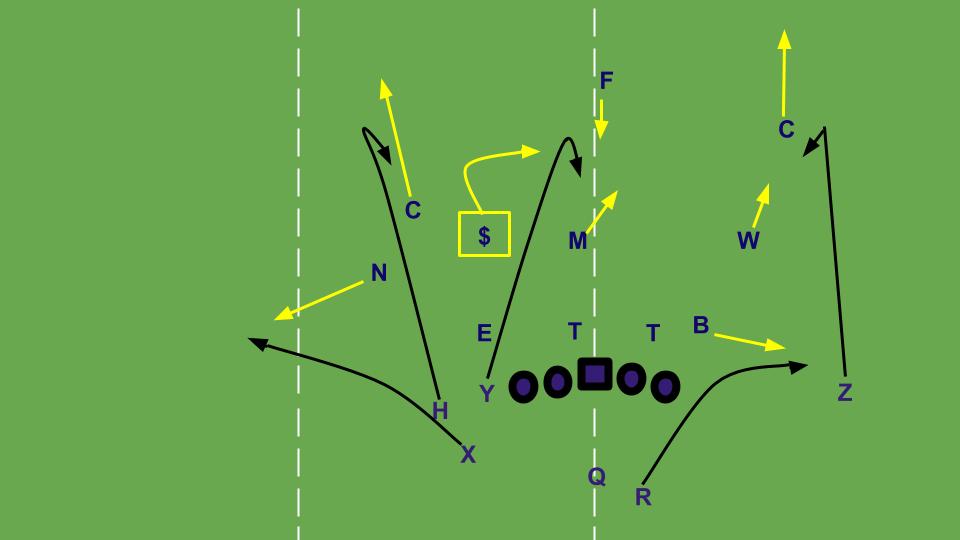 There's a couple of things I don't love on this play from TCU. One is that they're in 12 personnel on 3rd and 7 and run a five-man route combination. If you're going to throw on 3rd and 7 and you're using a sub-package, why not one with more receivers? Maybe TCU liked Artayvious Lynn and Pro Wells as much as any of their receivers, I dunno. I can't see why from this play.
Next, the tight ends aim for their landmarks in a pretty obvious fashion. They're trying to create a stretch on that strong safety, our friend Sean Mahone again. Duggan is reading him to see if he moves to take away that wrap/curl by the Y tight end, if he follows that then the next curl to the other tight end should be open unless the nickel is sitting on it, in which case the flat route is open running into a lot of otherwise unused space.
Mahone dropped halfway between the two to muddy the read and the spacing makes that pretty feasible because the tight ends start the play bunched up and are aiming for pretty near spots to run their curls. So Duggan correctly looks to throw the inside curl, pauses a beat because of the congestion (presumably) and says "screw it" and tries to rifle it in.
Then a Stills bro tips the ball at the line and it flutters to Duggan's left where Mahone is racing over. Good defense, iffy offensive design, and Duggan isn't set up to shine. The ball needs to get out a little quicker but the scope of the disaster is made worse by surrounding context.
As an aside, Jalen Reagor is getting double teamed on this play (of course). It was a pretty easy choice in 2019 to double that guy and take their chances against the Frogs figuring out how to generate offense playing 10 on 9. Similar dynamic to Oklahoma State with Tylan Wallace only if TCU could run the ball more effectively and had Chuba Hubbard, or Spencer Sanders. I had a long argument on Twitter the other day on the relative athleticism and quality of Sanders vs Duggan. In my estimation Sanders is clearly the more agile and dangerous runner, but Duggan is also well above average if not elite as a threat on the edge.
Anyways, OSU could get into trouble at times when teams took away Wallace, especially early in the year. But they still had a lot more going on outside of that. TCU had very little to use in punishing teams that doubled Reagor.
Max Duggan in 2020?
So again, the Frogs are replacing their NFL outside receiver Jalen Reagor and a drafted tackle in Lucas Niang. If there's another NFL wide receiver on the roster (actually not improbable given history), we don't know who they are yet. But there's clearly a lot of room for TCU to make a leap here from a few factors.
One, improving their offensive designs and operation to generate better spacing. Obviously this is what Doug Meacham and Jerry Kill are supposed to accomplish in the offseason. Cumbie and Meacham transformed a TCU offense with shoddy protection and offense into a lethal and precisely game planned unit before so it's not crazy.
Secondly, by natural growth from Duggan in a system that takes better advantage of his quick release/arm strength and which he can wield with quicker reads and better pass protection. Much like with Boykin, given this kids' legs teams are going to want to get numbers around the box to stop the zone-read game and I think he has the arm to make them pay outside the hash marks. It's strange that they didn't take more advantage of that dimension of his game. Having him try to execute key third downs by reading speedy defenders between the hash marks covering slow tight ends is nonsense, make teams worry about him hitting an out at the numbers.
Most of TCU's hopes for 2020 rest in Duggan making a leap. I suspect that whether or not that happens will hinge on whether this offense is able to leverage his arm strength and quick release into better spacing that truly stresses opponents.
********
TCU doesn't come up terribly often for their offense in my book, but you can read about other innovative offensive designs that shaped today's Big 12.