When it was announced that Tom Brady is at last moving on from the New England Patriots, bizarrely to play for the Tampa Bay Buccaneers, I was lead to reflect on what for me was the most memorable Brady and Belichik performance. Super Bowl XLIX against the Seattle Seahawks, a down to the wire battle that changed how I think about the game of football.
For years after the 2005 Texas Longhorn National Championship I questioned why the schemes that unlocked Vince Young weren't getting a chance in the NFL. I wondered why teams didn't weren't saving money by drafting dual-threat quarterbacks and cycling through them without handing out major contracts, like teams do today with running backs.
That will probably never happen, players that have joined the league since such as Russell Wilson, Cam Newton, Lamar Jackson, and Kyler Murray are too talented and savvy as passers to just move on from even if their legs slow up a little.
What did eventually happen though was the incorporation of quarterback-read run schemes from the shotgun. The Seattle Seahawks became one of those teams when they drafted Russell Wilson in 2012 and made him their starter as a rookie the following season. The Seahawks already had a strong offensive line and "Beast Mode" Marshawn Lynch at running back and they paired them all together to build a rushing attack that would drive the offense over the next three seasons to 11-5, 13-3, and 12-4 seasons with the latter two concluding in the Super Bowl.
For three years the team was powered by a zone-read run game featuring the young quarterback and veteran runner. Then Lynch fell off and they have yet to put together another 12-win season since.

That team is more memorable for their "Legion of Boom" defense that revolutionized modern defense with relatively simple, cover 3 oriented schemes. They put their winning points on the board though with an 11-personnel, shotgun-heavy offensive approach that was powered by that zone run game.
The 2014 run ended up being the last hurrah of the Legion of Boom/Beast Mode Seahawks and it was ended on a 2nd-and-1 goal line play in the Super Bowl against the Tom Brady New England Patriots.
The 2014 Patriots were the second Brady Pats team of the decade to reach the Super Bowl. They got there in 2011 and lost to the NY Giants for a second time, then broke through again in 2014. The key to this run of Patriot squads was that in 2013 they replaced ultra-productive slot receiver Wes Welker with Julian Edelman and in 2014 they got a full healthy season from Rob Gronkowski. They no longer emphasized Steven Ridley or the run game but made their passing attack the key feature to the offense. The 2014 Patriots' leading rusher, Jonas Gray, had only 412 rushing yards and didn't play in the Super Bowl.
They effectively moved away from the run game as being useful for much other than situational circumstances and setting up some play-action shots. Otherwise they were a spread passing team with Tom Brady attempting 582 passes that yielded 4109 yards at 7.1 ypa with 33 TDs to nine INTs.
Vegas made the game a pick'em and there were a number of contrasting strengths and matchups that promised to make it a fascinating battle.
In the trenches
The Seahawks were designed to win games by eliminating big plays with their cover 3, pattern-matching defense and to grind out wins with their powerful run game and Wilson's playmaking.
The "Legion of Boom" defense had a number of excellent players, a few of which were hybrids that made them tough to probe for matchups. Call me a homer but I'd argue that the best player may have been free safety Earl Thomas, who roamed over the top on most plays taking away deep routes and closing on crossers. Joining him was legendary cornerback Richard Sherman, who you could argue is a sort of corner/safety hybrid because of the amount of time he spent bailing to play a deep 1/3 in zone. At 6-3, 195 he wasn't the twitchiest player on the field but he knew where to be and excelled in deep zone and press-bail.
Then they had Kam Chancellor, the 6-3, 225 pound enforcer who tended to drop down into the hook zones in cover 3 to rob routes, check tight ends, and help lock things down. Other key figures included traditional but solid MLB Bobby Wagner, rangy and coverage savvy SLB K.J. Wright, and then a solid DL headlined by DE/DT hybrid Michael Bennett who lead the team with seven sacks.
For this game the Seahawks mostly played nickel defense, first with Jeremy Lane in the nickel and then right corner Byron Maxwell inside. Up front in nickel they slid weakside linebacker Bruce Irvin down to play as a DE opposite Cliff Avril while moving Bennett to 3-technique or nose tackle to hunt pass-rushing matchups against the Patriot interior OL.
Lane was lost for the game on a fateful early play. The Seahawks nickel pass-rush looped Bennett outside on a stunt and he came free at Brady, leading old Tom to throw a bizarre pass down the middle of the field to Lane's waiting arms. Then Lane was injured on his return and was unable to return. The Hawks replaced him by inserting LSU grad Tharold Simon at right cornerback and bumping Byron Maxwell inside. Chancellor gave the Seahawks a means of matching up with Gronkowski, their nickel package allowed them to avoid giving up easy matchups or leverage to the Patriot slot receivers Edelman and Danny Amendola, and outside receiver Brandon LaFell wasn't really up for doing much against the Seahawk cornerbacks.
Here's how the Seahawks would tend to check something like the Patriots' flex trips formations with Gronkowski lined up inside on linebackers.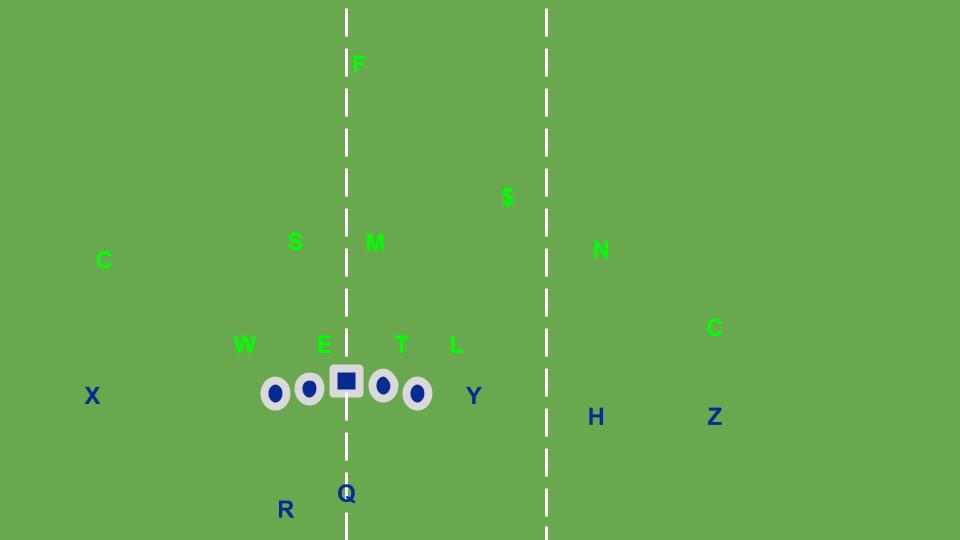 Chancellor would drop down to help the linebackers check Gronk and then the Hawks could keep cornerbacks matched up on the Patriots wideouts. All that was expected to allow the Seahawk defensive line to win against the Patriot offensive line.
On the flip side, the Patriot D also had a stellar gameplan to control matchups in the trenches. Their gameplan was oriented around stopping the zone-read run game and it worked with a zone-read busting, 46-style stunt.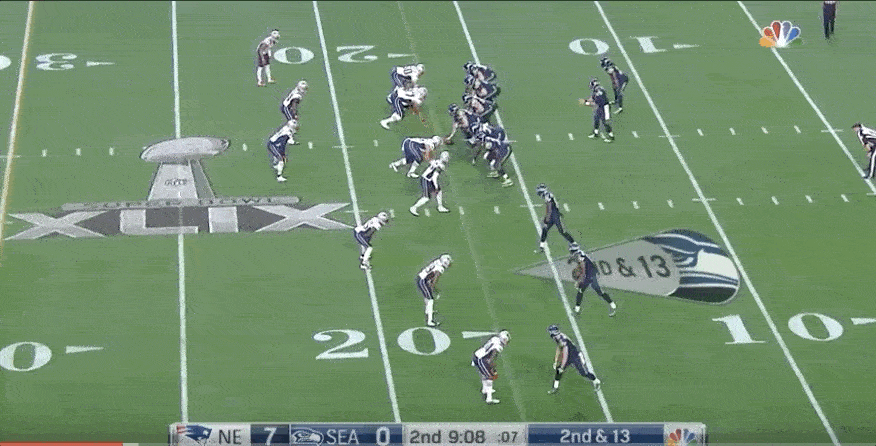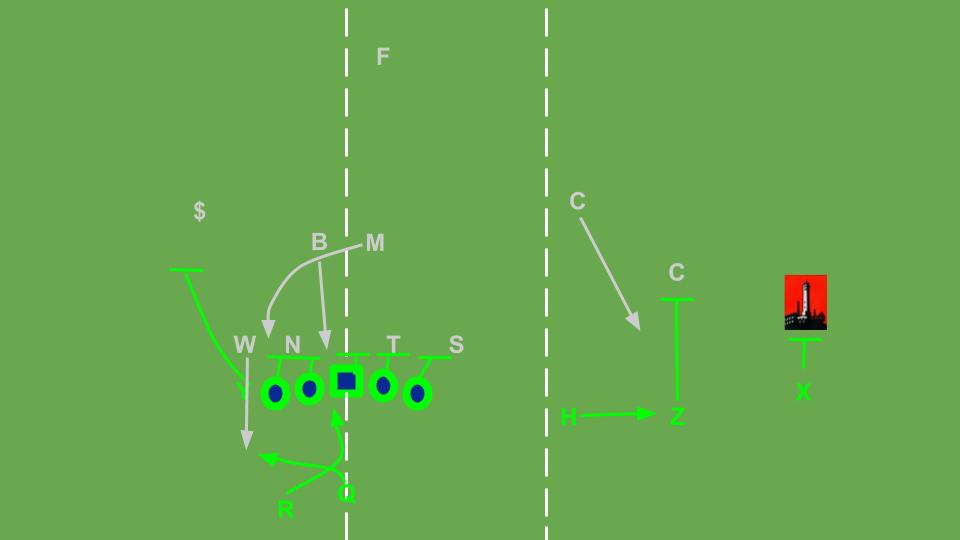 There's an awful lot to unpack here in how Bill Belichik was scheming up the Patriots to stop a scheme that has devastated college football for years. The Pats are in man coverage for starters, so the bubble screen is no good, the corner lined up across the H receiver running the bubble route could come unblocked on that and shut it down for losses.
For the actual zone-read play (with an arc block here by the tight end) the Patriots had a stunt they'd run. New England lined up with a pair of 3-technique tackles for the majority of the game, adding a nose tackle in the middle if/when the Seahawks played with a second tight end.
The read-side linebacker would see the run action and just run through the backside A-gap as hard as he could. It was an awkward block for the center and in conjunction with the 1-on-1 blocks outside to the tackle and sam backer/end (Chandler Jones, the S here) made play side runs pretty tough. The two inside linebackers for the Patriots were Dont'a Hightower (6-3, 260 pounds) and Jamie Collins (6-3, 255 pounds) so their quick stunts were pretty forceful. Weakside backer end Rob Ninkovich would play contain on the quarterback keeper.
Normally there'd be a weak spot for a single-high zone read defense against this scheme, which is the crease that could be created between the end (Ninkovich here) trying to play contain and the double team on that 3-technique. When that double gets movement the running back can often hit the classic inside zone cutback behind it and then there's only a deep safety to clean it up, particularly since the read-side linebacker has taken himself out of the play by running through the line elsewhere.
But the Patriots had two solutions for that, one solution was that the 3-technique they played to the read-side was usually legendary anchor Vince Wilfork (6-2, 325 pounds) and the Hawks weren't driving him off the ball. The other solution was that the other inside linebacker would scrape hard to the running back's path rather than worrying about other gaps. He could often anticipate that cutback and get there too quickly for any of the offensive linemen to cut off his path. Jamie Collins ended up leading the Patriots in tackles and most of them looked like that, wrapping up Beast Mode after a modest gain running through a narrow crease in the Patriots' zone-read defense.
It's a scheme very similar to one used by Belichik's old pal Nick Saban when he played the Texas Longhorns in 2009, as detailed in my book:
Lynch ran the ball 24 times for 102 yards at 4.3 ypc with one score in the game, doing yeoman's work turning a lot of 2-3 yard gains into 4-5 yarders with sheer effort and cutting ability agains these looks. His longest run of the day was 15 yards and the Patriots stopped him on 3rd-and-2 early, yielded a TD on a later 3rd-and-2, stopped him on 3rd-and-1 on the New England 8, and ultimately dodged him in the crucial moment of the game.
Also important, Russell Wilson had just three carries for 39 yards, all scrambles save for one zone-read keeper when the Patriots used a normal scrape-exchange rather than this stunt. So while Lynch had tough sledding trying to power through this front, Seattle also lost the dimension of their offense in which Wilson could keep around the edge.
Obviously they didn't shut down Lynch but they did contain him and didn't allow the Seahawks to put them away with their run game while the New England offense worked out how to attack the NFL's best defense. It also undoubtedly helped discourage the Seahawks from trying to punch the ball in when it mattered late.
Space supremacy
The Patriots were successful in checking the Beast Mode/Wilson option game, but what was truly remarkable was how they were able to get after the Legion of Boom without running the ball effectively. As diminished as Lynch and Wilson were, LeGarrett Blount lead the Patriots with 14 carries for only 40 yards (did pick up some short-yardage situations though). The major impact from the New England running backs was Shane Vereen catching 11 balls for 64 yards (or concussing Leo rusher Cliff Avril on a chip block).
Ultimately I walked away from watching that game being amazed that the Seahawks effectively challenged the Patriots to beat them throwing the ball to the flats and Tom Brady successfully obliged. That has long been deemed to be ultimately implausible, even though I'd seen something vaguely similar from the Colt McCoy Texas Longhorn teams. It took watching a team actually win a championship before I opened my mind to the possibility that a spread passing attack with only a situationally effective run game could not only be a winning strategy but the optimal one.
Here were some keys to the Patriot victory against the Legion of Boom:
Y-iso
This was one formation that the Seahawks didn't have great solutions against. I've written about it before but the gist of it is that you flex out the tight end but to the solo side of a trips formation: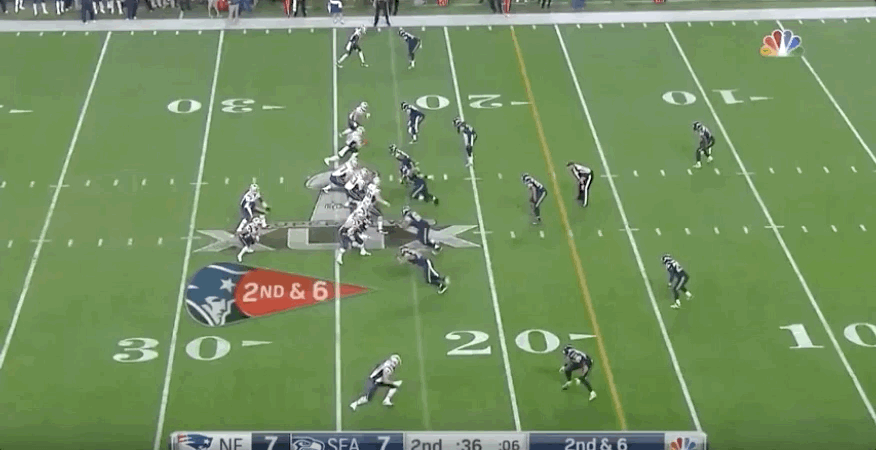 In this example the Hawks played a corner over to match up on the Patriots receivers because they were in man coverage. Their man coverage scheme here asked K.J. Wright to run with Gronk while Earl Thomas dropped down to prevent running back Shane Vereen from catching another pass underneath. Gronk gave Wright a little inside look and ran by him on a fade for a score.
The Patriots went back to that well a few times, scoring an easy comeback on Wright when he bailed to stop the fade, then drawing Kam Chancellor in man coverage on Gronk down the stretch. Once Kam was on him outside that opened up opportunities for the Patriots to hit the Seahawks in the middle of the field.
Gronk was a unique matchup weapon that no team every really solved. And truly, what is there to solve? He was 6-6, 260 and could run and catch like a receiver, the comparable athletes on defense tend to play on the defensive line.
Taking the flats and hunting the mike
The Seahawk defense was designed to concede some space in the flats and matchups against the running back. The reasoning of their defense, and most defenses still, was that opponents weren't going to beat them throwing to the flat or to the running back.
Well as I noted, Vereen had 11 catches for 64 yards on 12 targets, which adds up to 5.3 yards per target. Not impressive until you compare it to what the Hawks were getting when they handed off to Lynch (4.3 ypc).
Meanwhile the Patriots also did a lot of work throwing to those quick options in the flats. Danny Amendola did the majority of his work in the flats and ended the day with five catches on seven targets for 48 yards and a touchdown. That's 6.9 yards per target, which when you consider as being their de-facto run game is pretty good.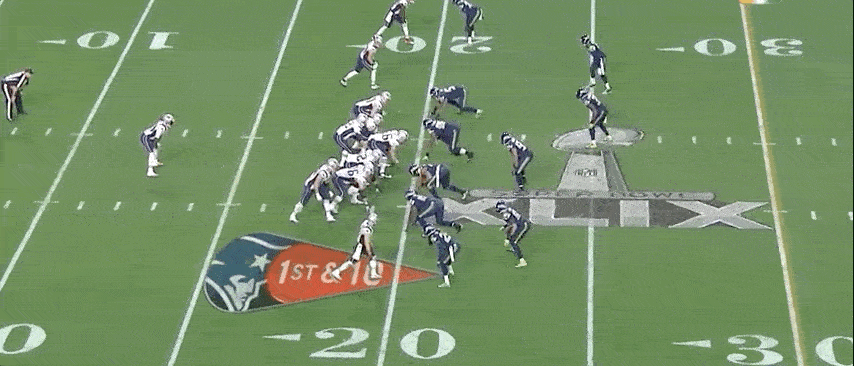 Brady audibles to this one from a run, he had a sense of the coverage and knew where to find an easy advantage. The Pats have Edelman and Gronk both aligned to the same side of the field, which they did a lot, and the Seahawks consequently yield some space and numbers to the LaFell and Amendola side.
What's always made Brady such a phenomenal quarterback is plays like this. He moves well in the pocket and he has some arm strength to push the ball down the field, but what he does (did?) better than anyone is find leverage before the snap and get the ball out quickly. He essentially worked out how to become proficient enough in the quick spread passing game to allow New England to replace a traditional run game with those concepts in order to achieve a ball control offense.
Here's Brady picking up 2nd-and-inches on the same late touchdown drive before the half by throwing to the running back from a spread set.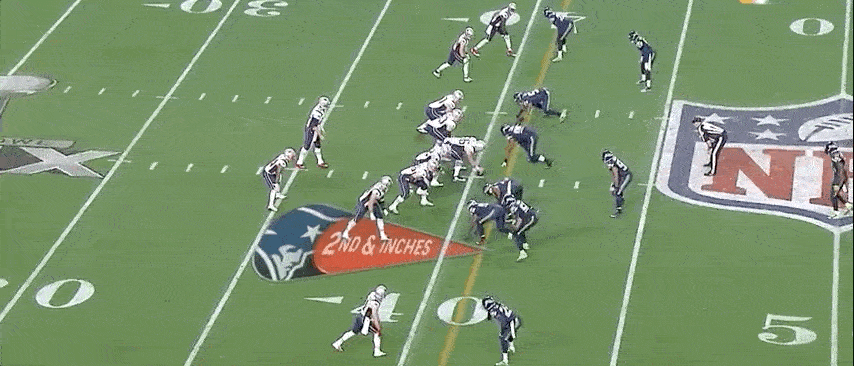 He recognizes man coverage and throws quickly to the running back on a wheel route before Vereen is even working up the field. Middle linebacker Bobby Wagner just can't get there over the slant route by Edelman before the ball arrives, and then he and his teammates have to bring Vereen down in space.
The Patriots as much as any team I've ever watched love to use the defenses' efforts to take away vertical routes and maintain matchups against them in order to create easy opportunities to dink and dunk to the vacated spaces.
Revis island
The Patriots had legendary press-corner Darrelle Revis on a fat, one-year contract worth $12 million for 2014 after he was cut by the Tampa Bay Buccaneers because Lovie Smith was bringing back the Tampa 2. It gave them a nice, one-year window and then they let him walk rather than picking up a $20 million dollar option. You may have noticed that things worked ultimately out for them at cornerback, partly due to someone we're going to talk about in a moment.
Revis had a major impact on this game, albeit in one of his trademark quiet performances.
If you glance again at the stats above you'll notice that it wasn't as though the Seahawks simply ran the ball every play. They had a zone-based offense similar to Shanahan's system that incorporated a fair amount of play-action for Russell Wilson. Their best receiver was James Baldwin. Some people may have forgotten that Baldwin played in this game because he was put on Revis island and got targeted just once for the entire game, a touchdown on a play-action play at the goal line.
In addition to their play-action game the Hawks also had a really effective empty pass game that they used a few times, including on what was almost the game-winning play: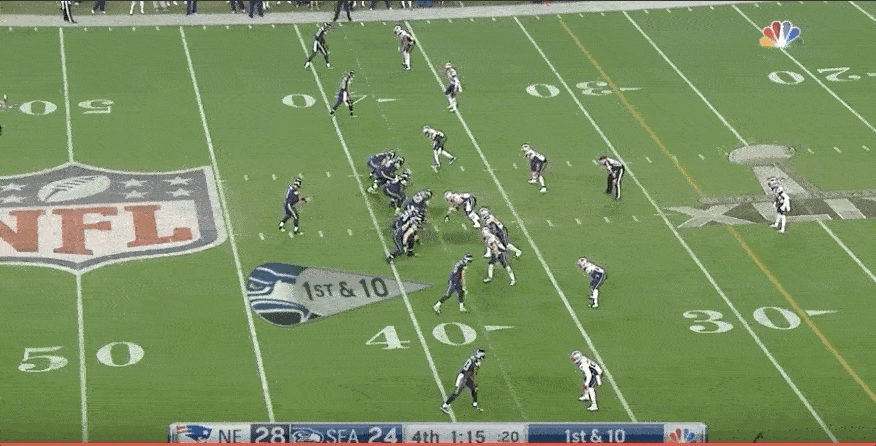 The Seahawks took their featured player, Marshawn Lynch, off the field for this play. He actually made some nice plays catching the ball flexed out on this nearly-winning drive but for this one the Hawks are in 01 personnel. Four wide receivers, one tight end, no backs. The Patriots are in a 1-4-6 dime package, they spent most of the game in a 2-4-5 and occasionally a 3-4-4. They put as many defensive backs (typically corners) on the field as it took to avoid asking the linebackers to leave the box, which is normal procedure for Belichik.
This is a version of the Patriots' own "Hoss Y juke," where the slot receivers run up the seams, the outside receivers run hitch routes, and then the inside receiver runs an option route in the middle of the field isolated on (probably) a linebacker. Seattle doesn't run seams so much here as slot fades where the receivers can take advantage of the space to run under the ball heading to the sideline. The slot fade is probably the hardest route to defend in man coverage.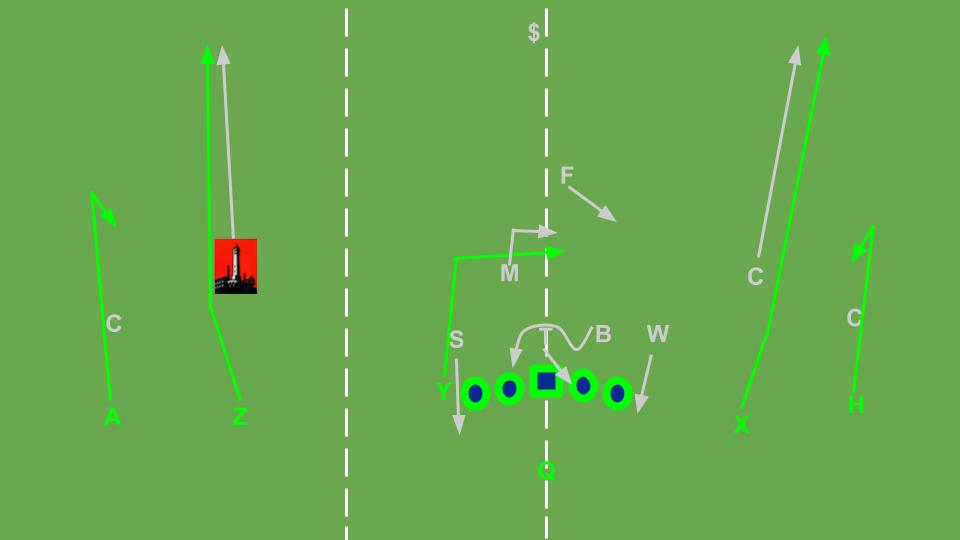 After watching Kyle Arrington get torched a few times, New England turned to rookie cornerback Malcolm Butler in this game and he made a bunch of big plays, including this one. Butler is all over this slot fade to Jermaine Kearse, but somehow the receiver manages to bring it in after bobbling it four times. Mercifully for New England, Butler still has the presence of mind to get up and quickly push him out of bounds before he scored or got even closer to the goal line.
The Patriots' ability to play in nickel and dime packages throughout the game, ultimately getting several big break-ups from rookie Butler at corner while Revis locked down Baldwin, was a huge part of this game. They won in space while mitigating the Seahawks' power inside. The Pats had the defensive backs to match up in space when Seattle turned there from the box and Tom Brady got the ball out too quickly and into whatever space they could find in order to avoid the Patriots losing because of the Seahawks' superior personnel up front on defense.
Contrar-Ian's takeaways from that game
This game isn't remembered by most people for the way it illustrated the supremacy of Tom Brady in a spread passing attack fueled by hybrid skill players. Most people remember this game for the play that came two snaps after the improbably Kearse catch above.
Facing 1st and goal after that catch, the Seahawks went to the goal line in 21 personnel and lined up in the I-formation with stacked receivers opposite the tight end. They ran the classic stretch play with a fullback insert for Lynch and went from the five yard line to the one thanks to an amazing reach block by their left guard that hooked Chandler Jones. Then Pete Carroll substituted them into 11 personnel and made the second, championship game short-yardage call that will forever haunt his legacy (first was the 4th-and-2 dive with LenDale White against Texas in 2006).
The Hawks motioned Baldwin from the trips side to the tight side and Revis followed him, indicating man coverage. Then Seattle ran a pick play to Ricardo Lockette who was matched against the rookie Butler, whom the Seahawks had been targeting repeatedly and only beat on that extraordinary catch above by Kearse. Butler recognized the play from the Patriots' scouting work and practice and jumped the route. Interception. Game over.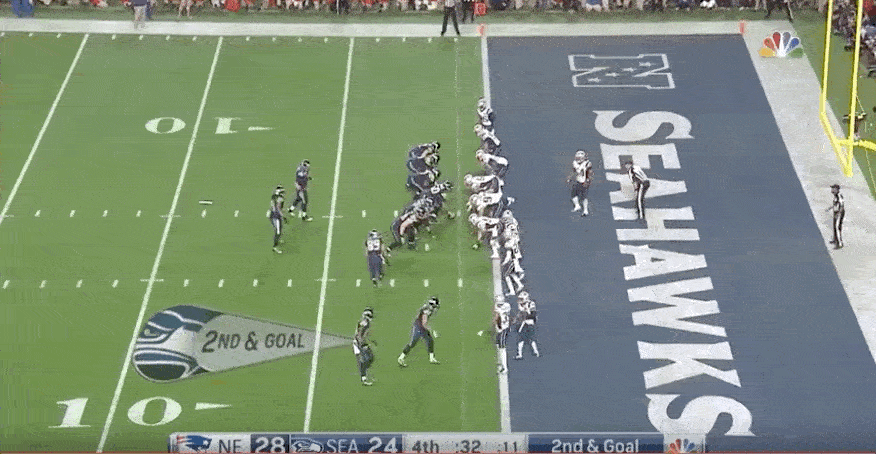 Later Carroll explained his reasoning for the pass as wanting to get as many cracks at the end zone as possible. A throw there is likely a score or an incomplete pass, so either they win or they don't use much time and have a chance to run Lynch on third and maybe fourth as well. I wonder also if they were a tad spooked by how well the Patriots had defended their run game earlier, although New England was clearly a touch tired up front by this point in the game.
The vast majority of commentators and some of Seattle's own players will forever believe that they should have just kept giving the ball to Beast Mode so he could find the end zone. That all may be true, but Carroll's reasoning was also solid and at the end of the day maybe this was just a rebalancing of game fortune. The Patriots had the better space force than the Seahawks and it makes sense that a final drive by Seattle would ultimately fail because New England's defensive backs were better than their receivers. The Seahawks got some extraordinary play out of back-up wide receiver Charlie Matthews and then that sensational catch by Kearse, finally the Patriots got a great play from their back-up and the scales were balanced.
Both teams wanted to control the ball and pick up steady gains, the Seahawks wanted to do it with their run game while leaning on their passing attack to pick up some chunk yardage and get them through situations like 3rd-and-long. The Patriots wanted to lean on their passing attack to pick up steady gains while using the run game for situations like 3rd-and-goal or to set up occasional play-action bombs. The spread passing attack was far and away the more efficient system. Things were really only close for the reason that teams are hesitant to rely on this strategy, Brady threw a few picks that ended promising drives.
I will concede in defense of the spread run game that Seattle didn't actually have the most comprehensive run game I've ever seen in my life. Lincoln Riley is more versatile and creative from year to year than Seattle was when they had Marshawn Lynch in the backfield. It was basically zone-read mixed into the normal fare of zone schemes. Still, no one had many complaints of that system before the game or even after.
Contrar-Ian left that game realizing that it was possible for a dink and dunk spread passing game to win at the highest level, because it can be designed to live and thrive attacking what defenses are oriented to concede. What's more, if it was possible in NFL then with increasing proficiency and teaching at the lower levels it might become possible in college and high school. Obviously that has borne out.
This game and subsequent Super Bowls and college football playoffs helped me to realize that great defenses can always work out ways to stymie a good run game. When you rely on the run game you're working in confined spaces and the opponent knows who's getting the ball, it's always either the running back or in the case of the Seahawks maybe the quarterback.
When you lean on the passing game there are five players to account for, the full field has to be defended, and when the offense has variety in the passing game and good recognition and timing from the quarterback it's hard to stop the perfect pass or endless quick tosses into vacated zones underneath.
Tom Brady's legacy for me truly started in that game. I knew he was great, he'd won several championships already, but the Patriots had taken a couple of Ls from teams stocking hybrid ends inside like Bennett (against the Giants) and before this point hadn't gone all in on the passing game yet. With this victory over a legendary defense that had just smashed a passing-oriented, Peyton Manning-lead Broncos team the Super Bowl prior, the Pats hit another level that would propel them to three of the next five Super Bowls and two more rings. With this game he convinced me that throwing the ball wins championships and that precision passing is the highest level of offensive football.
Good luck in Tampa Bay, legend.