The 2019 season in the Big 12 was really one of the weakest in a while in terms of offensive skill outside the hash marks.
Quarterback play was down a little bit, with Jalen Hurts, Sam Ehlinger, and Brock "pump fake" Purdy really highlighting the league's signal-callers. Wide receiver play took a commensurate dip, which is plain from the numbers by the top 10 receivers by yardage in each season: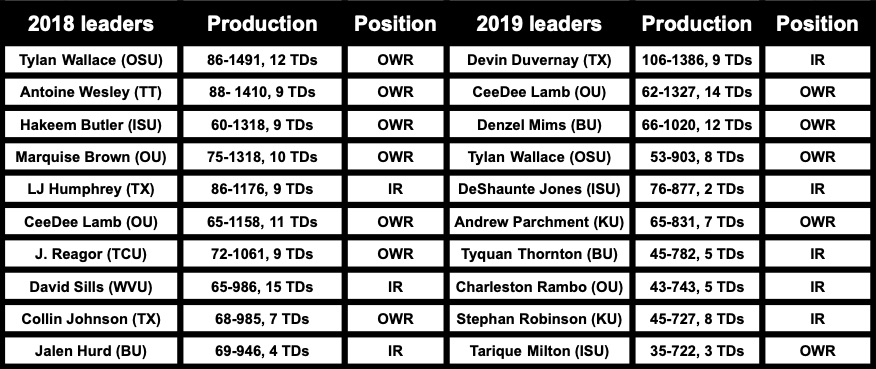 The 2018 group doesn't even include drafted West Virginia's Gary Jennings (54 catches, 917 yards, 13 TDs) or Baylor's Denzel Mims (55 catches, 794 yards, 8 TDs), both of whom had seasons that would rank in the top 10 statistically for 2019.
Beyond the fact that the 2018 crew was much more productive, you also have to notice that the 2019 crew was very heavy on slot receivers. Devin Duvernay and Deshaunte Jones were full-time inside guys while others on the list moved inside regularly.
If you look at the top passing quarterbacks in the league in 2019 you should settle on PFPurdy and Sam Ehlinger as the best passers and neither were working with top outside receivers that season. Ehlinger had Collin Johnson but he was in and out of the lineup all year with injuries. PFPurdy had Tarique Milton, who was fantastic when he was working against defenders that were overmatched against his speed and otherwise pretty quiet when facing good cornerbacks. Milton is moving back inside for 2020.
The best outside receivers around the league were Tylan Wallace, who had to work with young Spencer Sanders, CeeDee Lamb who had to work with run-first Jalen Hurts, Denzel Mims who's quarterback Charlie Brewer lost like 10 mph off his fastball halfway through the season, and Jalen Reagor who had to work with freshman Max Duggan in a bad offense.
This had some consequences on how the season played out, particularly in regards to how Big 12 teams were able to play defense. Since everyone always uses the previous year to project forward to the next, this raises an important challenge to some of the favored defensive strategies likely to come up in 2020.
Expect a return to normalcy in 2020
The 2020 Big 12 offensive lineup is going to be much, much more deadly at throwing the ball outside the hash marks. Iowa State and Texas are going to be pairing their returning quarterbacks with some big, talented options outside. West Virginia won't be as good as in 2018 but they'll be a lot better than in 2019, Oklahoma State and TCU are expecting to see major improvement from their talented young signal-callers, Texas Tech might be much better, Kansas State's receivers will be better, and of course Oklahoma will return to being a deadly play-action squad.
Here's a rundown of some of the top quarterback/outside receiver pairings that 2020 will likely bring to the battle.
Sam Ehlinger to Brennan Eagles (6-4, 230, 4.51 40)
PFPurdy to Xavier Hutchinson (6-3, 200, nearly poached by OU and NEB)
Spencer Sanders to Tylan Wallace (6-0, 185, destroyer of worlds)
Spencer Rattler to Theo Wease (6-3, 201, 5-star recruit)
Jarrett Doege to Sam James (5-11, 182, 677 yards in 2019)
Skylar Thompson to Malik Knowles (6-2, 186, 397 yards in 2019)
Alan Bowman to TJ Vasher (6-6, 190) OR Erik Ezukanma (6-3, 210)
There's also whatever TCU and Baylor can put together outside as well as what they can do inside with Max Duggan and Charlie Brewer? throwing to Taye Barber and Tyquan Thornton, who are both very dangerous. Kansas actually returns their very capable outside receivers as well, although I have no idea who's throwing them the football.
This is a brutal lineup, far and away the most terrifying collection of passing threats in any conference in the country. Everyone's going to need a plan for how to survive and advance while getting tested weekly like this.
The press-quarters bluebloods
For the 2019 season, Alex Grinch transformed Oklahoma's defense from the two-gapping, 3-4 backed by single high coverages favored by Mike Stoops and installed a shifting, 4-down press quarters concept.
There's a few ways to play press-quarters, particularly in regards to what the safeties are asked to do, but another term for the scheme is MEG quarters as opposed to MOD quarters.
MEG vs MOD refers to the assignment of the cornerbacks. Man Everywhere he Goes vs Man On Demand. In MEG quarters the cornerbacks play man coverage on the outside receivers whether they're running vertical or shallow routes. It doesn't matter, they're chasing them.
A MOD quarters defense looks closer to what people imagine when you say cover 4 or quarters, with four defensive backs responsible for four deep quadrants. The cornerback plays man coverage "on demand" meaning if the receiver goes vertical. If they don't go vertical then they may or may not be staying on them. MOD quarters is more of a bend don't break design that tends to yield the flat routes underneath in exchange for trying to deny space down the field.
Oklahoma played mostly MEG quarters last year and mixed in cover 3, which asks similar tasks of the cornerbacks as MOD quarters, while bringing a wide variety of ways within their quarters schemes in which they'd divvy out assignments between the safeties and nickel. It worked out pretty well for the Sooners but…
They gave up five touchdown passes to PFPurdy and took down Ehlinger's Texas with their pressure up front and a few timely drops by the younger Longhorn wideouts (mostly the former). They dodged Tylan Wallace AND Spencer Sanders, they faced beat up Charlie Brewer, and Carter Stanley dropped 230 yards at 8.2 ypa with three TDs to zero INTs on them.
They also had a very effective pass-rush package to help those guys out on the back end. Press coverage combined with good pressure up front really takes the wind out of an offense. If the press coverage doesn't deny easy outlet throws or the pressure never arrives, then things get dicey. Oklahoma had good pressure thanks to a great 3-man front of Ronnie Perkins, Neville Gallimore, and Jalen Redmond backed by Kenneth Murray. Outside they had a 3-man rotation at corner consisting of senior Parnell Motley, multi-year starter Tre Brown, and then young Jaden Davis.
In other words, their aggressive approach to covering outside wide receivers came at a time when they had good pieces to attempt the strategy (admittedly this wasn't obvious heading into the season) and the Big 12 had poor pieces to make them pay, particularly when Big 12 teams faced the Sooners on the schedule.
Meanwhile, Texas is moving to run MEG press quarters in 2020 as well. On the surface this would appear to make better use of their tops in the Big 12 defensive back recruiting, but the Longhorns may not have the ideal cornerback corps to execute this strategy. They're hoping that burners D'Shawn Jamison and Josh Thompson can work it out, some of the other high ranked recruits like Jalen Green and Anthony Cook (moved to nickel) don't have "elite recovery speed" amongst their attributes.
I'm guessing that Texas will deploy their safeties much more conservatively than Oklahoma did in 2019 or other press-quarters units like the Pat Narduzzi Michigan State units did, having them bracket the deepest in-breaking routes rather than chasing slots into the flat. There at least Texas is in great shape with senior Chris Brown and potentially NFL-bound Caden Sterns.
It appears both of these teams are going to try and take on the challenge directly, matching all these topflight athletes on the perimeter with their own. Should be interesting.
Who's ready to use alternative mitigation efforts?
Iowa State is built to handle this issue by playing their hash safeties over the top in cover 2 against great outside receivers. They mixed in a lot more MOD quarters and man coverage last year, because they could and because they needed to blitz more often with Jaquan Bailey knocked out with injury. This year they'll need to find a 3-man pass-rush again so they can mix in more true inverted Tampa 2 and help their cornerbacks out. They have some talented young guys on the perimeter but I don't think those dudes are running with Tylan Wallace, Theo Wease, or Brennan Eagles.
Baylor also ran a lot of single-high coverage from the inverted Tampa 2 shell last year. I'm not even sure what they're running next season but they have some leftover scheme that's useful and some rising talent at cornerback. This may be a sort of throwaway year for Dave Aranda though as he retools the program under the shadow of the coronavirus disruption.
Kansas State doesn't use particularly aggressive coverage techniques but they do play some match 3 and ask their cornerbacks to hold down the outside space. BUT, they return AJ Parker and Walter Neil Jr to perform that task. Neither are easy marks and will tend to yield a little space underneath to avoid getting bombed deep.
Oklahoma State was like the other inverted Tampa 2 teams last year, dropping down into match 3 or MOD quarters pretty often. They lost a starting corner to graduation and will probably just aim to survive on a down to down basis.
West Virginia played a lot of MOD quarters and cover 3 while bracketing good solo-side receivers with inverted cover 2 (linebacker underneath, corner deep). They can probably repeat that strategy next year, it's not a dominant one. Their goal is to avoid big shots and kill drives with their D-line.
I don't know what Kansas will attempt but they're losing Hasan Defense, who was a legitimately good cornerback. Texas Tech did a lot of dumb things last year, did them badly, and they have a potentially good cornerback in Adrian Frye that they moved to safety last year. I dunno what they'll do next out there.
Finally there's TCU. The Horned Frogs play a few varieties of MOD and MEG quarters and they don't give a lot of cushion outside with their cornerbacks. It's not as aggressive as what Oklahoma ran last year but they aren't yielding space like other teams tend to do either.
Obviously things go a lot better for them when they have a senior cornerback that intrigues the NFL (2013 Jason Verrett, 2014 Kevin White, 2017 Ranthony Texada, 2018-19 Jeff Gladney) helping to lock things down. The closest the 2020 unit has is RS junior Noah Daniels, who was on the bench last season. This will be the second time since they joined the Big 12 that TCU's lead cornerback won't be a returning starter. The first time was in 2016 when they turned to Ranthony Texada in that role, they subsequently had one of their weakest seasons as a defense before rebounding in 2017.
The Frogs are counting on one or both of two apostrophe'd sophomores in Kee'yon Stewart and Tre'Vious Hodges-Tomlinson to come up big. It's possible, but normally TCU builds really good cornerbacks from raw clay over time and not in such quick turnarounds from high school. Noah Daniels is more the prototype here. He's a burner who ran a 10.34 100m in HS and was set to start last year before injury. Daniels is exactly the sort of guy they've molded into a first rounder in the past, we just haven't him on the field much yet.
There's more to this, eventually we'll dive into space force rankings for the coming season, but the improved spread passing attacks are going to be the theme in 2020. Who's ready to stop, mitigate, or outscore all these offenses?
********
Read about how the Big 12 transformed from option-football heaven to becoming dominated by spread passing attacks in my book!