In my last post, I was breaking down the challenges confronting Big 12 defenses for the upcoming 2020 season. The return of several quarterbacks combined with the growth or addition of big time weapons outside at receiver makes for a pretty frightening scenario for defenses trying to cover it all up.
Within that post, I mention that Oklahoma's resurgence on defense in 2019 was achieved largely with MEG or press-quarters, a coverage scheme that asks a lot of the defensive backs with the cornerbacks playing press-man outside while the safeties shift around to alternate who's supporting the linebackers and who's bracketing a slot.
Texas is also set to embrace that scheme in 2020, with a notable difference from the Oklahoma system that we saw in 2019. Whereas Oklahoma was aggressive with their linebackers and safeties against the run, I'm anticipating that Texas will have their linebackers match routes underneath while the safeties keep everything in front of them. Think the 2012 Mike Stoops defense when he infuriated fans by emphasizing man coverage from dime personnel, but imagine if that unit had more NFL players along the defensive line. Caden Sterns will be Javon Harris and Chris Brown will play the role of Tony Jefferson.
Here's an example of how that looked when it was working properly back in 2012: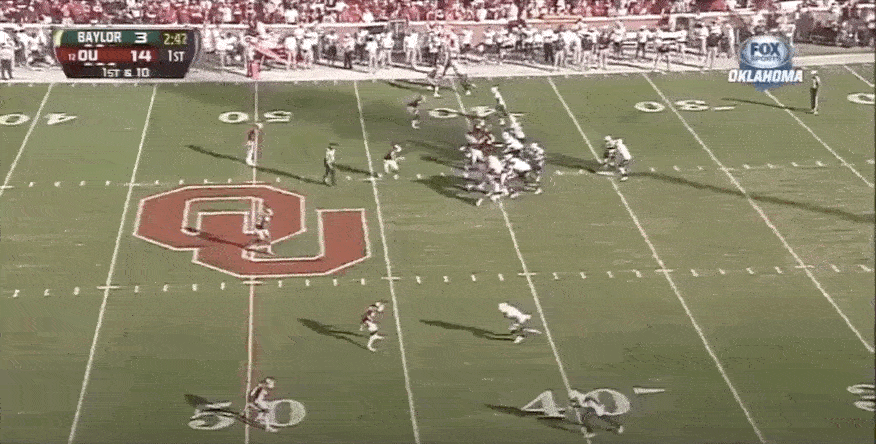 The Sooners are in a 4-1-6 here with essentially four safeties on the field, unless you want to count Julian Wilson (nickel here) as a cornerback since OU had to press him into action there in the ill-fated 2014 campaign. Gabe Lynn is the dime with Demontre Hurst and Aaron Colvin playing corner and Tony Jefferson and Javon Harris at safety.
The outside linebackers, which are really safeties, are sticking on the inside receivers and leaving a five-man box with the safeties reading keys to know whether to bracket deep inside routes or close and stop the run. They got an easier read above because it's a power-read play by Baylor. On RPOs or four-wide spread sets it was tougher.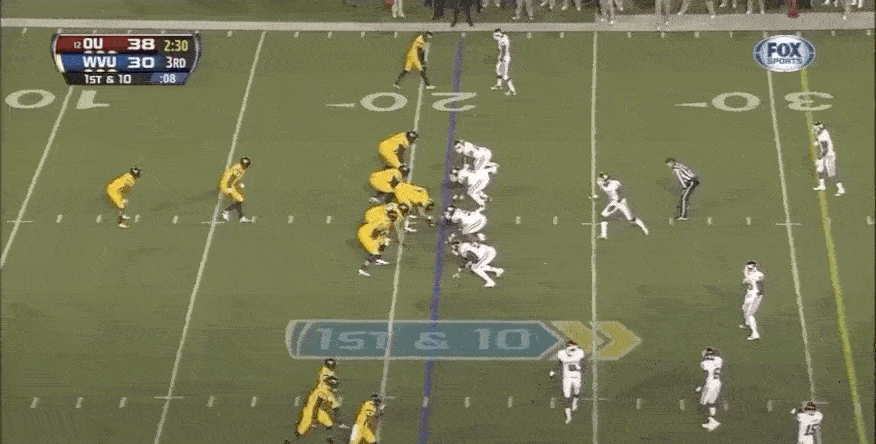 Every few months or so, Tony Jefferson gets on Twitter and complains afresh about the challenge of playing that position, in that scheme, in that game. He wasn't drafted the following summer despite a pretty illustrious career that has been matched by a successful tenure in the NFL. This play above was a tough look for that guy and he explicitly blames Mike Stoops.
Mike Stoops abandoned the scheme in 2013 and moved OU into 3-down, single-high defenses from that point on. The struggles that Oklahoma had stopping plays like inside zone from the spread infuriated the fanbase and commentariat and irked the Stoops bros, but honestly they should have stuck with the dime/bracket design and just tweaked their front and recruited to it. They had Corey Nelson on that roster and Eric Striker redshirting, if they could have adjusted the scheme to help those guys find a role it might have been a better solution.
Imagine if Nelson or whoever was at boundary defensive end was more of an outside linebacker setting the edge rather than trying to two-gap in front of a single linebacker and a deep safety? Maybe a touch more effective. This system did ask too much of the safeties, although Jefferson and Harris had 119 and 86 tackles respectively. They just got ripped when spread teams made them close in space on runners like Lache Seastrunk, Tavon Austin, or Johnny Manziel. Meanwhile the Sooners ranked something like 2nd in the nation in passing S&P+ defense. If you weren't gashing them with the spread run game you weren't doing much at all…but some teams really gashed them.
Feel free to lambast that idea but I'm telling you, the defense that Clemson and Auburn play today is similar to what Mike Stoops was up to initially before he went 3-4. This is also more or less how Ohio State played Oregon in the 2014 National Title game, under new Texas defensive coordinator Chris Ash.
Can this work with Texas' 2020 roster? It asks a lot of the safeties, particularly depending on how much they're asked to help the cornerbacks, and you need to play things really well with the D-line so that everyone playing pass-first in the backfield doesn't get caught. Texas has a lot of blue chip recruits on the roster though at defensive line and safety.
Oklahoma has some other issues going on.
The way they played their MEG quarters scheme in 2019 asked a lot more of the cornerbacks than the safeties. The latter had some tough tasks at times, but they were usually bracketing the inside receivers with the nickel and linebackers and the nickel was corner/safety hybrid Brendan Radley-Hiles. They often had the safeties plug downhill against the run pretty hard but their first duty was to match routes from the inside receivers essentially in man so that the linebackers could trigger fast when they had run reads.
The Sooners return 4/5 of the starting secondary and will be replacing the departing Parnell Motley with Jaden Davis, who played regularly in 2019 and got a few starts.
The main issue is one that I've been pointing out since investigating their 2020 recruiting class and surveying their overall recruiting at defensive back under Alex Grinch.
The gist of my concern for them is this, the best press-man cornerbacks are guys that have elite speed and athleticism. Grabbing big guys is just not the way to do it because while length and strength may help you jam a wideout, quick footwork is more effective and guys with length and strength are exactly the types that can get burned badly if the wide receiver does get a decent release. Here's the rundown on Oklahoma's cornerback room.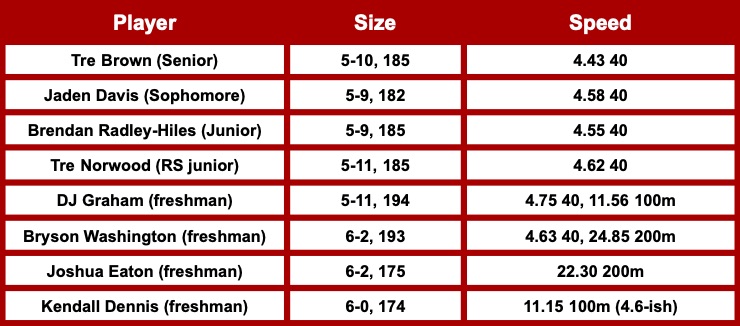 Obviously Boo Radley, Tre Norwood, and Bryson Washington are more likely to end up at nickel or safety than at cornerback. I listed them anyways because there's not a ton of depth here for Oklahoma right now.
There's a major difference between the guys at the top of the depth chart now and then the guys coming up next like DJ Graham and Joshua Eaton. The newer guys are substantially bigger and yet also meaningfully slower. If you look at the guys that Grinch has been offering for 2021, they're also almost all larger players and over 6-0.
So how's that gonna work?
They could repeat Mike Stoops' 2014 season and ask tall guys that can't turn and run to play in isolation on the perimeter, or they could pivot and adjust their quarters scheme into a press-palms system.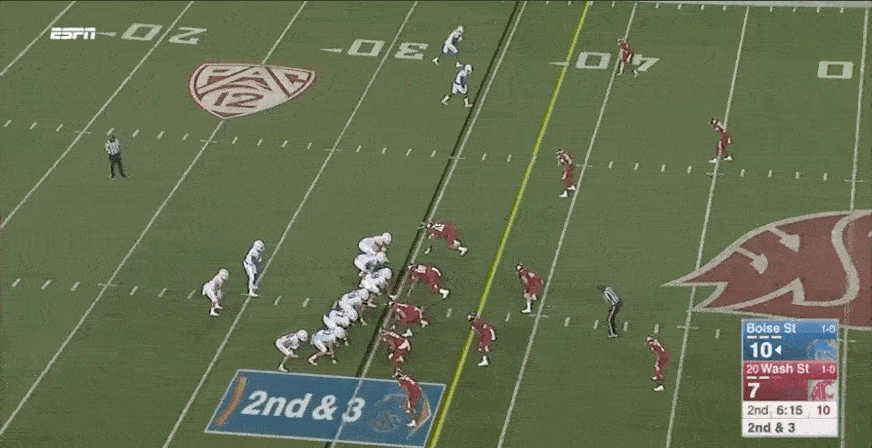 Grinch has only minored in palms coverage and it's a common check for teams against sets with tight ends like this one, but it might be a better fit for how they're recruiting this secondary.
The nickel and boundary corner are your edge run defenders, the safeties are either deep 1/2 players if only one receiver goes vertical or normal quarters safeties picking up the slot receivers if two receivers get vertical.
OU didn't always play it this way but you can have the corners play press in "palms" to disrupt the receiver route and help the safety before closing on the perimeter.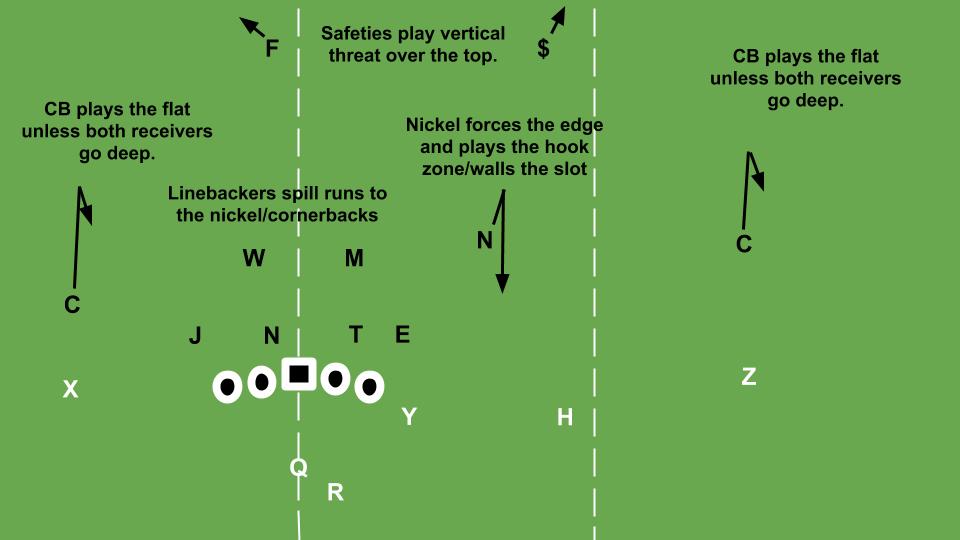 Texas played some palms under Todd Orlando and their "inverted Tampa 2" scheme was usually palms with an extra robber safety in the middle of the defense. Palms pairs well with an approach up front to spilling the ball to the perimeter, some teams will mix it with the tite front but that can end up asking too much of the nickel who has to defend an open edge.
Defensive back factory Cibolo Steele plays press-palms and used 5-star, 6-2/195 cornerback Jaylon Jones in that role, at one point with Caden Sterns and Baylor's JT Woods playing behind him. Their cornerbacks would jam up the receiver and drop to about five yards and then either get underneath routes thrown vertically to rob them or close on perimeter plays spilled by the defensive front setting hard edges.
The great Oklahoma defenses of the 2000s played a good deal of this kind of coverage and turned the 5-11, 190 pound Derrick Strait into a nightmare on the boundary edge as a run stopper and blitzer while utilizing Roy Williams in a similar fashion opposite him at the nickel.
A scheme like palms is all about having versatile, complete football players in the secondary, as opposed to coverage specialists, that are trained to play together on a string. Oklahoma used to blend that coverage with cover 3 to great effect. Brent Venables became more of a bracket quarters guy at Clemson but the palms approach can still work and it'd arguably be an easier way to build top defenses at Oklahoma today than an approach that depends on having press-man corners. It's certainly a better option if your cornerback room is filled with 6-2, physical defensive backs rather than 5-10 burners like TCU (and soon Baylor) are hoarding or 5-11/6-0 freaks that Texas and LSU will be hunting across the Lone Star State.
For 2020 though, this isn't an ideal fit. None of Boo Radley, Tre Brown, and Jaden Davis have shown themselves to be particularly good at playing the run outside-in on the perimeter. They're all pretty small, obviously, and not really about that off tackle life. I'm guessing they keep up their press-quarters approach but down the road when they phase in DJ Graham and the younger guys look out for a switch to more zone.
This is a crucial question for both programs, how they intend to flex their muscles as the most talent-driven B12 programs when it comes to taking on the strengths of the league. How each team does on offense will matter a little more, but if Texas ever get anywhere close to matching the Sooners there then these defensive dynamics will be interesting to observe.
********
Read more about Oklahoma's defense over the 2010s against the challenges posed by Big 12 offenses in my book!