Recently I was talking Oklahoma defensive back recruiting and schematic future under Alex Grinch with Sooners Wire's Kegan Reneau. It was sparked by this post I did on what Oklahoma and Texas will be attempting to do philosophically to stop all the potent passing attacks the Big 12 will feature in 2020.
Reneau asked me if I tended to discount Oklahoma's success in 2019 and 2015 on the same grounds, that both defenses built their resumes facing back-up quarterbacks. The answer to that question is, "to some extent, yes." Both of those teams definitely padded their stats by avoiding some of the league's more dangerous quarterbacks, but both defenses also came through with good gameplans and strong performances in meaningful games.
The 2015 Sooners' defensive game against Baylor, then quarterbacked by Tom Brady successor Jarrett Stidham, was very strong and comes up in the book I recently wrote:
The 2019 Sooners dominated the line of scrimmage in the Red River Shootout and sniffed out Texas' admittedly obvious and ill-conceived 21 spread personnel package they carried into that game. Most importantly, they sacked Sam Ehlinger nine times.
Obviously they weren't a great unit though. Kansas State figured them out and dropped 40 and LSU would humiliate them in the playoffs.
But how many great units were there in the Big 12 in the 2010s? My book describes the 2010s as the era of the "no defense" Big 12, exemplified by Oklahoma's 66-59 shootout win over Pat Mahomes. Looking back while writing the book I found that the 2011 Oklahoma Sooners were pretty lethal in comparison to some of today's defensive units and they took some Ls against Texas Tech, Baylor, and Oklahoma State that led to Brent Venables getting pushed out for Mike Stoops.
Had Venables played Aaron Colvin at cornerback in 2011, one of his more baffling decisions likely related to lacking safeties with coverage ability, perhaps they win one or more of those games and are remembered differently. Their linebacker corps that year was outstanding with senior Travis Lewis, Tom Wort, Tony Jefferson as their nickel, and young Corey Nelson as a sam/edge backer. The overall pass-rush was terrific with Nelson blitzing from multiple gaps in a 3-down structure that Venables designed for that season while Frank Alexander and Ronnell Lewis (both drafted in 2012) worked off the edges at end.
If I could have any defensive unit from Oklahoma over the 2010s I'm probably picking 2011, but they had some serious warts on the resume.
But what defenses that decade didn't?
The 2010s top defenses by scoring D
The Big 12 conference has a handy page where you can pull up raw stats and they'll differentiate for you by conference. So you can figure out which players or teams had the best numbers in Big 12 play without the noise of either battering non-conference creampuffs or getting popped because you had Ohio State on the schedule.
Here's the top 10 units of the decade by scoring defense, how many points per game they gave up in conference play.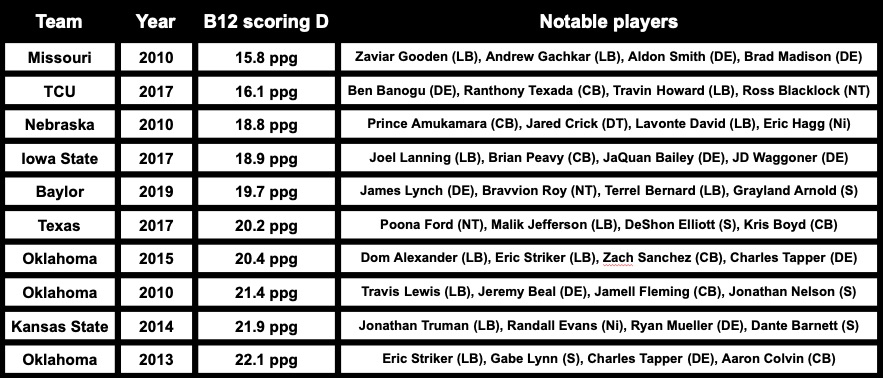 This really isn't a terribly satisfying list. It's pretty heavily weighted towards 2010 and 2017, which is worth further investigating, and the top three includes two teams from the 2010 Big 12 North that left the league just before the round robin/expansion period that boosted offenses.
The Sooners have a bunch of defenses clustered near the bottom and the 2011 unit isn't amongst them for obvious reasons. League scoring average perhaps isn't the best way to find the strongest unit of the decade but it is an interesting place to begin a search and get a review of how the 2010s went for Big 12 defenses.
Contextualizing the top 10
We'll start with the 2010 Missouri Tigers. They went 6-2 in the Big 12 and missed the title game because Nebraska torched them 31-17 in Lincoln behind a 28 carry, 307 yard, three touchdown day by Cornhusker running back Roy Helu, Jr.
Their Big 12 South draw was all sandwiched around that Nebraska game and went @A&M, Oklahoma, @Nebraska, Texas Tech. They took down the flawed Aggies, then defeated Oklahoma 36-27 thanks largely to forcing three turnovers. When they faced Tech they were facing a revolving door of quarterbacks for a retooling team.
Nebraska popped them because the Tigers employed a strategy of playing their safeties shallow out of disregard for the throwing prowess of Taylor Martinez and they got creased on Helu runs of 66, 73, and 53 yards. Three carries, 192 yards, three touchdowns. Martinez also managed to slip a post route over those shallow safeties for a 40-yard scoring bomb. The 2014 Kansas Jayhawks made a similar mistake against Oklahoma, playing up tight with their safeties in man but then allowing Samaje Perine to crease them and get behind the last level when they didn't have anyone that could catch him.
The resume for the 2010 Tigers isn't awe-inspiring, they were a solid unit but the Nebraska game was a dark stain. Perhaps if Aldon Smith had played more of the season but he missed a lot of snaps with a broken bone.
The 2017 Horned Frogs are probably a team that lots of people would mention for the distinction of having the best defense of the decade. The Sooners popped them twice but that Oklahoma offensive unit was legendary and no one else did that much save for the Mason Rudolph Cowboys (who also turned it over several times) and then the Stanford Cardinal of all teams in the bowl game.
TCU had more or less the prototypical roster build for playing the 4-2-5 in the modern game. They had Ross Blacklock and Corey Bethley anchoring inside at tackle, rotated linebacker-sized ends in Ben Banogu, Mat Boesen, and Ty Summers outside, had converted safety Travin Howard at linebacker, and had strong corner play at both ends with Ranthony Texada and Jeff Gladney. There just weren't many weak spots on that unit.
The 2010 Nebraska Cornhuskers are another unit you might mention though as having the ideal roster structure for Big 12 defense. A lot of people expected them to drop off after sending Ndamukong "House of Spears" Suh to the NFL. They didn't, in fact they got a little better.
They were very comfortable playing dime with the 6-0, 200 pound Dejon Gomes as a linebacker paired with 6-1, 210 pound Lavonte David. Eric Hagg was one of the better coverage nickels in league history and cornerbacks Prince Amukamara and Alfonzo Dennard would both eventually be drafted. Also key for that team, defensive tackle Jared Crick apparently didn't need to play next to Suh to wreak havoc and he had 9.5 sacks working instead with Husker legacy Baker Steinkuhler. Bo Pellini worked out the details of anti-spread defense faster than most of the nation, which is good to remember now that he's the defensive coordinator at LSU.
That unit destroyed Jake Locker as a NFL draft prospect to start the season but then had three hiccups in Big 12 play. First, they lost their big revenge game against the Texas Longhorns 20-13. They took down Texas' passing game and the Longhorns didn't land their gloves all that often, but the Cornhuskers got abused early on by Texas involving Garrett Gilbert in the quarterback run game and once they got down their own inept offense didn't allow them to catch back up.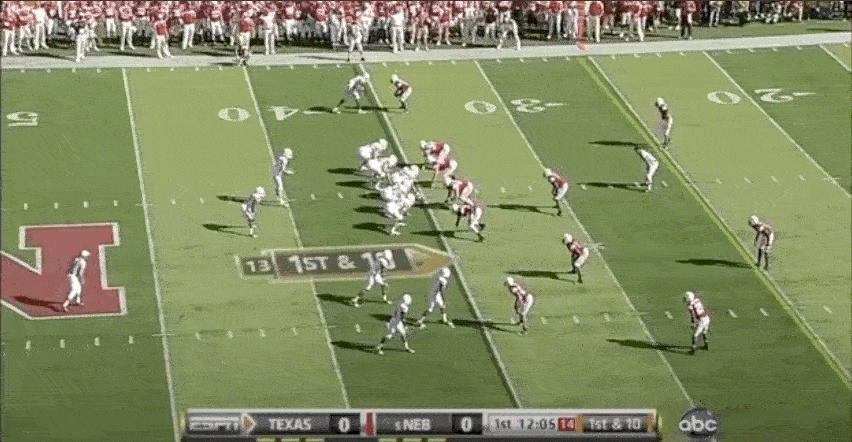 Then they got thumped by the Justin Blackmon Cowboys. This is partly where Mike Gundy's confidence that they could have defeated LSU in the 2011 National Championship game comes from, this and the way that OSU destroyed Texas and Oklahoma that year. There were a few NFL cornerbacks on the schedule that didn't hold up against the 'Pokes. The Cowboys over-stressed them overall and Kendall Hunter added 26 carries for 201 yards.
Iowa State also dropped 30 on them, teams that could punish their dime with high level spread run game were a problem for those Huskers. The Cyclones did it under then offensive coordinator Tom Herman with a zone-read run game. The Huskers also had a remarkable eight turnovers in that game. Some of these teams are on this list because their offense helped them out a ton, but the 2010 Nebraska blackshirts accomplished everything they did in spite of their own offense.
Back to the 2017 season for the next team, the Iowa State Cyclones. Since installing the inverted Tampa 2 for the 2017 season, the Cyclones averaged 18.9 ppg on D, then 24.4 (best in 2018), and then 26.7 (4th best in 2019). This unit was typical of everyone that has come since. The key to that team was the defensive end and linebacker play. The inverted Tampa 2 structure protected the linebackers and allowed them to dominate in the middle of the field and they regularly involved safety Kamari Cotton-Moya into the mix as well. Defensive ends JD Waggoner and JaQuan Bailey made the drop eight system work and then Brian Peavy added extra value by locking down boundary receivers and allowing them to mix in Cotton-Moya.
In addition to installing this defense during the season, they'd also moved quarterback Joel Lanning to middle linebacker before the season. You could argue that a major reason this defense has worked so well for the Cyclones is that it's allowed them to maximize and advantage they've often had in the Big 12 era, which is linebacker play. Anyone else remember AJ Klein and Jake Knott? They produce guys like that fairly regularly and have a few more ready to go in 2020 with Jake Hummel, O'Rien Vance, and Mike Rose.
That defense handed Oklahoma their only L of the season until Georgia and held James Washington to one catch for 25 yards…but Oklahoma State still popped them pretty hard. Mason Rudolph hit Jalen McCleskey and Marcell Ateman for big gains and they used their spread-I and fullbacks to get Justice Hill steady gains on the edge behind lead blocking.
In terms of historical impact and resume, the 2017 Cyclones have one of the strongest cases of the decade. The only missing piece is probably the star power of the cast. Not a single player from that defense has been drafted, "Chief of Police" Joel Lanning has already begun his coaching career and is a GA at Iowa State.
The 2019 Baylor Bears really surprised people and earned head coach Matt Rhule and the team a trip to the Big 12 title game and then Rhule parlayed that into the Carolina Panthers Head Coach job.
Their model was to borrow (steal) Iowa State's structure, mix in a little more of Matt Rhule's preferred cover 3, and to field James Lynch. I include Grayland Arnold, whom they moved from cornerback to safety in order to make their defense of the wide part of the field extra formidable. He played behind a special athlete in Blake Lynch and they denied offenses the spacing they were accustomed to attacking.
Clay Johnston and Terrel Bernard both proved to be spectacular inside linebackers and Jordan Williams was no slouch either. This unit was strongest up front though with Lynch, Bravvion Roy, and Texas A&M transfer James Lockhart. The resume is pretty solid. They locked up Iowa State at home (in 100+ degree heat), and shut down flailing late-season Texas at home as well. The Oklahoma Sooners figured out how to run on them a couple of times but the Bears showed well in both of those games, they also held the full complement of Spencer Sanders, Tylan Wallace, and Chuba Hubbard under 30.
The knocks against this team are that they didn't face as strong a Big 12, the league was down in 2019, but they did not dodge the league's best players with the same fortune as did the 2019 Sooner defense. James Lynch, Roy, and Johnston were all drafted the following summer.
The 2017 Texas Longhorns also stole the Iowa State defense, although they had a couple of nice performances that season before stealing the inverted Tampa 2, 3-2-6 dime structure.
There's several interesting notes about this team. One is that they paired this defense with much more speed than Iowa State or Baylor was able to do because of Texas' privileged recruiting AND they paired it with one of the greatest punters in football history, Michael Dickson. The offense for Texas that year was flaming garbage.
Another is that this unit played pretty well against the best Baker Mayfield Sooners and did so before they'd adopted the 3-2-6 structure. Amazingly, they might have been able to beat the Sooners had they adopted the IT2 dime earlier in the year. Mike Stoops' defense was abused in that game for playing man coverage when Sam Ehlinger eventually started scrambling every third play and ran for over 100 yards on 22 carries. They also shut down Oklahoma State, the game where they unveiled the 3-2-6 "lightning" package.
Poona Ford went undrafted but has emerged as a starter for the Seattle Seahawks and was dominant in this defense. He was flanked in the dime by Charles Omenihu and Breckyn Hager, both miscast as B-gap 3-4 ends when they were better as edge players. What made the unit special was that behind them they had eight players that ran 4.6 or better in the NFL draft, including linebackers Malik Jefferson (4.52) and Gary Johnson (4.43). This may have been the fastest defense in Big 12 history.
Stains on the resume include getting blown out in the season opener by Maryland, a coverage bust against Oklahoma that cost them that game, two-minute defense fails that cost them a shot at upsetting 11-3 USC, and they avoided Will Grier in Morgantown when he broke his finger diving for an early touchdown. It also has to be noted the extent to which Michael Dickson helped this defense with his absurd punting, although that's probably canceled out by how bad the offense was.
The positives include one of the better defensive performances against a Lincoln Riley offense, shutting down lethal Oklahoma State and Missouri offenses, shutting down the Sam Darnold Trojans (unless there was one minutes or less on the clock), and also finding a way to lose to Texas Tech (mostly on the offense, of course). Another stain on this unit was that Todd Orlando followed this up by getting progressively worse in the following two seasons while struggling to build on the success of the "lightning" package.
We discussed the 2015 Oklahoma Sooners some above. What made that team really effective was largely just the talent. Eric Striker moved back and forth between sam and jack linebacker in their 3-4 and 3-3-5 nickel packages and was a menace. The defensive line was their best in years outside and unmatched until 2019. Charles Tapper was excellent that year and posted seven sacks, Charles Walker was tremendous as a role player with 10 TFL and six sacks, and their other end Matt Dimon was solid as well. The inside linebackers Dom Alexander and Jordan Evans were solid, not great, but solid. Safety Steven Parker could play man coverage on slots and make their single-high coverages work and then Zach Sanchez and Jordan Thomas combined for 12 interceptions.
What made them more suspect was the following details…
They were beaten by Texas while quarterbacked by Jerrod Heard, he ran the ball 21 times for 115 yards in an offense that ran the ball 58 times while throwing 12 passes. Classic 2010s Mike Stoops Red River Shootout performance. They dodged Seth Russell, who was threatening to break every record at Baylor, and they beat Jarrett Stidham in part because Jordan Evans threw him on his back with a late hit early in the game and bruised him pretty good. Then they played a TCU team missing Trevone Boykin and an Oklahoma State team that lost Mason Rudolph. Finally they caught DeShaun Watson in the playoffs, predictably Clemson seized on Texas' success with the run game and both Watson and running back Wayne Gallman had 20+ carries for 100+ rushing yards in a 31-17 Tiger win.
If this team had caught either Seth Russell or Trevone Boykin they probably take an extra L and potentially lose the Big 12 title and certainly the playoff berth. They just couldn't hold up against the quarterback run game.
The 2010 Oklahoma Sooners were a pretty different team. They had some of the 3-down stuff that Venables would use again in 2011 and could put Frank Alexander and Jeremy Beal on the field together in a very unpleasant fashion. Jamell Fleming was healthy all year at cornerback and the safety tandem of Quinton Carter and Jonathan Nelson was one of their strongest of the Venables era, while Tony Jefferson was a hotshot freshman in the nickel.
The resume was pretty nice. They shut down Jimbo Fisher's Florida State, 47-17, early in the year. Then they got caught and dang near beat (31-30 win) against a 4-8 Butch Jones Cincinnati team. They won the Big 12 and had three incidents that were meaningful stains on the defensive resume.
The Missouri team mentioned above beat them, Blaine Gabbert had a solid day and the Tigers capitalized on turnovers. It wasn't a bad beat for the Sooner D but it wasn't an amazing performance either. Then they lost to Texas A&M and Ryan Tannehill 33-19, largely due Cyrus Gray.
Finally they beat Oklahoma State in Bedlam but it was 47-41. In the defense's favor is that they played good run defense in that one and picked off Weeden three times.
Overall it was a good, talented unit that made a lot of plays that enabled a Big 12 title in a year with some very good offenses on the schedule.
Next up is the forgettable 2014 Kansas State Wildcats. It's frankly bizarre that this is the K-State team that ranked the highest by scoring average. Their offense that season was Jake Waters throwing to Tyler Lockett and Curry Sexton, not Collin Klein bulldozing people for four yards a pop and running clock. The 2012, Big 12-winning K-State defense also had more memorable talents like the Meshak Williams/Adam Davis defensive end tandem.
This unit featured 5-11 (maybe…) 219 pound walk-on linebacker Jonathan Truman making 124 tackles, walk-on defensive end Ryan Mueller generating a lot of their pressure, walk-on nose tackle Will Geary assisting him, walk-on nickel Randall Evans helping to deny the wide space to the field, and walk-on Dylan Schellenburg playing over the top in the boundary.
Athletes on the team included cornerbacks Morgan Burns and Danzel McDaniel and then a young Jordan Willis at defensive end.
This unit narrowly lost to Auburn 20-14 in the non conference, an Auburn team with Nick Marshall coming off an SEC title and National Championship runner-up status. Then they had a great Big 12 run.
They barely beat Oklahoma 31-30 but they held Samaje Perine to 89 yards on 24 carries and dared the Sooners to beat them with Trevor Knight, which was a closer thing than you'd expect but went awry when Knight threw a touchdown pass to Danzel McDaniel backed up on his own goal line. They lost a chance at a Big 12 title against Baylor, who stretched those walk-ons sideline to sideline and picked them apart up and down the field. Then they took another L against TCU when their bend don't break strategy couldn't stop the two-headed rushing attack of Trevone Boykin and Aaron Green, incidentally that's the sort of attack that Gary Patterson desperately wants back with the Zach Evans signing.
The 2014 Big 12 was definitely down a bit. Boykin and Bryce Petty were the guys that hurt teams and they both really hurt K-State. Texas and Oklahoma were both down a bit, the Longhorns had Tyrone Swoopes and got shut out in Manhattan, the Sooners had Trevor Knight. West Virginia mixed Skyler Howard and Clint Trickett in this game, Texas Tech leaned on Davis Webb threw a couple of picks before turning to Pat Mahomes late when the game was out of hand.
This definitely wasn't one of the best Big 12 defenses of the decade but it is remarkable how effective they were with four walk-ons not only in the starting lineup but playing major roles.
Finally we have the 2013 Oklahoma Sooners, which is a unit that I tend to appreciate. I wrote the other day about how the 2012 defense played a 4-1-6 with dime personnel in fairly close emulation of the 2010 Nebraska defense. They had similar problems to that Nebraska defense stemming from spread run games and they didn't have a Jared Crick or Lavonte David to help stymie those issues.
Well they ditched that in 2013, moving to a 3-down structure and shockingly moving Corey Nelson to inside linebacker to make room on the edge for the as of yet unknown, 5-11, 227 pound, well-named Eric Striker. Whereas the 2012 defense relied on dime packages to protect safeties Tony Jefferson and Javon Harris from playing man coverage, both of them moved on and the Sooners played Gabe Lynn and Quentin Hayes back there. Both of those guys could man up a slot and Lynn in particular was a legitimate player. Julian Wilson stayed at nickel and Dom Alexander ended up playing the Big 12 slate when Nelson went down with a season-ending injury.
The main issue for this team was the same as many of the later Brent Venables teams and one that Mike Stoops struggled to solve. They moved to a 3-down but their D-line consisted of Geneo Grissom (6-4, 252), Chuka Ndulue (6-3, 289), and Charles Tapper (6-2, 282) at end and then a lot of Torrea Peterson and Jordan Wade at nose tackle. They started the year with the imposing, 6-6 and 334 pound Jordan Phillips at nose but he was injured.
If that dude had played all year this team would be higher up the list. Aaron Colvin locked down half the field for them and Zach Sanchez worked opposite, all of their safeties could cover, and Eric Striker was a problem. They faltered down the stretch with Baylor whooping them and Kansas State dealing some damage with their quarterback draw/PRO game and Tyler Lockett catching 12 passes for 278 yards and three scores.
They also got blasted by Case McCoy and the Texas Longhorns (less McCoy really then Jonathan Gray and Malcom Brown). That game did produce this image though:
After the season, the Sooners beat up AJ McCarron and a lackluster Alabama team and fooled me into thinking Trevor Knight was going to unleash pain on the Big 12 in 2014.
At the end of the day the 2013 Oklahoma Sooners went 11-2 while rotating Blake Bell and Trevor Knight at quarterback, which is certainly a meaningful achievement. Within two years Bell would be heading to the NFL as a tight end and Knight would be transferring to Texas A&M.
Summing up the best scoring Ds
The defenses that stand out from this list for one reason or another are the three 2017 defenses (TCU, ISU, Texas), 2010 Nebraska, 2019 Baylor, and then that walk-on 2014 K-State defense.
The Wildcats certainly weren't the best of the decade, it's just amazing what they accomplished with their talent level. The 2010 Nebraska defense had a really tough schedule and hadn't totally worked out how to defend the spread run game from the 4-1-6 but they stand out as being innovators.
2017's Longhorns are memorable in part because of how insanely fast that defense was, but they aren't the greatest here.
I'd give it to one of the more committed inverted Tampa 2 defenses, Baylor and Iowa State, or the 2017 Horned Frogs.
Iowa State should go down as being one of the most important defenses of the decade because of their innovation. The Baylor defense cemented it and nearly won a league title with that approach, coming up just short twice in a row against the boogeyman (Lincoln Riley). TCU got a lost closer to nailing the 4-1-6 dime formula than a lot of previous teams but just didn't quite get over the hump.
So who was the best D of the decade? One of these? Or another team that wasn't as strong in terms of raw scoring numbers but was a stronger unit for generating wins in this league?