The 2017 season was a big one for Mike Gundy and Oklahoma State. My assumption was that it was going to be his big chance to cash in hard on the Mason Rudolph era before it faded and head off for another job (Tennessee?) if he was ever going to do so. Oklahoma State seemed to be treating the season that way as well, snagging several grad transfers after pulling off the initial coup of keeping Rudolph and lead receiver James Washington.
Well it turns out that he did cash in nicely, but he turned down the Tennessee job and signed a $22.5 million deal to stay in Stillwater. He could leave in the future I suppose, he's still not fairly young, but it seems that he's happy to remain king in Stillwater until the end of his career. That's fun for the Big 12, for OSU fans in particular, but also for me because I think he's a creative enough coach to really push the boundaries of what's possible at a non blue-blood program.
Their recruiting class are normally rated lower than much of the rest of the conference but that hasn't proven particularly useful for evaluating their prospects. They tend to land in the sweet spot of finding lots of college-caliber players and a few legitimate star athletes at positions of need.
This class included four players from Eric Nahlin's top 100 in Texas and 13 Texans overall along with six Oklahomans and then players from a smattering of different locales. They also pulled another lever with a grad transfer that we'll get to here in a paragraph.
You have to wonder looking down this roster how much of Gundy's success has simply come from successfully aligning Oklahoma State's strategies with the strategies of the explosive offenses in the DFW metroplex. They tend to feast in that region and their offenses are pretty similar to what's popular in that realm of the world. If they can find a place to copy defensive culture from that'd be the breakthrough they need. They also love to hit up San Antonio for players (Cibolo Steele).
In Gundy's early NSD presser he claimed that the early signing period was going to change the game and bring parity (in favor of OSU). Evidently he believes that his staff's ability to evaluate and build inroads early on will net them superior players, perhaps because they won't have so many poached away by bigger schools late in the process. I'm not sure how that works since bigger schools will probably now invest the resources to do earlier eval better and that'll be hard to match, but we'll see. To me it seems the real parity is coming from increasing favoritism towards kids that want to transfer, which allows schools like OSU that coach and develop well to be attractive options for talented kids that either want a new depth chart or a tougher challenge.
Anyways, let's see how he did here.
Offense
Quarterbacks
Gundy wants to throw the ball down the field, that's pretty clear. That's why Jake Hubenak was passed over for strong-armed Daxx Garman, why he often recruits big, tall passers, and why Mason Rudolph was a 3.5 year starters with a lot of big numbers. The name of the game here is a multiple zone run game paired with RPOs and deep play-action shots. A sort of Air Coryell spread, or just a "smashmouth spread" depending on the lingo you prefer. They tend to aim for muscle memory with a simply playbook and tall QBs throwing to spots down the field to burner wideouts. They've also mixed in zone-read and QB draw when they've had QBs that were useful on those concepts.
I'll start by noting the addition of Hawaii grad transfer Dru Brown, who I broke down on this blog last month. He doesn't fit the normal pattern of great OSU QB play as he's neither tall nor particularly strong-armed, but he could be great at hitting their lethal assortment of inside receivers next season.
Spencer Sanders: 6-2, 190. 4**** from Denton, TX (Ryan) IT #15
This is one of the more popular takes in this class, in large part because Sanders is a good athlete who ran the ball effectively in high school and carried his team to the 5A semifinals before going down to John Stephen-Jones' Highland Parks team.
As his own coach and Gundy have been quick to note, Sanders is really a pocket passing prospect who happens to be a confident and dangerous runner if things break down or you want to mix in some zone-read to threaten the perimeter more. While many have raved about his running, to me he reminds me of Clint Chelf in that regard and not some elite talent like Shawn Robinson.
His greatest attribute by far isn't his legs but his ability to hit targets outside the hash marks accurately with his arm strength. He executes a lot of simple reads on film that are simple for the reason that defenses don't typically try to murk up the picture on the kinds of throws he's regularly making. Instead they'd prefer to make you out-execute good coverage. Will he be able to discern trickier coverage or out-execute collegiate coverage defenders? Quite possibly, yes, but I think it'll take a lot more time than people seem to be projecting. I'd give very low odds of him even avoiding a redshirt, much less winning the job in 2018.
Grade: B-
I've liked some of OSU's other recent takes at this position as well, Sanders is a fairly raw talent but a very good one that matches their profile and who should have plenty of time to develop.
Running backs
OSU is a zone blocking team with a particular love of outside zone, which is a scheme predicated on disciplined reads by the back and the ability to plant and bounce, bang, or bend a run with enough quickness to get your shoulders square and your speed up hitting the hole. The position really matters for them since they put such an emphasis on balance, but that same balance and overall commitment to simplicity and execution often unlocks the full ability of their players.
Jahmyl Jeter: 6-0, 203. 3*** from San Antonio, TX (William J. Brennan)
Jeter played in an under center offense that ran a lot of lead zone plays with a fullback and mixed in some tackle-trap/lead stuff. He's pretty much exactly what you're looking for, a powerful runner with the ability to both bounce a run outside and win the edge or to cut it back. They have a lot of guys ahead of him which will be helpful to him as he adjusts to the shotgun alignments and footwork and potentially bulks up to 220 or so.
Grade: C+
The 'Pokes grabbed what they needed here with a guy that's pretty likely to prove worthy of the depth chart and who fits their design.
Ancillaries
Ever since hiring Jason McEndoo the Cowboys have consistently sought to utilize their "cowboy back" position to bring formational flexibility to their offense. They name the position based on hybrid capabilities but they'll take guys of varying skill sets and fit them in based on what they can offer their scheme.
They absolutely need a guy who can lead block on zone (like Zac Veatch or Britton Abbott), which isn't that terribly difficult to find if you can teach it, and beyond that anything else is just value-add for their offense.
Jake Ross: 6-7, 243. 3*** from Miami, OK (Northeastern Oklahoma A&M)
Gundy seems to like this one, which makes sense to me after watching his film, and thinks he can be at 260 by the fall. Given his massive frame that seems pretty reasonable.
He has a really quick first step but probably a dreadful top speed, the step is really all that matters and you see him maximize it both for getting out into space on a route and climbing off combo blocks to pick off LBs in the run game. Their evil plan is surely to attach him on the end of the line and make their outside zone run game a nightmare for all of the teams utilizing 4i-technique DEs. It's pretty diabolical.
Grade: B-
I bet OSU is also adding preferred walk-ons that they are eying for their fullback role. They got a pretty sturdy ILB from Tulsa Union HS named Braden Spicer that might fit the bill there for all I know.
The addition of Ross could be huge for this coming season even though much of the commentariat or fans would potentially fail to realize the impact. It's likely that OSU will be playing Dru Brown at QB and leaning on Justice Hill and the run game and Ross could bring a major added dimension to their run game that allows them to play a little bully ball.
Wide Receivers
Oklahoma State's WR tradition is absurd. They tend to stock up on some truly explosive athletes that everyone is confused to find in Stillwater three years later. Since Gundy took over in 2005 the Cowboys have had 10 1k-yard receivers and had at least one in nine out of 14 seasons with Gundy as the head man.
They like to have one outside guy that can serve as a primary target, ideally at the Z position since there is still Air Raid influence here and that guy runs a lot of deep alert routes, curls, and whatnot. They also need a slot who can threaten the seam vertically. Last year was their most potent combo I've seen as they had a pair of seam-stretchers in Jalen McCleskey and Dillon Stoner, their alert guy in James Washington, and then another big target opposite in Marcell Ateman that feasted on man coverage all year.
C.J. Moore: 6-5, 175. 4**** from Tulsa, OK (Union)
I regard Moore as the second best prospect in the class. He's super bouncy and gets separation really easily for such a tall dude, he has strong hands and easy body control, and then breakaway speed when he hits a crease. As an opposing team you don't like to see all of these traits in a dude this tall. He might end up at either the X (Ateman) or the Z (Washington) spots, it depends on how explosive he proves as a vertical threat.
Jonathan Shepherd: 6-4, 196. 3*** from Kilgore, TX (Kilgore)
At a SPARQ he posted a 4.63 40, 4.32 shuttle, 37.2″ vertical, and 36.5′ power toss. That's a lot of explosiveness and athleticism in a tall frame but he's fairly raw currently as a route runner. In time I'd like to see him at the Z running lots of post routes while Moore works a variety of backside routes at the X. He'll need time to develop but he can just fly past people at times and he big and strong, hard to see him failing to develop into a dangerous vertical threat.
Grade: C+
Both of these guys are awesome, ideal takes for developing All-B12 type playmakers at their outside receiver spots. The grade is only lower because they didn't land any seam-busters in the slot and the numbers are low overall. But they loaded up a year ago so this isn't really an issue long-term.
Offensive line
Oklahoma State only signed one player last season and he was a JUCO, no less. Then Gundy fired their OL coach as punishment. Obviously they needed to take numbers here and ideally without relying on lots of JUCO bandaids that wouldn't fully address the problem of needing long-term, developmental takes to maintain unit health.
With their commitment to zone blocking and their preference for Air Raid-inspired passing structure but with a greater emphasis on vertical shots, they like to get tall guys that can translate in outside zone. That can be a touch tricky, they need to be light on their feet and tall guys can struggle there, but perhaps they'll use more inside zone in the coming years like in the Wickline days.
Hunter Anthony: 6-7, 320. 3*** from Tuttle, OK (Tuttle)
Your prototypical "he's sorta light on his feet but he's also just massive" 3-star OL prospect. I prefer the dudes that are plus athletes with frames that will obviously and easily fill out to 300 or so in college, Anthony will require no less amount of S&C work to be ready for the college game. For whatever reason recruiting rankings are always stingy and hesitant about whether OL prospects can get bigger or not, which is silly.
Anthony seems a bit too slow to me for B12 tackle but he could be a nice player at guard, particularly with a greater emphasis on inside zone.
Jacob Farrell: 6-6, 280. 3*** from Sulphur, OK (Sulphur)
Another guy that will need a long time before he's ready to compete in the college game except Farrell will have less weight to shed before packing on the real gains than Anthony. He's a bit quicker than Anthony as well, although some of that may just be the difference in size and could change in 3-4 years time. He might be able to stick outside at tackle but again, he seems a better bet as an obstacle/IZ guard.
Bryce Bray: 6-5, 309. 3*** from Bixby, OK (Bixby)
Bray is actually an athlete and not just a big, local tough guy that could be grown into an OL with time like the previous two additions. I think Bray is very likely to end up as a starter on the OL somewhere, potentially at any of the five positions although left tackle would be stretching things a bit. The challenge for B12 teams is often whether they have enough good tackles on campus to play someone good or better at both LT AND RT. Bray's career and how he's looked at may depend on whether he's asked to be THE guy, the NEXT guy, or a guard.
Hunter Woodard: 6-5, 296. 3*** from Tuscola, IL (Tuscola)
Interesting that OSU was able to pull this kid from B1G country, I think he's about on the same level as Bray in terms of being a potential tackle but evidently OSU has told him they like him for RG. He's more of a mauler than the other guys and OSU seems to like to put their road-graders on the right side of the OL.
Tyrese Williams: 6-3, 285. 3*** from Houston, TX (Cy Ridge)
Williams ran a 4.54 shuttle in the SPARQ test and he's really quick on film as well. His ability to connect on a LB coming off a combo block is about as good as you tend to see from a HS OL, particularly one that isn't a tackle, and he's really good as a puller as well. The plan at OSU is to play him at center and rely on his quickness to guarantee that they always get really effective double teams on nose tackles in all of their zone schemes. If you can get that you're pretty much guaranteed to have a pretty good run game.
Grade: C+
They got good numbers, they should all be redshirting and hanging around on the practice field for a few years before they are asked to contribute in a major way, and that makes for a big win for them. Williams is the real plus addition who could be a big time part of their formula for victory in future seasons, it'd have been nice if they got a better tackle prospect somewhere.
Defense
Defensive line
It looks like OSU is committed to four-down with the hire of Knowles, even though they've dabbled with three-down in recent years under the now deposed Glenn Spencer. Playing four-down means that you have DEs that can set the edge, be athletic disruptors when left unblocked on the option or in trap schemes, and can generate a pass-rush without needing to consistently add blitzes. You also need at least one really good DT, either a 3-technique that ruins the offense's ability to block a DE without sending help and/or a nose that is always commanding a double on the strong side. OSU has often had pretty good DEs without consistently fielding a great pass-rusher and then been even better inside at DT with the more regular appearance of a disruptive 3-technique in particular.
Michael Scott: 6-5, 240. 3*** from Athens, TX (Trinity Valley CC)
Scott is a pretty solid athlete who was productive a year ago with four sacks in six games but at least one of those sacks came from a questionably great jump off the snap that allowed him to beat the tackle around the edge. He's a pretty good athlete for the position with some length and some fight to him and it sounds like he's a dude with a checkered past who's working hard to make the most of what football can offer him while he can. Those are often the JUCOs that you really do want in your program because they are hungry and disciplined.
I don't know what his ceiling is but he has good raw tools for OSU to work with.
Samuela Tuihalamaka: 6-2, 275. 3*** from Santa Ana, CA (Mater Dei)
He's a big, powerfully built Islander that plays quicker than he really is because he attacks with a lot of confidence and uses his hands well. Lots of DL rely on beating OL by beating them to a spot so that they have the leverage they need to win when the double comes or feet of the OL arrive to the party. Tuihalamaka wins to a spot because he'll take the shortest path and he isn't concerned about what happens if the OL beats him because he intends to play THROUGH the OL regardless.
Anyways, he should be a good nose tackle in time that is hard to dislodge.
Tyler Lacy: 6-4, 238. 3*** from Sachse, TX (Sachse)
Lacy is a scrappy bEastTexas kid that plays quicker than his actual athleticism would suggest and often seems like he might JUST be athletic enough to make it as a DE in the college game. But with his frame and motor, the upside here is a 3-technique down the road that can cause problems with his length, quickness, and motor (if it keeps running hot with 40-50 more pounds on him).
Amadou Fofana: 6-5, 270. 3*** from Highland, KS (Highland CC)
Fofana is a highly decorated JUCO player that could conceivably fit at any position from a 7-technique DE down through every spot to the 3-technique. He's pretty quick off the ball and his speed to power move on the edge is very good but he's also good with his hands playing inside as a 3-technique or 4i. I think he's good enough to play immediately and a glance at the OSU depth chart tells me he might end up at any of those positions and it's hard to know where.
Braden Cassity: 6-2, 240. 3*** from Austin, TX (Westlake) IT #87
I'd probably have Cassity ranked as the best player in this class if I was confident of what his body will look like in three years. He's a pretty stocky 240 or so even now so getting all the way to 280 or 290 is hardly out of the question but it isn't his obvious destination. Over at Inside Texas Scipio Tex has been sharing info on S&C, genetic tracks, physical development, and the values of different forms of tests. He lists the vertical as one of the best ways to get a sense of a guy's genetic gifting and ability to generate power easily and quickly. Cassity's vertical is 35″, which is insane, and the similarly designed power ball test saw him hit 37′. He also ran a 5.07 40 and a 4.38 shuttle. In other words, Cassity is a freak.
Put on his film and you can also see this at play, he's WAY too quick for any of the OL across from him. He's probably the primary reason Westlake finally beat Lake Travis last season although I haven't seen that full game so I don't know.
He's listed as a weak side end by the services but Westlake played him inside at the 3-technique and as a shaded nose where he wreaked havoc. OSU will have to sort out if he can learn to become a dominant edge rusher or if his best future is to fill out further while leaning on his absurd genetics to maintain his speed and explosiveness at 290. If it's the latter, then he'll be one of the more dominant players in the Big 12 in a few years.
Grade: B-
I don't know if any of these guys will prove to be the kind of DE prospect that OSU would ideally have to make their 4-2-5 hum but Fofana will probably be a really strong addition and there's a chance that Cassity becomes an NFL player of the sort that will guarantee their DL is good whether they have an ideal DE outside of him or not.
Linebacker
OSU has enjoyed some of the more fundamental LB play in the league over the last several years, even as their secondary struggled, but that was with Glenn Spencer coaching the unit. Jim Knowles takes over this room now and his players at Duke played in a similar fashion, with good fundamentals and also with some opportunities via the blitz. I haven't broken down how his pressure package works yet but I can tell that it involves the LBs. His overall scheme really sets them up well for success and allows the to run to the ball with hard-charging safeties filling behind them.
Kolby Peel: 6-0, 209. 3*** from College Station, TX (A&M Consolidated)
Peel could actually stay at safety where he played in HS. His SPARQ results (4.8 40, 4.32 shuttle, 33.2″ vertical, 33′ toss) paint the picture of a guy that can stick at safety if he's smart and a good tackler or a guy that might be a plus athlete at linebacker if he can handle the reads and find room for 20 pounds on his frame.
Peel's film is of a guy that is really good at breaking down and delivering form tackles over the middle of the field. I think he'd be a good fit as a will or outside-backer that can move laterally well enough to hold up against the spread and then beat blocks or knock back runners.
Blake Barron: 6-0, 225. 3*** from Rockwall, TX (Rockwall)
I'm a very big fan of Barron and I think he's probably wildly underrated in an era where everyone is complaining about how hard it is to find a Mike LB in Texas these days that played the position in HS at a high level. Typically your powerful, athletic, tackling machine that you'd want as the tip of the spear for your D is going to play DE in the modern game but Barron played at Mike for Rockwall.
You can see him reading keys in a variety of ways on film, reading the guards, reading the lead blockers, reading the RB trajectory, and he always diagnosis quickly and then plays downhill and fights through whatever he finds until he reaches the ball. If OSU can keep the ball funneled inside to him he'll reward them some day with a 100+ tackle season.
Grade: C+
The numbers here are low and they'll probably have to transition some of their safety or star takes from previous seasons into ILBs in the coming seasons. That said, both of these guys are good takes and Barron in particular I think has All-B12 potential.
Defensive back
OSU is making a big move here with the hire of Jim Knowles and the inevitable transition now to the 4-2-5 sky quarters scheme that you can learn about it in tremendous detail from matchquarters.com. The essence of the new scheme is to rely on the CBs more on the sidelines and to play outside-in with the nickel position to funnel the ball between the hash marks where the LBs and Ss can play fast. You give up a little bit on the edge and you have to trust the corners not to get beat deep but you shore up your coverage overall.
The need now is less for super coverage savvy safeties or a space-backer that can man the edge like in the previous scheme. No more CBs playing strong safety or Shaun Lewis' at "star" linebacker. Now you want savvy, good tackling safeties at both spots, much more coverage-oriented cornerbacks, and then your nickel is more of a CB/S hybrid rather than a LB/S kinda player. The latter doesn't really exist in this scheme. Knowles apparently calls it the "strike" position. Here's how Knowles' preferred press-sky scheme would look in terms of responsibilities against the run: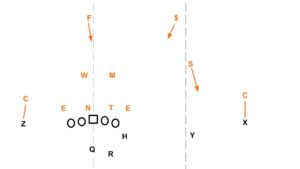 The CBs are in press-man with help inside on deep routes from the safeties, the "strike" nickel would force the edge but from outside-in against the slot, the LBs would run to the point of attack, and the safeties would fill behind them.
Gabe Lemons: 6-2, 175. 3*** from Coppell, TX (Coppell)
Lemons was a two-way star at Coppell and personally I liked his WR film better than his play on defense. He's a solid tackler and made safe, sound decisions at CB but he looked more fundamental and less athletic and twitchy as a corner than you'd expect from a two-way player. He has some length and some speed, I'm not sure how much, so he might be able to grow as a press-corner. I guess that's where he'll start.
Jason Taylor: 6-1, 175. 3*** from Oklahoma City, OK (Carl Albert)
Taylor is an interesting player with a diverse set of skills. He has some ball skills that you see both from his play at DB and some clips of him winning jump balls as a WR. He accelerates with a lot of ease but I wasn't able to track down a good time for him to indicate what kind of speed he has. His tackling is solid and suggests his best future is as a robbing safety, particularly if he can fill out to something like 200.
Kanion Williams: 6-0, 170. 3*** from Dallas, TX (South Oak Cliff)
Williams has a more obvious projection as a downhill safety that would be at his best in this new scheme that defers some of the coverage stress to the nickel. Williams has pretty solid range and is a physical player that should only be better as he fills out.
Jarrick Bernard: 6-1, 195. 3*** from Shreveport, LA (Evangel Christian Academy)
Bernard plays a lot of strong safety on film in a cover-3 heavy scheme, often pressing up on slots and re-routing them before working wide to the flat. He uses a shuffle step in zone but when he gets going on an outright sprint he ends up being pretty fast. He has enough of a background playing a few types of coverage that he might fit at nickel.
Jay'Veon Cardwell: 6-0, 174. 3*** from Steele, TX (Cibolo) IT #98
The 2017 Steele secondary was quite good, including some 2019 prospects as well as Cardwell and then five-star Texas safety Caden Sterns (younger brother of OSU star Jordan Sterns). Cardwell ran a 4.68 40 with a 4.17 shuttle at a SPARQ test and played some man and some cloud coverage at Steele. His film is at corner but he's a pretty mean hitter and is at his best in zone so I'd be keen to move him inside to nickel and let him work in conjunction with a safety.
Tanner McCalister: 5-11, 182. 3*** from Rockwall, TX (Rockwall-Heath)
McCalister's SPARQ: 4.71 40, 3.97 shuttle, 38.4″ vertical, 36′ toss. He's super sudden and you see it on film as well where he played SS, CB, and RB for Rockwall-Heath. The only thing he doesn't have that you'd want to see from a CB prospect is the top end "recovery speed" particularly for playing in press coverage. But his first few steps in any direction are as fast and powerful as anyone's so he might could still fit on the outside. He's also a solid tackler and would probably be able to transition to any of the three inside DB positions.
Sean Michael Flanagan: 6-1, 181. 3*** from Charleston, AR (Charleston)
Gundy was able to swipe this guy out of Arkansas before Chad Morris was entrenched, which was quite the steal for OSU. He's blazing quick with the following measurements: 4.64 40, 4.44 shuttle, 41.9″ vertical, and 48′ toss. While I'm not sure how many of these guys could play corner many of them are truly explosive and powerful as athletes, if they learned press techniques they could probably make it work.
It seems that OSU likes him at safety though where his range and athleticism would make him a nightmare in any scheme but not least of all in a scheme that tries to box the ball into a more limited range for the safeties to patrol and control.
Grade: B-
Clearly Oklahoma State wanted to load up with a lot more DBs to allow for the creation of nickel and dime packages rather than Spencer's LB-heavy packages and schemes. They did that and they got a lot of promising athletes even if they didn't quite meet the need for press-corners with obviously translatable talent.
In summation…
Oklahoma State did well and landed a lot of players that are insane, raw athletes that could become monsters under their development track. Gundy clearly loves the early signing day for allowing OSU to lock down fringe prospects that bigger schools used to come and "poach" later in the cycle.
I guess his reasoning is that there will always be guys like that, even as the bigger schools invest more in early evaluation and relationship-building, because the desire to aim for the obvious bluechips will keep the bigger schools from being able to offer and lock down the high-upside 3-stars that OSU has always made their living with.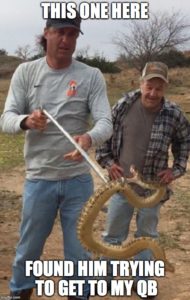 That's good news for Oklahoma State if true, since they're deeply invested in seeing what can be made of the Mike Gundy era.