I would venture a guess that most people watching the Texas 5A D1 state title game between Highland Park and Manvel were rooting for Manvel. The Houston-area program is a perennial contender that's always filled with exciting athletes with offers from top schools like Texas or A&M and this particular team was a diverse and highly likable bunch lead by QB Kason Martin who gave a speech to his team after the game right out of a sports movie.
Meanwhile the Highland Park squad is comprised of most of Dallas' wealthiest high school students (median home value there is $1.6 mill) and were QB'd by John Stephen Jones, son to the Executive Vice President Stephen Jones of the Dallas Cowboys and grandson to the Jerry Jones. I initially found myself rooting against the billionaire going up against the underdog-looking Manvel squad with their exciting playmaking.
But the game on the field didn't play out in terms of a rich, spoiled villain going down in defeat against a determined, scrappy underdog. Highland Park fought tooth and nail throughout the game (as did Manvel) and managed to grit out a stunning and exciting victory that was beheld and then written about by my pal Jonathan Tjarks on theringer.com.
Tjarks was taken by the drama and emotional investment into the game by all the fans, parents, coaches, and players in an era where every day features someone prognosticating the end of football before this century is done. His thoughts are an excellent read if you haven't dived in yet. I was taken by another element to this game though, the sacrifice and risk taken by John Stephen Jones and the wealthy Highland Park Scots.
Civilization and the warrior elite
Advanced societies, particularly in the West, are always led by elites but were often built up in particular by "warrior elites." The whole idea of the "knight" was a man who owed his position near the top of a highly stratified society due to his ability to fight from horseback. The Church even tried to ban the use of crossbows by Christians on other Christians out of fear that it would level the playing field too far and remove the aristocratic knight from his position at the top of the social order. The morality of the knighted class was inconsistent but many of them advanced in society for their ability to fight and defend in service to people above and below them. The Church was worried about the "chivalrous knight" losing his place in society for a reason, the alternative for society appeared unstable and chaotic.
As missile weapons became more advanced, the power of the state began to be fixated more strongly with a monarch and his court rather than being scattered across the land between the various fighting nobles. The monarch could use taxation to raise armies armed with guns and cannon that would lay waste to the knight. Still many societies, particularly the German empire, still maintained the relationship of aristocrats and military leadership over the society.
Hardcore history's Dan Carlin did a fascinating segment on whether the German military of WWI or WWII was stronger in which he sided with the WWI military strictly because the aristocratic leadership was better than the ideology-driven appointments of the Nazis and also simultaneously largely responsible for everything good or effective about the Nazi military.
It's hard for us to imagine a world in which a hereditary elite could be competent, much less that they be more competent than a political elite driven by ideology but that world isn't too far in the rearview mirror in Germany.
Nowadays society is ostensibly built as a meritocracy with the most deserving rising into elite status while the undeserving fall out. Our self-conceptualization as a meritocratic society is largely why we tend to naturally root against a kid like John Stephen Jones against a squad like Manvel. The latter represents the possibility of climbing up the hierarchy while the former seems to represent a landed elite that inherits wealth and power without effort and thus lacks the virtue to wield it morally.
Growing inequality in the American system also highlights this issue and raises the question of whether our elites are consolidating resources and propping themselves up by honest means or trying to pull a fast one and transform the nation into more of a caste system. I'm not sure one way or the other where our society is headed but the performance of Jones in that game was interesting for what it said about the Jones family and the "elites" at Highland Park.
It's commonplace in America to watch everyone compete under similar if not totally equal rules. "Equality of opportunity" is the standard liberal mantra and the key to building a meritocratic society. Well you can't get much more equal than on the gridiron where even the QB is vulnerable to getting lit up, sometimes even more so than other positions because he touches the ball every play.
It's easy to look past the fact that John Stephen Jones is essentially a billionaire yet he was out there allowing much poorer young men try to take his head off so that he could help carry his community to glory.
Here he is at 5-10, 170 fighting through a downhill crease on goal line power run:
My view of the game had Manvel getting totally gassed by the pace and emotion of this game, so I don't know how many hard hits he took in this contest but the risk is still there and was there every Friday night when he took the field for the Scots.
Whether the US is able to be maintained as a society in which the "top 1%" is a revolving door in which only the most meritorious ascend to the top OR we end up with more of a permanent over class, in either event you want the guys at the top to be the kinds of guys that would be willing to put on shoulder pads and risk harm on behalf of their communities. It's the "batman effect" essentially, you want your elites and potential elites to view the top of the hierarchy as a place for those who are willing to be self-sacrificial on behalf of everyone below. Football trains young men to think in that fashion, or at least winning football does.
One of the things about football that no one particularly enjoys examining is how much the QB position is dominated by rich white dudes. The type of skills development that often produces the best signal-callers, particularly in places like California but even in public high school-dominated Texas, is often something that is more easily accessible to wealthier people. Check out the elite 11 in a given year and you'll find lots and lots of wealthy young men, Bruce Feldman even notes this in his book on modern QB development.
The racial component isn't ideal, you don't want your positions of leadership in a society dominated by a single ethnic group, but it is at least promising in terms of the culture amongst some of the wealthier members of our society.
The QB puts himself at great physical risk in order to execute a position that is defined by leading the team, getting them into the right situations, and then distributing the ball to the right people at the right times. If a large chunk of the wealthier members of our society are playing at this in high school it probably portends good things for their ability to emerge as worthy leaders "after football."
The prospects
Now none of that is to say that the young men that played for Manvel aren't also worthy of climbing the ladder in American society. They played a tough, demanding game as well and they played it at a high level, at least on offense.
Manvel is also where most of the top prospects of note in this game could be found. In particular, Jalen Preston. The big 4-star WR has been committed to Texas A&M but is taking official visits and may be open to other schools. He had two highlight plays in this game that I noticed.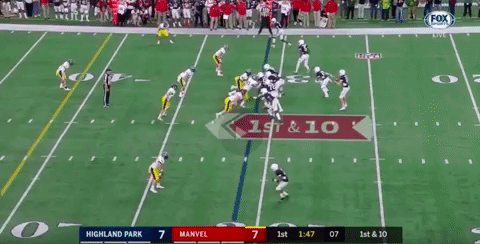 Those are nice hands and impressive acceleration (he scored on this play) for a guy standing at 6-2, 210. I'd be curious to see more of his route running but the athleticism, size, and ball skills all check out.
The second was a "slot fade" route of the sort that is increasingly popular these days: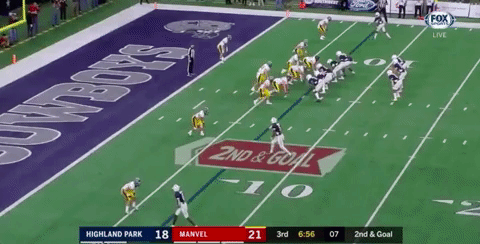 The slot WR regularly has more space to execute a "two-way go" against the defender across from him and if your outside receiver is running a hitch, slant, or in route it can be very easy for him to find open grass to work in outside. What's impressive here though is the way he posts the Highland Park DB up and makes a one-handed grab.
Another guy that stood out was WR #88 Cade Saustad of Highland Park. They went to this kid all day long in big moments and he had big catch after big catch, he reminds me a good deal of Jake Maulhardt, who may prove to have been largely responsible for the success of Josh Allen in 2016 as well as his lack of success in 2017. Maulhardt was a 6-6, 210 pound WR who lacked elite top end speed but didn't lack for hands or route running. From what I can tell, Maulhardt hasn't really caught on at the NFL level.
Saustad had 11 catches for 210 yards and three scores. Including the game-winner…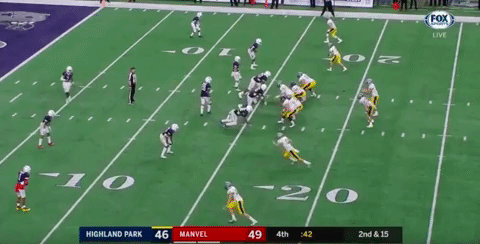 …where he did a good job of finding the soft spot in Manvel's zone and then finishing with a score. He also used his length to secure the onside kick recovery that allowed that dramatic, game-winning drive:
247 doesn't have Saustad continuing his football career at the college level. My google powers reveal that he is going to UVA on scholarship to play lacrosse, which he's apparently even better at than football. It's hard to argue that going to a school like that on scholarship in another sport is an inferior option to playing college football at a place like Sam Houston State or wherever he might be able to secure a football scholarship if he had more interest there.
Manvel had a RB named Deneric Prince who's a 3-star A&M commit but he didn't really do anything in this game. John Stephen Jones is following his grandfather's footsteps and playing at Arkansas, although Jerry was a 6-0, 180 pound offensive tackle. Kason Martin seemed like a pretty talented guy despite his 2-star ranking and he's headed to North Texas where he'll likely re-emerge in a few years as a 4k-yard passing QB in their Air Raid offense. We've only seen that exact story play out a million times before.
This was an exciting game worth looking up if you have the time or interest. As per the usual, Texas HS football manages to combine drama and social science in a way you just can't find anywhere else.