As the offseason has gone along, there have been some new changes to the roster makeup of the various teams across the league. The transfer market has extended deep into the summer for a lot of players, in part because of Covid, and then there's always the normal attrition that can take place.
I already did a big writeup on many of the transfers that have occurred across the league:
But there have been some additional moves of note worth discussing for their impact on the season. Today we're going to focus on the Oklahoma State Cowboys, who just a few weeks ago were moving beyond "dark horse Big 12 champion" pick to being a team likely to garner no. 1 votes in the preseason poll. Things have taken a turn of late.
Turbulence in Stillwater
This hasn't been the ideal offseason for a program that appeared to be in their best title shape since 2011 when they last won the league. Mike Gundy was accused of creating a toxic, racist environment by some former players and recently had his salary cut in response to an internal review, although that same review said there was no racism.
There's a lot to parse in that alone. There's two interpretations I've seen that are both pretty easy to buy into and I'm not sure which one is correct.
Interpretation one is that Oklahoma State did indeed find some issues, hence the dock in pay, and that perhaps the Gundy era will soon be coming to an end. They've stated they found some concerning issues but that they weren't indicative of a racist environment.
It reminds me of when Ohio State did a big review on Urban Meyer in the wake of the Zach Smith scandal. They had an extremely long, closed door meeting with Meyer and his wife, of which scattered details of dubious veracity spilled out. The upshot was that Meyer was suspended for the first three games and young hotshot assistant Ryan Day was made interim head coach over other assistants on the team with major experience as head coaches (Kevin Wilson, Greg Schiano).
They started off 3-0, in part because their first three games were cakewalks and they had a highly talented team. Then the season progressed and the Buckeyes had a few difficulties while Meyer had a flare up of issues stemming from a brain cyst. Lo and behold, at the end of the year Meyer stepped down as head coach and Ryan Day was promoted to replace him. A cynical and/or suspicious person could wonder if the season's drama and result was all planned out in that ultra-long, closed door meeting. A similarly suspicious person could wonder if something similar is in store at Oklahoma State.
"Oh we didn't find anything, we're just docking his pay because of uh, the shirt, and some non-racist concerns." Then at the end of the year Mike Gundy retires while simultaneously collecting a now reduced buyout without the University risking a season with one of their most talented teams or having to scramble to replace him poorly.
Interpretation two is that OSU, like so many other schools, is under heavy financial strain because of Covid and will take any opportunity to cut costs. Nothing racist need to have happened and Gundy doesn't have to be in any real trouble as head coach, but perhaps the anticipated dips in revenues are something they feel would be easier to manage without honoring his full contract. This scenario could also play out with Gundy retiring at the end of the season after being treated in such a fashion and nearing the end of his intended career span. It could also be a combination of both of these interpretations, or something else. We may never know and people will choose the narrative that confirms their biases.
Anyways, on top of all that their left tackle Dylan Galloway recently retired due to injuries.
2019 Oklahoma State in key situations
Left tackle is one of the four "space force" positions on a team where there's simply no substitute for fielding a star athlete. You can often surmise the health of a Big 12 team based on a few key statistics. Passing offense/defense, and third down offense/defense are pretty solid for telling you who's good at grabbing or preventing chunk yardage in the passing game and who's good at picking up or stopping mid-sized gains in key situations.
Here's how those four stats shook out relative to the league's standings in 2019.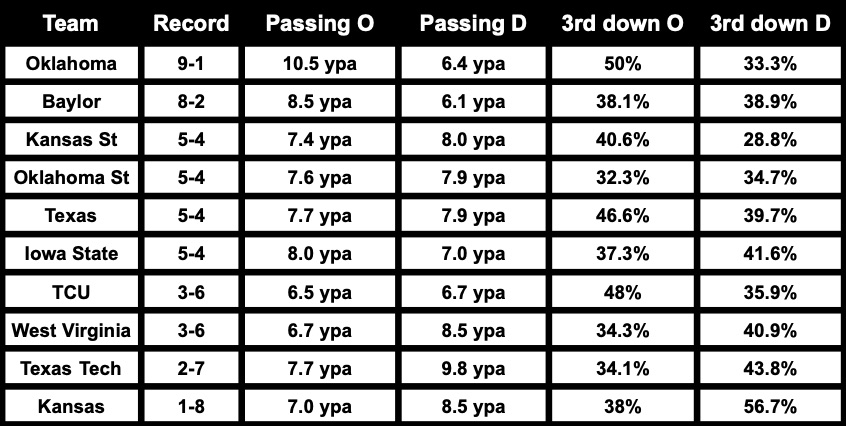 Oklahoma did well in every single category. Baylor was explosive in the passing game and in the other phases dragged opponents down to their level with defense. Iowa State clearly lost some advantages with bad 3rd down defense. Texas was largely outperformed by their opponents everywhere save for 3rd down offense…remember when I told everyone that Sam Ehlinger was actually very good in 2019? Kansas State was mediocre on both sides of the ball unless it was 3rd down, then they were top tier.
The story for Oklahoma State was that they were pretty solid situationally on defense, pretty bad situationally on offense, and not particularly explosive or explosive resistant in regards to the passing game.
All of these situations tend to come down to 1-on-1 battles between star, "space force" athletes and of course good decision-making from the quarterbacks and safeties.
Oklahoma State's best formula in 2019 was running zone-option with Spencer Sanders and Chuba Hubbard and then mixing in play-action bombs to Tylan Wallace. They didn't always nail that formula, because some teams made it a point to take away Wallace and the Pokes weren't ready to beat them with purely the run game or mixing in other options.
The zone-option/play-action game satisfies one of the four categories in our chart above. It can make a team very efficient in ypa, generating big efficient gains when they throw the football off the threat of a potent run game. It's not an answer for third down and obviously it doesn't have much impact on how you play defense.
The 2020 Cowboy offense
This 2020 Oklahoma State offense was clearly going to build on what they did well in 2019, which was running zone-option schemes with Hubbard/Sanders and then throwing deep to Tylan Wallace. With another year to work on their skill level, and with all of these secondary receivers back, it was going to be very easy to more easily highlight Tylan Wallace in the passing game.
Consider Texas' formula for locking down Wallace early in the year.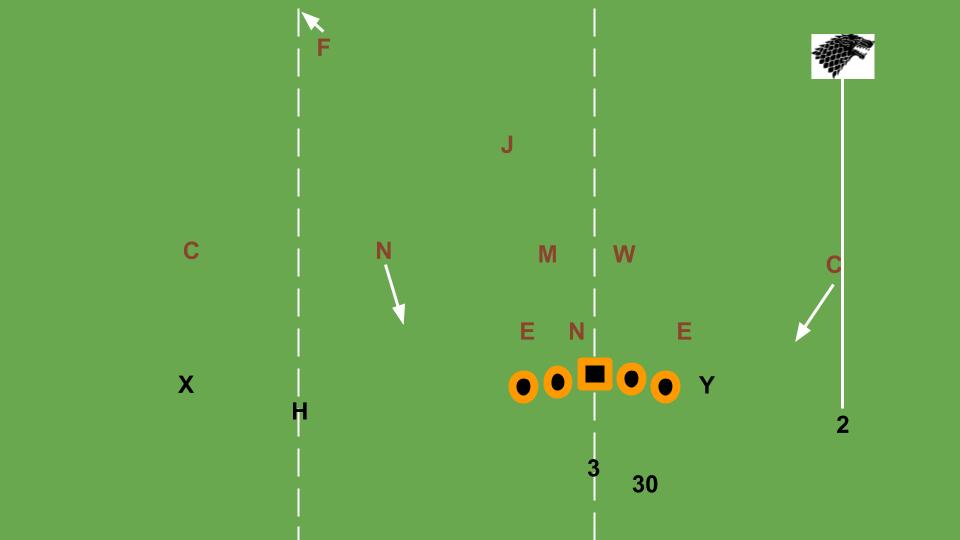 The Longhorns put Caden Sterns (the "wolf of DKR" here) almost directly over Wallace with the cornerback underneath jamming him at the line and supporting the run. The Cowboys managed to mix in some solid zone-option schemes with the tight end (Y) arcing up to help gain the edge but that was about all they could do. Texas' inverted Tampa 2 scheme in this game played with hard edges from the nickel and corner and they contained Chuba Hubbard and funneled him inside where a beat-up offensive line was abused by Texas' D-line.
Wallace could do very little with a shadow underneath and then one of the league's better cover safeties staying over the top of him the entire game.
In 2020 Oklahoma State has a more developed Dillon Stoner, who played some Z receiver for Wallace when he was out, and up and coming Braydon Johnson. Sanders will also be more skilled in the passing game and in reading defenses and finding his receivers. Perhaps most importantly, after another year in the system and with other receivers on the team that can play the Z, Oklahoma State can move senior Tylan Wallace around to hunt matchups.
It's one thing to design a gameplan to bracket a receiver when he's always in the same spot, it's much more difficult to design a gameplan that can bracket a receiver wherever he lines up. If Wallace can move to the slot and run digs, flag routes, slot fades, and double moves that's going to be a big problem. Even if you can adjust to that they can always motion him or line him up back outside. A receiver that can beat a 1-on-1 for six points at any position on the field is arguably the most valuable weapon in the game.
But all of this is limited if they can't protect Sanders well enough to throw in the dropback game and have to rely on play-action. You can do real damage throwing to a mobile Wallace on play-action, but it's harder to pick up 3rd downs doing that against a defense that no longer cares about stopping the run and isn't going to bite on play-action.
Consequently, losing their starting left tackle is an obvious blow to their ability to expand and improve their already weak 3rd down offense.
Evaluating Oklahoma State's space force cadets
I've seen a number of names listed as potential replacements for Dylan Galloway at left tackle.
Teven Jenkins: 6-6, 310. Redshirt senior. 3-star from Kansas
Oklahoma State's highly regarded right tackle was pretty good in 2019, but is evidently more of a run blocker than a blindside protector. If the 'Pokes move him back to the left side they're compromising their strong right side of Jenkins and Bryce Bray in the run game without really solidifying the pass protection elements.
Bryce Bray: 6-5, 310. Redshirt sophomore. 3-star from Oklahoma.
Bray was a well regarded recruit that started last year at guard. Here was my evaluation of him coming out of high school:
Bray is actually an athlete and not just a big, local tough guy that could be grown into an OL with time like the previous two additions. I think Bray is very likely to end up as a starter on the OL somewhere, potentially at any of the five positions although left tackle would be stretching things a bit. The challenge for B12 teams is often whether they have enough good tackles on campus to play someone good or better at both LT AND RT. Bray's career and how he's looked at may depend on whether he's asked to be THE guy, the NEXT guy, or a guard.
The Cowboys looked to get him on the field pretty early in his career, which is clearly promising. However I was always iffy on his ability to play as a left tackle and to ask him to move out there just before fall camp during a crucial season is not ideal. He's probably a better bet to replace Jenkins at right tackle if they slid Teven over than as a solution to this problem.
Hunter Anthony: 6-6, 328. Redshirt sophomore. 3-star from Oklahoma
Anthony played in four games last season, mostly at guard but with one start against K-State at right tackle. He was part of the same class as Bray and here was my assessment of him at the time.
Your prototypical "he's sorta light on his feet but he's also just massive" 3-star OL prospect. I prefer the dudes that are plus athletes with frames that will obviously and easily fill out to 300 or so in college, Anthony will require no less amount of S&C work to be ready for the college game. For whatever reason recruiting rankings are always stingy and hesitant about whether OL prospects can get bigger or not, which is silly.

Anthony seems a bit too slow to me for B12 tackle but he could be a nice player at guard, particularly with a greater emphasis on inside zone.
In other words, unless he has more athleticism than I caught at first glance, he's also a longshot to provide high level play at left tackle for the Pokes in 2020, although he could probably help them at right tackle or either guard position.
Jacob Farrell: 6-6, 313. Redshirt sophomore. 3-star from Oklahoma
The 2018 class for Oklahoma State was heavy on big, heavy dudes from within the state. Here was my assessment of Farrell:
Another guy that will need a long time before he's ready to compete in the college game except Farrell will have less weight to shed before packing on the real gains than Anthony. He's a bit quicker than Anthony as well, although some of that may just be the difference in size and could change in 3-4 years time. He might be able to stick outside at tackle but again, he seems a better bet as an obstacle/IZ guard.
The Anthony mentioned here was Hunter Anthony. Farrell played just a little bit in 2019, less than either Anthony or Bray, so he's clearly been lower on the pecking order barring a major leap this last offseason.
********edit********
Cole Birmingham: 6-8, 308. Redshirt freshman. 3-star from Houston (Katy)
Adam Lunt advised me to throw Birmingham in here as well. Here was my assessment of him out of high school:
Katy is like Steele when it comes to producing big, mauling OL and RBs that benefit from their blocking. B12 RBs Kyle Porter, Rodney Anderson, and Deondrick Glass (also in this class) were all Katy Tiger RBs. Connor Galvin, who started for Baylor at LT last year, was the Katy LT opposite Birmingham in 2017. Birmingham was a dominant mauler by his senior year (probably as a junior as well), and really violent as a run blocker. On inside zone he was dominating his man, with angles or double teams he was crushing people, his quickness on reach blocks was a little more suspect. I think he's probably a guard for OSU but a very good one.
Since this time, Birmingham has added three inches to his height (per the roster, at least) and is quite the imposing figure. If it comes down to going with which massive underclassmen is the hardest to get by, you could see Birmingham gettin the call. Obviously left guard Josh Sills will be a major factor here, OSU can try to slide protection to the left and let these guys try to get good drops while Sills protects them from getting run over inside.
********edit********
All of these guys are sorta like the players Iowa State has been stocking up on. Big guys that could be solid tackles with really good technical training over time but who don't have NFL athleticism for the position and probably won't master the techniques in year three to make up for it.
We got a potential prelude to all of these issues last season when Oklahoma State played against K-State with a starting OL lineup that was missing Galloway and Jenkins and from left to right went:
Bryce Bray – Marcus Keyes – Ry Schneider – Johnny Wilson – Hunter Anthony
Here's an instructive peak into how that went for them…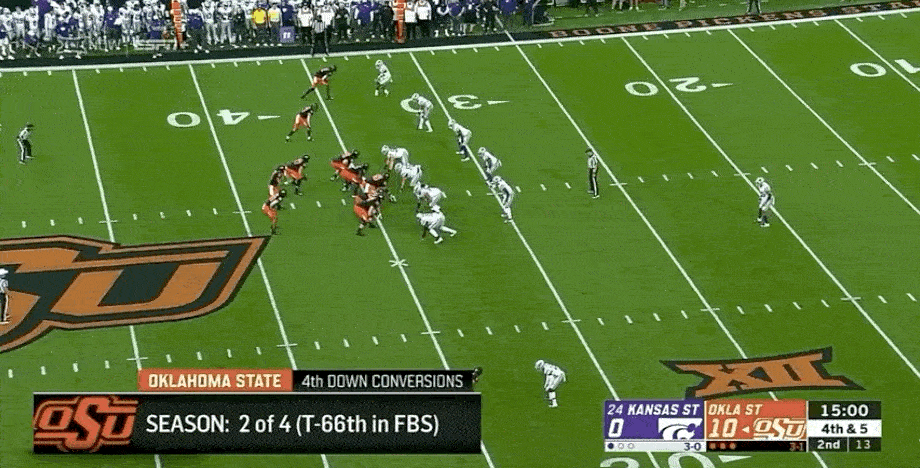 Not so great on either edge. They send the tight end and running back to secure the right edge rather than asking that of Anthony and then hope to God that Bray can hold up on the left side. Neither work out.
Also, check out the coverage K-State played in this situation.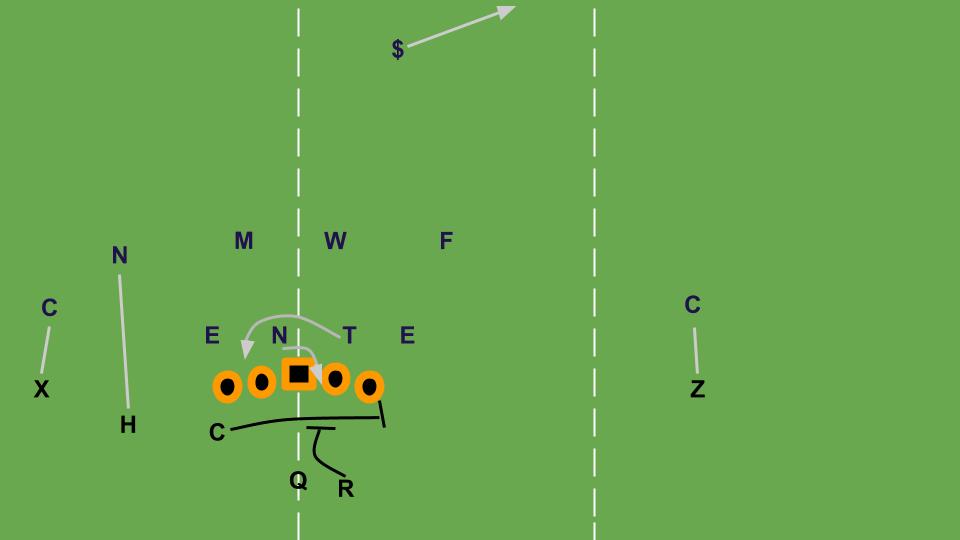 They appear to be in cover 1 before the snap but they actually shade the deep safety to Wallace (Z) after the snap and effectively play cover zero everywhere else. The linebackers all key the tight end (C for "cowboy back"), running back, and Sanders himself. In effect, this is like cover 2 man only they trade the deep safety help over the slot and X receiver in exchange for a spy on Sanders. The pass rush is a basic 4-man attack with a tackle-nose twist, Bray is in slide protection so he tries to get wide to stop Hubert only to get beat back inside for the quick pressure.
Tough beat for the Cowboys, but that's what happens when you have a young line going up against a star edge-rusher and the defense is clamping down on your favorite pass game outlets.
In 2020 the league won't be short on edge rushers or defensive coaches aiming to choke out key matchups in the passing game. Everyone knows the score now and how to win in this league…except maybe Texas.
Oklahoma State's solution for finding the rare diamond star left tackle to bolster their space force has often been to take borderline athletes and simply develop and maximize them over time. Galloway was the intended product of that approach and now he's lost, the next wave of cadets may be a few years away from truly replacing him. There's no sugar-coating that this could be a tough loss for the Cowboys in their pursuit of a Big 12 championship in 2020. The exact same issue confronts the similarly potent looking Iowa State.
********
Read up on the history of the league and how it became so passing oriented in my book!