The other day I posted this thought on Twitter:
So the tiers would look like this:
Tier 1: Texas, Oklahoma, Iowa State
Tier 2: Oklahoma State, TCU, Baylor, Texas Tech
Tier 3: West Virginia, Kansas State
50 feet of crap…
Kansas
I got a good follow up question from Jay Jordan over at Cyclone Fanatic:
The two top dark horse teams in the league from the middle tier are Baylor and Tech. As it happens, Baylor just dropped their depth chart for week one, which has some fascinating nuggets:
Some standout notes:
-Rob Saulin as a 300 pound TE is fascinating. Matt Rhule and his staff are basically embracing the same sorts of extremes as Briles at this point, who also fielded a de-facto 6th OL as his FB/TE (such as convert Sam Tecklenburg who's now the starting LG). The traditional concern here is that defenses can trigger really hard when they see the TE block, but RPOs and spread play-action make that a riskier venture.
-They moved things around to make their 3-down the base defense. We knew this was coming but I didn't realize they'd reflect it on the depth chart. The thing to watch will be whether Lynch is in a 5-technique, 4i, or 3-technique and then if the "WLB" is a hybrid who plays on the edge more or a weak inside LB. I'm guessing he'll be more of an ILB.
-Shehan Jeyarajah related that RLB is the "robber" LB. The "robber" designation suggests to me that Black will play a position similar to Greg Eisworth at Iowa State, although of course I could be reading too much into it. So things would look like this: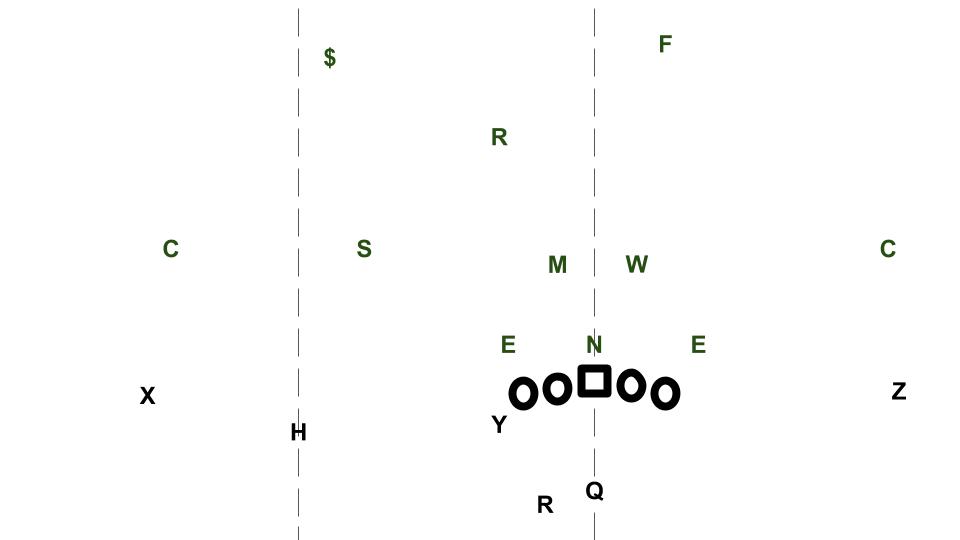 Moving Henry Black to that robber spot meant an opening at safety which has been filled by presumed starting cornerback Grayland Arnold.
-This OL is interesting and didn't shape out as expected. I actually figured Bedier would start at RT until I saw everyone else took the move of Valentin outside to mean he would be ahead of Bedier. They've also got RS frosh Prince Pines starting at RG next to Bedier, which is a lot of size, athleticism, and inexperience making up the right side. Last year the right side was big, not super athletic, and highly experienced. I'm really high on this Galvin-Bedier tandem for the long haul, they may have some growing pains in 2019 of course.
-This is an inside zone looking unit, Rhule moved in that direction last year and they look more like that this season. Galvin and Tecklenburg are outside zone type OL because they're so quick and fairly light but the rest of the OL is big and heavy and that left side won't struggle to run block on inside zone.
Of course if big Saulin starts at TE that opens up some other possibilities for this unit as well, like GT counter, dart/iso (pulling the tackle), and pin & pull.
Whether or not Baylor can emerge as a contender into November will hinge on how this young OL holds up, whether any of these WRs are ready to move the chains on 3rd-and-long, and then whether or not this new defensive construct works.
Here's the Texas Tech depth chart:
Some things of note:
-The Raiders are also rolling with a 3-down except they'll play their boundary DL with an inside shade as often as not and use their "Raider" OLB Tyrique Matthews outside of him. Matthews sounds like a potential Taylor Young, a tightly coiled little ball of energy and fire that played some OLB and ILB for Baylor a few years back.
-The DL was well reviewed in camp with Broderick Washington emerging as a potential impact player and Eli Howard a known player. The Riko Jeffers and Jordyn Brooks ILB tandem also showed a fair amount last year, so the middle of their defensive front looks solid in terms of run D.
-Adrian Frye moves to safety after picking off five passes and breaking up 10 at CB last year. His counterpart Douglas Coleman is a returning starter, they look stout as a pass D unit on the back end.
-One of the biggest adjustments that Wells made was to open up the transfer portal in order to try and get some skill to flow through it. That yielded Cal LB Evan Rambo to play their nickel or "spur" position, Zech McPhearson from Penn State to start at corner, a Utah State corner not listed on the depth chart yet, and then McLane Mannix from Nevada to play in the slot. Matt Wells inherited some solid bones to build around at Tech and didn't hesitate to try and bring in more skill talent to explore the potential ceiling for this team.
-I think this team will play like the Katy Tiger D and shift the different OLBs and DBs around to create confusion and to shade towards the strengths of different offenses. For that to work you need to get good corner play so their prospects this season probably hinge on McPhearson, Desmon Smith, DaMarcus Fields, and J'Marcus Ingram. If two of those guys show strong and are healthy this can work.
-Donta Thompson won the TE job so we'll see how he's taken to blocking. That's the other swing spot for Tech, the difference between a hit or miss here will have a similarly outsized impact as the results at corner.
I'd say overall that Tech has fewer big question marks than Baylor and are arguably in a comparable situation at QB with Alan Bowman only a peg below Charlie Brewer, as a I noted on the FrogsOWar podcast the other week with Parker Fleming.
https://megaphone.link/VMP2769775235
***
Im also excited to present the culmination of over a year's worth of research and writing.