While breaking down Oklahoma's prospective depth chart on defense the other day, the size and weight balance of their roster really stood out. Mike Stoops really wasn't building a defensive roster that was friendly to a major change in approach.
After his initial run at the Big 12 in 2012 where the Sooners ran a TON of dime defense (and did fairly well except against the run where they took some hard shots), Stoops swung hard in the opposite direction in subsequent years. By the end the Sooners were playing as much base defense as they could get away with and prioritizing quickness and skill in man coverage across the secondary leading to a sort of "four-corners" philosophy to filling out the unit.
Grinch has more or less the exact opposite approach to building a defense, preferring a more "positionless approach" in which the backfield is filled with physical athletes that can perform a wider variety of tasks. That's more in line with what Brent Venables had been going for as well.
In the meantime, he has to balance out the essential tasks of defending spread offenses with what was left to him.
Here's a glimpse of Oklahoma's likely pass defense in comparison to what the leagues' three best defenses figure to roll with: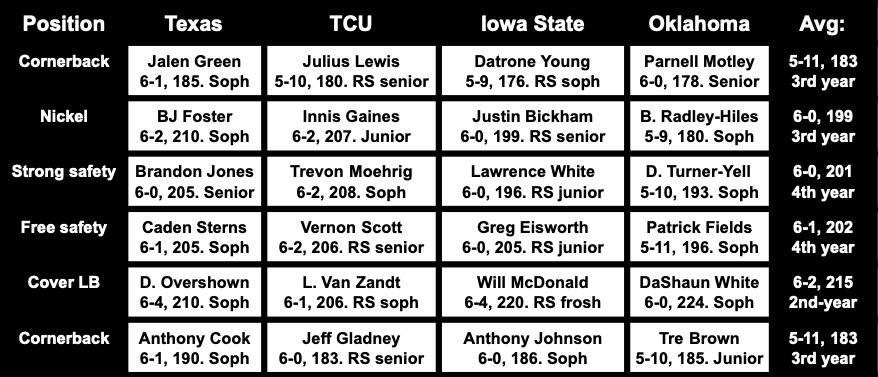 For reference's sake, I counted field safeties as the "strong safety" and then the boundary or middle safety as "free safety." The nickels are all slot corner/hybrid types except Justin Bickham who is a bit more like a strong safety. Iowa State does things differently so I had to move guys to make sure the categories were pretty consistent in terms of what each guy is asked to do. "Cover LB" means the LB that will get put into coverage on the perimeter more. Overshown will play a role similar to Eisworth, Van Zandt is playing as a true LB but he'll split out at times, McDonald will split out a ton like a nickel, White and Kenneth Murray will both perform this role some for OU.
The Longhorns figure to be a bit on the young side, with prospective starters at four out of six spots that are one year younger than the league average. However they also prospect to be about as big or bigger at every spot than the league average and this is their prospective dime lineup.
What's really stark here is the Sooner defensive backfield. Despite playing with nickel personnel whereas everyone else here is arguably in dime, the Sooners are smaller across their backfield. You don't really see the advantages they should have in recruiting in the size of their defensive backfield.
That's not all either, the move towards playing smaller and smaller across the back-end has had the opposite effect on how teams play up front.

The spread tends to force everyone into playing a sort of core, 5-man box with two or three other players that may drift in or out. I'm sure at times Murray will be drifted out somewhat while DaShaun White is firmly in the box, those two positions are more interchangeable.
"Shock LB" refers to the LB that is going to be a 4th member of the DL at times. Spears could fall in here but he tends to drift out of the box or to the edge whereas Rose is always in the thick of things. The other listed guys are DEs or DE/OLB hybrid types.
Here's what should be clear from this table, the league's best Ds are utilizing thick guys up front to clog interior gaps in order to get away with playing smaller and faster on the back end.
Texas has the biggest group, although I think Coburn may be "down" to 320 or so and he'll also have to be spelled regularly by Gerald Wilbon (325) or Moro Ojomo (280) because you can't play 50+ snaps in the B12 against tempo teams at that size. The Cyclones don't play it quite as big and they often play their DEs as 5-techniques and lean on Rose to be a sort of pseudo-DT with quick plugs, hence him getting the "shock LB" designation that otherwise went to DE/OLB types in other schemes.
Oklahoma is below average in size at four out of five positions here. OU fans, don't bother complaining that Murray actually plays the same position as Rose because he doesn't. You won't find Rose split out in space, the furthest out he gets is to draw a C-gap "set the edge" assignment against 4-wide, trips formations with the "star" or middle safety behind him.
The Sooners are below average in size overall in nine out of 11 positions compared to the league's top three defenses. The other two spots are at "coverage LB" where DaShaun White is 6-0/224 vs an average of 6-2/215 and then "inside-backer" where Murray is 6-2/243 vs an average of 6-2/227.
Balancing size, speed, and skill
You need to be able to control gaps up front without committing numbers to the box. One of the big features of the smashmouth spread era has been offenses that will force you to disperse your defenders across the length of the field so they can bully you in the box with their big OL, downhill run game, and perhaps a TE/FB as well.
Most of these defenses are designed with that paradigm in mind.
"You want to isolate our front five and try to mash them? Fine, we'll allow it, but we're going to play some absolute brutes up there and plant them in your favorite lanes."
Iowa State's inverted Tampa 2 is designed to get some muscle up front to hang on up there and spill things so that a lighter, faster backfield can close on the ball and not arrive only to be run over by a big back running downhill at them. The "tite" front that Texas uses is also designed with this in mind.
As you can tell, Texas really leans into their advantage in having first choice (roughly speaking) of Texan HS players by fielding a group that is fast across the back end and big and strong up front like Iowa State while fielding guys that are even bigger and faster at each spot. The Longhorns are bigger than the average player IN DIME at six out of 11 positions and more or less exactly average at the other five spots.
The point of playing nickel with a coverage LB or dime is getting extra speed on the field but also more skill. It's actually hard to protect your players in nickel against modern spread attacks, so teams are utilizing converted safeties at LB or just playing dime because spread teams can hunt inside-backers off the field.
Oklahoma doesn't have any advantage here in terms of having more skill on the field relative to the rest of the league despite being smaller. They have three basically full-time DL, which is normal. They have three LBs that are solid underneath but can't carry verticals or drop deep, which is normal for everyone except Texas who arguably has only two players that need to stay underneath in coverage to hold up (Overshown is the third and he can play deep).
One area where the Sooners have an advantage in comparison to most of the other teams is in their team speed. But really that only shows up on the DL, where they are faster than anyone else. Gallimore is as quick a nose as there is in the league (Coburn and Lima also have a good first step but aren't faster) and then Jalen Redmond (or LaRon Stokes if he starts) and Ronnie Perkins are more like true 4-3 DEs in their skill sets.
Oklahoma's cornerbacks, safeties, and linebackers are also all as fast or close to as fast as anyone else listed here with those positional designations. They might have one of the quicker secondaries, it's probably close, at linebacker they may be a touch slower than these other squads. These other defenses don't care about being slower than OU on the DL. They don't need their DL to be fast since their job is to hold the point so that fast people can play fast and cover more ground.
The Sooners are set up to employ a different formula closer to what Grinch used at Washington State in 2017 when his lineup looked like this:
They were a little different that year then what OU figures to be this season. The 230 pound end here stayed on the edge and the 252 pound tackle was Hercules Mata'afa, who played some as a nose and more as a 3-technique. I think they also replaced that 232 pound will LB with a smaller, faster player before long if my memory serves.
We've seen teams attempt this formula before, two programs in particular. The Gary Patterson Horned Frogs like to use speed and movement up front to give themselves a chance to clog inside gaps and then Tony Gibson's West Virginia played with a 3-3 box that emphasized speed and disruption with different defenders fitting the B-gaps from snap to snap.
For the Sooners to effectively clog the interior with different combinations of the three DL and three LBs they'll need to leverage the speed of those two DL that are faster than the league average. Here's the sort of play that you need answers for that confounded Mike Stoops for seven years:
Trips formations and RPOs are the real trick. If that Y is a flexed out TE/FB and the offense can attack the middle linebacker or free safety for aggressive run fills with pass options to H or Z then what do you do? How do you help them out up front with your 5-man box to allow them to hesitate, muddy the read, and then close on the ball after the QB hands off?
Stoops tried to get big DL to control gaps and then played safeties down so that the LBs could stay in the box. Didn't work though, in part because his DBs didn't hold up and in part because his players up front simply weren't good.
This is the kind of dilemma that these other teams are answering with bigger bodies at DL who can anchor in the B-gaps. For the Sooners movement and slanting will need to be a bigger piece of the formula to maximize what Perkins and Redmond/Stokes bring to the table. Ask those guys to plug the B-gap over and over and they'll have to use their speed to do so, setting themselves up to be screened by zone blocking OL or else pounded and exhausted or injured. See Hager, Breckyn.
But if there's lots of movement to different areas, you can hope to tie down the OL and limit the chance for them to get vertical creases. If you look back on the Washington State teams, Grinch's preference was to send quick help from the secondary and leave some defenders on islands in coverage. Arizona hit them with play-action and some POP passes to FB/TEs and scored 58 points.
Grinch is going to have to work out ways to cause disruption up front by leaning more on DL speed and less on also sending numbers to the box because Big 12 offenses know how to tie together the run and passing game in a deadlier fashion than he's seen at previous stops.
The 2019 season will be interesting to observe for how closely Grinch mirrors his 2017 Wazzu approach and how it fares now that he's been summoned to the DC graveyard.