No doubt Lincoln Riley has been winning every round up till now. Dana Holgorsen went 0-7 against Oklahoma as a head coach and the scores after Riley joined the Sooner staff went:
2015: OU 44, WVU 24
2016: OU 56, WVU 28
2017: OU 59, WVU 31
2018: OU 59, WVU 56
That last one was really fun and Holgorsen certainly tagged Mike Stoops in some of the other matchups, but overall his teams couldn't keep up with Riley's Oklahoma in shootouts.
Round V is going to be really interesting and in many ways should be the perfect stress test for the Jalen Hurts/Alex Grinch Sooners that we'll see in 2019.
Holgo-Houston
My main question for 2018 Houston was how emerging star D'Eriq King was going to translate to Kendall Briles' Veer and Shoot offense. The V&S, like other smashmouth spreads, is geared towards using the vertical pass to set up a two-back run game. D'Eriq King broke out in 2017 executing what I've been referring to as the "Gulf Coast offense" which is the moniker that Willie Taggart gave his spread creation at South Florida.
The Taggart O, and then the Major Applewhite offense he was running before handing over the keys to Briles in an effort to save his job, were defined to my eyes by regularly using the QB RPO run game. By that I mean run game RPOs in which one option is a pass to the perimeter and the other is an inside run by the QB. This is some of the deadliest stuff on offer in the modern spread offense and here's an example of the sort of scheme that King was dominating in:
7-in-in route combination with a lead draw attached. The middle linebacker plays the pass and turns his back to King…touchdown. How carefully did King read this one? I dunno, but the Navy defenders took those routes seriously enough to make it work.
In 2018 Briles tended to just run direct QB runs without pass options attached. However, in 2018 Briles also taught King how to do this:
That's the dart/iso play with a backside glance route. Yikes. That's not an easy throw to make, especially with a TE in the backfield covering your throw side in protection and then a post safety trying to close on the route, but King made it. When an offense can hit throws like this, defense isn't any fun at all.
It's not hard to imagine Holgorsen figuring out how to make the most of this unit, which includes returning speed and experience at receiver and running back as well. Also notable, here's the Houston OL for 2019:
LT: Josh Jones: 6-5, 310. RS senior. 36 starts.
LG: Gio Pancotti: 6-6, 310. RS junior. Texas Tech transfer.
C: Braylon Jones: 6-3, 310. Senior. 30 starts.
RG: Justin Murphy: 6-6, 291. RS senior. Texas Tech and UCLA transfer. 16 starts at those previous locations.
RT: Jarrid Williams: 6-6, 305. RS senior. 15 starts.
Holgorsen traded in a retooling West Virginia roster for a Houston squad with as much or more dynamic talent than he ever had in coal country and some infrastructure to boot.
Perhaps the scariest dimension for the OU offense is the fact that Briles successfully taught King to execute vertical RPOs. Grinch's defense will want to send numbers to the box aggressively to stop the run and that's exactly what vertical RPOs are designed to punish.
A good opening test for Jalen Hurts
Once freed from the burden of maintaining West Virginia's 3-3-5 defensive tradition, Dana Holgorsen looked elsewhere for a hire at Houston and went with Joe Cauthen from Arkansas State. Cauthen runs the sort of defense you often find with hires that come into the Big 12 with good reputations. He ran a 4-2-5 that boasted strong and aggressive DL play, mixed in some press-quarters, and was effective at finding ways to get numbers to the box to stop the run against spread offenses.
They played a lot of under to pair up 3-technique Kevin Thurmon (12 TFL, 3.5 sacks) with their DE Ronheen Bingham (18.5 TFL, nine sacks). I imagine he would have slid Ed Oliver to 3-technique and dominated with him but the Sooners won't have to worry about that, at least.
The Cougs are retooling their DL this season but they do have TCU transfer Isaiah Chambers at the strongside DE spot and will turn former OLB Leroy Godfrey into a "Leo" or weakside end. There's a lot of transfers across the defense and I'm sure we can expect that to be a big part of Holgorsen's strategy for roster building in H-town.
If that worked well at West Virginia imagine how well it might work to recruit discontented Texans and Houstonians to transfer back home and play for the Cougars if Holgorsen gets this program rolling. Holgs has explicitly noted that this will be the strategy and they have three blue chips on the defensive roster that transferred in already.
A key player in this game will be nickel Grant Stuard, a 6-1, 210 pound junior that will probably play more like a Sam linebacker in this contest. Take a look at how Arkansas State tended to defend spread sets last year and watch the nickel:
They're playing press-quarters with the free safety arriving over the top and the nickel ultimately filling the B-gap when he sees the TE split across to the other side of the formation. If you really drill down this style of defense you can really beat up on rushing attacks, this is the style that Michigan State plays except the Spartans play more Over. Here's how this might look against Oklahoma's most dangerous GT counter-read play, the QB RPO version: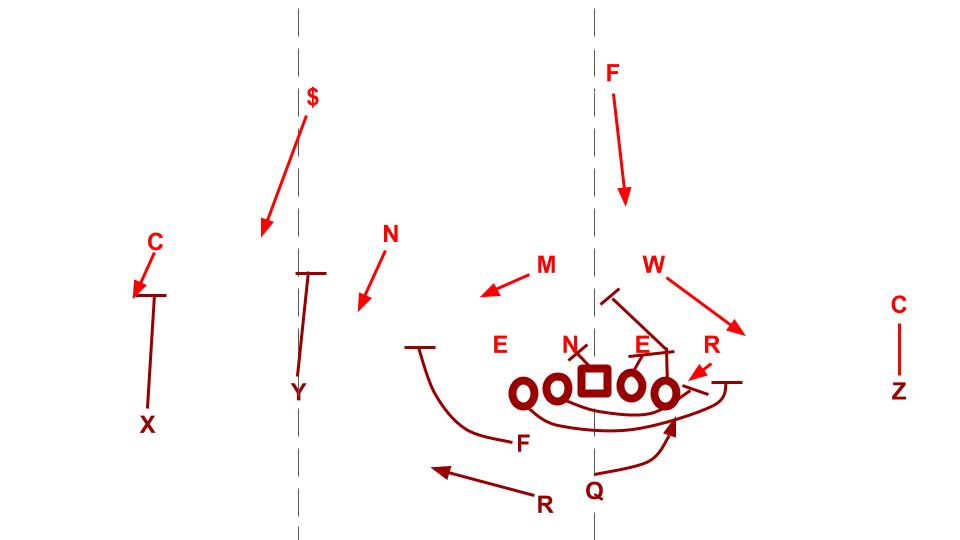 By involving the safeties quickly and aggressive on run reads, the Cougars can play fast and confident underneath with their linebackers and nickel and trust the safeties to clean things up and make the numbers work. Against this play the key is the play of the "rush end" spilling the pulling guard and then the free safety hawking down in support. Godfrey is a sophomore DE so I don't know how far he's come along in this scheme. The free safety is former 4-star and Ole Miss transfer Deontay Anderson, who's a 6-2, 217 pounder from Manvel (Houston) who ran a 4.57 in the sparq in HS at about 202. He started last year and was a freshman AA in 2016 at Ole Miss. He's an ideal fit for this system and that position, OU has been looking for a guy like this for their own defense.
This style is not as effective against Big 12 offenses because their starting point would be throwing on those corners or the strong safety isolated on the slot, not trying to force the ball against what quickly becomes an 8-man box.
However, against a week one Oklahoma who just brought in an iffy passer to man their offense? It could be trouble. If Cauthen has the Cougars up to speed in his defense, which is hardly a given, they could really cause problems for the Sooners should Riley focus on the run game while easing Hurts into the passing attack. Houston may need to give more attention than just press-man to CeeDee Lamb but if they play the rest of the Sooner WRs like this that still allows them to get numbers to the box.
Watching the Arkie State crew play defense it was clear they had a toughness and a culture they believed in. Their players ran to the ball and made form tackles without fear or hesitation. Holgorsen was really striving to achieve that at West Virginia and has made statements indicating that he believes in that style for Houston as well. It's certainly a good fit for a team that recruits from Houston, as we saw when Herman instilled a physical mindset there and they came out and punched Oklahoma in the mouth in the 2016 opener:
It's also a good approach for the AAC, which is more spread run-centric than the Big 12. Or at least it has been up till now.
In summation, Holgorsen is going to bring a brilliant spread-iso mind and process into a program that has already been playing spread-iso offensive football at a high level. They're probably a better foil for Grinch's week one defense than Oklahoma would like, surely they'd prefer to warm up with a weaker offense and drill all of their base concepts in a low pressure atmosphere.
Meanwhile Holgorsen hired a man that will aim to bring a physical, "stop the run and challenge their skill players" mindset to their defense that the Sooners would normally chew up but may be more vulnerable to than in previous years. If Oklahoma can't tackle King and friends and then Jalen Hurts can't beat the Cougars over the top in the passing game, this could be a lot more interesting than the 23-point spread would suggest.
Last year I thought Lane Kiffin's Florida Atlantic could achieve something similar on the road in Norman in week one but the Owls were totally overwhelmed by Oklahoma's athleticism. I think Houston will be a closer match, but perhaps still not ready to deal with the overall size and talent level that Riley has been building. I think Houston covers but Oklahoma winning is the most likely scenario here. At any rate, this is going to be a fascinating game and perhaps the most fun week one contest on offer.
******
If you enjoy reading breakdowns of strategies and trends in Big 12 football, you'll love my new book, "Flyover Football: How the Big 12 became the frontier for modern football."
There are lots of details on Oklahoma in particular, as Bob Stoops and then Lincoln Riley have each had very profound influence on the nature of the Big 12 conference and its style of play. They've been the standard, so to speak, that have helped shape the league.