Bobby Petrino's old offense is starting to fall out of date and he just doesn't quite seem to realize it. In the past his system combined two-back, downhill running plays with what is now modern pro-style offense featuring concept, dropback passing and 11 personnel sets.
Then he returned to Louisville and found himself with one of the most explosive playmakers in all of college football at the quarterback position in Lamar Jackson. They played him some as a freshman, out of necessity really, and he ran wild on opponents.
The rather brilliant breakthrough that Petrino and his staff brought to bear was in making the most of their roster filled with tight ends by regularly playing some double H-back sets that could insert lead blockers all over the place against defenses that were already concerned with keeping Lamar Jackson contained.
In addition to that, the Cardinals were mixing zone-read plays with arc lead blocks on the edge for Jackson with Power-read plays where the lead arc blocks served the running back. If you became overly concerned about taking away the edge, they could run power-read and fire Jackson downhill. If you tried to take away the cutback, you risked Jackson running around the perimeter.
In either event he was liable to score and score quickly and his 1571 rushing yards were a big part of his Heisman campaign.
When teams finally started taking Louisville down at the end of the year, it was mostly a function of a poor OL play, particularly in pass protection…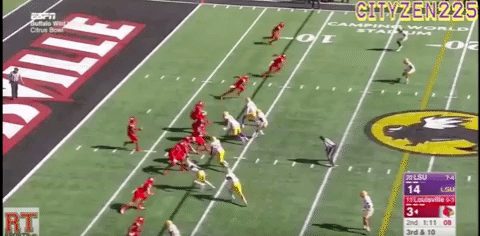 But now Petrino wants to get back under center
This is being sold as being for Jackson's benefit, but I struggle to see how this will help the Cardinals be a better offense.
Petrine's argument seems to be that going under center will simplify things for Jackson, while the article's author simultaneously suggests that this will better demonstrate what he could do in a pro-style offense. Normally simplifying an offense for your quarterback is not what portends a great pro career…
The simplification would occur from having more plays where Jackson is simply turning and handing off or just focusing on nailing his drop, progression, and getting the ball out on time. In the spread-option offense they often ran, he was regularly making option reads and had to carry a major load for the offense. That's how he won the Heisman.
One obvious problem is that when you remove the burden from Jackson of having to read defenders in the run game every week, you also remove the burden for the defense of having to worry about Lamar Jackson keeping the ball.
The Cardinals are essentially moving to deemphasize the strongest part of their offense in order to emphasize the weakest part.
That'll carry a cost in practice as well. Nailing down dropback footwork, protections, huddling, and the QB-less run game is going to require practice repetitions. Repetitions that could have been spent on continuing to excel in the shotgun and in pass protections from those superior sets.
As a Texas fan who watched the Longhorns adjust from a pro-style system to a pro-style spread to accommodate Vince Young, this appears to me as Bobby Petrino and Louisville moving backwards. They'd found something that works…spectacularly.
Then they took late-season defeats and the exhaustion of Lamar Jackson as a sign that they should go backwards, strategically, rather than pushing forward and developing a better supporting cast as the means of easing pressure off their Heisman. I think this is really just Petrino finding an excuse to run back to what he knows and prefers.
Between this and trading Todd Grantham to Mississippi State for a defensive coordinator who wasn't terribly effective in 2016, I see some troubling signs for the 2017 Louisville season.