My chronicling of the Sooner defense over the offseason was fairly detailed as it seemed to me likely that Lincoln Riley would figure out how to build another top offense around Baker Mayfield and a loaded OL, but the defense was very much in question.
The spring game showed a team that was very young and inexperienced in the middle of the field. Then plan A at free safety was arrested. Then Bob Stoops retired, leaving brother Mike in charge. Then Lincoln Riley added old pal Ruffin McNeil, creating overlap on defensive staff between DL coaches, approaches, and guys who probably felt like they were best qualified to be DC.
My best bet was that the Sooners were going to struggle mightily in 2017, replace Mike Stoops with Ruffin McNeil, and get back on track as the Riley era progressed. This reasoning was laid out when I asked, "Will the 2017 Sooner defense be soft?"
Ohio State always stood out as the perfect test case for this question, as the Buckeyes are built around an option run game and interior passing attack which all test the mettle and competency of a defensive interior. My assumption for the last year has been that Oklahoma's youthful linebacker corps and safety group playing behind a somewhat iffy DL was going to get shredded in this game, potentially leading to the departure of Mike Stoops and the ascendancy of Ruffin McNeil.
Here were some of my takeaways from having misread the situation so spectacularly…
Oklahoma's culture seems greatly improved
My "will OU defense be soft" piece was largely provoked by what I saw as the final nail in the coffin, a quote by Caleb Kelly that seemed to suggest that the Sooners had gone with thud tempo in practice. It turned out that he was actually saying the exact opposite and the coaches had determined to get the players flying around and hitting MORE then they had in recent seasons resulting in a lot of big hits and "THUD!" sounds.
That was pretty promising and suggested to me that in the long term, Lincoln Riley would absolutely get things on track for the defense, but still not in year one with so many new faces at key run support positions. Well, things look more promising than that now, don't they?
The big question I have in the wake of that defensive performance that illustrated strong assignment awareness and effective taking on of blocks is whether Bob Stoops was the real "cautious Mike" and his hesitation about holding physical practices was the biggest thing holding Oklahoma back.
Here are some examples of the Sooners' effective play up front
Overall the Sooners looked like a team that was well coordinated in building a wall against the run and well practiced in the art of taking on and beating blocks. Here they are stuffing QB counter with a 6-man box: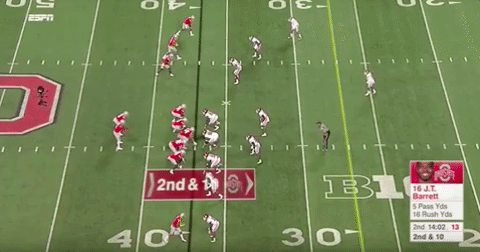 This is one of the harder types of plays to stop in college ball because the offense has a blocker for every defender up front and the 4-wide formation stretches out the secondary to limit their ability to bring help.
OU ended up playing a lot of their old 3-4 in this game rather than the single-gapping, 4-3 Under they showed in the spring game. The coverage is something akin to Nick Saban's "mable" adjustment to a trips formation but the Jack LB (Obo) is playing as a force defender rather than that task going to the will LB (Beal). Here's how it looks on the chalk board:
Parnell Motley is the guy in man coverage here on the right side. As I noted before the game, it was pretty much a given that the Sooners would lean on their corners to play a lot of man coverage in order to get numbers up front against the run.
Still, this defense is vulnerable to the QB lead run to the boundary because the safety help coming over the top is going to be late. If the LBs don't hit their gaps and take on the blocks properly, there's real potential for trouble here. Obviously though Okoronkwo forces the ball inside well, Emmanuel Beal arrives very quickly and makes the choice to jump the RB's cut block, which is sorta risky but effectively limits Barrett's pathways. Then mike LB Kenneth Murray has been freed up by the scheme's use of double 4i-technique DEs to leave the cutback lane and arrive to make the stop.
Against Ohio State's option game, Oklahoma maintained a consistent practice of taking away the edge runs and keeping the ball focused between the hash marks. So here's a zone bluff play where Barrett is reading the backside DE (Neville Gallimore) for a keep or give read and big #90 is keeping the ball inside:
The middle of the field and the LB keys are kind of a mess here, but there are two consistent themes from above. First, Gallimore and Okoronkwo both force the ball within a limited space. The middle of the field is a mess but it's a mess that the runner is going to have to get through to find daylight.
Another consistent theme is that the DL are causing problems and freeing Murray to scrape free to the football. The play of DJ Ward in particular is pretty phenomenal as he's taking on the left tackle and denying the B-gap before getting off the block and then making the stop in the C-gap before Murray even arrives.
You can also see the coverage adjusting to the motion on the fly without getting torched. It looks, though I could be wrong, as though the motion is triggering a change in coverage. It's hard to know what they were planning to play before the motion but afterwards they're in "mable" again.
Ohio State had one solid drive where they caught some of the not-Gallimore OU DEs on option plays to the field and so the Sooners adjusted and just had their DEs take away the inside runs and send the Buckeyes wide to the waiting arms of Caleb Kelly.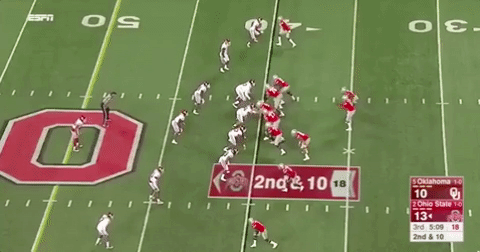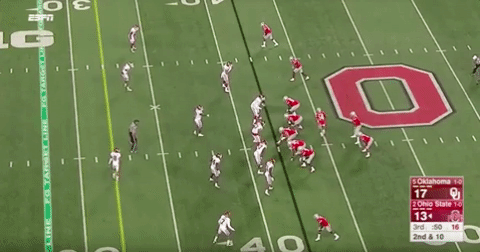 In the first clip, Beal is swallowed up inside and Murray is reached in space by the Buckeyes' LT, but Kelly keeps the ball between the hash marks and DJ Ward makes another sensational play in pursuit. Free safety Robert Barnes was also arriving in assist from the deep middle (mable again).
In our second clip Murray has become wise to the Buckeyes' scheme and is scraping too hard for the RT to reach him. Once again the "mable" coverage allows Kelly to force the edge and keep the ball between the hash marks and while señor Lampkin doesn't have anywhere near the change of direction as DJ Ward, Murray is there this time to make the stop.
What about the pass?
Stopping Ohio State's running game, or limiting it, is all fine and well but that isn't going to come up too terribly often in Big 12 play. Kansas State is the only team with a comparable spread-option attack to Ohio State unless Texas ends up going all-in with Sam Ehlinger (tune in Saturday to see how that might look).
What Oklahoma will have to face in Big 12 play is option tactics that include passes combined with runs and passes in general. Ohio State is not really a great test for whether OU can play pass defense at a high level against Big 12 offenses, but we can still spot things like tactics and fundamentals.
Here were a few passing plays that stood out from the game:
One major advantage that Oklahoma has this year is Obo Okoronkwo's overall versatility as a linebacker these days. He's very competent in coverage, as he shows on this clip, and his ability to drop well frees them up to mix in pressures for Caleb Kelly on the opposite edge or for Kenneth Murray and Emmanuel Beal up the gut.
That hasn't yielded the same results though as bringing Obo, who already has two sacks this season. Another interesting note about this play is that it looks like there might have been a coverage bust. Normally a 5-man pressure doesn't leave the field corner without inside help on a post route to the opposite hash mark. Judging by Obo's drop and the play of the strong safety (Steven Parker) I think that boundary safety (Will Johnson?) was supposed to drop to the deep middle. Oh well, Jordan Thomas and J.T. Barrett join forces to bail them out.
Murray and Beal may prove to be the big beneficiaries of Obo's versatility as the Sooners have a lot of blitzes where Obo and Kelly are the OLBs and one of the ILBs is searching out an interior gap to bring pressure:
This is the sort of 3-4 quarters scheme that can be really dang effective if those OLBs can play in space some and the ILBs know how to get to the QB. Murray is only going to get better and better at this and Beal is already fairly solid.
The big hope for OU though in Big 12 play is the fact that Obo is quite possibly the best defensive player in the conference and they now have a much improved secondary with Motley holding down the corner spot opposite Jordan Thomas.
Just check out the pass-rush moves employed by Obo on his two sacks…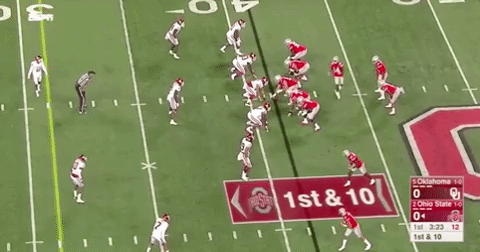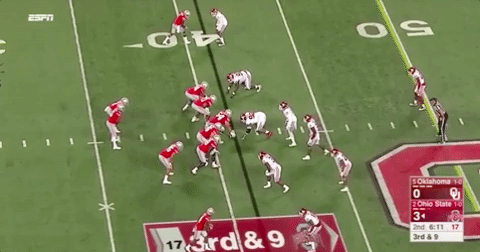 Obo was fantastic a year ago, of course, but the Sooners' improvements around him will only make him more lethal and he definitely doesn't seem worse than last year. His ability to change directions, bend, and finish plays is pretty devastating. When combined with his knowledge of coverages it's hard to see why he wouldn't be a day one draft pick.
When the Sooners were playing nickel against Ohio State they would play Steven Parker down in the nickel, where he's really quite fantastic, and slide Kahlil Haughton in for him or move Will Johnson over and then play Robert Barnes in for Johnson. Haughton looked good in coverage, Barnes is probably more of a run-stopper at this point, overall they seem to have better options than when Ahmad Thomas was a mainstay at free safety.
Overall the Sooners have better personnel in place to bring some versatility to their packages, they can disrupt things up front with good DL play and a nice pressure package, and they have two cornerbacks that can hold up on an island in a given situation.
It's going to be a fun year in the Big 12 this season.