The average pundit said that Matt Rhule was going to struggle to recruit Texas replacing Art Briles and coming in to a program that had just endured a PR nightmare but that he'd be able to win early by utilizing Briles' players. I had a very different sense of things, I was never terribly worried about how he'd recruit, particularly once he filled his staff with coaches that had Texas connections. On the other hand, I foresaw a losing season and a struggle to reach bowl eligibility trying to replace the Briles "veer and shoot" offense with a pro-style, spread-option blend while advancing Phil Bennett's 4-2 quarters defense with a very multiple, base 4-3 playbook.
I probably even undersold how hard a transition that would be for the Bears even though I named my three-part series on the transition "Culture shock!" If you go back and read that series you'll find that I had a decent idea of what Rhule was up to and I've been sharpening that understanding by watching some of the film recently from their disastrous 1-11 initial season.
The plan here is basically to snatch high upside, raw talent everywhere while looking for TEs to bring versatility to the offense and athletes to make up the OL. Much like Gary Patterson or Tom Herman, Rhule believes strongly in his culture and practice regimen as a means of molding good clay into physical and savvy football players. Even if the guy does leave for the NFL if he gets a chance in the coming years, which seems pretty dubious, he's going to leave this program in better shape and more flexible overall than Briles left it with his cookie cutter system and loose discipline.
Here's a glimpse of the incoming crew:
Offense
Quarterbacks
I really liked Charlie Brewer a year ago and found myself arguing with Baylor fans on Twitter that insisted that Zach Smith was a better player. Smith was always a strong-armed yet limited passer that Briles' system was uniquely excellent at making the most of. Now the Bears want a guy who can diagnose defenses and deliver accurate, timely balls. If he can run the ball some, more's the better.
Gerry Bohanon: 6-3, 218. 4**** from Earle, AR (Earle)
The Bears beat out a late push from Chad Morris at Arkansas for the services of Bohanon, which film review suggests to me was a pretty tough loss for the Razorbacks. Bohanon has a big arm and is good at using it on the move, in a simple read spread system there's little question he could burn teams throwing down the field. He's also a really solid runner with numbers like a 4.1 shuttle and 30.7″ vertical that speak to an athletic and shifty guy that can win the edge and then film running around the perimeter on QB lead plays. Bohanon has a really nice skill set for the spread offense, I don't know what his ability to process the field is like but it honestly wouldn't have to be that great given his running ability and throwing ability.
Grade: B+
The Bears also signed an athletic transfer who's name I forget from NC State or somewhere like that. The transfer I think will run the ball some and maybe protect Bohanon's redshirt. There's going to be excitement about this guy as an athletic 4-star with awesome physical talent but the best thing for Baylor would be to shirt him, get a year of separation between him and Brewer, and then have a peaceful transfer of power after Brewer is done in the green and gold. Bohanon probably needs that time anyways, Rhule doesn't run the simplest stuff in the world.
Running backs
Rhule's run game starts with outside zone but also contains some power and other elements. A back that can threaten the perimeter of a defense before cutting back is optimal and then they also showed the aptitude to utilize a flex RB in their schemes a year ago with Tristan Ebner.
Craig "Sqwirl" Williams: 5-9, 170. 4**** from Crosby, TX (Crosby) 
Sparq score: 4.3 40, 4.48 shuttle, 29″ vertical, 35′ toss
Williams' numbers are kinda strange, I'd have expected a better vertical and a lower toss personally. The noteworthy number of course is the 4.3 40, "Sqwirl" is crazy fast. He's a pretty legit RB despite his small size and excels at using his obvious ability to bounce runs to the perimeter to set up north/south cuts. He was more of a Darren Sproles-type in high school than the mobile hybrid he's been billed as for the college game. The question for him in college at RB is whether he can hold up in pass protection, and if not then how much impact can he have as a flex RB moving around? Dude has game-changing speed, the question will be how easy it is to employ regularly. Probably easy enough that he'll have a nice career in Waco.
Grade: C+
Williams is an amazing talent but may not meet the need for a feature back or otherwise end up as a WR and return man. Still, he's a great addition to the program.
Ancillaries
Baylor wants to load up on TEs both so that they can get into bigger sets and play bully ball with tons of double teams and muscle on the edge for their run game AND so that they can motion and flex guys out and then pick on matchups in the passing game. The only reason you don't see that more in the Big 12 is that no one's been up to taking the risks to allocate the scholarships and time to making it happen. OSU has dabbled but Baylor is going all in.
Bralen Taylor: 6-7, 221. 3*** from Cuero, TX (Cuero)
Sparq: 4.91 40, 4.65 shuttle, 31″ vertical
Taylor's film shows a more fluid and athletic player than his sparq numbers suggest but there's no doubt that he's a TE down the line and not the WR he played in high school. He's a good route runner and definitely good enough that his 6-7 frame and reach is a major matchup problem. This take is all about what this guy will be when he's 6-7, 260. If he's a guy that can bully DEs in the blocking game the way he bullies DBs on film then he'll be a really valuable player.
Ben Sims: 6-5, 241. 3*** from San Antonio, (Clark)
Sims' numbers would be really interesting to see, he has a lightning quick first step or two and when he downshifts and takes off he's pretty quick, but I reckon his top speed is not high. No matter, he's really solid running routes as an in-line TE and solid as a blocker. His hands are maybe his most impressive attribute and he reels in some tough catches that require either good hands or the ability to see the ball in while handling traffic and impending shots from safeties.
Christoph Henle: 6-6, 245. 3*** from Austria via Arlington, TX (Oak Ridge Academy). IT #84
Sparq: 4.98, 4.69, 29.9″ vertical, 33′ toss
The early returns from Henle in spring ball (he enrolled early) are already very positive. He's got great hands like Sims and is similarly fluid as a route runner and sudden with his initial steps. I don't have a good feel for where he is as a blocker currently, it seems that his rather highly intensive development program that sent him across the pond for increased football opportunity has focused around the sorts of receiving skills that make for a professional TE rather than a college one. If/when the blocking is there then his skill will be easy to make use of in the passing game.
Grade: B+
Baylor invested heavily here with three good, upside takes that could all potentially fit the mold of an inline blocker in outside zone and a flex weapon in the dropback passing game. You figure at least one hits in a big way and sets up Baylor to be able to do some nasty stuff in the future. 11 personnel spread teams with true dual-threat TEs are murder on college Ds.
Wide Receivers
Baylor in the past just wanted straight line burners but now they need more versatile guys that can execute timing routes and master a fuller route tree. They're still running RPOs and spread concepts though so having speed is still very valuable.
Kalon Barnes: 5-11, 172. 3*** from Silsbee, TX (Silsbee)
Sparq: 4.67 40, 31″ vert, 31.5′ toss
Barnes is fast on film and his 4.67 is solid but he's run a 10.79 100m in track which translates to something more like a 4.4 or 4.5. That kind of blazing speed is going to be a re-occuring theme in this breakdown…
I think I'd be curious to see him at safety but he is currently a bit small and I imagine that Rhule will be pretty flexible with which of their speedster skill players end up on which side of the ball. He's a strong runner with the ball in his hands and can run by people and adjust to the ball in the air. Probably a slot in the future.
Tyquan Thornton: 6-3, 165. 4**** from Miami, FL (Booker T Washington)
Thornton has run a 10.6 100m, which means another 4.4 kinda burner. His HS film includes a lot of work in 4×1 formations that obviously confused opponents and gave him a free release to run down the field, sometimes unaccompanied by a defender. They also threw him screens, which his speed obviously made very deadly. I don't have a good feel for him as an actual receiver as opposed to a crazy good and tall athlete, just another guy that Baylor will look to coach up in the hopes of finding a dominant outside, Iso guy down the road.
Joshua Fleeks: 6-0, 170. 4**** from Cedar Hill, TX (Cedar Hill) IT #66
Sparq: 4.48 40, 4.1 shuttle, 34.6″ vert, 32.5′ toss
Obviously Fleeks is an elite athlete with dream measurables. His QB didn't exactly seem to be a future B12 guy but more like another athlete that was smart and skilled enough to be featured at QB. All of his highlights are of the "oh they're going to let him work in that much space huh? Yeah, that's what you get, guys…"
Much like the other two, how he develops as an actual route runner will be interesting to follow.
Jackson Gleeson: 6-0, 160. 3*** from Mansfield, TX (Mansfield)
I think Gleeson is underrated, particularly in comparison to some of these other guys. For starters, he didn't run at a sparq even but he's a track star with multiple 100m times that are safely south of 10.8. For another, he played in an I-formation running offense at Mansfield that used him for occasional play-action lobs. He caught 33 balls as a senior for 809 yards and nine TDs, which is 24.5 yards per catch. He was pretty solid as a route runner, blowing by press coverage from 6A CBs and eating up or out maneuvering off coverage and deep inside/outside brackets. He has a clip where he catches a post in front of a safety and holds onto the ball after the hit.
He could probably stay outside despite his lack of size, especially if he played off an inline TE and gained 20 pounds or so without losing too much speed, or he might translate into the slot. He's a little more developed than the rest of their burners although the translation of size and skill isn't as obvious as for Fleeks or Thornton.
Grade: B
Baylor got some really speedy guys here that have obvious utility in a run-centric spread offense that will allow them to run by conflicted defenders on RPOs and play-action. Looking at these takes it's almost like Briles never left.
Offensive line
Rhule moved quickly to remake the Baylor OL to go from being the biggest group in the league towards having guys that could execute reach blocks on outside zone. Some early moves included starting freshman Ryan Miller, a 6-2/290 pound OZ specialist from Southlake Carroll, and moving TE/bludgeon Sam Tecklenburg to OL to play guard.
You can see the increasing disparity by comparing the best and most developed Baylor OL of the Briles era (the 2015 crew) with the prospective lineup for this coming season: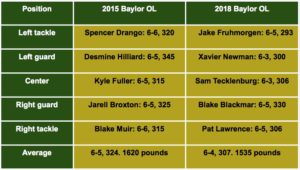 Rhule's mission to transform the OL from a collection of blobs to a lean, mean, and athletic unit continues with this class.
Casey Phillips: 6-5, 280. 3*** from Franklin, TX (Franklin)
Phillips was overpowered for the level of play he was competing in and Franklin was using him as a mauling RT to run behind. He's an aggressive mauler with a lot of upper body strength that he leaned on pretty heavily as a blocker. I think that despite his height, he'll need to slide inside to guard in college. He's not immobile though and should translate to the stretch blocking schemes.
Ylijaah Hall: 6-5, 293. 3*** from Bryan, TX (Bryan)
Hall blocks outside zone a lot on film which is helpful for the projection as a future Bear. He's pretty good at running laterally and getting fit on defenders before driving them off the ball. Like Phillips I think he'll end up translating inside to guard at Baylor and using his length to help corral guys on the move.
Johncarlo Valentin: 6-3, 330. 3*** from Brooklyn, NY (ASA College)
Valentin moves shockingly well for such a massive and wide dude. I thought he might end up at tackle until I found that he was really more like 6-3 than 6-5. He's not doing much zone blocking on film save for some inside zone stuff where he's turning shoulders and JUDO-throwing dudes around. ASA liked to pull him a lot or shoot him upfield and he's really at his best using his surprising quickness to reach smaller guys that he then bullied with great enthusiasm. I'm betting he gets a redshirt and then becomes an intriguing interior OL option in 2019.
Jackson Kimble: 6-5, 260. 3*** from Southlake, TX (Southlake Carrol)
Southlake Carrol has produced three Baylor OL in two years and you can chalk that up to their high level use of outside zone, but now coach Hal Wasson has been removed (presumably for allowing other DFW 6A schools to pass up the Dragons). His replacement, Riley Dodge who is the son of former Carrol star coach and current Westlake head man Todd Dodge, probably won't put the same emphasis on that scheme if he follows his dad's playbook.
Anyways Jackson Kimble, he's exceptional in the outside zone game and you can tell he really leans on his feet and lower body to position him rather than bullying guys with a strong upper body like other prospects. That's good because you don't beat college DL with your upper body. That's also promising in that it speaks to a guy that can probably continue to fill out without losing his quickness. Kimble is a tackle for Baylor in a few years once he's up to 300 or so.
Connor Galvin: 6-6, 250. 3*** from Katy, TX (Katy) IT #67
Eric noted that weight concerns were the only thing holding Galvin back from being a top 25 player in the state, it's certainly the reason that Texas didn't offer, which is probably to Baylor's benefit. Galvin is an exceptional athlete and a well developed blocker in outside zone and some other schemes thanks to the high level coaching at Katy HS. He's pretty skinny currently so you figure he could get to 280 or 300 the concern is whether he's wide enough in the right spots to hold good weight. It may just take some time, or he may fill out pretty naturally as an older kid. He's a lock to be a valuable player though, if he gets stuck at 6-6, 270 or something then he's a good bet to be a dominant short-yardage TE. If he successfully fills out to 290 or more then he's a potential All-B12 left tackle.
Princeton Pines: 6-5, 327. 3*** from Baton Rouge, LA (Tara)
I'm not sure how Pines slipped through LSU's web and there's not really any doubt about whether he'll be big and athletic enough to play college ball. Rhule's OL coach singled him out as one of the better prospects he's seen. From my own viewing of his terribly filmed tape I can see a guy who's really light on his feet and playing guard in a run-centric offense. They pulled him a lot and he was scary good (for such a big guy) at finding guys in space and getting his body on them, he's also good at beating DL to spots on the field and then whipping them from there. He's not a mobile obstacle though, he'll drive guys off the ball. Rhule says they want to try him at LT, that makes sense to me.
Grade: B+
The goal here is to get good athletes who happen to be big and physical and then make college DL work about facing guys with comparable athleticism and the invaluable knowledge of already knowing what the play is going to be. Obviously Rhule also loves grabbing guys that have already had teaching on the art of outside zone blocking, whether that's because he likes that in general or because he knows he needs guys that can play sooner than later I'm not sure. This group has real promise, either way.
Defense
Defensive line
The more I've studied Rhule's defense the more convinced I am that this is the Joe Paterno 4-3 defense from Penn State with a dozen tweaks and updates to keep it fresh and relevant for the modern era. Considering that Paterno was an early adopter of playing both Under and Over fronts based on circumstances AND attacking with zone blitzes, that's still a reasonable foundation for today. Later I'll tackle some of Rhule's tweaks and updates for keeping some of these schemes fresh.
For now I'll note that everyone across the defensive front matters. The field tackle needs to be able to command and fight a double (usually in the nose but sometimes a 3-tech), the boundary tackle needs to be an active, backside disruptor. The DEs tend the edges, play the option, drop on zone blitzes, and need to be athletic and wreaking havoc. Rhule asks more of his four-down players than Patterson does up in Ft. Worth.
Joshua Landry: 6-2, 250. 3*** from Houston, TX (Lamar) IT #68
Sparq: 5.09 40, 4.5 shuttle, 25.8″ vert, 46′ toss
Landry is good with his hands but it surely helps that he has a ton of upper body strength. He's spent the last few years doing yeoman's work for a Lamar team that had like half a dozen D1 skill players on either side of the ball. He played mostly DE but he's not a good enough athlete to stick there in Rhule's scheme. Instead he should fill out and become a DT, probably a field-side nose/3-technique, who's disruptive when he gets a good jump but otherwise just a guy that is tough and good at playing through blockers. Texas almost pushed for him but found some other options.
Marje Smith: 6-6, 205. 3*** from Marshall, TX (Marshall)
Smith is a big, lanky athlete who Rhule said should get to 6-6, 250 without too much difficulty. He's good on the perimeter in the run game, playing blocks tough and using his long arms to grab guys and extend his effective range. His pass-rushing seems like it could grow to become really fearsome as he adds power, he plays blocks well and makes use of his long limbs to hold off blockers and turn the corner. He reminds me of Charles Omenihu.
Grade: C
Baylor took a lot of future DL last year and are still growing and developing those guys into the system so there wasn't a great need to restock with a ton more. Landry is a good floor guy, he's probably not going to fail to become a solid DL that can play on Saturdays without turning your interior into a soft spot in run defense, he may end up being pretty good. Smith is another long-term prospect with a high ceiling, probably at field-side end.
Linebacker
Since the Bears play a lot of Under on standard downs the weak side linebacker is the star of the show and set up to scrape free to the ball every play to make tackles. Rhule also maintains a fairly consistent them in his defenses of sending the LBs to the point of attack when teams use a TE save for in his man coverage calls so these guys are very active and counted on to blow up the run game. The sam is basically a nickel and I'll count him there since I don't think they're recruiting space-backers. The mike and will are true LBs but they both need to be athletic and able to run sideline to sideline. Tyler Matakevich is a good example of the ideal Rhule inside-backer even though though his numbers (4.81 40, 4.5 shuttle, 31″ vert) weren't great because he diagnosed schemes and played faster than he tested.
None
Grade: D
Not a big deal, they have a ton of young LBs on campus and Rhule has shown in the past that he'll play stout safeties at LB in dime packages on the reg.
Defensive back
Matt Rhule asks a ton of his secondary like he does the rest of the defense but while they have to understand and retain a lot of roles and assignments, the nature of his defense tends to protect them with disguise and multiplicity. They play Tampa-2, cover 1, and then your main varieties of quarters coverages so guys have to pick up a lot of techniques and schemes. At the end of the day though Rhule will shade help where it's needed and mostly wants guys to be assignment sound and tackle well.
They played a lot of cloud a year ago, asking the nickel and boundary corner to be active tacklers on the perimeter while the safeties needed to hold up in space and tackle well. Rhule also has a role who's name I don't know yet who's a press-corner that comes in on passing downs and presses whichever receiver Rhule wants erased. That's a fun role for someone to try and get.
Mark Milton: 6-1, 175. 3*** from Friendswood, TX (Clear Brook)
Sparq: 4.48 40, 4.4 shuttle, 33.5″ vert, 29′ toss
Milton is definitely a blur running in a straight line. He seems to have pretty good hips for playing coverage which is the concern for a taller athlete and he's at his best backpedaling and then using his acceleration to break on the ball. He played some safety in high school and wasn't a thunderous safety but was good at playing the ball in the air and competing for it. I think field corner is the best designation for him.
BJ Hanspard: 6-0, 170. 4**** from DeSoto, TX (DeSoto)
Sparq: 4.54 40, 4.47 shuttle, 39″ vert, 32.5′ toss
Another freak athlete with a strangely poor shuttle time in this class. Hanspard definitely has the hips for coverage and has highlights playing press coverage on the slot and clips picking up double moves from off coverage over a slot. He has some versatile technique on top of his fantastic size and athleticism and should be a guy they invest heavily in at CB.
JT Woods: 6-2, 175. 3*** from Cibolo, TX (Steele)
Sparq: 4.62 40, 4.22 shuttle, 35.2″ vert, 30′ toss
A freak athlete and teammate to 5-star safety Caden Sterns who went to Texas. It's outrageous how much P5 talent played in this secondary, they must be a magnet for DB prospects. Anyways, Steele used Woods in a few more roles than they did Sterns who was mostly a deep clean up man. He'd play in the box more often, played some man coverage outside on slots, and was a good open field tackler for them. He could play either safety position for Baylor and be a star.
Christian Morgan: 6-1, 188. 3*** from Porter, TX (Porter) IT #31
Sparq: 4.55 40, 4.03 shuttle, 42.8″ vert, 43.5′ toss
Morgan is one of the better testing safeties in the entire Big 12 2018 haul. He has tremendous range due to his speed and explosiveness and he'll play through the wash to make tackles. Depending on how well Morgan picks up coverage I might play Woods to the field and Morgan on the boundary where he's more free to play in the box. These two should be an exciting future tandem for Baylor.
Grade: B
Good numbers here, very good raw athleticism, and overall a foursome that could be the backbone of a very good defense down the line in Waco. They'll probably need some time to develop and learn all the ropes in this defense but could be elite if that process goes to plan.
In summation…
Rhule has signed another class that will guarantee that successful development and install of his staff's vision will mean a team that is one of the fastest and most athletic in the entire conference. It's jarring how much faster Baylor's signees are on average relative to most of the rest of the league. #BFast indeed. If Rhule is able to make good on that athleticism this could be the start of something special.