Finally, I have a short interaction I had with Matt Rhule about the Baylor defense. This came after a few questions in which he praised Taylor Young for helping lead this team through the 2017 season and in which he accidentally indicated that he has a high level of trust in Charlie Brewer. Also after a cute little incident where he was facetimed by his wife and connected briefly with his sick daughter and little boy before hanging up on them to resume fielding questions.
Matt Rhule is far and away one of the most affable coaches in college football. The Bears found the polar opposite of Art Briles with him. Briles was an offensive mastermind, Rhule loves building defenses. Briles loved simplicity and pace, Rhule is more deliberate and embraces complexity. Briles was tight-lipped and on point with his interactions, speaking in a slow drawl. Rhule is loose and easy going, overflowing with comments and building long, run-on sentences that include multiple parenthetical thoughts.
Of course Briles was also a scumbag and Rhule seems to be a genuinely good human being.
Coach back at Temple you ran a lot of dime defense, maybe a little ahead of the curve there, last year the Big 12 kinda flipped on its head with Iowa State rolling out their 3-odd and then Texas copying it. When is Baylor going to get back into that?
So we did a bunch of it early last year, we did it against Duke and gave them some problems and we did it against Oklahoma and really kinda got back in the game, um, we weren't doing necessarily what Iowa State and those guys were doing, um, as we sorta got some injuries on defense as the year went on we kinda got away from it but we've always been more blitz, aggressive out of it.
I'm hopeful that in year two, our guys can really understand the concepts, and one of the things about that defense is it's like, high risk/high reward. You're either gonna really confuse people and cause a lot of negatives or you're going to give up some big plays and you know, some games we get into and that wasn't necessarily the answer but I'm hopeful in year two we can evolve to something that can get in and out of our four down stuff and our 3-dime base stuff.
How much of that is just a modernization back on the Penn State defense that you played?
Well when I was at Penn State we were really, really, really multiple, you know? We were flying in and out of every defense. When I was a young coach I was in the 3-4 and so I love that, I think it really speaks to Phil Snow that, you know, he's always a four-down under guy and we moved to some of that stuff at Temple and we found that giving people something else they have to prepare for, and then also giving our kids another sub-group that they can get in and out of and more guys having a chance to play, I think that really helps.
I think what Iowa State did, and what Texas did, really sorta changed the outcome of the season for a lot of teams last year. I'm sure everyone like us has really studied it and so it'll be interesting to see who does it and how much success they have with it, where it goes this season.
Matt Rhule isn't much for flubbing or deflecting, he loves talking football and sometimes says a little more than he intends to. He's not up there getting into rehearsed stuff, he just starts talking football and makes checks and adjustments to his comments if he realizes he's getting away from the best narrative.
The Rhule dime seems to exist largely for the purpose of allowing him to bring the kinds of exotic zone blitzes that he likes. Those become impossible to bring with any real disguise or confusion if the offense knows that you have multiple guys on the field that can't hang with their four or five split out receivers in coverage. But if your LBs can run like safeties? Now you can bring all kinds of crazy pressures and drop or bring everyone in any configuration without worrying that the offense can easily sniff it out.
Like on this Temple blitz I diagrammed from back in the day that they used against Willie Taggart's USF.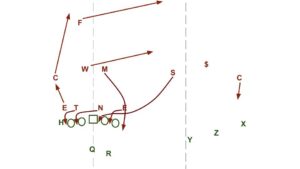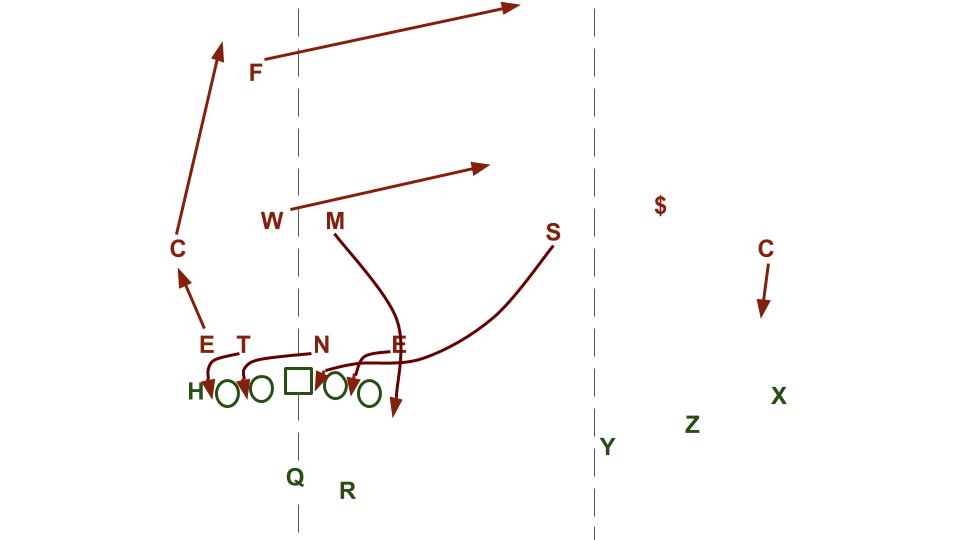 My Penn State question he seemed to answer by offering up that the multiple side of things is something he enjoys and sees as a way to keep more of his defensive players engaged an on the field where the greatest development can occur. It seems that Baylor's major 4-3 Under component, which I diagnosed in this article, is more of Snow's particular influence on the defense.