Last year's B12 season figured to be defined by the QB play since most everyone was bringing a veteran into the season, some of which were all-time greats. That indeed proved an important plot line for the season, but the rise of dime defense was also a major event as teams got innovative out of response to having to deal with so many effective and experienced QBs. The need to create a confusing picture to prevent savvy operators like Mason Rudolph or Baker Mayfield from carving the defense apart was essential. Against Baker it still didn't really work but the innovation still propelled Iowa State into the hunt while making Texas a challenger in every game they played.
This year the expectation is that teams will lean more heavily on the run game due to the volume of strong RBs coming back combined with the emergence of multiple dual-threat QBs. Multiple teams have started announcing their QBs and it paints a clear picture of a league that will run the ball with their entire backfield in 2018.
The running QBs
TCU's Shawn Robinson
The Frogs have run their QB fairly consistently in their Air Raid era. Now, obviously some of that has been due to having athletes like Trevone Boykin and Kenny Hill behind center but Sonny Cumbie has been consistent since about recruiting dual-threats like Max Duggan, Justin Rogers, and this year's man Shawn Robinson.
Over at Football Study Hall last year I went into a little bit of how they've been using Robinson so far at TCU, essentially it's their normal zone-heavy run game with a few keeper reads mixed in and some varying angles. For Hill they often ran a weak side QB zone run that was almost like an off-tackle iso play, it was a useful tool for third and two or so.
Anyways, he'll be the man this year in Ft. Worth and while they don't seem to want to be all about the QB run game I'm sure it'll be a component to their offense. Andy Dalton averaged about 100 carries per year for Justin Fuente and Gary Patterson, Trevone Boykin had 152 and 123 in his two years with Cumbie, Hill had 125 and 100. Scrambles have made up their fair share of those numbers for both Cumbie QBs, I'd venture a guess that Robinson will be closer to 150 than 100.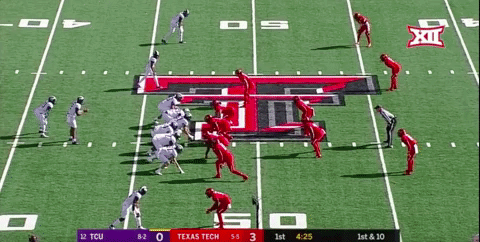 That's a very late pull here against a good 4i-technique DE in Eli Howard, it took some real burst and power for Robinson to win that angle.
Texas' Sam Ehlinger
Herman announced Ehlinger as the Maryland starter this week, to the shock of virtually no one except gullible or click-conscious Texas media members who ran with some of the practice looks in which Shane Buechele was getting major looks.
Herman utilized a zone-read and power-read heavy attack at Ohio State that also utilized some direct snap zone and power QB runs. His Houston squads were even more all-in on the latter, often combining QB counter, dart, and outside zone with perimeter pass options.
Sam Ehlinger ran a power-spread offense at Westlake and picked up 114 carries in just nine games a year ago between all of the designed runs, options, and frequent scrambles that made up Texas' best efforts on offense a year ago. You gotta figure that number stays high in 2018, perhaps reaching as high as 200 carries, but with read plays making up a greater share of the total than scrambles this time.
The big question is whether they're more of a QB run RPO team, they're closer to last year's squad which mixed in just a little of everything and used direct snap runs on third down, or if they get closer to being a full-time read team. It's basically all on the table.
One of the hidden parts of this run that makes it impressive is that Ehlinger is actually hitting the cutback on QB counter here. The DE Tanner Wood beats the RT into the B-gap to kill the designed angle but Ehlinger is a veteran of inside running and he turns into the cutback lane before administering the famous punishment at the end of the run.
Oklahoma's Kyler Murray?
So, Lincoln Riley hasn't officially announced Kyler Murray as the starting QB for the Sooners yet. It's hard to know if that's because he likes them both and thinks there's no harm in getting extra reps for Austin Kendall (who probably starts in 2019) or because he doesn't have full trust in Murray yet. The fact that it's not hard to find scrimmage reports in which Kyler is turning the ball over quite a bit makes me think that the latter option is at least in play.
That aside though, everyone agrees that it's hard to imagine the Sooners not being pretty effective when inserting Murray into the run game concepts where Mayfield was effective. Then there's the other stuff they showed at times a year ago…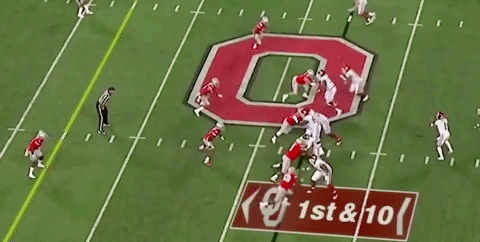 Pretty fun play, zone-read but with the QB becoming the pitch man after the hand-off. The GT counter play that combines a RB bubble screen and makes the QB the direct snap runner behind the pulling OL will be a nightmare. Most opponents will have to play their safeties flat-footed next year.
Baylor's Charlie Brewer
Brewer didn't get as much work on designed runs last year, they can't really afford to use him that way much at Baylor given the volume of carries and hits he'll take by necessity as a result of playing behind their OL.
However, he's pretty quick and has an overall skill set that reminds of yesteryear heroes like Todd Reesing and Chase Daniel.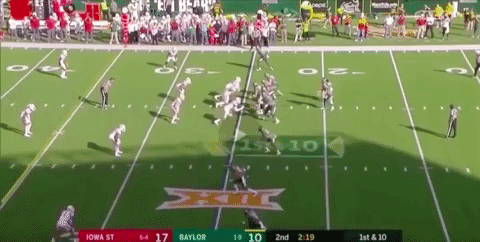 The guy they play at Kansas?
They may play that little JUCO guy who's pretty mobile. We'll see, but it's probably not worth worrying about at this point.
Texas Tech's McLane Carter
Carter was once the quietly productive championship signal-caller for the Gilmer Buckeyes when they had a number of figures that went on to be famous in the Texas college football sphere. RB/CB Kris Boyd is playing in a "contract year" at Texas, DL Demarco Boyd was at Texas until recently when he was kicked out after an assault charge following a traffic accident, and WR/QB Blake Lynch is a Baylor Bear that sounds like he's playing S or LB this year.
Carter saw some action last year against Texas when the Raiders felt like they needed some QB run game to offset Texas' dominant dime package and DL.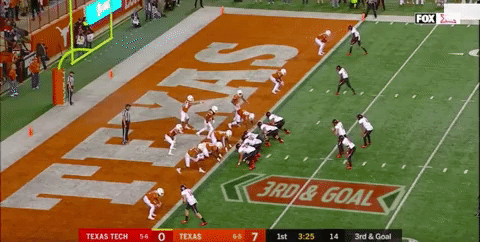 He's fairly big and plenty mobile but it's hard to see him offering what Johnny Manziel or Pat Mahomes offered to Kliff Kingsbury's run game.
Kansas State's Alex Delton?
It doesn't really matter who gets the nod at K-State, the QB run game will of course be a major component to their system. It does sound though as if Delton will get the nod.
Follow that link for some highlights of Delton running QB iso or power but it's also notable that they use him to offer a backside keep read on sweeps and zone for their lead back Alex Barnes: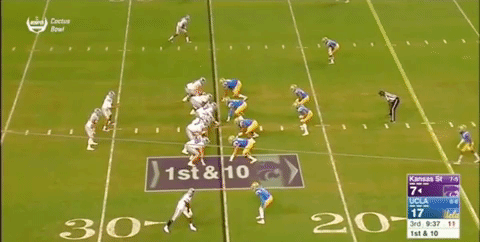 The backside DE here is in a really tough spot. First he gets tapped by the TE (before he advances to pick off the down safety dropping down to protect the backside) then he finds himself in a lot of space between minding the QB keep option and then trying to close in the cutback lane against the back.
It's not disciplined play by UCLA but the Wildcats can really put teams in a bind with their option schemes when the QB is as explosive as Delton and then the back is as powerful as Barnes.
The pocket-passing holdouts
There are three of them and two in particular figure to preside over pretty run-intensive offenses. One is ESPN All-American Will Grier.
I happen to think making that guy an All-American is a bit…aggressive. He was good last year but he was also running a spread-iso offense with good components at all levels and those just tend to put up big numbers. Iowa State's put up solid numbers last year without even having much capacity for running the ball.
Their man, Kyle Kempt, is certainly not as good as Will Grier but he's not far off from many of the top guys either. Dude just knows where to go with the ball and can deliver a catchable pass to many areas of the field.
Then there's OSU's Taylor Cornelius, a big dude with a strong arm who's been groomed in the OSU system for years and now essentially the starter by default as they aim to develop the next wave of QBs after experiencing a long winter in QB recruiting trying to get guys to sit behind Mason Rudolph.
All of these teams have very intentional run games, I broke down OSU's recently which has been relying on using multiple variations off the foundation of inside zone. Earlier this summer I tackled the Iowa State rushing attack, which also builds off some inside zone foundation but goes in a very different direction. If the ISU run game is anywhere close to OSU's then Iowa State will be one of the main contenders for the league title in 2018.
West Virginia's run game mixes inside zone and some of the Gundy tricks with some doses of counter and power. They weren't amazing at it last year though and seemed to put a greater priority on airing it out with Grier, I tend to think the same might be true in 2018.
Defenses better buckle in their chinstraps this season, if you can't hold the point of attack and tackle then you won't be winning the Big 12 in 2018.