The other half being anyone that isn't Oklahoma or Texas, who tend to suck up at least half of the oxygen in the room, particularly around the RRS.
Baylor
This is probably one of the worst 4-2 teams in the country. S&P+ has them 64th nationally with the nation's no. 22 offense and no. 107 defense. The abundance of pass-catching talent between Denzel Mims, Jalen Hurd, and then the RBs is pretty impressive and Charlie Brewer can hit them in stride.
They are similar to Texas in having a big, de-facto flex TE in the slot with Jalen Hurd and also in liking to get a blocking TE on the field to allow them to run tight zone and iso downhill. Unlike Texas, they don't have a cheat code for short-yardage (the Ehlinger run game), the I-formation stuff isn't quite there, and they don't have particularly good play at tackle this season.
Defensively I'm amazed at how much of a mess Baylor is this season, particularly up the middle of the defense: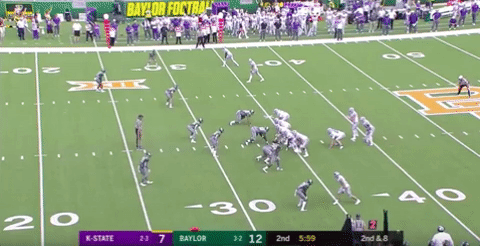 The LB play is a mess and their safeties don't offer much in support either. There's no Tyler Matakevich or even a Taylor Young at will linebacker that can find the football and rack up tackles in this scheme and it regularly seems like multiple players don't understand their assignment on the field. They made Alex Barnes look like Jim Brown out there.
Iowa State
Iowa State was going nowhere fast this season. They got a really tough draw, having to face Iowa, Oklahoma, and TCU early in the year when they had their full attention.
For Oklahoma, Iowa State on the road was the biggest challenge before the Red River Shootout while TCU drew them after back to back losses to Ohio State and Texas. While Matt Campbell is clearly a great coach in his own right it's a tough bet to go against TCU in a must win game like that.
The Cyclone defense has been about what we'd all have expected, another top 35 unit so far on the year that's good at making life hard for offenses but lacking enough high end talent to just shut everyone down in a league this good on offense.
The offense took  tough hit when senior QB Kyle Kempt was injured and another one when David Montgomery went down but from the offseason I identified the OL as the crucial factor in whether this team was able to make another leap.
The interior OL for Iowa State is in good shape but they have struggled at tackle and just don't quite have the athletes there to really kill it in the run game, at least not without some schematic boosts.
So, after all that Matt Campbell decided to make a move against Oklahoma State to bring some boost to the Cyclone offense and played true freshman Brock Purdy in the second series, like what he saw, and played him the rest of the game. Purdy rewarded him by throwing for over 300 yards and adding nearly another 100 in rushing.
Here's what I wrote about Purdy in my Iowa State recruiting class breakdown:
Purdy was a late rising prospect that had a huge senior year and started getting tons of offers and attention after NSD2 when all the schools who missed out in NSD1 were looking for senior risers. I'm not sure how Iowa State managed to win him over but they did.

His HUDL shows a guy with P5 measurables in arm strength and athleticism (probably a 4.8 guy with good quickness) and some fantastic accuracy placing the ball over and between defenders down the field. In fact, his highlights comprise a ton of ill-advised throws that he gets away with thanks to precise placement. I wouldn't like this guy at all for an offense that asked the QB to scan the field well but he might be a great prospect in a system that asks the QB to run the ball some on the option and make quick reads and downfield throws in play-action, which is exactly what Iowa State does.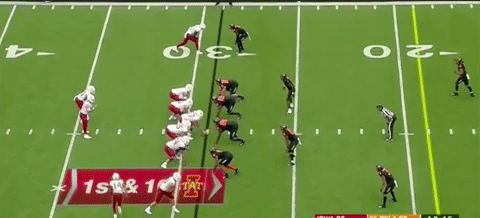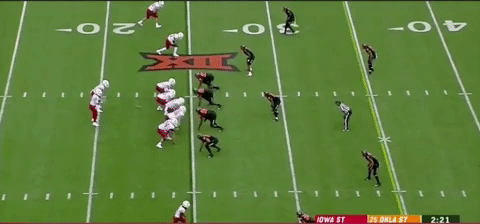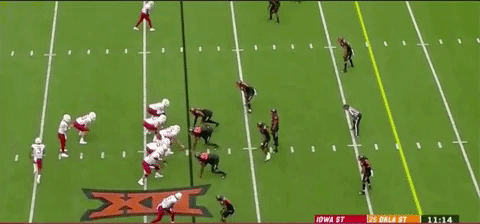 Obviously Jim Knowles is continuing to have some problems with the way Big 12 offenses can isolate your weak spots and probe your schemes in the passing game. Still, Purdy is fitting this offense like a glove early. He runs with some toughness and he's obviously fairly quick (I still think 4.8 or so is about right) but he also knows HOW to run the football which is key. Sam Ehlinger is probably a 4.8 guy as well but he knows HOW to run the football and does it with toughness.
Purdy has some of that but he's only about 205 and he'll probably be 215 or so when he's a senior as opposed to Ehlinger's 230. But then, Purdy's deep ball accuracy is about as good as you'll find. Here's a nice example of Purdy running the QB counter play: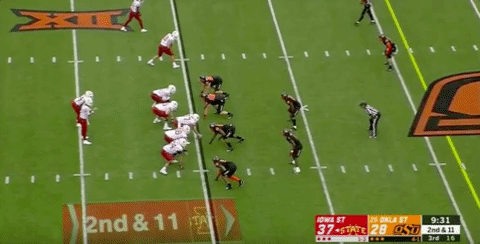 He does a great job of setting up his blockers and even picked up another 15 yards when OSU used a facemask to bring him down. He also had other plays that demonstrated that he knows how to use their offense to find the candy. You hate to make too much of a single game but Purdy sure showed a lot in this one. I thought it'd be Re-al Mitchell from that class who'd be their great QB, now I wonder if he'll end up at WR or transferring.
We're gonna learn a lot from Iowa State vs West Virginia on Thursday night, I'll write more on West Virginia after that one. It should be noted that Brock Purdy had 18 carries against Oklahoma State and is only a 200 pound freshman but the Cyclones will probably need to keep running him around some to take advantage of the Mountaineers' run D.
Oklahoma/Kansas State
Oklahoma State is a mess on defense this year, between being pretty young at safety in conjunction with being very aggressive in scheme they are prone to crushing errors. They also don't have good play at tackle, which stands to reason since they're two years removed now from firing their OL coach because he didn't recruit.
Everyone will count them out next year but they'll be significantly improved at tackle, they'll have Dru Brown/Spencer Sanders/Grad transfer ready to go at QB, and their D will be in much better shape after Knowles has a year to reflect on these failures and coach up his charges.
I've written a ton on K-State and don't have much to add. Sometimes the comments from their players when they're down, like now or back in 2015, are very revealing. There's often a "why is this happening? We just need to get back to being K-State!" when from the outside it's like, "you don't have the same kind of talent and if you're not rallying around a tough QB and a difference-making skill player or two there's not much else going on…"
Incidentally, one Skylar Thompson's INTs against Baylor was pretty bad. Looked like a predetermined decision to throw the ball there with a complete lack of awareness that Baylor had a MOF safety sitting on it. I didn't see the other one, maybe it was terrible too. If Baylor had a sound defensive front that could have made a passable effort at stopping the run then the Wildcats are blown out in that game. Their game with Kansas will be interesting, I wonder if Bill Snyder could survive a loss there.
TCU vs Texas Tech
Shawn Robinson's status for this game is somewhat in the air while Alan Bowman seems to be out for sure after suffering from a collapsed lung. Robinson turned the ball over two more times in his last outing and has a shoulder injury that keeps getting aggravated from being thrown to the turf on it.
If Patterson feels good about stuffing Jett Duffey and the Texas Tech offense, which is probably pretty unclear, then perhaps he leans towards resting Robinson before their big game next Saturday against the other half. Really the best way to get after Tech is to throw the ball on their corners to Jalen Reagor and Kavontae Turpin (if he's not out) and perhaps TCU likes Michael Collins' ability to mix that in while handing off to their backs, or maybe not.
Much like OU's offense, the Frogs have the personnel and schemes this year to burn you pretty bad running their ordinary sets since they have so many skill players that can crease you. I think that will be true against Tech as it was against most everyone else. The Frogs should be smelling blood as they look around the league and realize that OU isn't unbeatable and that a single loss to the league's current frontrunner isn't going to eliminate them from the B12 title game. Survive Kingsbury and go all in with the extra days to take on an OU team reeling from defeat and the sacking of their DC.