We had a few games of real import last weekend in terms of the title race. It's important that Oklahoma and West Virginia both took care of business without slip ups, but the games that change some of the equation were Iowa State's victory over Texas Tech and Oklahoma State's upset of Texas.
Recapping the weekend
I recently went on a podcast called "the Hookem huddle" to talk about Texas' loss to Oklahoma State and the upcoming slate for the Longhorns if you enjoy the sound of my voice.
Texas has some obvious flaws on defense that are hurting their chances to come through as a Big 12 champion. In particular, an inconsistent "lockdown" CB in Kris Boyd who missed the 1st quarter against WVU for coming late to a practice and then a bald spot in the middle where seniors MLB Anthony Wheeler and nickel P.J. Locke have been regularly targeted by opposing gameplans. When Boyd can be trusted to lock down the left side though they can drop iffy deep ball player Brandon Jones down in between them in what I'm calling "the comb over" scheme. Cover 3 buzz mable to the schematically "with it."
The other impactful outcome to the standings was Texas Tech dropping their road game in Ames, IA against pump fake Purdy.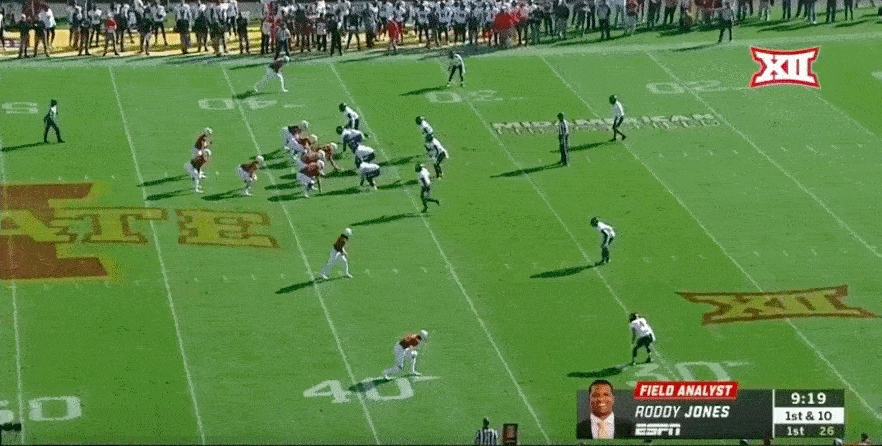 It's really amusing to watch defenders fall for that every single week. There's not much they can do though as it's a split second decision and most of the time, like here, Brock Purdy has a pass option that the defender is trying to take away. You can't leave your feet against him but that wasn't even the sin of the guy here. Instead you have to focus on tackling him but I imagine it's hard for scout team QBs to mimic his ball skills.
Pump fake has also proven pretty tough, he's had 39 carries for 227 yards at 5.8 ypc after removing sack yardage, which only further demonstrate the physical toll he's taken this year. Texas Tech hit him hard early and often and he never seemed the worse for ware, obviously he's a tough player.
Texas Tech gave it a good go, they continue to be a scrappy team, but they have the same problem that almost everyone else in the league has. Their QB play is young and error prone and that makes it hard to win on the road. Tech is more likely to play spoiler for the rest of the year than make the title game.
Here's a look at the current standing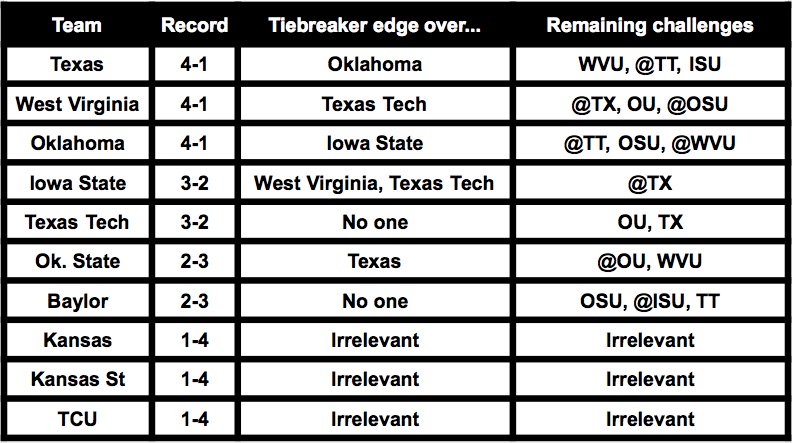 I imply here that it's a seven team race but obviously that's not realistic. I haven't done the math to conclude if Baylor or OSU are mathematically eliminated or not but I suspect they are or it's close. At any rate, neither are good enough to get through their remaining schedules without taking the clinching loss.
Texas' tiebreaker edge over OU and early winning streak are at risk of being irrelevant if they don't take care of business down the stretch. The big ones for the Longhorns are the home dates with West Virginia and Iowa State, there's a solid chance that Tech's potential tiebreaker edge over them won't matter, but Texas really needs to win out to secure things or else win out against those three teams and save an additional loss for the Kansas game.
Oklahoma is in good shape between the stride they've hit on offense, the slight improvements on defense, and then their sole loss. They have two road games though and even a home date with OSU where the chances of coming up on the wrong side of a shootout are plausible. Kyler Murray needs to continue to protect the football down the stretch and that'll probably clinch it for Oklahoma.
I'll argue West Virginia is in the worst shape of the top three. They have to play an angry Texas that's looking to rebound off an embarrassing loss, they have to travel to Stillwater later, and they host the terrifying Sooners.
The team that's best positioned to make the B12 title game, outside of Texas and Oklahoma, is Iowa State. They now have tiebreakers over everyone except Oklahoma and Texas, whom they've yet to play.
It's entirely plausible that LHN will host a primetime, de-facto B12 semifinal between Texas and Iowa State. Of course the Longhorns have a big edge in that one because it'll come after a few weeks of film and punishment on pump fake Purdy and will take place in Austin at night.
Like I noted with Tech and is also true of OSU and Baylor (I guess), their ceiling this season is bowl eligibility and spoiler in the B12 title race. Texas Tech is positioned to spoil the season for Texas or Oklahoma.
Running through the scenarios, I think the most likely outcome is the one everyone anticipates, a rematch of the Red River shootout. I'd say the next most likely is a rematch of OU vs Iowa State. If both of those teams win out then Iowa State would have the tiebreaker over any of the 2-loss, non-OU teams in contention.
West Virginia would need to beat at least Texas and then probably hope for Texas to follow that up by beating Iowa State. I like the Cyclones over that scenario because it requires fewer toss-up outcomes to break the right way and also because the Cyclones are definitely better than West Virginia and more likely to take care of business. Texas Tech needs to win out and then see Oklahoma and Texas knock out all of the teams that have tiebreaker edges over them. Plausible but unlikely.
This week's games
West Virginia is going to come in hot against Texas. They had some extra time to prepare, plus Dana Holgorsen seems pretty juiced about having the chance to beat Texas and get a better hold on the league standings. Of course Texas will also be fired up after the debacle in Stillwater and coming back home where they've played very differently this season.
The trouble I see for the Mountaineers is in the fact that they simply aren't very good running the football and iffy in general along the OL outside of Yodny Cajuste. Texas will attack them up front and DE Charles Omenihu is perhaps the most disruptive DL in the league at 6-6, 280 with the speed and skill to win the edge or to shoot gaps inside. If Kris Boyd comes in right mentally then WVU is facing a tough day.
Conversely, the Longhorns will be looking to pound West Virginia with their size both in the run game and throwing the ball. This is a week where Texas probably particularly benefits from having two 6-5 wideouts, a couple of worthy TEs, a downhill run game, and a QB/FB hybrid because the Mountaineers are small.
Oklahoma vs Texas Tech is a fascinating game. The Sooners did some solid work on defense against K-State by playing a lot of 2-read to the field with sam LB Ryan Jones (6-1, 230) helping attack the edge and FS Robert Barnes (6-2, 205) frequently coming down in sky support from the boundary. Normally that wouldn't be enough to stop the K-State run game but they are no longer a blistering, single-wing team but a normal run-centric spread team that doesn't have a particularly scary RPO or play-action game to punish teams for bringing aggressive, nine-man fronts from ostensibly conservative and two-high shells.
To their credit, the Sooners were also good about disguising whether Barnes would be flat-footed in run support or dropping into cover 2 until just before the snap. They've also mixed in the same sort of 2-robber dime look that Iowa State made popular that we might see this week. The obvious move from OU would be to play lots of cover 2 on the boundary and sky to the field from the 4-2-5 nickel while mixing in the dime look and make Texas Tech prove that they can and will try to keep up with Kyler Murray with run game calls.
Tech does have some nice run game calls this year though, such as this nifty play: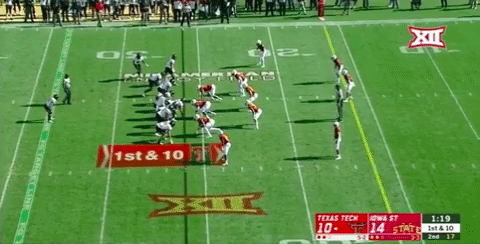 The Red Raiders are aggressive with throwing RPOs on run downs and have lots of pass options attached to runs like their own GT counter play and then they have stuff like this. They have the right side of the OL block for an outside zone/jet sweep while QB Alan Bowman pitches on a sweep back to the left. Their TE Donta Thompson isn't an amazing blocker, although his perimeter blocking helped Ennis beat my alma mater for a TX HS state title back in his day, but their FB Connor Killian is a useful ancillary. Especially in their gamut of misdirection sweep plays.
Kliff Kingsbury isn't going to make it obvious to OU's defenders where the ball is going, he's going to try and out leverage them and make their tacklers prove they can find the ball in space and bring people down. Sound like something you'd want to bet on the Sooners handling well while in Lubbock late at night?
Tech is also playing good run defense this year and sometimes from conservative, 2-robber looks. The key to their defense and the reason that Kingsbury's 2019 season could be interesting is senior LB Dakota Allen: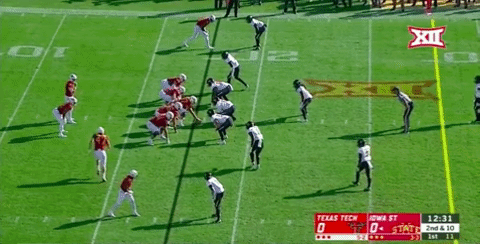 He regularly blows up lead blocks and ruins schemes at the point of attack for Tech. I dunno how well he can tackle Kyler Murray, which is proving one of the hardest tasks in football if he's on the move with space to maneuver, but he could cause problems for the Sooner run game.
But Tech can't withstand the Sooner offense for four quarters any better than any of the other victims of this OU team. Their hope is that David Gibbs figures out how to confuse Kyler Murray into giving them the football a few times while Alan Bowman plays a significantly cleaner game for the Red Raiders than he did in Ames. I think Tech will beat the spread and give OU a game but ultimately it looks like a bridge too far unless the Sooners fall apart on the road.