This is probably a positive development overall, it makes Kansas more interesting and it pairs the chance for positive change in Lawrence with the presence of a young star player that might actually make a difference.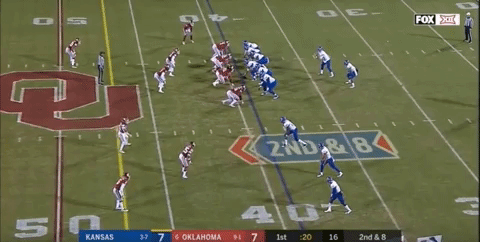 This is subtly a nasty play design from the Jayhawks, they're running a stretch play to the same side the back is aligned to. Lots of shotgun teams try to mix that in to keep opponents from keying their runs but the angles here are not really favorable for the back, it's only Pooka Williams' insane quicks that make it plausible. Of course Kansas doesn't even block it well either and Pooka still makes something happen. Some of that is OU being lousy on defense but some of it is Pooka being special.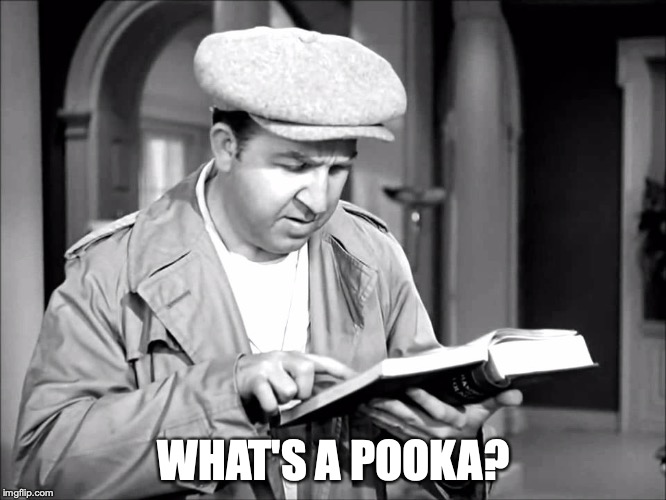 I broke down some of the big picture themes on the Mad Hatter coming to LSU over at SB Nation and that came after talking with Kansas football enthusiast and expert Kevin Flaherty as well.
One thing I want to tackle here is the idea of neanderball vs embracing the spread in Lawrence.
Back when it was obvious that David Beaty was finished at the end of the year, I did a writeup on what Kansas needs to do at HC to have a chance at doing anything of note.
One of my main premises was that they needed to find an edge like Mangino found as an early adopter of the HUNH spread. I suggested that what that might be was the utilization of dime defense and a neanderball offense that pummeled Big 12 defenses in an "against the grain" style that was difficult to prepare for. Flaherty noted to me that Kansas' games at home this year (really this decade) have rarely been as lopsided as you'd think. Here's a look at their home slate in conference play this year:
Oklahoma State: 28-48
TCU: 27-26
Iowa State: 3-27
I guess they only get four home games this season, sucks to be Beaty. Anyways, teams get up there in Lawrence and they just want to get their W and get out of the cold, get away from the lame atmosphere, and be done with the whole thing. Everyone wants to treat Kansas like a bye week, which makes the whole road trip an even more unpleasant and uninspired experience. The next one is against Texas, who may be without Sam Ehlinger (although probably not), and who will be playing with a B12 title on the line. We'll see how that goes.
You don't have to recruit at a high level to build a neanderball offense, you just need a physical culture, a good S&C program, and time with good teachers. Eventually you'll end up with a nasty collection of senior OL and FB/TEs that can execute blocking schemes with precision and are unpleasant to beat.
Combine that with Pooka and the way that Kansas is generally overlooked and you have a recipe for some early success…within a couple of years after they make over the roster and actually build some toughness and precision.
You do need talent at RB, but Kansas already has that and has quietly had it at other times this decade as well. Les Miles used to build some truly punishing run games at LSU and it's conceivable that he could do so at Kansas. The problem, as I outlined in the SB Nation piece, is that it's very hard to win in the B12 playing neanderball.
Essentially you need a solution for when the other team puts eight or nine in the box and dares you to either run three times and punt possession back to them or to take deep shots in the passing game.
The challenge with the full-blown bash bro approach is that if you run it three times and punt that encourages an up-tempo style of play in which they have a chance to be more efficient on offense over a multiple possession game and win a shootout. If you take shots in the passing game, you are essentially agreeing to play the game on their terms and now you have to win a shootout by being the more efficient team on offense.
Kansas State's answer to this dilemma was get blockers on the field to account for those extra run stoppers AND to use the QB in the run game to further guarantee numbers at the point of attack even against a loaded box. Another solution is to be an under-center, power-I team like Stanford or San Diego State that have an extensive section in the playbook that details running on loaded fronts.
Texas and Iowa State this year have often gone in the other direction, mixing in enough deep passing and doing it at a high enough level to dissuade teams from going all-in on stopping the run save for in crucial situations such as playing behind in the fourth quarter.
Alternatively, Les Miles could move away from his power football roots and just delegate offensive design to an OC like Phil Montgomery, Kendall Briles, or Hugh Freeze if he could grab one of them. I dunno if he could pull off any of those hires, or similar hires, but that'd be a strong play and it wouldn't be hard to fit Pooka into those concepts. From there he could focus on overall program management and making sure that the team played with physicality and good fundamentals at all levels of the team, essentially mimicking the "hybrid-bro" approach of Gary Patterson at TCU minus the defensive genius.
I don't think you can play good defense in the Big 12 unless you're trying to be excellent on defense. Anything less than total commitment to gaining ground on that side of the ball seems to lead to teams just falling apart. The Raid bro teams like Texas Tech and Oklahoma often seem to have a "if we can just be good enough on defense, our offense has this" approach but the result is typically that the defense aims for a C or D grade and ends up with an F.
If the Mad Hatter can bring a strong commitment to playing great defense and physical ball and pair that with an innovative offensive mind, perhaps the Jayhawks can play "good enough defense" and end up doing something in the future. Either the full-on bash bro approach or the hybrid-bro formula could work, or both could fall terribly flat, now we watch to see which way he's leaning.