Can you sign too many DBs? Not enough Big 12 programs are asking that question, in my opinion. In particular you need guys that can play coverage on a variety of skill players and in a variety of places on the field. None of your potential impact players at DL or LB have much of a chance to change the game if you can't cover them up one way or another with DBs that handle all the stress B12 offenses put on the back end of the defense.
Last year David Long had 108 tackles, 19.5 TFL, and seven sacks playing linebacker…and West Virginia finished 76th in defensive S&P+ while giving up an adjusted 29.2 ppg. No doubt they would have been even worse without Long but having a highly disruptive LB did them very little good in terms of playing good defense overall.
For 2019, West Virginia erred on the side of signing too many DBs. Neal Bown's first class was largely inherited from Dana Holgorsen and it includes a large number of skill players even for a B12 squad. Seven guys project to DB from this group and perhaps only one of them has the frame to spin down to LB. There are also four WRs and a RB, making for a group of 12 skill players overall.
Loading up on skill players is pretty normal for a Holgorsen class, of course, as I noted in my breakdown of the 2018 group. They took 20 total players this year and interestingly, they took 14 of them from the south. Their normal haunts of Pennsylvania, Ohio, and Maryland produced four more and then they went into Nevada and took a local for the last two. With Brown in charge I think you'll see that trend increase.
For 2020 something to watch will be how West Virginia handles transfers. Obviously they added Oklahoma's Austin Kendall to this group, who has two years to play two, and they added him on Brown's watch rather than Holgorsen's. Holgorsen used transfers VERY heavily to find QBs that he otherwise struggled to find on his own recruiting turf and also to load up on DL and CBs. Neal Brown's Troy rosters were far less mercenary and comprised of players recruited and developed out of high school.
I wrote about Neal Brown's strategies at Troy and translating them to West Virginia already, so that may make for a good read before diving into this group.
Defense
Secondary
The strategy is changing somewhat from the Tony Gibson, 3-3-5 days. There were rumors floating around that West Virginia power brokers wanted Gibson to stay and maintain the 3-3-5 that has defined the program's defense for as long as I've been aware of Mountaineer football (the Rich Rod days). But Neal Brown got his man Koenning and honestly they're better off for it. At any rate, Koenning has a similar philosophic approach to play outside in from the secondary and use speedy overhangs to control the ball and shifting disguises to keep QBs guessing. However, he uses quarters as the base coverage to get into all these shifting looks whereas Gibson was a cover 3 man.
Some basic Koenning terminology that is relevant to the secondary:
"Cat safety" is the cover safety who aligns to the strong side of the formation, or the slot essentially. He's the "free safety" in TCU's terminology whereas what TCU would call the weak safety, Koenning calls the free safety.
"Spear safety" is basically the nickel, he aligns to the strong side/slot as well but he aligns over the slot whereas the cat safety play back. TCU would call him the strong safety.
Tavian Mayo: 5-11, 180. 3*** from Leesburg, GA (Lee County)
This guy was obviously intended for the cover 3 defense that Gibson prefers. He's plenty athletic with a nasty, physical side to his play you always like to see. Where he obviously stands out though is playing the ball in the air from deeper zone, even at corner where he played and where 247 projects him. He has some potential as a cover guy but may also end up as a cover safety.
Tykee Smith: 5-11, 187. 3*** from Philly, PA (Imhotep)

Smith is a solid downhill safety, he has some clips blitzing the edge or hawking down from a curl/flat zone or robber safety alignment. I don't know if he can grow into a linebacker for them but he could be a good free safety or potentially a nickel. You need plenty of Tykee Smith's in your program as a West Virginia, rangy tacklers who can flood a zone, even if they aren't necessarily extraordinary.
Tacorey Turner: 6-2, 180. 3*** from Montgomery, AL (Park Crossing)
I guess Alabama had interest at one point and it's interesting to me that he ended up going to West Virginia and signing after NSD1. Evidently he's also going to blueshirt, which means that technically West Virginia never recruited him (although I'm sure Brown did) and he'll basically walk on to a guaranteed scholarship, if that makes any sense. He must have had a good relationship with Brown from his time at Troy, also sounds like maybe there's something that made him less appealing to other schools.
I don't know what that would be but it's not his film. He has good ball skills, flips his hips and runs with guys very easily, and even if he's not really 6-2 he has some useful length. Turner could end up being a very good cover corner.
Kerry Martin: 6-2, 188. 3*** from Charleston, West Virginia (Capital)
SPARQ: 4.73 40, 4.23 shuttle, 34.1″ vert, 39′ power toss
Martin is a really good overall athlete who played most every skill position on the field in high school. Highest upside here is probably as a cover safety that can pick up guys down the field, move around to cause confusion, and maybe match bigger flex TEs in coverage. He's also an early enrollee although I kinda think he may get a few years to add some weight and focus on one position before he plays.
Dreshun Miller: 6-2, 175. 4**** from Thatcher, AZ (Eastern Arizona College)
A JUCO early enrollee that probably competes for a starting corner spot immediately. Miller has great size obviously and he's sturdy enough when he's responsible for the edge against the run. He's at his best matching deep routes and throwing off the route stem and the timing on vertical routes. West Virginia hasn't had as many guys like this recently that can play a man rather than playing the ball from deep zone.
Nicktroy Fortune: 5-11, 176. 3*** from Lawrenceville, GA (Central Gwinnett)
A member of most of the all-name teams and an excellent corner prospect to boot. He's playing safety a lot on film but being asked to play man coverage on slots and he flips his hips and runs with guys with a lot of fluidity. He'll probably stay outside at corner for West Virginia, who will tend to bracket troublesome slots with help over the top and the best way to do that is with guys like this that can handle deep routes and trading off on switches.
Osita Smith: 6-2, 205. 4**** from Columbia, MD (Wilde Lake)
Smith ran a 55m race in 6.85 seconds once, which a possibly bogus conversion calculator I found suggests is akin to running a 4.5 40. He looks pretty fast, at any rate. His film at receiver is phenomenal but on defense Wilde Lake would have him crashing off the edge to blow things up both against the run or the pass. He can cover as well and has great ball skills, from the first several minutes of his WR film I thought it was nuts he'd play defense until I saw the defensive film. I think he'll play either "spear" or even further inside at LB depending on how his body responds to their S&C program. He should be an impact player regardless.
Grade: B+
The Mountaineers got numbers, they got athleticism and skill, and they got some guys that don't mind getting their hands dirty in the run game. Between all that and the physical side of Brown's program, I think the staff will like how this group sets them up down the road to hold up against the league's potent offenses.
Linebackers
Because Koenning's defense tends towards overall speed and using the secondary to hem things in, they like a lot of the same things from their LBs that Gibson liked. A player like David Long would have felt right at home in Koenning's blitz-heavy defense. They want guys with explosive speed that can disrupt or run laterally and they aren't worried too much about size.
Jared Bartlett: 6-2, 213. 3*** from Suwanee, GA (Collins Hill)
Bartlett played as a sort of DE/OLB type hybrid in HS. Koenning has that in his defense as well, he calls it the "bandit" which should make for all kinds of confusion amongst WV fans used to hearing that term be used for the boundary safety. Bartlett is a bit on the smaller side to play that role but perhaps his quickness into the backfield can also be valuable as a weak side LB.
Grade: D-
No numbers here and they really need guys that can hold up on the boundary edge in that bandit role. It's the glaring hole in the 2019 roster. Btw, here's how the D aligns per Koenning's terminology: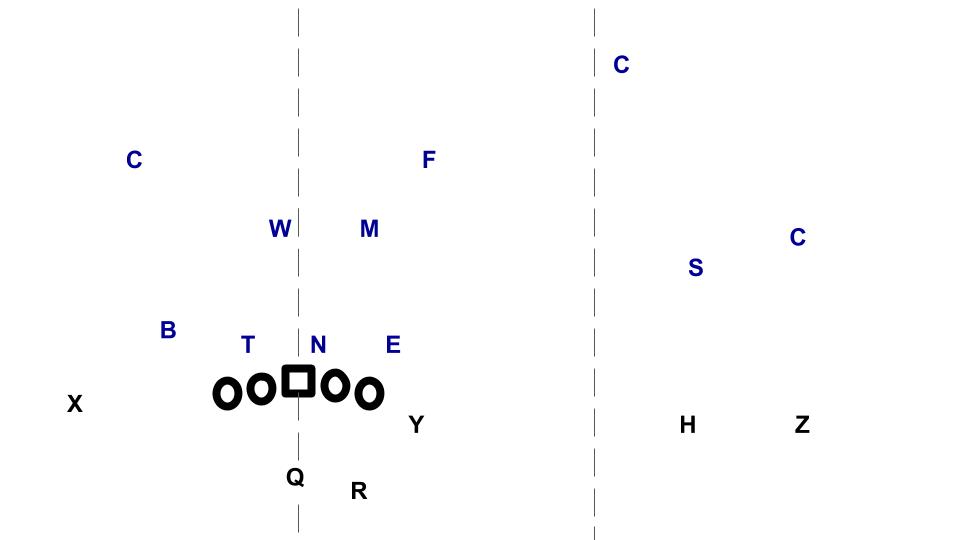 Defensive line
After the bandit, there are three DL and they spend a lot of their time slanting and squeezing gaps inside to try and spill the ball out to the secondary and whichever LBs aren't blitzing. From the sounds of it they like disruptive guys over space-eaters but they used the latter at times.
Taijh Alston: 6-5, 233. 3*** from Wesson, MS (Copiah-Lincoln CC)
Alston is a JUCO early enrollee that'll get a chance to play immediately. You figure he'll get a shot at bandit but he's more of a true DL that just lacks weight than a space-player that can blow things up off the edge. He has a good inside move and can use his length to help get the edge as well, if nothing else he should help spill the ball outside.
Jordan Jefferson: 6-4, 300. 3*** from Navarre, FL (Navarre)
Jefferson is a full grown nose who had fun in high school dominating the smaller centers he found across from him. Your typical HS center is often like 5-11, 230 and his highlight film is an accumulation of the times that guy didn't get a double to help him block Jefferson. There's a large number of snaps where they'd block down on him with the center or a guard, acting alone, while pulling a blocker to run to the other side. That tended to go poorly, as he'd shoot upfield while discarding the blocker and then run down the play from behind. He moves well and knows what to do with his hands, it'll be interesting to see what he makes of a combo block featuring Josh Sills in practice.
Jalen Thornton: 6-3, 242. 3*** from Cincinnati, OH (Indian Hill)
Thornton is a WVU legacy, the son of former Mountaineer and NFL DT John Thornton. That's pretty encouraging since my impressions of his film were that he's got a fantastic first step but is mostly a straight line player, so the big question is whether his first step can translate with a 280+ pound frame. Apparently it did for his dad. You gotta like Thornton down the road as a DT that needs to be doubled to be kept out of the backfield.
Grade: B-
Thornton is probably going to be a really good player with time, Jefferson has a pretty high floor, and Alston has demonstrated competency at the JUCO level. Overall a pretty solid haul, especially for West Virginia.
Offense
Offensive line
West Virginia had a semi-multiple run game under Holgorsen but it was mostly built around inside zone. Air Raid teams often love inside zone because you can recruit big dudes who project solidly as pass protectors and inside zone allows them to run the ball on light boxes by simply catching and sealing DL while the back runs behind a double team. Neal Brown followed a similar prescription at Troy with some pretty solid units.
Parker Moorer: 6-5, 294. 3*** from Charlotte, NC (Mallard Creek)
Moorer played right guard in high school and pulled on nearly every single snap of his senior HUDL film. They pulled him on G-lead, power, and counter and he was pretty good at finding his targets and getting a good hit on them. Perhaps the more encouraging blocks came later when they were having him combo up to an LB on iso plays, he's really good run blocking in space or with angles. He should translate very nicely to inside zone and whatever else they mix in with time as a guard.
Brandon Yates: 6-5, 260. 3*** from Henderson, NV (Liberty)
I have a few doubts about whether Yates is 6-5, he looks shorter to me. He's also currently pretty strong up top and quick overall but not super powerful in his lower body. He wasn't moving bigger guys unless he had an angle or turned their upper body. The question here is what kind of good weight can he add, how much length does he have, and if he could become a left tackle in time if he proves to be a super quick, 6-4/310 pound guy down the line. Maybe.
Donavan Beaver: 6-6, 275. 3*** from Fredericksburg, VA (Massaponax)
Beaver played some RT and RG at Massaponax but he got a free release on an insane number of his snaps here. I don't know why teams didn't cover him up…
He was excellent at finding LBs on the move and they often ended up in the dirt. Obviously he's pretty athletic to pull that off and has the frame to become a big guy with time. I think he may translate outside to tackle down the line but I don't know how effective he is in pass protection.
Grade: C-
None of these guys are bad but none of them are amazing either and there's only three of them. Watch for Brown to take a lot more numbers here in 2020. There are a lot of fourth and fifth year guys on the current roster that will be heading out soon and they need talent. This group may produce a couple of really valuable contributors but they could have used a couple more of this quality.
Ancillaries
For Dana Holgorsen, ancillary typically meant a bruising H-back/fullback who could insert and lend urgency to the defense in crashing down on the run, ultimately setting up his real objective which was throwing down the field. Of course he had one of his best yet in Trevon Wesco and they regularly had him arcing out for POP passes rather than running over linebackers.
Neal Brown values the same things, at Troy they had a really good fullback that helped bring some smashmouth to their run game.
Zero takes
Grade: D
Not a big deal, really. Holgorsen had a tendency to hand out scholarships to the sons of important WVU guys in the hopes they could be used as battering rams in the run game and there's still a handful of in-state guys on the roster that project here. If not, this is the easiest position in football to man with walk-ons. The guy who's a good fit here is generally not valued in recruiting in a commensurate fashion to his real value on a football field.
Running backs
There should be consistency here as well. Holgorsen ran similar run schemes with perhaps less overall emphasis at times but his backs tended to get a lot of carries. Brown added more QB option to the equation in the Troy run game but Holgorsen was actually running a lot of QB run RPOs when they had Skyler Howard back there instead of Will Grier. Anyways, plant and go runners with upside as passing game targets are of great value here.
Tony Mathis: 5-11, 195. 3*** from Cedartown, GA (Cedartown)
SPARQ: 4.3 shuttle, 27.3″ vert, 30′ power toss
Mathis' testing numbers were pretty darn pedestrian, but he also ran the 110 hurdle in 14.8 seconds and has nice burst on film. He has the kind of easy, first step acceleration that can be leveraged into waiting patiently behind blockers before darting through a crease. Pro tip, the guy who can score while doing that is often better than the guy who's insanely fast but who's scoring highlights feature him hitting full speed on his third or fourth step because there are zero obstacles to him hitting the alley while stomping on the gas pedal. Mathis is also good at hitting the edge on outside runs, he's a good take overall.
Grade: C+
Mathis is a good one, he'll join a crowded RB room that will be depleted soon. Perhaps he'll get a chance to redshirt, add some good weight, and then have a good shot at being "the guy" when Pettaway and McKoy move on.
Wide receivers
Of course this is really where it's at in the Big 12, having two 1k WRs is the equivalent of having one 1k yard feature back in a prior age. Holgorsen was a little ahead of the curve in terms of using bigger bodies in recent years in the slot to serve as chain-movers while playing dangerous speed on the outside. Neal Brown is pretty current on all the best practices in the Air Raid such as switch routes, sucker screens and PA off jet sweeps, vertical RPOs, etc. It'll be interesting to see what he makes of having much better skill talent. The big difference between Holgorsen and Neal was somewhat cultural and somewhat the guys they were recruiting. Holgorsen had a lot of finesse/skill players and occasionally his teams were hard-nosed and physical and at other times they were not. Brown lacked the same kind of skill recruiting from Alabama but he had tougher, more physical teams.
Ali Jennings: 6-2, 186. 3*** from Highland Springs, VA (Highland Springs)
SPARQ: 4.39 shuttle, 43′ power toss
Jennings' HUDL claims a 1210 SAT score, which I'm guessing puts him in a really high percentile amongst football players. Smarts do really help on the football field, for all his freakish athleticism Texas' Lil'Jordan Humphrey was also a really smart player who easily understood the scheme and defenses which allowed him to play in a dozen alignments to maximize his ability to cause matchup problems. Jennings is less of a matchup problem in terms of size but he's a burner who's film features him running by guys on fades and post routes without the ball or else catching it on a bubble or tunnel screen and then running by everyone with the ball. He needs some time to learn some higher level tricks but then, perhaps he'll prove a fast learner.
Terence Doston: 5-11, 175. 3*** from Tampa, FL (Hillsborough)
Doston is another really good athlete with obvious coordination, he wants to play baseball at West Virginia and was a long jump finalist at HS in Florida. Doston is apparently the kind of guy that is immediately good at any sport he tries. For all that, he has a lot of catches on film where he uses his body to bring the ball in, it's hard to be sure of what kind of ball skills he has because typically there was no one near him when he caught the ball.
Winston Wright: 5-11, 154. 3*** from Savannah, GA (Memorial Day School)
SPARQ: 4.26 shuttle, 27.8″ vert, 32′ power toss
To my eyes, Holgorsen regularly brought in guys that look insanely athletic on the football field without having particularly good testing measurables to quantify their athleticism. Wright's shuttle time is good, not amazing, and the vertical is not good. You'd guess that his vertical would be way better with how explosive and quick his first step is and he's explosive in just about any direction. He's also good at the classic slot trick of catching the the ball off the ground and then using his landing to plant and take off in a new direction.
Grade: C+
These guys all look pretty promising and potentially better than what Brown had at Troy. I should remind everyone that it's hard to grade well at WR because EVERYONE in the Big 12 recruits WR well. I'm not sure if any of these guys will be unstoppable gods of war but it's probably a good bet that at least one will pan out pretty big and they're all pretty fluid athletes.
Quarterbacks

This is where Neal Brown would theoretically feel like a kid in the candy store playing in the Big 12 EXCEPT that West Virginia hasn't been much for QB recruiting over the last few decades unless you count transfers. Holgorsen really struggled here and I wonder if part of his excitement about Houston relates to being able to finally recruit Texas HS QBs. West Virginia has a really good pitch to skill players in the Midwest and South, "come take part in the high flying Big 12 and put up huge stats!" But there haven't been as many QBs around there that want to go to West Virginia and Texas kids tend to have tons of options.
Brown is looking for more or less the same things as Holgorsen or anyone else. He likes a guy that can make a pre-snap read and throw to a spot, hit throws down the field, and he also likes a guy with some mobility to add a dimension to the run game. They didn't sign anyone but let's go ahead and talk a little about Austin Kendall here.
Austin Kendall: 6-2, 210. 4**** from Waxhaw, NC (Cuthbertson) via Oklahoma University
Let's start with the obvious…Kendall was recruited over at Oklahoma and he became available because the Sooners wanted (and found) some better options. Tanner Mordecai is probably next as the Riley plans to go from the Jalen Hurts stopgap to 5-star freshman Spencer Rattler.
Kendall is somewhat mobile, has been trained in making some reads by Lincoln Riley, and has decent accuracy. He seems kinda like the quintessential "replacement-level" Big 12 QB. Playing with good blocking and supporting players he can be effective, but he probably isn't carrying a team. West Virginia already had a guy like that in Jack Allison so it'll be interesting to track their battle this spring.
Grade: C
The real area of interest will be how Brown approaches this position moving forward. They've been targeting "pro" style passers within the normal West Virginia recruiting turf so far for 2020. Brown may determine that this is a good position to maintain their "transfer U" status.
In summation
For the most part, Neal Brown's 2019 class consisted of maintaining what Dana Holgorsen had already done while adding just a few pieces here and there. This is where hiring another Air Raid coach was beneficial to West Virginia over going with Luke Fickell and overhauling the program strategy. For Brown, some of the main differences that he'll be bringing relate to process, a few tactics, and overall mindset. He wants to build a consistently physical, tough team whereas Holgorsen aimed in that direction at times but always defaulted to finesse and had rosters of skill players that could get beat up at times and push him to give up on trying to maintain a standard of toughness. There may be a few struggles to build the new culture though without having numbers at key positions that tend to see a lot of physical action.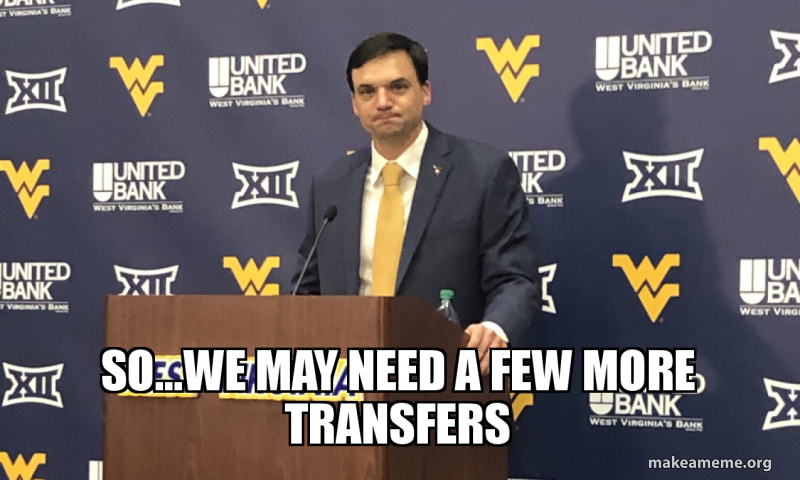 The 2020 class is where we'll see Brown change up the recruiting to try and land more thick, hard-nosed players for this team. In the meantime, he'll likely benefit from getting one more infusion of Dana-picked skill talent.