Huge week of action in the Big 12.
I got in a late shot before the weekend on Friday where I noted suspicions that TCU's defense didn't look up to their normal standard (may need revision but I'm still not sure) and also that Baylor might actually be the class of the league.
What followed was an upset Saturday where Kansas State took it to Oklahoma with a 48-41 victory and then TCU beat Texas late with a big 37-27 victory. Oklahoma State took down Iowa State around the same time, 34-27, and then finally Kansas pulled off a dramatic last minute victory over Texas Tech. If you didn't see it, Tech blocked what would have been the game-winning FG but then fumbled the attempted return back to Kansas who was able to make a return and try another game-winning FG. They made that one to complete a comeback win in a game they were down in 17-0 at one point.
Crazy week. Unsurprisingly, the 2019 Big 12 lacks a team that can just power through the league without blowing a road game they should win, unless that team is Baylor.
Contrar-Ian says the glass is half empty
The expectation for most people was that Oklahoma would be the team that can overpower the league. The expected declines on offense going from Baker Mayfield or Kyler Murray to Jalen Hurts haven't been as evident to most eyes and are still somewhat masked while the defense had, up till the K-State game, been much stronger than expected. Oklahoma with minimal dip on offense and now a top 40 defense? That seemed a recipe for an easy Big 12 championship and a better shot in the playoffs.
Then they rolled into the little apple for a 11 a.m. kickoff and gave up a smooth 213 rushing yards and 213 passing as Kansas State held the ball for 38 minutes and went 6-13 on third down while dropping a 48-point anvil on their heads.
Around Norman there was bewilderment. What just happened????
I'll tell you what happened, Chris Klieman and Courtney Messingham read the book on attacking the 46 defense.
There were some other issues for the Sooners. Wyatt Hubert decisively won his matchup with Erik Swenson and overall the oft-injured Sooner offensive tackles finally looked vulnerable. One of the more remarkable features of the game was Jalen Hurts stat line, which went:
19-26 with 395 passing yards at 15.2 ypa, one TD, zero INT, two sacks
17 carries for 107 rushing yards, three rushing touchdowns each one more punishing and impressive than the last.
By all accounts it would seem that Jalen Hurts had a phenomenal game in which he carried the Sooners. In reality he had some struggles with Kansas State's conservative drops and had to scramble a lot to make something of the situation. A double pass to a wide open Nick Basquine for 70 yards and a tunnel screen that CeeDee Lamb beast-moded into a 70-yard score made up 140 of his 395 passing yards. There were a number of snaps where he scrambled for solid yardage but not enough to get the job done.
Still, his running ability was still plenty potent and did enough for the Sooners to win had they played a typical 2019 game on defense, but they didn't. Instead they got flanked and rolled up by the K-State gameplan.
The Wildcats picked on two main pressure points in the OU defensive scheme.
Containment in the bear front
The design of OU's 46 nickel is to play with tight overhangs on either side of the line of scrimmage. They get there a number of different ways but the guys on the edge responsible for containing the ball are generally on the offensive tackle or TE's outside hip by the time the ball is snapped. The goal is to keep the ball very tightly contained in the tackle box, where the Sooners have Neville Gallimore and some other highly athletic DL that are hard to double because the tight overhangs command the attention of the OTs and create 1-on-1s.
They play what often ends up being a 5-1 or 5-2 front most snaps, and Kenneth Murray's role in that is often as a shock trooper who's athleticism and size is called upon to hit from different angles so that Oklahoma creates the 5-1 and 5-2 boxes in multiple fashions. This has had the added benefit of keeping the ball contained to where the Sooner DBs haven't had to make tackles save for on occasions where the ball has been channeled into a choke point.
Well Kansas State didn't want to navigate trying to run for consistent gains inside the chaos that Alex Grinch creates, nor did they want the game to come down to picking up all the pressure that Oklahoma generates with this style. They wanted to undo the structure by overwhelming the overhangs on the edge and they had a few different ways to do it.
Power-read from the diamond formation was one very effective method, particularly when running at Boo Radley as the contain player: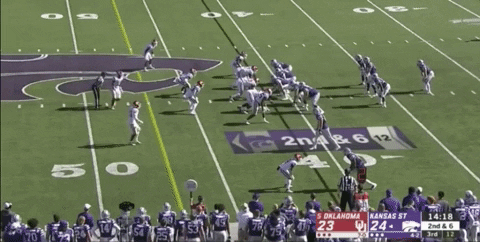 Bubble screens were another:
This is an unbalanced formation with the overhang in a run/pass conflict. Check out the block Dalton Schoen puts on Justin Broiles in the slot, also. Schoen was abusing the Sooners all afternoon and hitting him in the slot was another part of the K-State strategy.
Slot coverage
Oklahoma's coverages really struggled to handle Dalton Schoen and the K-State passing game for this contest. It's hard to consistently hit windows underneath the safety and outside the hash marks, but K-State was ready to do it and did so on a number of big plays. But Oklahoma's execution of cloud quarters in this game was really pretty sloppy.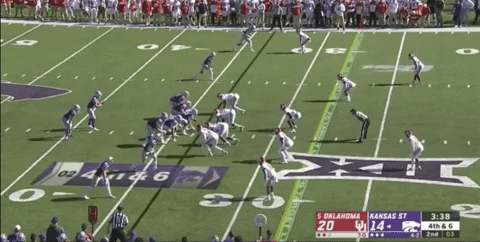 Radley-Hiles gets lost a bit here but the corner is also expected to read 2-to-1 here and pick up an out by the slot receiver while handing off the no. 1 receiver to the deep safety. Later on…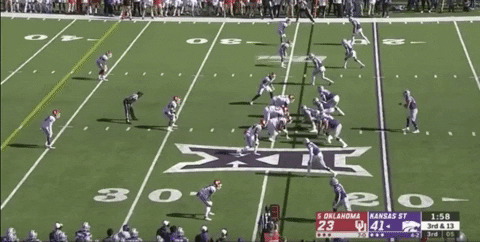 The OLB and corner effectively bracket the out route and give a nice window to throw to the no. 1 receiver past the marker and underneath the deep safety. Bad situational awareness here of the sticks and what gets priority. On 4th and 6, look out for the quick out at the sticks, on 3rd and 13 maybe allow the out under the sticks and then close and tackle.
The Sooners had to play a lot more of this cloud quarters or pattern-matching cover 2 because playing with tight overhangs was getting them beat in the run game. They looked pretty mediocre playing honest, bend don't break defense rather than attacking with the bear front.
Some of the coverage stuff will get better for Oklahoma as the season progresses, but their containment issues are a hole that other teams will attack in new ways. West Virginia actually had some good schemes for outflanking the Sooners on the perimeter as well, they just lacked the players along the OL or at QB to really maximize the opportunities. Remaining opponents will utilize some more option schemes to win the edge on Oklahoma and there are some deadly methods for doing so in the playbooks for the Bears, Cyclones, and Cowboys. It'll be interesting to see how Alex Grinch adjusts.
The glass is also half empty for the Longhorns, who are entering a bye week and are still technically in contention for the Big 12 championship but look like a team that's completely reeling. They snatched defeat from the jaws of victory against TCU with multiple second half turnovers and stunningly bad defensive calls, including yet another zero blitz on third and a mile that gift-wrapped another game. I'll have more on that over at Inside Texas this week but suffice to say that the Longhorn's defense has all but devoured the team's margin for error in 2019.
Contrar-Ian says the glass is half full
Iowa State is in a really tight spot after dropping a home game against Oklahoma State. Their chances of making it to the Big 12 title game are probably around the 4th best in the league. I'll probably circle back to the prospects around the league later in the week, but the big picture view is that the Cyclones are 3-2 in Big 12 play with a bye week next and then a road trip vs Oklahoma, home dates vs Texas and Kansas, then a final road game against Kansas State.
In that stretch they almost certainly need to beat Oklahoma and they may need to win every game because counting on anyone else to beat the Sooners is more promising than it was a week ago but still a big ask. Other than Iowa State, the Sooners do have road trips against Baylor and Oklahoma State, but the Cyclones need a better showing from here on out.
The good news in Ames is that they may be able to pull it out. Breece Hall has been a revelation at RB, he can hit multiple points across the front with his lateral speed:
And if the Cyclones can get Greg Eisworth back healthy they might be able to pull off a run.
They really blew it against the Cowboys, really PFPurdy blew it with a pick-6…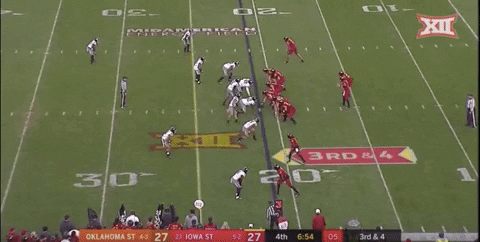 …and two other late interceptions, one of which was also egregious. There's not much explanation for this one except that PFPurdy was on auto-pilot with his pre-snap read, which wasn't the Tampa 2 coverage that Oklahoma State ended up playing while dropping the middle linebacker.
To his credit, Malcolm Rodriguez got a great drop on this play from a blitz look to get that depth and then easily read PFPurdy's eyes and pick his pocket on this one.
In the big picture, the glass is half full for everyone in the league because defeats by Oklahoma, Iowa State, and Texas on the same weekend blew the doors wide open while covering for each other's mistakes. Each of the truly competitive teams have serious games left on the schedule, everything will come down to which squad rallies and has the depth, strategy, and fortitude to make the most of the final stretch.
Who won week 9 in the Big 12?
Baylor was the biggest winner, both by virtue of everyone else in the top four losing but also due to having a bye week that was massively helpful. The Bears got it at a nice time to heal up some of their injuries, develop more depth and tactics for the stretch run, and to avoid the evil spirits that were obviously at work in the Big 12's upset Saturday.
Here's the standings and final slate for each team:
With Kansas and West Virginia looking fairly frisky while TCU, Ok State, and Kansas State all just built some momentum the biggest winner is Big 12 viewers. No one in this league is good enough to go to the playoffs, once Texas' defense tanked early in the year that was basically always a pipe dream propped up by Oklahoma's weak schedule. However, the hunt for the Big 12 title is going to be a fascinating battle and the two top teams have a game coming up on the underdog's turf (OU at Baylor). This is going to make for a really fun season.
I mean, look at Oklahoma State's slate. They have three losses, which is hard to surmount, but they have three super winnable games coming up before what could end up being a de-facto play-in game against the Sooners at home if things break their way with the Sooners taking a loss somewhere and Texas and Iowa State dropping more games. Kansas and Texas Tech could have chances to spoil Baylor or Texas' years in the season finale. The Bears are currently undefeated but still have five out of nine conference games left to navigate and all five teams are solid or better.
Buckle up.
********
The craziest season in Big 12 history, the season to beat, is still 2008 when the Big 12 had insane QB talent across the league and the year ended with a 3-way tie in the Big 12 South and a final showdown between Missouri and Kansas for the Big 12 North. Read about that pivotal season in my book: