Dino Babers branched out from Art Briles relatively early and has been developing his own version of the offense in locales far from Briles' realm in Texas.
Of course now Briles is gone and there are two major branches of the offense running through Philip Montgomery and then Dino Babers. The version Babers used at Eastern Illinois, Bowling Green, and now Syracuse is a more pass-heavy take on the offense. Over at Football Study Hall I broke down some of the differences and how it's been going at Syracuse.
Here's one of their really good FIB (formation into boundary) plays they like to use to beat teams over the top that I didn't mention in the article,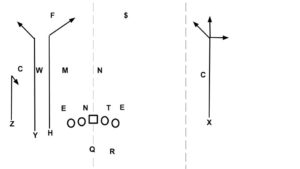 It's a nasty one because it forces the defense to make a lot of touch choices on how to handle it. One problem the defense has is whether to bump out the weak side and middle linebackers to cover these vertical routes or instead move their nickel over there. If they do the latter they are vulnerable to motion. If they do the former they have inside linebackers trying to handle vertical route combos.
Then there's that "weak side" receiver who's operating in wide open spaces over to the field running whatever route they think will work best. If the offense wants to handle him with bracket coverage then they can't sent help to the boundary.
Another problem is that the throws are all closer for the QB, so a window need only be open for a brief period for him to be able to rifle the ball in. Let's not forget the issue of the run game which is pretty vulnerable either to field side runs or downhill stuff at the nickel if he's playing in the box rather than following the passing strength.
This is one of Babers' favorite plays and it's easy to see why.