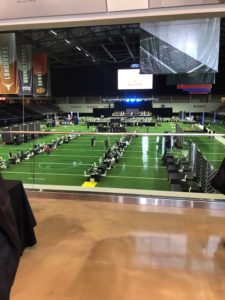 I caught a few words with Lincoln Riley during B12 media days, transcribed here.
Coach what went into the decision to move Caleb Kelly inside?
Just thought it was the right time, kinda had an opening there with Emmanuel Beal graduating. It's gonna allow us to keep Caleb on the field a little bit more with some of the different offenses that we see in this league and even out of conference. Just thought his body had grown to the point where he was ready to handle the physicality of being an inside player. Just the right move for him and the right move for our team.
So was the decision in previous to play him as like, a sam nickel LB, was that largely to suit him or was it also related to the depth you had at defensive back going into last year?
Nah, I would say both. I would say both, I think it's been a natural fit I don't feel like we've had one working against the other. Physically he was ready to come in and help as a sam and that's where he was best, playing outside the box and blitzing him, letting him play in space. Against some teams he'll still have to do that now but he's still physically suited to help us inside and that's the right thing for our team.
How big a role can Brendan Radley-Hiles play this year in that role.
Yeah, he's got a chance, whether it's at safety or at nickel or however it ends up shaking out he's got some playmaking capabilities no doubt about it. Also some maturity that's a little bit unique for a guy his age so he's absolutely in that group and has a chance to help us.
Takeaways
Riley was happiest to sell the move as a "this is what's best for Caleb Kelly" with the "…and our team" as a throw in. I don't think he's wrong, the nickel LB spot was too challenging for Kelly at times last year because of the spacing, and it's certainly better for the team to play him inside. Of course I think he should have been inside already and that his adjustment to Will LB would be smoother had he been learning that position the last few years.
While he wasn't presenting it this way, it seemed clear enough that OU's attempt at the 3-4 last year really was in part a reflection on their lack of depth at DB.
Coach maybe two things that kinda set Oklahoma apart and your offense apart are using 21 personnel in the spread and then the GT counter play that you guys have just been killing with the last coupla years. What led to the development of these, would you identify those as major identity pieces and what went into the formation of those concepts the last few years?
Yeah, uh, they became a part of who we are. I think a lot of it is just based on the personnel we had, trying to get the best people on the field and trying to create some places where we felt like we could create an advantage. Being able to play big at times has really helped us, we've been pretty decent on the goal line, a pretty good short-yardage team, and good at closing out games and that's been a big help there.
The run game stuff has really evolved, you know? Some of it we've kinda created on the fly, honestly, trying to do things that complement the rest of our game and to take advantage of the alignment we've had, the backs we've had and what they're good at, and marry it to what we want to do in the throw game. You're constantly evolving, you know, what's your main deal one year may not be a big part of it the next year, it goes in cycles. Being able to keep our offensive staff together the entire time through has allowed us to do some pretty creative things.
Y'all have continued to recruit more guys in the same mold though like Grant Calcaterra looks like Mark Andrews 2.0 and more fullbacks, do you feel that that will be something you recruit to now that you've discovered it?
It's fair to say, I think we wanna have the opportunity to play big, you know, when we want to, when the situation calls for it. And I think those pieces makes you better offensively but also those guys have a big impact on special teams. I could remember the years at Texas Tech or East Carolina where we were built to be four or five wide all the time, you don't realize the effect that has on your special teams too. A lotta TEs and FBs play a lot of special teams, when you don't have any of those guys the ST coordinator loses a lot of hair so I think it's been good for our whole team and not just our offense.
Takeaways:
I've been studying the 2000's Oklahoma offenses of late as part of a secret project and I've noticed that maintaining FBs and TEs on the roster was something that Bob Stoops was always about.
Naturally when Lincoln Riley took over they had the uber-versatile Dmitri Flowers on the roster and then flex TE Mark Andrews, both of whom were great players, along with a big OL that was being well taught by Bill Bedenbaugh. To his great credit, Lincoln Riley figured out how to do what previous Oklahoma OCs had not and combined the Sooners' bigger sets with their spread sets.
They could play a spread set or a FB/TE set from the same personnel package and make teams pay for their substitution decisions in either direction. The Baker Mayfield-era Oklahoma Sooner offenses will likely go down as some of the best and most influential on the college game that we've ever seen. That an Air Raid guy like Riley would figure out how to marry pro-style and spread tactics is interesting.
His point about special teams is something I've never considered but helps to explain how it is that Kansas State always has well above average special teams. When you're executing wide-ranging football techniques you need the most versatile kinds of football players on the field and the most versatile football players on the field are the FB/TEs on offense that have to run, block, and catch and then the LBs on defense that have to run, beat blocks, and cover.