Heading into 2019 one of the big questions for Iowa State was, "who's going to replace Hakeem Butler?" The "infrastructure of the team looked stronger than at any previous point under head coach Matt Campbell, they were returning all five starters on the offensive line, Brock "pump fake Purdy" at quarterback, and then had three different talented tight ends to plug in and allow for multiple, matchup-creating formations.
There was a lot more in place to make the running backs and wide receivers look good than in 2018. Better passing, better protection, and more optionality in the formations and looks they could throw at opponents. The only issue for the Cyclones was that the cupboard was not only bereft of other 6-6, 220 pound freaks but was fairly thin at receiver overall.
They moved speedy slot Tarique Milton (5-10, 170) outside and then took in grad transfer La'Michael Pettway from Arkansas. Senior Deshaunte Jones remained in the slot and tight end Charlie Kolar emerged as arguably the best overall player in the skill talent group.
Here's how they distributed the league-leading 475 pass attempts that PFPurdy made in 2019:

Milton looks like the most devastating receiver but he had 11 catches for 286 yards against Iowa and Louisiana-Monroe. His best game in B12 play was a four-catch, 98 yard day against Texas Tech. In league play it was La'Michael Pettyway who was the main outside guy benefitting from the attention teams needed to pay to Jones and Kolar. Pettway transferred to Iowa State in search of more playing time, because he couldn't find as many targets as he wanted at Arkansas, where he had 30 catches for 499 yards and four TDs in 2018.
In other words, Pettway was a solid player but one that was effective largely because of the surrounding cast in place. The situation heading into 2020 is similar, but this time Campbell found a better ringer to bring in.
The 2020 Cyclone offense
What made the 2019 Cyclone offense effective was a decent line, PFPurdy, and then all the attention teams needed to pay both to changing formations inside and also the talent of Jones and Kolar. For 2020 Kolar is back and likely better, Jones is gone but they may just slide Milton inside.
A good deal of Jones' catches and damage last year came on a really simple shallow cross concept they utilized for his benefit: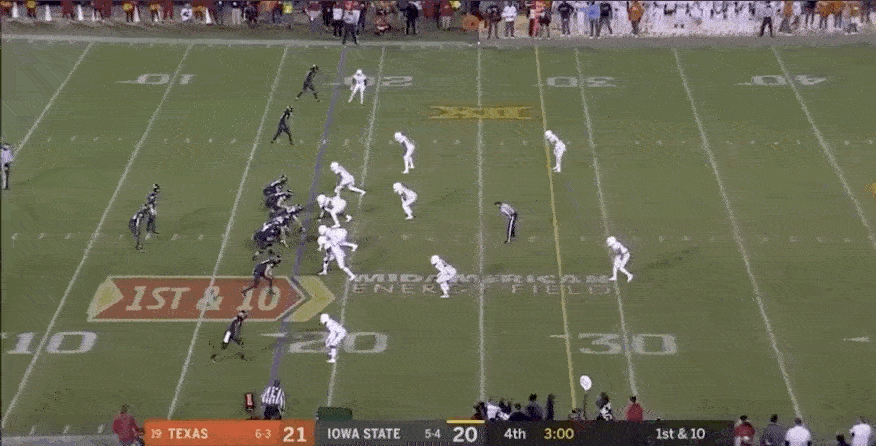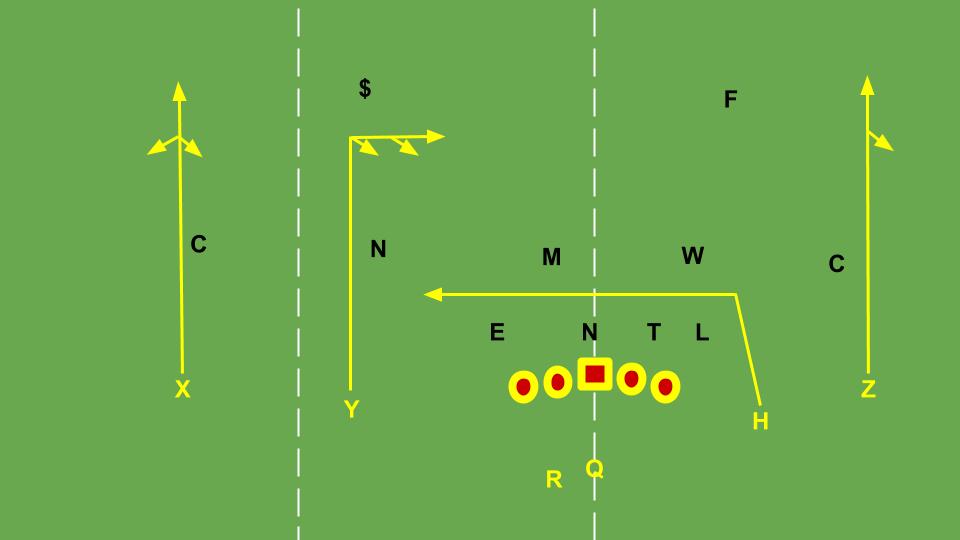 The outside receivers have really simple route adjustments. Typically press coverage means a fade, off coverage means run at him, open his hips, then come back for the ball. In this example Pettway actually just runs at the sticks and stops.
Whoever runs the shallow, on this occasion the tight end, is just running all out underneath to try and get open at speed underneath the dig. The dig route is the most important because he's basically looking for space underneath against zone. If it's man coverage there's a good chance the ball is going to the shallow or an outside receiver.
Everyone got work on this play but because Charlie Kolar and Deshaunte Jones were both so effective running either the dig or the shallow (Jones in particular was good at both, Kolar was better on the dig or crossing routes) opponents often had to load up the middle of the field. For an outside receiver with reliable route running, good hands, and some shake after the catch this offense creates a lot of easy opportunities in 1-on-1 matchups.
If the Cyclones move Milton inside and get him to work learning to run digs and shallows, that opens up a spot outside that Pettway no longer has any eligibility to hold. If they keep Milton outside, that opens up a spot inside that's going to get a lot of targets.
Xavier Hutchinson
Hutchinson was a Jacksonville kid that went to Blinn, a junior college in Texas in 2018 and 2019. As a freshman in 2018 he caught 15 balls for 306 yards and a pair of scores, then his role was elevated in 2019 as a sophomore and he nabbed 47 catches for 652 yards and five touchdowns. Sometimes those reps and opportunities at the JUCO level can be worth more than a redshirt or couple of years on the bench for a player's development, depending on the need for physical development and the quality of coaching.
In Hutchinson's case, he has a couple of years now of working in a spread offense at both the slot and outside AND he was able to enroll early for 2020. Of course early enrollment is meaning less now than expected because of the Coronavirus school closures, I'm not totally sure what it will mean for a guy like this who's home is in Jacksonville unless he's able to stay in Ames. Even then, I'm not sure how weight room access and coaching will work during the next few months. If nothing else though, he already received a few months of training and instruction before all of this went down.
This will be particularly interesting to watch with his height and weight, he came in at 6-3, 190 pound and left at 6-3, 200 pounds. He could probably play at 210 or so without losing his speed and whether that happens or not will just depend on how much nutrition and training he's able to do in the Campbell program.
Anyways, after that productive sophomore season Nebraska and Oklahoma came round and tried to land Hutchinson but he'd been recruited by Matt Campbell and his staff for a while already and maintained his pledge to Iowa State. I was underwhelmed by previous classes of Iowa State receiver recruits so they didn't exactly have anyone amazing waiting in the wings that's been on campus for a few years already but that all may have been rectified by adding Hutchinson for the 2020 and 2021 seasons.
Hutch will most likely end up at X or whatever they called Hakeem Butler's position. There they can mix in vertical RPO routes and play-action shots like they used for Butler while still hitting him when the slots and TEs command safety attention and free him up outside. If he moves inside to the slot teams should be wary of the slot fade, he's a fantastic deep threat target.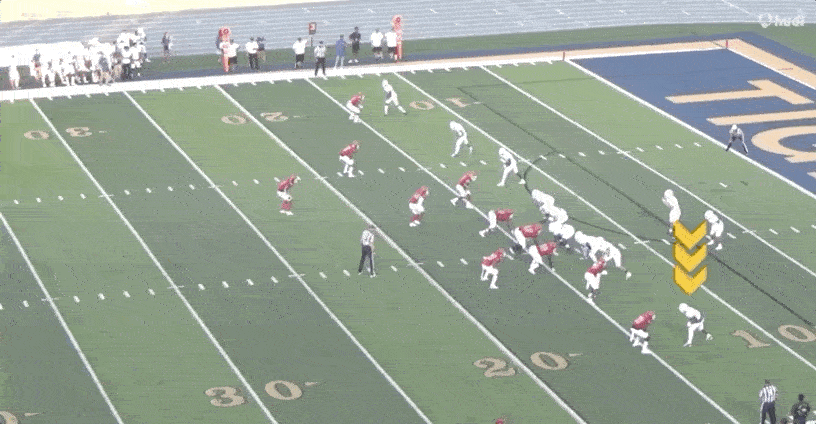 His body control and ability to go get the ball in the air translates really easily outside to the sorts of concepts the Cyclones run. It's really just a matter of PFPurdy getting enough reps with him to calibrate his sights to hit him consistently in the fall. That issue could be a theme for every team this offseason, whether they can get enough reps amidst the pandemic to nail down their timing to say nothing of whether or not things are under control in time to even play the games.
The Cyclones were two pieces away this fall from having a really impressive team for the fall. Their defense only stands to improve with most of the holes in last year's squad filling naturally due to the healthy return of Greg Eisworth and Jaquan Bailey combined with the emergence of younger players behind them. Matt Campbell needed to find a left tackle to replace Julian Good-Jones and to get an athlete on the perimeter that could feast catching balls from PFPurdy against an isolated secondary. Xavier Hutchinson should resolve the second issue, now just to find a starting tackle.
********
Iowa State doesn't really come up much in the history of the Big 12 and it's evolution into becoming a laboratory for modern spread offenses. Other than serving as a spoiler for the 2011 Oklahoma State Cowboys, their role in league history was minimal, until they developed a possible vaccine for the HUNH spread with their inverted Tampa 2 defense. Read about it in my book, available in both paperback and on Kindle: