There seems to be some diversity of thought on Isaiah Simmons' value in the NFL. His athletic profile is exceptionally unique and really only has one obvious comparison.
He measured in at the combine at 6-4, 238 with a 4.39 40 yard dash and 39″ vertical. The size numbers are the sort you tend to find at linebacker, particularly outside linebacker since teams like to use that kind of length and speed to rush the passer off the edge and throttle offensive designs before they can get started.
For instance, Von Miller whom I've mentioned repeatedly in recent posts as sort of your prototypical star OLB/edge-rusher, measured 6-3, 250 at the combine with a 4.53 40 and 37″ vertical leap. The speed numbers for Simmons are a cut above Miller or most OLBs and more what you find in elite cornerback prospects.
To move off my repeated recent example of Darrelle Revis, New England's current lockdown cornerback Stephen Gilmore measured in at the combine at 6-0, 190 pounds and ran a 4.4 40 and posted a 36″ vertical.
So Isaiah Simmons is truly unique in that he has the kind of size that you find in trench players and then the speed that you tend to find on the perimeter. In either example that size/speed is normally pitted against the elite specialists of offensive personnel, the outside receivers and offensive tackles.
Isaiah Simmons, while he did manage eight sacks in 2019, wasn't used as an edge player. Nor was he matched up on star receivers outside. Clemson used him as their nickel linebacker during the season, then as the middle safety when they used the inverted Tampa 2 structure against Ohio State, and finally as the middle linebacker against LSU.
Some scouts don't know what to do with that, probably not the best scouts, but some of them supposedly feel this way. It's weird to people that someone so big wasn't taught to rush the passer, or that someone so fast wasn't trained to play man coverage outside.
But in defending modern offenses, Isaiah Simmons' skill set is actually exactly what you'd want it to be.
Buzz NFL coverage
The best comparison for Isaiah Simmons from recent NFL examples is a guy that played safety but measured in at the combine at 6-3, 230, ran the 40 in 4.62 seconds, and had a 32″ vertical. That guy was a really good athlete for that size and had been trained in college as a box safety so he had developed some skill both in playing coverage AND in fitting inside runs.
I'm talking about Kam Chancellor, who brought the "boom" for the "Legion of Boom" Seattle Seahawk defenders.
Pete Carroll's Seahawks played a lot of "buzz" cover 3, which I've described some before and is now one of the most popular NFL coverages. Back in the day cover 3 teams would usually drop a safety over the slot and keep their linebackers in the box against teams with a slot receiver. For instance, against an 11 personnel team in a trips formation: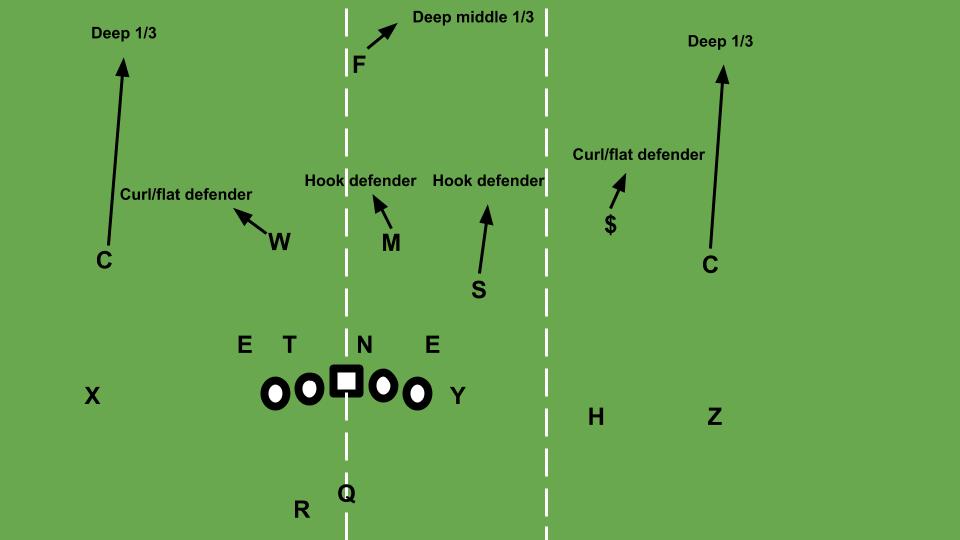 This is cover 3 "sky" meaning that a safety is responsible for run force/curl-flat responsibility to one side of the field. Cover 3 tends to be more sophisticated these days than simply being about dropping to an area of the field and playing the curl route and then the flat. Nowadays teams will play "match" where receivers match routes that reflect traditional cover 3 zones either with simple counts or else sophisticated pattern-matching "if, then" systems.
In this set-up, your big edge playing Sam linebacker is dropping into a hook zone in the middle of the field with your big, gap-filling middle linebacker while the speedier will linebacker and strong safety handle the wider spaces outside of the hash marks.
Well, the challenges of handling legitimate tight ends that can run option routes nowadays calls for (at least) nickel personnel and requires that you don't have downhill players with alligator speed in the middle of the field in those hook zones. So you need guys that aren't useless in the box but can run with tight ends and slot receivers. Seattle had Kam so they played a lot of "buzz" coverage in which either curl-flat/run force areas were handled by "backers."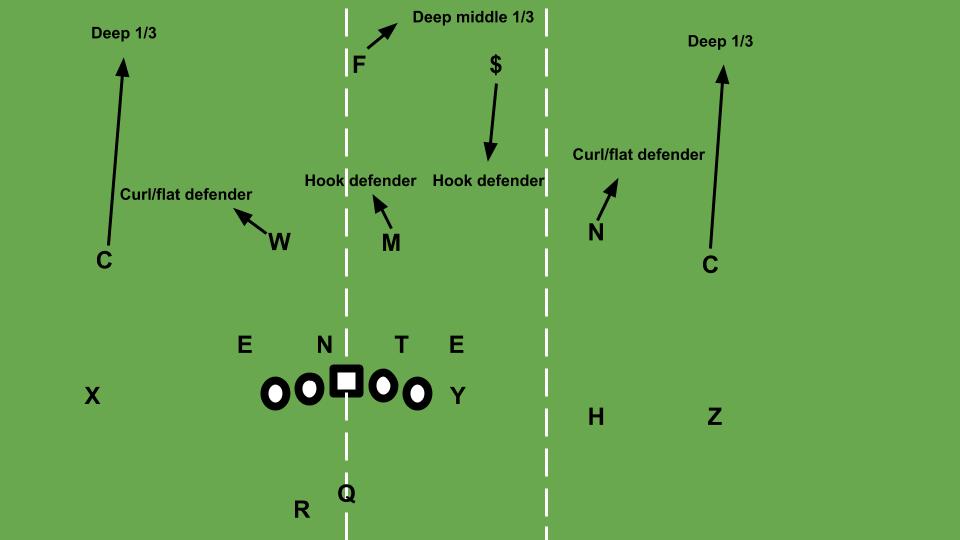 And Kam would play in a hook zone like a linebacker, but one's actual alignment wasn't always obvious before the snap and who could run and cover tight ends or slots in that area.
The Pittsburgh Steelers used to be a team that would play a lot of cover 3 sky fire zone coverage from their 3-4 base defense.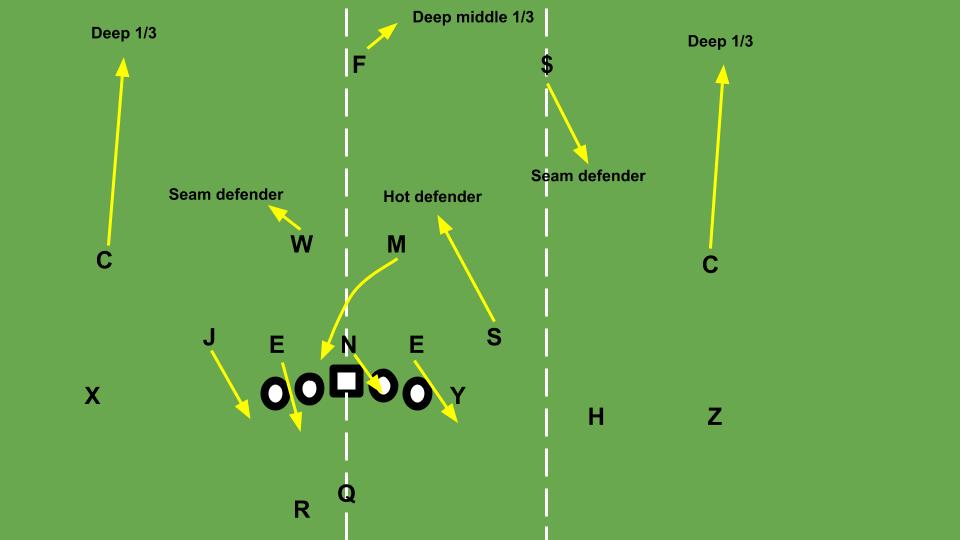 Polamalu was the strong safety and he'd often drop down over a slot receiver in these defenses to be a seam defender, which in Dick LeBeau's fire zone defense has different pattern-matching rules than your normal "seam, curl, flat" fire zone droppers. You can read more here but the gist of it is that instead of walling the seams, LeBeau would teach his guys to compress defenders inside to the hot defender and middle safety.
Today's Steelers are still primarily a zone blitz team, but last season against the Kyler Murray/Kliff Kingsbury (the blessed) Arizona Cardinals they played a lot more like this: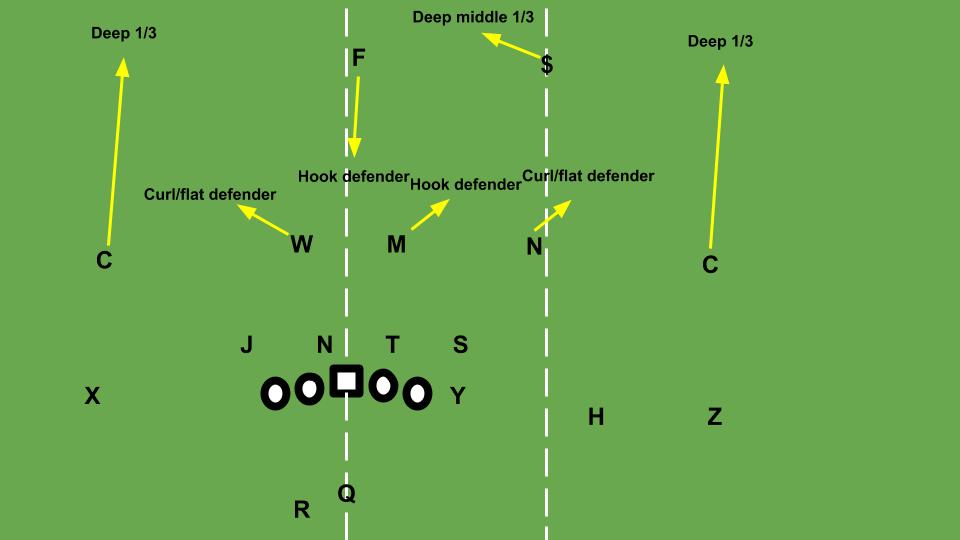 They've largely given up the 3-4 set and instead of playing versatile outside linebackers on the outer hips of big 3-4 defensive ends, they use still fairly versatile outside linebackers as defensive end/outside linebacker hybrids and bumped one end off the field and the other down to defensive tackle. Nowadays instead of pairing Lamar Woodley and James Harrison they have TJ Watt and Bud Dupree, who are honestly comparable if not quite as good.
But behind that are even more drastic changes. Against Arizona they played cornerback Mike Hilton (5-9, 184) at weakside linebacker, Devin Bush (5-11, 234) at middle linebacker and Mark Barron (6-2, 230) as the strongside linebacker or nickel. Then they had the Kam Chancellor-esque Terrell Edmunds (6-1, 217, also from Virginia Tech) as a safety that would often drop down to play a hook zone.
Modern prototypes are changing, you need defenders in the middle shallow to intermediate zones that are big and strong enough to play the run and match up with tight ends but who can also play coverage and stick to skill players on option routes and crossers.
The right man at the right time
Teams are desperately in need of defenders with the size, reach, and speed to keep guys like Travis Kelce from torching them. As I noted yesterday when discussing Chase Young, defenses tend to put their freaks that can run fast at 230+ to use in rushing the passer.
But when you're facing a formation like Y-iso with a 6-5, 250 pound dude that can run a 4.6 40 and knows how to execute good routes isolated opposite three removed receivers, then you need more tools in the toolbox. You can't rely on pass-rush because the matchup problem is so glaring that the quarterback is going to be able to understand your coverage and get the ball out quickly. Maybe he's also Kyler Murray, Russell Wilson, or Pat Mahomes and can buy an extra second or two of time and now you're really thwarted.
What you need is personnel designed to match up against their skill players, you need a guy who's size/speed ratio to the tight end is comparable to that of a top cornerback facing a wide receiver. Cornerbacks tend to be a little smaller than receivers and then quicker, faster, and equally skilled. You need a linebacker or safety who's 210 or so and strong enough to play blocks and has the speed and knowhow to cover routes. Kam Chancellor was only the beginning, Simmons brings a whole other level of skill and athleticism and there are other guys with similar attributes that simply haven't been developed here yet.
There's not a lot of guys getting that kind of training in college, although the number is going up, and certainly not many with the size/speed ratios of Isaiah Simmons. Whoever drafts this guy is going to get a player that can follow a troublesome tight end wherever he lines up without being out of place and is also a threat to blitz. This is ultimately what a modern linebacker should look like.
If flex tight ends are the dreadnoughts of space force offenses, then linebackers like Isaiah Simmons are nuclear powered, hunter-killer submarines. You don't really know where he's going to turn up and when he does, he has the capacity to sink big, powerful vessels.
If I were an NFL GM with a high draft pick I'd value Simmons more highly than a pass-rusher like Chase Young and potentially even more highly than top cornerback prospects like Jeffrey Okudah simply because there aren't as many guys like him. Not yet at least.
********
How did we get to this point where spread tactics are rapidly redefining the game's positions? Read up on the evolution of football offenses in the "flyover" college football conference, the Big 12.