I voted this year, or at least I think I did, one of my offensive or defensive ballots (defense I think) wasn't submitted in time. I posted my teams and poll as well as the rationales over at Inside Texas. You can read it free here:
My preseason poll shook out like this tweet:
That's more or less how I would rank the teams coming into the next season. Here's how the rest of the media voted, 1st place votes in parenthesis:
Oklahoma (80)
Oklahoma State (6)
Texas (4)
Iowa State
Baylor
TCU
Kansas State
West Virginia
Texas Tech
Kansas
Considering how many Longhorns ended up on the 1st team ballot, including at quarterback, left tackle, pass-rusher, safety, and cornerback, it's fair to say that everyone acknowledges Texas' talent level but assumes Lincoln Riley will out coach Tom Herman. It's hard to argue against that eventuality.
Oklahoma State over Texas is probably mostly a factor of the Cowboys boasting the defending and projected OPOY Chuba Hubbard, Tylan Wallace, older Spencer Sanders, and also a handful of legitimate defensive talents. Earlier in the offseason I was very high on the Cowboys, then I began to dive into their offensive line after Dylan Galloway medically retired and started to have serious misgivings.
As the 4th place team in these projections Iowa State is now a near lock to end up playing for the Big 12 championship. The Big 12 championship game since 2017 has always been Oklahoma vs a team picked 4th or 5th in the preseason poll that surprised everyone. In 2017 it was TCU, in 2018 it was Texas, in 2019 it was Baylor. The team picked second or third never managed to get there.
Kansas State is routinely underestimated on these lists. Check out their spots this decade: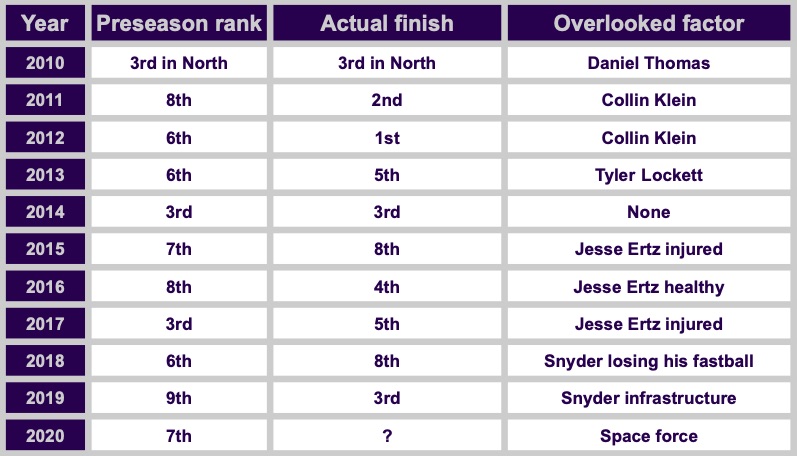 There's not any good reason to believe Baylor or TCU will be better than K-State next season other than recruiting rankings, which have been consistently misleading on the Wildcats all decade.
The Wildcats have one of, if not THE, best pass-rusher in the league and one of, if not THE, best cornerbacks in the league. The defensive backfield is comprised of veterans, the D-line is bolstered by JUCOs, they have a lot going for them going into the season. Everyone is overly hung up on the losses across the O-line, which may not be that big of a deal. Their quarterback is a multi-year starter and the weapons around him are improved.
Baylor and TCU both have good young talent on their rosters but a lot of question marks in terms of successfully translating it into winning teams. Less developed and structured Baylor and TCU talent isn't beating out well developed and structured talent from West Virginia, Kansas State, or Iowa State. West Virginia in particular recruits a higher level of athlete than is commonly realized and they'll be in year two of developing the young talent left over and restocked for year one of the Neal Brown era in 2020.
Beyond their placement in the sweet of being "overlooked but obviously feisty," Iowa State is well advantaged to outperform Oklahoma State as well. They have some legit talent of their own at the skill positions, better quarterback play, potentially more answers at offensive line (or no fewer, at least), and a better defensive system and roster.
If this season plays to how things have tended to go this decade then we'll get an Oklahoma-Iowa State Big 12 title game. If Texas is ready to start punching close to their weight like in 2018 (probable) then everything is less clear. In that sense, this is one of the more fascinating seasons for the Big 12 in some time before even factoring in COVID intrigue and uncertainty.
********
Read about the history of the league in my book!