It's a make or break year for Kliff Kingsbury at Texas Tech and that's evident in this recruiting class, which features 11 early enrollees and nine total JUCO transfers in a group of 19 total players. I wondered if Kingsbury's recruiting would fall off a bit here given the hot waters he's treading in Lubbock after his fourth consecutive losing season in Big 12 play but 247 has this rated as the 6th best class in the Big 12 and I was generally impressed with the quality of the players they signed and the projections.
What has to be noted, however, is that Kingsbury took some very JUCO-y JUCOs. There's a reason that Dakota Allen and Jaylon Lane were at JUCOs in the first place and not already at established Power-5 programs. Everyone knew Jaylon Lane was an exceptional talent when he was at Nacogdoches and he was once an Oklahoma State commit, the reasons he ended up in a Kansas JUCO are evident.
Similarly, Dakota Allen was a really solid LB for Tech in the recent past, the reason he was at a JUCO last year was because of a robbery he committed in which he stole and sold some guns on the streets. Yikes.
So perhaps these guys are reformed and can be trusted to stay on the straight and narrow…perhaps. Another Tech signee that was an early enrollee was already kicked off the team. Also noteworthy, QB Jett Duffey was kicked off the team (by the university, not the football team) for the spring and summer.
Let's be real, a lot of what is going on at Tech reeks of desperation to win and to take chances on some players that might present real risks. I'll evaluate this class as I have the others, based on projection, fit, and talent, but it'll be interesting to see if Kingsbury's program gets into trouble in the future. We're talking about a team that has lacked the discipline to build a physical and effective run defense for the last several years and now we're hoping that they can produce a demanding enough culture to keep everyone in line off the field? I think those issues might be correlated and I'm concerned that this isn't going to end well for Kingsbury and the Raiders.
Also of note, the Raiders signed a punter who's 6-5 and has a background in Aussie-rules football named Dominic Panazollo who played at Snow College in Utah last year and shockingly wasn't signed by the Utes. They must have already had a full cupboard of  Aussie punters. Kingsbury isn't even really one for much punting but this guy could prove very useful if they decide to try and help out their defense this year.
Offense
Quarterbacks
Kingsbury's obvious preference comes from what he learned at Texas A&M, coaching a redshirt freshman named Johnny Manziel to a Heisman trophy in the Air Raid offense. Namely, that dual-threat QBs of any size are very easily weaponized in the Air Raid and can often mitigate it's weakness for developing an effective run game. For years people have programmed accurate, quick-thinking QBs to throw for 4k yards in this offense but to do so with shorter but much more athletic players has provided more of a boon to the system.
McLane Carter: 6-3, 220. 3*** from Gilmer, TX (JUCO)
I first noticed Carter when breaking down Gilmer's 2014 state championship victory in order to evaluate new Texas coach Jeff Traylor's offense and to get a better peek at B12 recruits Blake Lynch (Baylor), Kris Boyd (Texas), and Demarco Boyd (Texas). I thought from Lynch's highlights that he was their QB but in fact he was a wildcat operator while Carter threw for something like 3k yards in their offense as the main signal-caller. He threw a nice, accurate ball and lacked any obvious elite attributes but was clearly a very capable player that wasn't thrown out of sorts when pressured or asked to process things at high speed.
Then he went to Tyler J.C., grew another inch or so, gained like 20 pounds of muscle, and found some increased velocity in his arm. He's sorta mobile but not quick enough to add much to the Tech run game like Mayfield or Mahomes did in the past. They could and should use him some in the QB run game, he's just not explosive in that regard. He'll compete for the starting job immediately with Nic Shimonek and I won't be shocked if he wins it.
Xavier Martin: 6-0, 180. 3*** from Cibolo, TX. IT #100
I rather like Martin and was impressed with his performance trying to keep pace with DeSoto and Shawn Robinson in the 6A D2 title game. It seems like many have him pegged as a "try him at QB, move him into the slot as needed" player, but I was impressed with what he did throwing the ball. Every now and then it seemed the ball would get away from him a little and I wonder if he has big hands or not but he also threw some lasers outside the hash marks that suggest he could be just fine in this offense.
He's not going to stretch the field like Mahomes did but he can add something similar in the run game and he can create off schedule plays by scrambling for time or yardage. Cibolo Steele used him to constrain the main feature of their offense, RB Brenden Brady (btw, he seems underrated to me), and he did so both with option keepers and pass options to the perimeter.
Grade: B
I think both Carter and Martin have a chance to be pretty good in the Tech offense. I'd bet against either as a Mahomes or Manziel-level talent but each brings some value add and capability in the system so as long as they field good OL and some difference makers at the skill positions they should be good.
Running backs
Normally the Raiders like to get scat backs that can serve as useful components in their screen game or running routes. That has borne out inconsistent results and last year they had to turn to freshman Da'leon Ward when scat back Justin Stockton wasn't a strong enough runner to make things happen in their rather unphysical run game.
Desmond Nisby: 6-1, 235. 3*** from Vallejo, CA (JUCO)
The signing of Nisby makes me wonder if this Chris Warren run left a big mark on Kingsbury:
Shot from the end zone camera angle…
Nisby is a really nice inside runner and it's pretty rare to find his level of quickness in a 235 pound body. He's really good making jump cuts, keeping his shoulders square, and then darting through creases into the open field. It's really hard to tackle guys like this in the Big 12 because of the diminished size of everyone's defensive backfield and the need to prioritize putting good coverage defenders on the field.
If they can limit penetration with their OL then I think Nisby could be very good for them.
Grade: B
Very rare size to speed ratio on this Tech signee, if they invest enough time to building a run game for next year he could have an immediate impact.
Ancillaries
Tech makes very little effort to sign guys that can serve either as mobile blockers or flex, versatile targets on the perimeter. They tend to find these guys from the walk-on ranks instead. It's always struck me as ironic since Kingsbury's best season was his first, when he inherited TE Jace Amaro and threw it to him 106 times for 1352 yards.
None
Grade: D
They could always find some useful blockers from their walk-on ranks so I don't like to give them the worst possible grade, but I renew my annual objection to Kingsbury's strategy here.
Wide Receivers
This is where Tech has to make their living and that's generally obvious from the large numbers they've tended to take at the position. The outside guys are ideally deep threats that can punish cornerbacks in isolation and prevent teams from overloading the middle of the field while the slots are the main horses in this offense.
Here's a look at Tech's inside WR tradition in the Kingsbury era: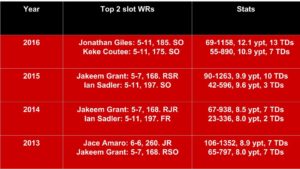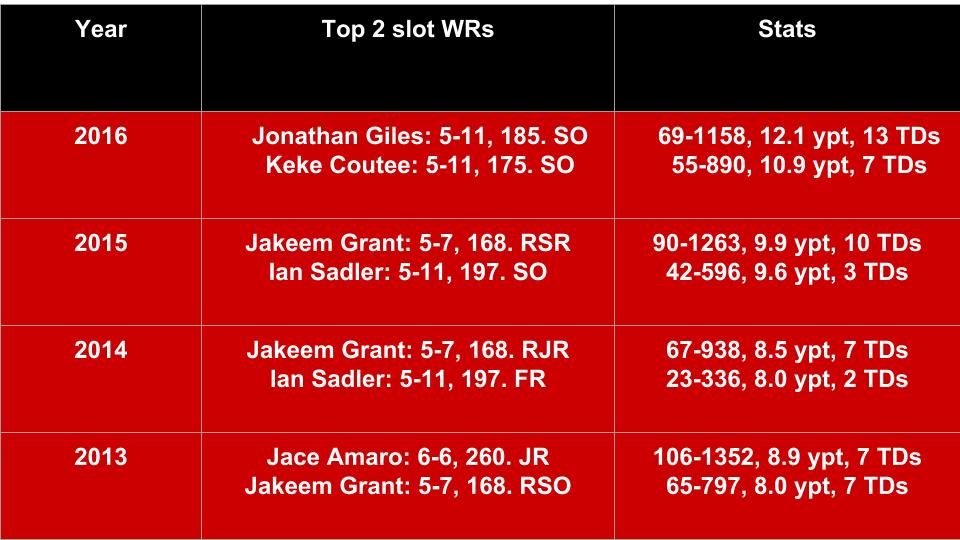 Amaro was the least explosive IR that Kingsbury has deployed…but he was reliable, nearly unstoppable on third down, and he probably helped Tech control the ball more and perhaps protect their defense better.
None
Grade: D
Failing to take a single guy here is kinda shocking. Well I guess they took that one kid who got kicked out of school…credit though to Kingsbury though for prioritizing positions of need instead of taking another half-dozen WRs. As you can see from the chart above, Tech isn't hurting for WRs that have eligibility remaining.
Offensive line
Tech generally looks to stockpile "obstacles," or OL that excel at being in your way when you're trying to get to the ball. They've rarely been great in run blocking although not always terrible either. Brandon Carter is typical of what they've excelled with in the past, a massive dude who's specialty was pass blocking and who was decent enough in run blocking. In 2015 they had some success because of a combination of having a legit NFL player at LT in Le'Raven Clark and a good RB in Deandre Washington and would often pull Clark to lead on "dart" runs. Both left and their run game cratered in 2016.
Jacob Hines: 6-4, 325. 2** from Long Beach, CA (JUCO)
Hines is very typical of what Tech has tended to sign on the OL. He's pretty quick and clearly a massive dude, but not quite long or quick enough to really stick outside at tackle. No matter, Tech can make him into a guard and he's actually reasonably solid as a straight ahead mauler in the run game.
Everyone likes to say "recruit all tackles and then convert the failures into guards" but the problem is that failed tackles aren't necessarily any better suited to winning physical battles with DTs than they were at winning athletic contests with DEs. Unless you're Tech, and you're mostly throwing the ball anyways.
Casey Verhulst: 6-6, 280. 3*** from Plano, TX
Verhulst is a tackle all the way. He's pretty quick and plenty long and he has some solid kick steps and protection sets on film. He'll have to gain weight to be able to absorb bigger and more powerful DL then he faced in high school and I don't know that he'd fit too well inside even for Tech depending on how much strength he adds. He's probably a future RT for them but he'll come into college with more apparent experience in good protection techniques than many.
Will Farrar: 6-4, 290. 3*** from Richmond, TX. IT #65
Farrar projects as a really good "obstacle" who has great feet that will frequently put him between defenders and where they want to go. Because of the height issue he'll probably end up inside at guard or center. I think he has some potential in the run game but they'll need to rely on doubles or angles to help him out, I don't know if he'll become a guy that you can always run behind on third and short.
Dawson Deaton: 6-5, 297. 3*** from Frisco, TX
Deaton has better feet than the guys mentioned above and also a love and knack for rooting DL off the ball and finishing blocks by putting people in the dirt. So he may stick outside at tackle and be used a lot in the run game or he may move inside to guard or center and be a major asset for the run game. He'll need time to work on pass protection but he's got a lot of promise overall.
Jack Anderson: 6-5, 300. 4**** from Frisco, TX  IT #10
Eric Nahlin loves Anderson and it's easy to understand why. He played more guard at Frisco but I think he'll probably end up at tackle for Tech because that's what you do with players this good when you can. He's projected as a guard because he played there some at Frisco and he has a mauler's approach to the game or he could end up at center but I'm betting on tackle for now.
Grade: B
The fits here are really good as all of these guys project as good pass protectors for Kingsbury's Air Raid offense and some of them may also prove capable in the run game as well. Most importantly, they got their bellcow in Anderson who projects as the left tackle and possibly the main guy in their run game. If you can build out an OL that's great in their primary role (in this case pass protection) and is competent in their secondary role (run blocking as a constraint) then you're doing really well.
Defense
Defensive line
Tech has been absolutely atrocious here for some time and looked to address it last year when they signed a ton of guys and invited some transfers to help shore things up. They play a flex 3-4 type defense that's really just a single-gap 4-3 with one or both of the DEs playing standing up so they can potentially drop into coverage and they like to slant and stunt up front a lot. They really need a nose that can hold the point of attack and it'd be nice to have more players that can do something with a 1-on-1 matchup in the pass rush.
Nelson Mbanasor: 6-3, 270. 3*** from Pflugerville, TX
Mbanasor (younger brother to the Oklahoma cornerback) has some nice film at DE where he plays the zone read really well from either a 3-technique or DE alignment. He's pretty athletic for such a big man and he's good at coming off the ball low and with balance. They're saying he'll start at DE but I don't believe he'll see the field until after he's moved to the DT position where he actually projects as a potentially very solid player.
Grade: D+
The Red Raiders didn't really need many numbers here but since they aren't taking players at other positions that can spin down here I'm not sure if taking only one dude is such a good idea. They need a good return on Mbanasor and for the seven guys they took last year to produce a high hit rate.
Linebacker
The Red Raiders are a base 4-3 defense but they're in the nickel virtually all of the time so they really only have two linebacker positions, unless we count their weak side DE/OLB spot here, which I'm not. The weak side LB in this system is the same as most any other. They want a guy that can pursue the ball laterally, is good in the box, is solid in coverage playing in some space (not a ton, but some), and ideally who offers something in the blitz. The middle linebacker spot is a bit different because DC David Gibbs likes to drop him in Tampa-2 schemes so he needs to be able to make some good coverage drops and have some range in coverage in addition to being good in the box.
Tony Jones: 6-2, 220. 3*** from El Dorado, KS (JUCO)
Jones may fit at the "Mike" LB position although he didn't play there at Butler C.C. They used him as a sort of nickel in a blitz-heavy defense that brought him off the edge unblocked quite frequently. The question will be how long it takes him to adjust to making reads in the box. The Red Raiders don't need athleticism at LB they need guys that know how to play the position and won't frequently allow creases in the run wall.
Riko Jeffers: 6-1, 236. 3*** from Sachse, TX
I really like Jeffers but I'd like him a little more in a defense like K-State's that protects good inside-backers from having to play in space a lot. Jeffers scrapes really well and is good at fighting through blockers and avoiding getting caught in the defensive backfield. He's probably a "Will" in this defense as I don't know how well he'll handle Tampa-2 drops but he's athletic enough to stick at OLB here at Tech.
Dakota Allen: 6-2, 235. 3*** from Scooba, MS (JUCO)
After a one-year stop at "Last Chance U" Allen is back in the Tech defense. We already know how well he fits this defense because he's already played in it. The answer is that he has major potential to be a really good LB next year provided he stays out of trouble. He had 86 tackles and two INT in 2015 before Tech gave him the stanky boot and he flashed a similar skill set in Scooba. He's good at taking deep drops, which is really useful for any B12 defense but certainly at Tech where the Mike is occasionally a deep 1/3 defender. Hopefully he's ready to pick up where he left off ON THE FIELD.
Grade: C+
The Raiders got one guy who projects as an asset down the line and then two that are immediate impact help. One of those is a bit iffy, since he'll have to change positions, the other is a great fit provided he doesn't commit any more robberies. Overall, it's hard to be too positive about what Tech is doing here but they probably got a little better at LB.
Defensive back
The Raiders put a lot on their secondary intentionally in terms of assignments because Gibbs likes to play a lot of different coverages in an effort to confuse QBs. They also put a lot on these guys unintentionally because their run D is typically porous and constantly allowing invaders to run amok in the defensive backfield. "Build the wall!" should be the rallying cry of the Tech defense this spring.
They tend to go for DBs that are good at moving in the backfield while keeping eyes on the QB and the ability to make plays on the ball in zone is probably the most important attribute. That said, they haven't been amazing in coverage and guys that can lockdown receivers in man coverage are often the same guys that thrive at playing off coverage and breaking on the ball. Both require some athleticism and length is usually helpful.
Quincy Addison: 6-1, 180. 3*** from Angleton, TX
Addison was the defensive backfield mate of B.J. Foster, one of the highest rated players in the state for 2018. Naturally they played good defense at Angleton last year and got knocked out of the playoffs due to a 12-11 loss to Dripping Springs. Addison played mostly at safety and some at corner but he'll be inside for sure at Tech. He really sought out chances to land big hits and was a true intimidator over the middle. He's also good at playing blocks and is reasonably solid in coverage so nickel might be a good fit for him. Addison has the effective range though to stay at safety and he'll probably end up playing at around 200, which is a nice upgrade in intimidation factor over the smaller guys Tech has been playing in recent years at safety.
Adrian Frye: 6-0, 170. 3*** from Houston, TX
Frye has some nice size to him and is a Big 12 starting corner-caliber athlete if he can master the position well enough to make the most of his athleticism. He erases some coverage mistakes on film and also some clips where he's playing nice press coverage on people. The ability to move around easily in the defensive backfield with eyes on the offensive backfield are key and translate well to Tech's system.
Octavious Morgan: 6-0, 200. 3*** from El Dorado, KS (JUCO)
Another Butler C.C. product for Tech, Morgan is another guy that might find a home at nickel for the Red Raiders if he doesn't stick at CB. At Butler he played some cover 3 and some 2-read quarters and was good at the "play off coverage and close on the ball" nature of either scheme and he also showed some ability to play bump and run with people. He has loose hips and moves pretty easily out in space, a nice addition for their secondary.
Vaughnte Dorsey: 5-11, 205. 3*** from Perkinston, MS (JUCO)
There's a very good chance that Dorsey plays immediately because his ability to cover ground from deep zone and lay some big smacks on RBs is sorely needed in the Tech defense. He has the range to play as a field safety at Tech and he'll probably at least start there before they'd move him to the boundary. Combining Dorsey and Jah'Shawn Johnson at safety gives Gibbs a chance to finally approach the talent he had at Houston before leaving for this gig.
Jaylon Lane: 6-1, 185. 3*** from Independence KS (JUCO)
There's never been any question of Lane's talent and he was every bit as dominant playing up in Kansas as you would have expected from his HS film. He also played some at field safety, which has to give some hope that he's been good at focusing on his craft and avoiding trouble. He's a great athlete that can turn and run with people or easily close when playing off coverage at either corner or safety. Lane has the potential to bring a dramatic upgrade to the Tech secondary as a lockdown corner.
John Davis: 6-1, 170. 3*** from Euless, TX
Davis has really nice film playing both in press and off coverage as well, breaking up some slants while playing in a ton of space in one clip and then navigating the deep field with zone eyes in another. His sparq test results are fantastic, a 4.55 40, 4.34 shuttle, 38″ vertical, and 36′ toss. This is an explosive athlete that could grow into a lockdown corner with time.
Grade: A-
This is a stunningly good group and perhaps having them on the line is what allowed David Gibbs to retain his job in this make or break year. Assuming that Jaylon Lane's antics are behind him, the Red Raiders potentially signed two lockdown corners in addition to nabbing a few physical safeties with good speed and yet another corner that would be a take at most schools in this league. There are numbers here and there's real quality and upside, by far the best DB haul I've ever seen for Tech. They needed it of course, because they are losing some guys, signed a pretty "meh" class a year ago, and because they play in the Big 12.
In summation…
Job no. 1 for Kingsbury with this class was adding the pieces he needs to finally produce a winning season and save his job. A decent, 6-8 win season would probably buy him another year while anything better would put him back in good standing and anything worse could sink him.
Kingsbury added a bunch of JUCOs that could bring immediate upgrades to his defense, particularly riskies Jaylon Lane and Dakota Allen, and found an overlooked QB in McLane Carter that's a nice insurance policy at worst and a possible upgrade over Shimonek at best.
They didn't stock their freshman class with too many long-term assets but they didn't sign a bunch of JAGs either. Many of the players in this freshman class could potentially grow into really good players down the line. It's all going to come down to Lane and Allen. If the risk pays off then the Raiders will probably be good enough on defense to win more games and buy Kingsbury more time to bring in more talented freshman in 2018. If it doesn't, then the whole program could come crashing down with a thud.