Over at Football Study Hall I listed all of the returning talent at QB in 2017 before diving into some of the teams that will have and advantage in combating them because they return star safeties.
Beyond the obvious (Derwin James at Florida State) there are some others like Damon Webb at Ohio State or Armani Watts at Texas A&M that could have a big impact on the coming season.
In the Big 12 there are a few key guys returning that I mention in the article.
How Oklahoma makes the most of Steven Parker's senior year could have a huge impact on this season for the Sooners. I noted in the spring game that Will Sunderland, while exceptionally athletic, doesn't really seem to know what he's doing yet. If the Sooners want to insist on playing Caleb Kelly as a Sam linebacker out in space then they may be best served by playing Will Johnson behind him at the new cover safety while simultaneously upgrading the range and coverage at the free safety spot by sliding Parker over there.
Oklahoma becomes much less exciting to attack in the passing game if they do that.
TCU has Nick Orr back who allows them to execute their cover-1/cover-4 hybrid scheme that is so useful for getting their strong safety involved against the run: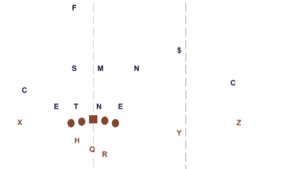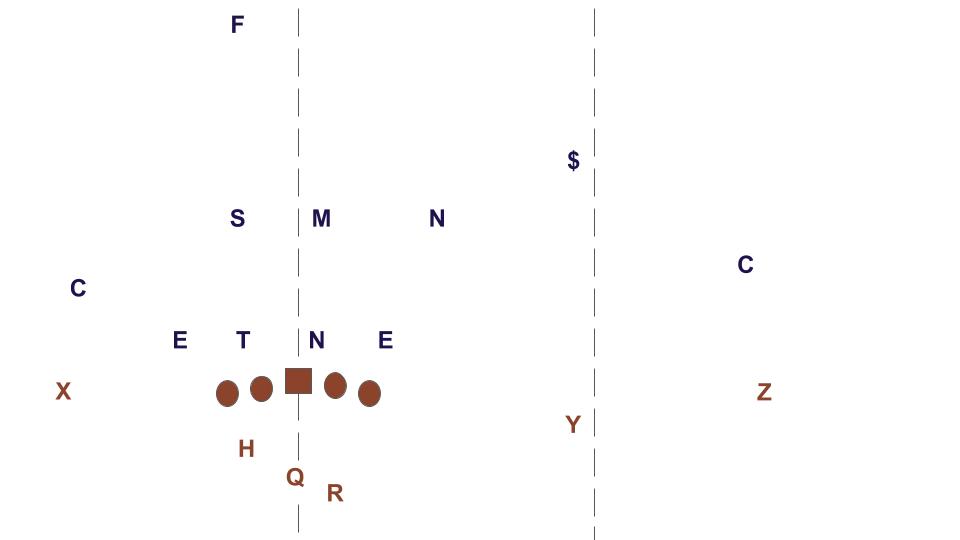 The free safety (F here, "weak safety" in TCU parlance) drops deep down the hash with his hips open to the field in order to help the field safety handle the challenge of playing deep on the slot receiver without much help underneath. He doesn't cross the hash though but remains in close enough proximity to flip his hips and try to recover to help on a deep throw to the "X" boundary receiver here.
This takes a corner's hips to pull off and that's exactly what Orr has as a converted cornerback. The only issue for TCU here is that last year's strong safety (or "N" in this diagram) Denzel Johnson has graduated and his replacement Ridwan Issahaku may not be as strong in run support. Meaning that TCU gets less mileage out of this set up.
Oklahoma State has Tre Flowers back, he was a cover safety with questionable ability (in my estimation) that has grown into a really skilled player over his two full years as a starter in their system. West Virginia gets Dravon Askew-Henry back who's a similar player to Flowers, I'll talk more about each later this season.
Kansas State seems to be rolling with Sean Newlan in this role, which is perhaps my biggest concern for the Wildcats in their attempt to contend for the league crown. This squad reminds me a bit of their 2014 unit that was killing teams with the Jake Waters/Tyler Lockett/Curry Sexton trio in the passing game but got beat up some on D because they had a few weak spots there. I thought perhaps they'd slide Newlan over to free safety and Kendall Adams to strong safety but apparently not. Newlan is a veteran that knows how their system works, but he's just not a guy you want to have to flip his hips a lot in coverage.
Baylor has been rolling a ton of guys through at safety in spring. They've been a strictly quarters coverage team for a while now but Rhule is bringing much more man coverage which is a different animal. Star recruit Davion Hall (now a senior) and returning starter Chance Waz are back but it'll be interesting to see how they adjust to this, Waz was never a coverage specialist. Travon Blanchard could be huge for them in one of those roles (probably field safety) if he is cleared of wrongdoing and welcomed back to the team.
Kansas really likes Mike Lee, a violent converted cornerback of the sort that every Big 12 team should be stocking up on. I don't know much about him or how they've been using him but perhaps I'll look into it this offseason.
Iowa State is hoping to get Kamari Cotton-Moya on the field as a weak safety that is an intimidator in the middle of the field and violent in run support. They're converting cornerbacks to fill out their cover safety role. If they get KCM back and Joel Lanning takes quickly to Mike LB they could be very interesting this coming year.
Texas Tech has a lot of ground to cover here. They have a nasty, converted corner in Jah'Shawn Johnson who's main job over the last two years has been running around trying to limit the damage of his teammates' incompetence. I'm not even sure what he's capable of when playing the position within a team concept and we may never know unless they make huge strides next season.
Finally there's Texas, who has returning two-year starter Jason Hall back (big guy, 6-1, 220) as well as junior DeShon Elliott that everyone has been waiting to see breakout and then sophomore and former bluechip recruit Brandon Jones who's a tremendous athlete that hasn't put it all together yet. One of Elliott or Jones (money is on Elliott) needs to be nails this coming season for Texas to have a big first year under Herman. Their task should be made a bit easier by their use of P.J. Locke (very likely to break out this year) in the nickel and reduce the coverage requirements from either safety spot.