So…my big question about Lincoln Riley and his time at Oklahoma was "how does he handle the defense and how does he handle Mike Stoops in particular?"
It was beginning to look like nepotism that kept Mike Stoops around in Oklahoma, although he has had some solid units since returning and stands to see improvements from last year with so many key pieces back and a return to the 4-3 front. Whether or not Riley would be willing to push him out and whether or not he could successfully replace him were big question marks looming over this coming season.
Now it looks like Riley has a plan since he just hired Ruffin McNeil to help Calvin Thibodeaux coach the DL.
Ruffin McNeil
Oh how well I remember Ruffin McNeil…
McNeil took over the Texas Tech defense under Mike Leach in the 2007 season after they were obliterated by Oklahoma State, surrendering over 600 yards of offense. He then simplified things, emphasizing execution of fundamentals in a 4-3 quarters defense similar to what Kansas State has played in the second Snyder era.
The results were pretty immediate and they were impressive: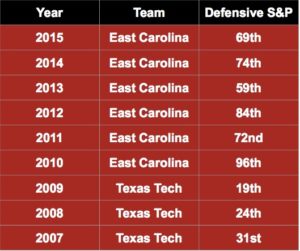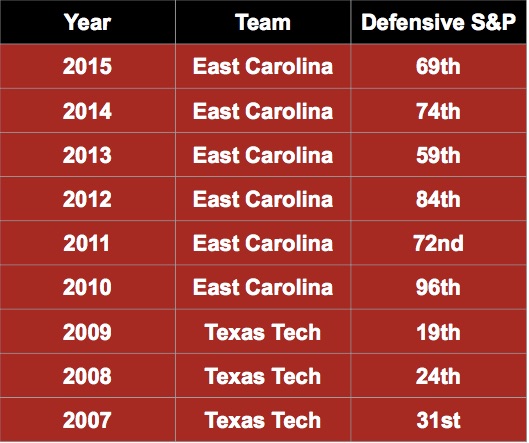 Once he got to East Carolina, where he took Lincoln Riley with him and established him as the OC, things got more difficult on defense. At Texas Tech with Mike Leach though, the Red Raiders were starting to play pretty salty defense and it took their program to new heights.
I particularly remember the 2008 defense because they wreaked havoc on the Texas Longhorns season with their stunning victory at home in Lubbock. They were a typical 4-3 defense, they had a pair of great pass-rushing DEs in Brandon Williams (13 sacks) and McKinner Dixon (eight sacks), a sturdy nose tackle in Colby Whitlock (always showed up big against Texas), a hefty mike LB in Brian Duncan, and then a solid secondary that helped each other out and played a safety at sam LB in their nickel set.
Safety Darcel McBath was a key piece as well and he had seven INTs that year playing behind this disruptive front. Here's an example of their style of play from those days:
They're in a 30 front in their nickel personnel group with DE Brandon Williams standing up to spy Colt McCoy and apply pressure as needed to stop him from scrambling to find time (or Jordan Shipley). They're in nickel with starting strong safety Daniel Charbonnet down over the slot and in a quarters coverage with McBath in a robber role on the boundary. They're matching up underneath with help over the top inside and the corners playing to keep the ball in front of them down the sidelines.
Ironically this a very similar approach to what Texas used with Malik Jefferson to stop Pat Mahomes II last year.
Check in on his East Carolina defenses and you find something very similar. Here they are against Matt Rhule's Temple Owls in 2015 in McNeil's last season there:
Conservative quarters coverage here playing the middle linebacker outside of the box but keying the run, keeping both safeties deep with the nickel and boundary corner as force defenders, and then using a end/tackle twist stunt to try and game the front.
For my money this is a very good procedure for handling Big 12 spread offenses and spread offenses in general. It's hard to match up in coverage but if you can play everyone back and then use technique, talent, and tricks up front to allow you to cheat defenders out of the box then you can make it hard for offenses to pile up points. It's more or less how the North Dakota State Bison do it and y'all know I'm a fan of how that program does things.
If you have really good, disruptive DL play like Texas Tech had in 2008 then you're really cooking. It's hard to pull off otherwise because no one can really bend without breaking against modern offenses but with a DL that can inflict negative plays it can be very effective.
The long-term play in Oklahoma
In the short term this is helpful for Mike Stoops. The Sooners now have two guys focusing on DL play with one of them (McNeil) owning an impressive resume of developing the position. Mike Stoops generally prefers to use the front to protect and set up his secondary to attack routes and tendencies and McNeil can absolutely help him accomplish that aim.
Meanwhile, if things don't go so well on the back end or Riley simply wants to see a different direction or leadership then McNeil has a long resume of running defenses, and even entire programs alongside Riley. This is a hire that helps Riley not have to worry as much about defense, to delegate different program-building responsibilities, and to have a guy that he's used to working with at his side.
Some will call this a comfort hire and point to McNeil's lack of recent experience coordinating great defenses but I actually think fairly highly of the guy and suspect he could produce some strong results working with Oklahoma recruits. What's more, he might also fit quite well with Mike so in addition to being a safeguard if Stoops doesn't cut it he might also be a force multiplier that brings out the best in the Sooner DC.
Positive early sign for the Riley regime.