That was surely the number one concern in the back of every Oklahoma fan's mind when Lincoln Riley was promoted to head coach. "Will this Air Raid guy make us go soft???"
I've been disinclined to think that was a likely issue given Riley's background with Ruffin McNeil and his deep embrace of the Sooners' run game over the last few years. Oklahoma has not as physical this decade as they were in the previous one but they've still maintained an edge most weeks in the Big 12 only to find that their punching power isn't as intimidating outside of the league.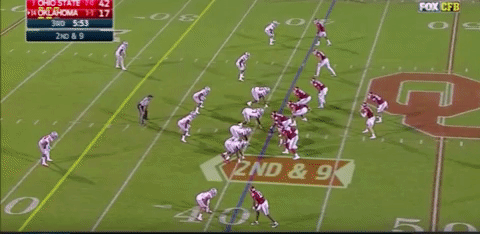 That said, I've had a creeping doubt about this 2017 Oklahoma football team's defensive capabilities with a few different auspices emerging suggesting that this unit may not be that good.
Lost in space…the spring game
I broke down the Oklahoma spring game looking to discern whether Caleb Kelly as a Sam linebacker was as risky a venture as I suspected and how OU's number two cornerbacks looked. What I actually found was that Kelly moved quite well in space and the Sooner secondary seemed well set out wide with Parnell Motley playing well and offering competition to Jordan Parker for the spot opposite Jordan Thomas.
But I also found that the Sooners were somewhat lost in the middle of the field with real unknowns at middle linebacker and free safety in particular with weak side linebacker still not an obvious strength to my eyes.
The Sooners were playing a good deal of quarters coverage, which you'd expect given that they had a sam linebacker who'd essentially have to play man on a slot in a single-high coverage, and the integral safety run support from that coverage seemed rather spotty.
It's not a huge deal for a young team messing with new fronts and expanding on a coverage to look lost at times in the spring, but it is a thing. A data point, as Eric Nahlin likes to call them.
No Bob Stoops quality control
Next thing we knew, Bob Stoops was retiring. Most of us took that as a sign that he felt the program was in good shape and capable hands and decided to get out under those conditions rather than ones not of his own choosing. I don't really see any reason to doubt that explanation.
However, even a Bob Stoops with fading energy was still Bob Stoops, the guy who'd overseen top defense after top defense for three decades. The biggest question I had about the 2017 Sooners after he left was "how much of a role has he been playing in maintaining quality control on the defense???"
The possibility that Stoops' departure was going to mean a defensive collapse seemed all too real. It was also possible that he'd largely delegated the concern to his brother and that's why things had been shaky for the past few seasons, but it seems Lincoln Riley might have shared my concerns since he quickly brought in Ruffin McNeil to perform a role (DL coach) that he was overqualified to execute.
I'm a fan of McNeil, but there are three different scenarios for how this fall camp might be playing out. I'm presenting them as extremes here, obviously, but you get the gist.
Scenario 1: McNeil and Stoops are like long lost brothers that unite to form a brilliant tandem with creative ideas and excellent oversight in building the best possible OU defense. Riley barely has to even pay attention.
Scenario 2: McNeil and Stoops don't get along terribly well, McNeil tries to throw weight around early which leads to conflict amongst the staff, confusion amongst the players, and a failure to get things done properly. Riley fails to properly settle the differences effectively enough to save the defensive camp.
(People will tell me that this is ridiculous and that professional at this level would never behave in this fashion. Well, that's what everyone said about Charlie Strong's mishmash offensive staffs in 2014 and 2015 and then later I heard accounts that sounded like what I've described above. Also, you're gonna tell me the coach who was sent to the press box after getting in shouting matches with his players during game action is incapable of unproductive strife?"
Scenario 3: McNeil and Stoops don't get along super well with some philosophic clashes but they manage to find some common ground and unite under Riley's managerial oversight. However, the defense has problems, the fit isn't clean, and Tim Kish struggles to get the young linebackers up to speed leading to early problems. After some early struggles Lincoln Riley decides to pull the plug on Mike Stoops and elevates his man, Ruffin, to the top post. McNeil starts adjusting but they've already lost the benefit of the offseason and fall camp and are well behind the eight-ball in terms of install and development.
I think scenario 3 is most likely, personally. At any rate, there's a lot of reason to believe that this could be an inefficient fall camp for the defense without Bob around to guide things. Oklahoma can't really afford that given how unspectacular they were on defense a year ago and what they're facing in terms of development.
Offseason and fall attrition
I had likely starting free safety Will Sunderland pegged after spring as a great, physical athlete who needed to spend a lot of time in the playbook and in tackling drills to maximize his potential. Sunderland's offseason plan sadly had a different objective. I had middle linebacker Jon-Michael Terry similarly pegged, but he's missed much of fall camp with injury and thus yielded his starting spot to true freshman Kenneth Murray.
I loved Murray's potential based off his high school film, but like every other athlete moving inside in college, he's facing an uphill battle. Check out my podcast with Coach Alexander where he discusses how freaking hard it is to master the inside linebacker position in today's Big 12.
Back in the day Oklahoma was able to get Travis Lewis up to speed quickly as a raw, athletic linebacker and he produced one of the greatest freshman seasons at the position I've ever seen in 2008. 144 tackles, 12.5 tackles for loss, 3.5 sacks, four interceptions…yowzas. Three key differences though, he'd played some LB in high school, he was being coached in college by Brent Venables and not Tim Kish, and he had a redshirt season in 2007.
Back at safety Oklahoma is apparently featuring a three-way battle for the free safety spot between Will Johnson (a JUCO cornerback they converted to nickel), Kahlil Haughton (an athletic safety who's only now a junior), and Chance Sylvie (who I've always liked as a potential B12 safety). If OU plays as much quarters coverage as I suspect this season, they really need that free safety spot to feature a clean up hitter in run support.
Caleb Kelly can help erase mistakes from sam or will linebacker but it's hard to run laterally down the field all day long, you really need that free safety spot to feature steady tackling. The fact that the Sooners have been introducing every possible option at that spot to find an answer is not really an encouraging sign that they feel they have a good answer. Obviously they want to see what kinds of options they have for depth purposes…but it doesn't appear they have a ton of options overall.
Overall the Sooners are going through fall camp with a lot of important questions to answer. DL is another concern but at least they have some experience, some bodies, and two good coaches there to make sure things pan out. But at inside linebacker and the secondary where Tim Kish and Kerry Cooks are in charge of everything? This is a fall camp where you really want good oversight and leadership from the top…
THUD!
***This section has been edited after my misinterpretation of Kelly's comments were corrected***
Buried at the bottom of this recent article on Kenneth Murray's chances at becoming the starting middle linebacker I found this nugget…
Asked about the difference in fall camp compared to last year, Kelly said there has been more "thud" type contact.
Initially I thought this meant "thud" tempo, suggesting the Sooners had de-emphasized live tackling…essentially the worst possible move they could have made. Instead it seems Kelly was trying to say that the hitting was much fiercer and more competitive. That's a great thing.
Mastering live tackling is an essential part of development for Big 12 defenses which are often moving athletes into those positions that played other spots in high school, like Kenneth Murray for instance. These guys face a steep climb in terms of learning how to take on blocks from new angles and how to match routes in coverage.
If you aren't regularly practicing how to take on blocks and bring down ballcarriers with team leverage and good techniques you probably aren't going to be very good at it. That's just a fact. The best defenses in the Big 12 over the last few years were the ones with the most physical practice formats.
If Riley is embracing physical practice formats that's a great sign for the Sooners' long-term prospects of rebuilding their defense. But there's still an increasing number of data points to suggest that the Sooners may not as present in the trenches or the box this coming season. In an improved Big 12 with a rebuilt offense (I'm sure they'll be great, just saying they do have to replace 3 superstars) that's enough to make me think Oklahoma might have a rocky start to the Lincoln Riley era.
In the long term this can be patched with some defensive staff rearrangements and just adding depth on that side of the ball, but 2017 Oklahoma may fall into some negative Air Raid narratives. Like the inevitable accusations that they've gone soft…