Later tonight I'm going to go on the Blatant Homerism podcast to talk the Sooner spring game with Allen Kenney but I figured I would offer some notes here. I'll also do some notes on any other B12 spring games I can get my hands on over the next few weeks. Even Texas Tech…I guess.
Oklahoma played a 1s v 1s, 2s v 2s, scrimmage which is really helpful because you can glean considerably more about where a team is at from those kinds of matchups. Texas used to try and hide their team with 1s vs 2s but the fact that they did so really told us everything we needed to know. They did a few things to make it seem like Tyrone Swoopes wasn't playing terribly but the eye of Ian sees through such things.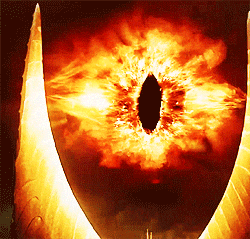 Here are some big picture takeaways and examples from the game, which you can find in its entirety here.
Oklahoma Offense
Spring games are often a zero-sum exercise. If the offense wins the defense loses, and so on. However, I tried to watch the game for a look into what kinds of things the Sooners were practicing and working and who was involved where. I mostly watched the Sooner defense and linebackers, because that's where most of my questions are, but I had a few takeaways from watching the offense.
The offensive line is massive and is looking very strong, as you'd expect given that they return every starter and a few other guys in contention to steal jobs. Watch RT Bobby Evans get out on this tunnel screen and clear out Caleb Kelly: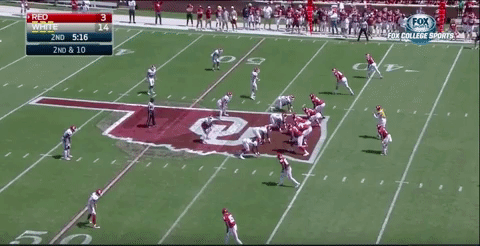 Or Orlando Brown on the same play run to his own side: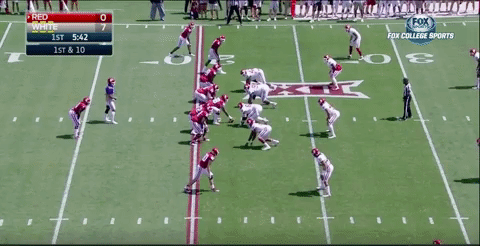 In both instances DT Nevill Gallimore had to clean up in pursuit because the outside linebacker to the side of the screen got taken out. We'll come back to him later though.
Maybe the major revelation of the spring game was true freshman/early enrollee flex TE Grant Calcaterra, who was all over the field with multiple catches. They hit him on a number of different concepts including "Y-cross" where he's working across to the opposite seam, on a hitch-fade combo where he runs the fade from the slot, and on "mesh" where he's finding room underneath against the linebackers.
Here he is running a crossing route:
Honestly Calcaterra was so good in this game I wouldn't be shocked if they frequently paired him with Mark Andrews and made opposing teams make difficult decisions about how to match up. Otherwise I think he'll be more than capable of replacing Andrews in 2018 if the junior has a big year and goes pro. It's a big deal when you can replace a really good flex TE without a drop-off.
I'm sure you noticed that Baker Mayfield had all day to throw that one. The Sooner D brought four most of the time in this game and their pass-rush sans Caleb Kelly (who spent the day dropping back into coverage) and Obo Okoronkwo was not up to the challenge against this OL.
The offense was mostly on cruise control in this game, which may have given the appearance of a great defensive performance but careful observation reveals otherwise. Presumptive feature back Rodney Anderson didn't play much…
Conspiracy theory: Stoops let Rodney Anderson score to show off the RB's speed for the fans without risk of injury: https://t.co/oXsYhAxOt1

— Ian Boyd (@Ian_A_Boyd) April 10, 2017
…and the Sooners didn't run the ball that much in general. They did show some of their QB run game stuff with Mayfield and Kyler Murray both doing some real damage in those concepts. Murray looked pretty good overall, although he got really lost on a blitz once and gave up a sack. I think we know what the Sooners have in Mayfield and I'm not inclined to make much of his day, which wasn't really that great overall.
Here's Murray running his favorite HS play, the zone read with a lead block from the TE: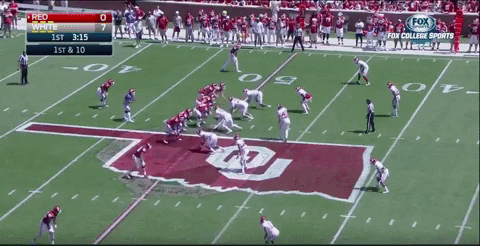 We'll talk more about this later but the run defense from will-backer Emmanuel Beal and FS Will Sunderland on the boundary in cover 4 in this game was really spotty. Sunderland is a rangy athlete back there, way more athletic than Ahmad Thomas, but he doesn't know what he's doing yet. Take this play later on when the Sooners ran their GT counter play for Mayfield: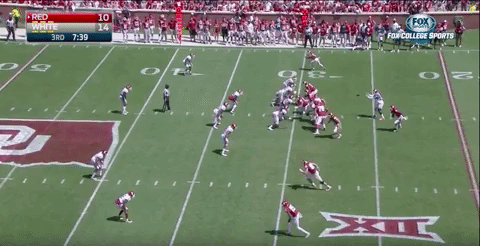 They credit Gallimore (coming in pursuit again) for stopping the play, if he had missed the tackle in live action I'm not at all Sunderland makes the stop before the marker, if at all. This is a really tough defensive call for the free safety and Sunderland was struggling with it.
Let's go ahead and dive in on defense.
Oklahoma Defense
We've spent a lot of time talking about how Oklahoma will use rising sophomore linebacker Caleb Kelly next season and feature his athleticism and play-making but my biggest takeaway from the spring game is that the defense will be built around Jordan Thomas.
The Sooners played a ton of quarters in the spring game, which is a bit more friendly to playing a pass-rush minded space-backer over a DB in your sam/nickel position. The challenge is still what you do against a good slot or against a trips set. One solution is to play "solo" coverage, that rolls the boundary safety over so that the sam/nickel player doesn't have to carry routes deep.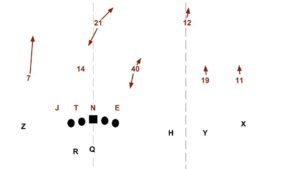 Basically the Sam, field corner (played VERY well in the spring by Parnell Motley), and strong safety play a normal cover 2/4 pattern matching zone over the first two receivers while the middle linebacker and free safety bracket the third slot receiver.
The boundary corner is left to his lonesome, but that's Jordan Thomas so Oklahoma is okay there. This coverage is nice for protecting that sam linebacker from having to play like a cornerback out wide and turns him into a flat defender. He's still gotta cover quick stuff against slot receivers, and that was at times a challenge for Kelly, but it's much less risky than asking him to try and play over a post or fade or something like that.
The problem the Sooners had in this coverage was with Will Sunderland and Jon Michael-Terry trying to navigate their responsibility to bracket the #3 receiver with their run responsibilities. On that Mayfield run above you can see them both taking steps towards the field before realizing they are badly needed to the boundary where the Sooners have pulled linemen and created new gaps.
It can be easy to think that having a great athlete on the back end like Will Sunderland can protect you from mistakes with his ability to erase them but that's not how things work out in reality. Ironically it was Gallimore's ability as an eraser that often saved the Sooners in the spring. When your safety gets caught in the wrong spots it doesn't matter if he's a plus athlete there's still too much space for him to make things right if you're facing a dangerous skill player.
Here's something though, if the Sooners insist on playing their 4-3 defense with Kelly out there they can always leave Will Johnson in that strong safety position (where he played in the spring game) because he's very capable of replacing Kelly and manning a slot when they do actually blitz him. Then they can put Steven Parker in the boundary, giving them the same kind of athletic advantage they had from playing Sunderland there but with a good deal more knowhow and experience to guide things.
The Sooners also leaned on Thomas with some of the few blitzes they brought in this game. They brought the boundary corner a few times, including on this occasion: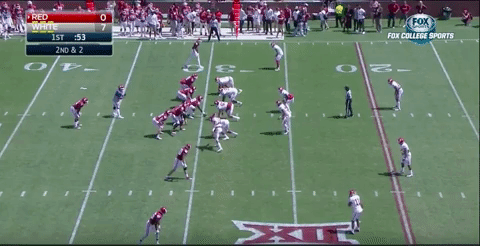 That's a nasty one because it looks like a normal five-man fire zone type call from the field with Caleb Kelly coming but then Jordan Thomas also joins late and makes the tackle for loss. It's just off-man coverage behind them with Beal and JMT (Jon Michael-Terry) covering the RB and TE respectively.
The often lost play of Will Sunderland was a bit concerning to me (on behalf of Sooner nation, of course, I won't personally be sad if the Sooners get shaky safety play) but there's a lot of time to clean that up before the fall and other options with Parker, Johnson, and Kahlil Haughton all offering some other safety options that have played a fair amount of football for the brothers Stoops.
My main interest in the spring game was actually the linebackers, both because they were asking Caleb Kelly to play space-backer all day long and because they are starting over with Jordan Evans moving on. My expectation was that Kelly would struggle to cover in space, Emmanuel Beal would prove to be pretty stout after a decent 2016 and then an offseason as a starter, and that JMT would be a bit slow with his reads. I saw those expectations pan out at times but I saw some other things as well.
Overall Kelly was a bit stronger in coverage than I expected but still every bit as vulnerable as you'd worry. Beal was stout at times but still made a ton of mistakes in diagnosing plays and staying in position. JMT had a slow start but by the end I was growing impressed with his lateral range in the box, especially for such a big guy. Mike Stoops is getting quoted throwing some lofty praise JMT's way and I didn't understand it at all until right about here: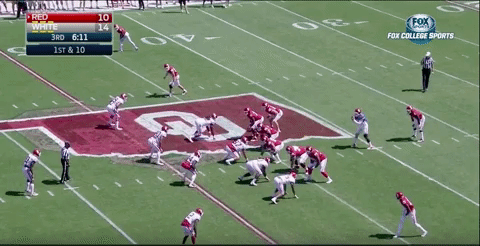 This is actually a gaffe by JMT. It's a counter play by the offense, pulling the backside guard and H-back rather than the guard and tackle. Beal and the Jack LB (Addison Gumbs) both play it properly with the goal of boxing it back in for JMT and the free safety to take care of in pursuit. Gumbs actually gets cleared out a bit but whatever, he's currently undersized and probably third string at that position.
Beal plays it really well triggering downhill and forcing the ball back inside. JMT arrives to make the tackle after a gain but he's not in his gap when he's supposed to be there. Instead he starts by filling the cutback lane, which is Kelly's responsibility, and then has to get off the RT's block to actually get into the right position. All that said, JMT scrapes laterally very easily and plays blocks while doing so with a lot of ease. When he's running to the right spots that kind of agility at his size is going to make him quite good.
Since he's only a RS Freshman I think it's very reasonable to conclude that he has a lot of improvement in his future. These guys made quite a few mistakes in run defense but that can get cleaned up in time. The bigger issue in my eyes was their play in coverage. Playing 4-3 personnel with quarters coverage puts a lot on the linebackers to match routes correctly and cover ground underneath and the Sooner offense picked on these guys pretty relentlessly, particularly with the "mesh" concept:
This time the Sooners are playing the "Solo" coverage that leaves the backside in man coverage. Beal is responsible for the RB so he tracks him to the flat, leaving JMT in a bind trying to handle the two "meshing" receivers over the middle. Easy pitch and catch to Andrews for first down yardage.
Later they ran the same play with the defense in cover 3: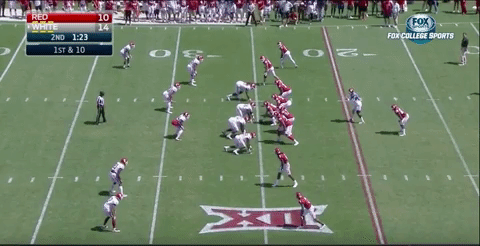 Beal tracks the RB to the flat again, which is probably wrong because there's a safety dropping down now, and again JMT is caught in no-man's land trying to pick up the crossers. Kelly's lateral range and tackling on these is valuable but he can't save his compadres inside from getting isolated and attacked here, especially with this kind of pass protection.
Now much of this will be sorted out in summer 7-on-7 drills and fall two-a-days but currently the Sooners are every bit as young and vulnerable in the interior of their defense when trying to handle modern spread concepts as you'd think. Their DL was alright at protecting them, not great. Gallimore is a really disruptive player but he can be had with double teams, the nose play was solid.
However, they seem to have three corners now that can play with Jordan Thomas, Jordan Parker, and Parnell Motley. They have some big and really talented linebackers in Obo, Kelly, and JMT, and they have some options at safety. It's possible that they'll put all of this together into a fine defense over the course of the 2017 season but you should definitely expect to see a lot of hiccups along the way.
The offense should be able to cover for them against most teams but I can think of at least one notable exception.