So word on the street is that Oklahoma is looking to play more four-down fronts next season and also that Caleb Kelly is likely to maintain his job as a starting outside LB opposite Obo Okoronkwo.
It seems from Bobby's comments on the matter that he feels that four-down allows Oklahoma a better shot at creating a consistent pass-rush than playing three-down. As a general rule I don't think this is really accurate. The 3-4 defense is excellent for generating pressure for the obvious reason that the offense has a more difficult time determining who they are going to have to block before the snap. Instead they have to diagnose more after the snap.
Lots of teams these days are enjoying the 3-4's ability to bring interior pressure as part of a four-man pressure while dropping both OLBs and taking away the seams: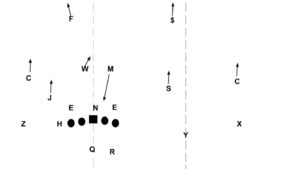 That's a really useful card to play against spread offenses because it handles some of the spread's strengths while attacking its weaknesses. The OLBs are generally well positioned to help bracket the slot receivers, whom spread offenses love to target, and if the blitzing inside-backer is good then you can get the kind of quick inside pressure that often spells doom for a passing attack.
The Giants beat the Patriots in the Super Bowl twice because Justin Tuck had two sacks in each game (and a forced safety in the second game) blitzing from an inside alignment. You know what's easier to find than a 6-5, 265 pound freak that can rush the passer from the edge or inside? A LB that's good at the insert blitz drawn above.
But the Oklahoma Sooners don't even know who their inside-backers will be next year. They are returning only one proven pass-rusher from 2016 in Obo Okoronkwo and their next most promising guy in that role is fellow OLB Caleb Kelly.
The unspoken issue is that Oklahoma keeps losing out on top DT targets in recruiting and teams have been recruiting against them by telling players that they don't want to go eat blocks in Norman when they can attack the backfield somewhere else. Stoops is hardly likely to mention that angle as his primary rationale here but I'm sure it's a significant factor as well.
Anyways, Oklahoma's challenge in 2017 is how to get the most out of a pair of excellent OLBs in their pass-rush. The most obvious path is to use Caleb Kelly in the "Roy-backer" role that we should probably rename after Eric Striker in light of the skill sets involved here.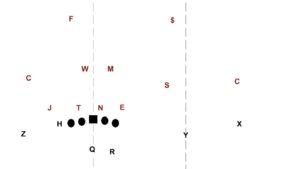 Caleb Kelly is at the "sam" linebacker position and can work off the edge or play underneath in coverage as needed, Okoronkwo is still at his "jack" linebacker position and he's on the edge where he can rush from a stand-up position or still drop into coverage to maintain some disguise in the scheme.
But there are some problems with having Caleb Kelly lined up out wide on that slot receiver…
The trips problem
Playing the 6-3, 221 pound Caleb Kelly out wide over the slot receiver is a questionable tactic in the Big 12 regardless of the trips problem. Spread offenses love to use the slot to attack teams and even with Steven Parker at the strong safety spot behind him, this is an exposed alignment for a guy who was recruited to rush the passer.
But the trips problem seriously exacerbates the issues, as you can see from this view: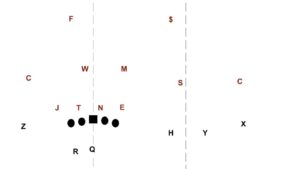 As a sam linebacker here Kelly is lined up pretty far wide to effectively blitz the edge and if you move him closer to threaten a blitz you give away your coverage call (that safety and mike linebacker are going to have to play man coverage on the two slot receivers).
Even if you limit the occasions that he blitzes this formation, which is conceding a lot, he's still a major liability in coverage because you don't want to have to lean on any coverage call that asks him to carry a slot receiver on a vertical route. The number of possible coverages and blitzes that the OC and QB have to worry about becomes minimal in a hurry and then they start targeting your weak spots with ruthless precision.
So in essence, with Kelly as a field outside linebacker opponents can turn to a very common formation to make Oklahoma predictable in the pass-rush and vulnerable in coverage all in one fell swoop. Not a great outcome for a team trying to win in a passing league.
The solution? Two-down.
The 2-4-5 is the way that Oklahoma can get the benefit of having a pair of great outside rushers without getting exposed on the perimeter. It's a four-down structure but the DE positions are staffed by outside linebackers playing stand-up techniques instead: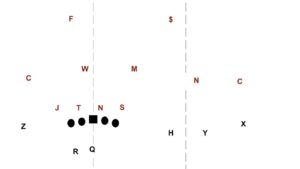 Now you have a lot more flexibility out wide with man coverage from the strong safety and nickel over the two slot receivers as a realistic option. Getting man coverage from Steven Parker, Will Johnson, Jordan Thomas, and CB no. 2 (Jordan Parker) and a pass rush that includes both Kelly and Obo is a winning set-up for the Sooners in pass defense.
I can't even remember a Sooners defense that was that threatening with what they could do in a base four-man pressure. They probably haven't had something that potent since Venables left.
But what about the run defense?
The question with the 2-4-5 is whether you want to make it your solution to all spread sets or if you want to use it when offenses take the TE out of the game and bring in a fourth WR. Against a TE, perhaps aligned as an H-back, then the 2-4-5 has to deal with issues such as this one: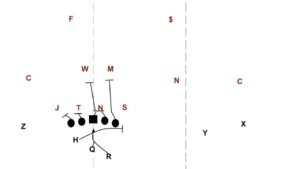 On this popular "split zone" concept Kelly would have to deal with a kick out block from an H-back from across the formation. On a "counter" run it'd be the same story but now Kelly would be contending with a guard. Obo would have to deal with all of the same issues, of course, and at 6-2, 240 he's not exactly a big thundering threat against the run either.
It's possible to handle these concepts from a 2-4 if your outside LB/DE guys are good against the run, Wisconsin did this last year quite effectively but they had Vince Biegel (6-3, 246, about to be drafted) and T.J. Watt (6-4, 252, about to be drafted) both of whom were big, powerful, and well trained in this style.
The Big 12 isn't as physical or big on the edges as the Big 10 but it could still be a challenge for Obo and Kelly, particularly in year one in the scheme. So the Sooners may choose to handle TE sets with the 4-3 illustrated above. However, they'd still be vulnerable to a pulling guard kicking out Kelly from a four-receiver set and they'd still vulnerable to a compromising trips formation when three WRs are on the field with a TE.
In Mike Stoops first season at Oklahoma he had Corey Nelson on the team yet chose to emphasize pass defense over run defense and rolled with a nickel/dime defense that regularly featured the Sooners in a 4-1-6 package against teams that played with four receivers. The result was that the Sooners were murder against the pass but were gashed by the run trying to play with a 5-man box.
Since then the Sooners have often trended in the other direction, sacrificing passing defense for run defense. Caleb Kelly's potential as a playmaker is going to force them to make a tough decision again about whether they'd like to try and mitigate some personnel issues against the run or against the pass. It'll be interesting to see what Big Game Bob and cautious Mike determine is best.