This is the big one, the highest rated B12 class and by a very wide margin. That success led Zack Kram of the leader to speculate that this class might push Oklahoma back into playoff contention.
I'm going to play my favorite role as the contrarIAN and note that Oklahoma's recent run of success that rescued them from the mire and subjugation at the hands of Art Briles and Baylor had less to do with recruiting than acquiring Baker Mayfield.
And how did Oklahoma acquire Baker Mayfield? Lucky happenstance. He's an ultra-confident kid that felt that he'd put out a resume at Texas Tech as a freshman that should earn him a starting job in the Big 12 and when Tech didn't give it to him Oklahoma was finally smart enough to get word to him that they'd be happy to have him. They probably could have had him out of high school with a preferred walk-on offer and certainly with a scholarship, just like everyone else in the Big 12.
Over the course of this decade OU has never really lacked an athletic advantage over the rest of the Big 12. They've consistently been the biggest, fastest team in the league with Texas as their only real competition in that realm and the Longhorns have regularly failed to develop their athletes to do more than give OU a bit of a scare every October.
The two areas where Oklahoma needs help don't have to do with their athletic advantage against the rest of the league although maintaining or widening that edge is hardly a bad thing. What they need are more QBs like Mayfield that can guide the program and maximize their offensive firepower and experienced upperclassmen in their defensive backfield.
The Sooners regularly have great DBs but they've really struggled to put trustworthy, program players at all five DB spots in a given year. It's frankly ridiculous that a secondary with Jordan Thomas and Steven Parker should be as porous as Oklahoma was in 2016 but they were and that was due to inexperience across the rest of the secondary.
Other interesting notes about Oklahoma include the "where did they come from" questions about their class and their decision to move back to a four-down front from their 3-4 defense. I can tell you with a solid amount of confidence that the decision to go four-down is out of a desire to close the "market inefficiency" in regional recruiting for 3-technique DTs. OU had a really lousy sales pitch to make to disruptive DTs while in the 3-4 and had a lousy sales pitch to make to Charles Walker to stick around rather than leave for the NFL.
If they find they have an excess of edge-rushers as a result of recruiting to the 3-4 they can always play more of a 2-4-5 front and still position their DTs to get up the field.
As far as regional recruiting, Oklahoma changed things up a bit this year. Rather than culling their best players from California they snagged seven Texans, four from the DFW metroplex, two from the Houston area, and one kid from West Texas. They took five players from the south with two of those coming from talent-rich Louisiana and then another player from Florida. Only two Californian high schoolers joined this class and given how well that pipeline has gone recently that may be a good thing.
Perhaps most interestingly, Oklahoma took six players from the state of Oklahoma itself, which also provided Oklahoma State with a surprisingly solid crop. In his presser, Mike Gundy expressed some surprise that funding across Oklahoma public schools was down yet the football produce actually seemed to be improving. I've got a simple answer…fracking.
Football is very much a communal sport and without strong communities to fund the programs, allow for "affordable family formation," and result in multiple middle class homes where parents can urge their sons on to gridiron greatness and martial disciplines, you don't get the same caliber of football programs. Oklahoma is a growing state with increasingly more money and prospects for middle class families, who tend to produce the strongest football programs. That's good news for these two universities.
Anyways, I think landing so many kids from the region will pay off for Oklahoma down the stretch since these kids will be more likely to adjust well and feel communal pressure to maintain the Sooner tradition. As will the fact that a whopping 11 of these signees are early enrollees. With kids that have nearly college-ready bodies like the ones Oklahoma often signs, getting them in a spring early is almost like getting a greyshirt.
Offense
Quarterbacks
Lincoln Riley was running a pretty standard Air Raid before coming to Oklahoma where he revamped his offense to emphasize the run game. I think so long as Bobby is running the show the Sooners will look to emphasize the run game and the QB will be an option facilitator either with the RPO passing game or with QB run reads if he has that ability. They'll always want to fling the ball out wide but quick-thinking facilitators have to be a big part of the formula.
Chris Robison: 6-2, 195. 4**** from Mesquite, TX. IT #29
Robison reminds me of Landry Jones in terms of previous OU signal callers. He's a pretty good athlete (better than Jones) but he mostly operates from the pocket and even when he moved out of it he liked to use his shoulder-mounted cannon to throw strikes down the field. As solid of an athlete as he is I don't think he's wired to run like Mayfield.
Robison is good at reading the leverage of defenders and then firing the ball into the window at the right time, which is everything in the spread passing game. Leach used to kill people with guys that could do that well but Robison throws with better velocity and accuracy than your typical spread passing QB. If they can protect him and set him up with a run game and targets (duh, of course they will) he could have some amazing seasons.
Grade: B+
Robison seems a better fit than some of the pocket passers the Sooners have signed in previous classes, largely because he seems less like a raw prospect with a great arm and more like a kid that already understands how the passing game is supposed to work. I'm not sure how high his ceiling is in the college game, depends on his mobility and how well his athleticism translates to running the ball, but he definitely helps guarantee that their ability to run the ball and put dominant WRs on the field isn't wasted.
Running backs
Oklahoma runs a lot of gap schemes now with pulling action in addition to their traditional inside/outside zone pairings. In that system I think backs with a little more wiggle and ability to make cuts and get going vertically are more of a prize than the "plant and go" outside zone guys they've often taken in the past. Change of direction and downhill power would be prized attributes now.
Also, they could use some numbers since they just lost two NFL-caliber backs to the NFL…maybe. We'll see what different teams make of Mixon's situation.
Kennedy Brooks: 6-0, 197. 4**** from Mansfield, TX. IT #53
Brooks strikes me as a high floor, low ceiling kind of back. His sparq results: 4.66 40, 4.30 shuttle, 33.9″ vertical, 32′ toss suggest he's good athlete but he's playing a position normally stocked by elite athletes. That said, he's got good vision and a knack for stopping and cutting back against the grain. He'll probably end up being pretty sturdily built but I'm not sure if he'll ever be much of a home run hitter.
Trey Sermon: 6-1, 215. 4**** from Marietta, GA
Sermon is one of three "Tre's" in this class, which is kinda fun. He's not much more of an athlete than Brooks but the difference is that he's big and 4.6/4.7 speed from a 215 pound guy is much different than when it's coming from a guy who's like 190. F=MA.
He's really fun to watch due to his powerful stiff arm and like Brooks, he's quite capable of changing course to hit creases in the box. He'll probably be a really good one and may get playing time sooner than later if he can fill the Perine vacuum for a power back.
Marcelias Sutton: 5-9, 188. 3*** from Scranton, PA (JUCO)
Another product of Lackawanna CC, which seems to send about a dozen kids to the Big 12 every year. As a big fan of "The Office," I always get a kick out of that. Sutton is a scat back but he's pretty fearless and sturdy running between the tackles. He's good at using his lateral quicks to dart wide of linebackers after they initiate contact or churning his legs to give himself a chance to burst through to daylight when he hits traffic. I'm a big fan and suspect he may have a chance to play immediately as well, which was probably why they signed him.
He might be able to fill a little bit of the Mixon role for serving as a target out of the backfield or even flexed out wide but it's probably foolish to expect anyone to match Mixon's absurdly wide skill set.
Grade: B
The Sooners got a lot of solid players in this class but I'm not sure there's another Mixon or Perine in the bunch unless Trey Sermon becomes the next Earl Campbell, possible but not probable. I don't think they'll struggle to run the ball, they virtually never do, I'm just not sure if there's a truly transcendent talent in this bunch.
Ancillaries
The Sooners have long been pretty fond of the versatile fullback and also have a pretty solid tradition going of fielding really dangerous flex TEs. Matt Clapp, Trey Millard, Aaron Ripkowski, and now Dmitri Flowers highlight the first group. Jermaine Gresham, James Hanna, and now Mark Andrews are some good representatives from the latter group. I'm not sure if they're always looking to stock those spots or if they just like making room when they find guys that fit the bill.
Jeremiah Hall: 6-2, 224. 3*** from Charlotte, NC
Hall reminds me more of guys like Millard or Flowers who can wear a lot of different hats and perform a lot of different roles at a reasonably high level. He runs pretty good routes but he's not a guy that will terrify you in the seams. He throws pretty solid lead blocks but he's not currently at the level where he could be trusted to kick out a good DE on power…not that OU even really asks anyone to do that save for pulling OL. I think he'll get into the program and learn at Flowers' feet and perhaps become a really valuable ancillary in the future.
Grant Calcaterra: 6-4, 207. 4**** from Rancho Santa Margerita, CA
One of the only Cali studs in this class for the Sooners. Obviously he's currently well underweight to play as a traditional TE but he's plenty big to serve as a flex TE and he's an excellent route runner. He has great quickness in and out of his breaks and he can actually do some damage after the catch that won't be diminished when his frame fills out to 230 or so. His ability to accelerate out of his cuts reminds me a bit of Jace Amaro.
Grade: B+
They didn't grab any truly impressive blocking prospects but their system doesn't really require that anyways. Hall should be a useful, mobile blocking surface down the line and Calcaterra may be an elite weapon on the perimeter because of the matchup problems he'll cause.
Wide Receivers
This group is mostly what has people raving about this Oklahoma class, which is stunning in light of Oklahoma State's WR class which I think is phenomenal. I tend to think everyone's WR class in the Big 12 is pretty impressive and everyone can snicker if they like but the fact is that most everyone in the Big 12 produces a 1k yard receiver every year.
The talent at this position is such that it's really hard to gain an advantage over the rest of the league with your WR group unless you have two dominant ISO guys that can't be left in single coverage or you have a chain-moving possession guy (like a flex TE) that is simply unstoppable on third down. They may have found the latter guy in Calcaterra, let's see what else they got…
Charleston Rambo: 6-2, 170. 4**** from Cedar Hill, TX. IT #17
Rambo initially reminded me of Kenny Stills. He's a 4.5 type burner who has more than just straight line speed and he's really hard to cover on really any kind of route because of his quickness. His hands are pretty good as well although at his current weight he's not a guy that you can count on to muscle out DBs for jump balls. Dede Westbrook may end up being the better comp than Stills, and like Dede Rambo is a guy that would really benefit from lining up to the same side as Calcaterra so he could play off the line like Westbrook and get a free release.
CeeDee Lamb: 6-3, 172. 4**** from Richmond, TX. IT #5
Eric Nahlin is really high on Lamb, it seems like most everyone is and if you turn on his senior HUDL the first play will reveal why. It's an absurd one-handed catch going over the middle on a ball thrown both high and behind Lamb. His body control and hands when going up to get the ball are top shelf, it's really hard to stop him from coming down with the ball and that's going to make him hard to cover with just one guy. His speed isn't elite but I can think of another guy that killed in the Big 12 with some similar attributes.
Marquise Brown: 5-11, 170. 4**** Valencia, CA (JUCO)
Brown I think will be the heir to Oklahoma's line of smaller, explosive WRs that have proven impossible to cover in crimson in the past. Here's a glimpse of that line, which is truly amazing: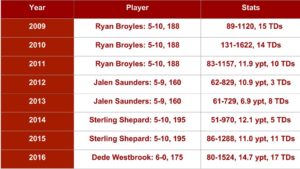 Glancing at that table I'm considering maybe I underrated Westbrook a tad…what a monstrous season, albeit surrounded by great talents at virtually every other skill position. Broyles' 2010 season was amazing just for the sheer volume of plays that he was involved in…musta been before teams realized you have to cover down on bubble screens. The dip in 2013 is attributable mostly to OU switching back and forth between Blake Bell and Trevor Knight at QB as they had both Saunders and Shepard that year.
Anyways, Brown is lightning quick off the line of scrimmage and is nearly impossible to cover underneath and he's an early enrollee to boot. I think he'll be next to wield the ceremonial mace of the House of Broyles.
Grade: A-
This is a good group, it won't shock me if all three are highly productive targets down the line for OU. The numbers here are a tad low but I doubt that really hurts the Sooners given how often they play a TE or FB and the fact that Calcaterra basically counts here. One obvious, elite deep threat would have been scary to see and I'm not sure if they got one here.
Offensive line
Counter-trey is now the dominant run game scheme at OU but inside and outside zone are still big pieces of the pie. In general I think they want big, tall athletes at just about every position and the way they block their schemes puts less of an emphasis on rooting out DTs and more on using angles and movement to blow open holes. That's almost more of a pro-style approach these days as a huge chunk of the NFL's guards are converted collegiate tackles chosen for their aptitude in all-important pass protection.
Everyone at Oklahoma pulls. They pull their center, their guards, and their tackles. They can make use of guard prospects but given the parameters of their offense they might as well just snag as many tackles as they can because their scheme is friendly to guards that don't excel at getting low and rooting out DTs.
Marquis Hayes: 6-6, 335. 3*** from Maryland Heights, MO
Hayes is listed as a guard by 247 but he looks very capable of playing tackle to me. Of course at OU that doesn't matter as much and the caliber of player they often bring in on the OL is such that moving to guard is highly likely even if he can play tackle. He's really good at advancing to the second level to find guys to block and I can only imagine that will improve as he remakes his body in Norman.
Tyrese Robinson: 6-4, 310. 4**** from McKinney, TX. IT #16
Robinson is also listed at guard and perhaps more likely to end up there than Hayes but only due to lack of length because this kid is a stud. He's excellent on the move and pulled a lot from the tackle position in high school which will be invaluable for understanding and executing their counter-trey scheme. He's also good at playing lower and drive blocking guys and could bring more viability to their inside zone plays.
Adrian Ealy: 6-7, 300. 4**** from Gonzales, LA
Ealy plays with good knee bend, which at 6-7 means he's pretty flexible and athletic, and when he gets on a dude it's over for that guy. His lateral burst out of his stance is really good and he executes some reach blocks that are pretty amazing for such a big man, I think this is the left tackle of the bunch.
Creed Humphrey: 6-4, 301. 4**** from Shawnee, OK
Humphrey is another guy that could make inside zone viable because he does great work in the trenches getting under DTs and taking them on a ride. He's also good working on double teams and then coming off to find a LB at the next level or pulling and kicking out DEs on counter/trap plays. He keeps his feet moving all the time and is just an exceptional athlete, the best of this group. Most seem to have him pegged for center, wherever he ends up I think they'll be running behind him a lot.
Grade: A
This was the most impressive part of Oklahoma's offensive class, in part because you know that OL coach Bill Bedenbaugh will easily mold guys with this kind of size and athleticism into a really dominant group. Consistently putting out road-grading beef has been perhaps the foundational success of the Bob Stoops era at Oklahoma, they've had a ton of really good and really big guys rolling through here and many of them are now in the NFL.
Defense
Defensive line
Like I noted in the intro, OU is moving to a four-down front so that they'll stop losing good DT prospects to other regional powers. With Texas perhaps moving to a 4-0-4 this could position Oklahoma as THE school for 3-techniques in the state of Texas. They'll still need nose tackles as well but they didn't stop recruiting and developing at that spot.
Tyreece Lott: 6-3, 255. 3*** from Ardmore, OK
Lott is currently undersized but very quick laterally with room to grow. I'm sure they'll give him a chance at the 3-technique and we'll see if his DE athleticism translates to blowing past guards. One thing to watch for will be whether OU doubles up on edge-rushers in a sort of 2-4-5 alignment or if they play a strong side DE in more of an Under front. Lott would probably be at his best paired with a DE/OLB outside of him that you don't want to run on so he's not regularly doubled. Lott's lateral quickness could really translate in Oklahoma's blitz package on loops and stunts.
Troy James: 6-4, 275. 3*** from Baton Rouge, LA
James has a similar skill set as Lott but in a bigger frame coming into college. He projects as a potentially terrifying 3-technique, especially in long-stick blitz techniques like they used to use with Gerald McCoy back in the day. He played a DE/OLB spot in high school, which is kind of incredible, but it means that he's capable of making zone blitz drops as well, which could also be useful.
James and Lott's background and versatility could both be really useful if OU wanted to get aggressive with their zone blitz strategies again.
Zacchaeus McKinley: 6-4, 300. 3*** from Weatherford, TX. IT #37
I agree with Nahlin that McKinley is underrated, he's got a big frame and clearly moves well at 300 pounds. They played him at the nose in high school, which isn't a glorious position and services usually like to boost the ratings of guys that spend their time shooting into the backfield high rather than big dudes that are good at battling double teams and owning the A-gap.
McKinley could be good enough to grow into a two-gapper or perhaps an Under front nose (again, if they want to go in that direction). He's athletic enough to be a hard target but big and powerful enough to go to war in the trenches.
Addison Gumbs: 6-4, 220. 4**** from Hayward, CA
Gumbs is an early enrollee and between that and the time he'll have to spend on the bench learning from Obo Okoronkwo and Caleb Kelly he should be able to learn a lot about how to translate his brilliant speed and flexibility into pass-rushing gold.
In high school he often came unblocked off the edge and just wreaked havoc with his closing speed. He's pretty good now when engaging with OL and can work inside off the outside move, he should be great in time.
Isaiah Thomas: 6-5, 230. 4**** from Tulsa, OK
Another ultra-sudden, very tall DE for the Sooners. Thomas also made a lot of flat drops in high school and while he wasn't a brilliant technician there he wasn't stiff in space and he's smart about using his length when either dropping or rushing to get his hands into the passing windows. He's really raw and athletic and like Gumbs, he could be special in time.
Surely the Sooners are going to play a 2-4 type look, even if they have their edge guys get their hands in the dirt at times, because their roster is loaded with DE/OLB weak side players. If half of them develop this defense won't be much fun to throw against in coming seasons.
Grade: A-
The Sooners didn't get the elite high school 3-technique but honestly that guy often emerges from prospects like Troy James after receiving coaching and college S&C anyways. They did get a pair of potentially dominant DEs to maintain their ability to bring terror off the edge and they also got a guy that projects well as a nose tackle to protect all of the disruptive athletes that are also in this class. God knows their LBs might need that latter player in a big way.
Linebacker
Oklahoma's LB development over the last few years hasn't been terribly impressive, unless you're counting their OLBs like Striker or Obo which have been terrific. Last year was the first that Jordan Evans looked really comfortable and great as an ILB and they struggled to find another ILB to put next to him after Tay Evans retired.
Moving to a four-down front will actually help protect them a tad more from having to beat guards in the box but now you have to worry about advancing tackles on the edge against zone concepts. Lateral speed will now become the priority over downhill power. "Cerebral" play, as Gundy put it, is still paramount.
K'Jakyre Daley: 6-3, 220. 3*** from West Palm Beach, FL
Daley is the kind of player that Texas has been losing with for years. A really good attacking player that served mostly as a blitzer in high school who must now learn to play as a traditional linebacker. As good a blitzer as he is, I don't think Daley has a chance at DE/OLB now that OU is going to a four-down look and given all of the fantastic DE talents they have both in this class and on their roster.
He's solid pursuing the ball laterally but at his best coming downhill, so I think the best hope would be that he can learn the middle LB position and translate that power into gap control.
Kenneth Murray: 6-2, 215. 3*** from Missouri City, TX. IT #26
We have some Sparq numbers on Murray and you know how I love to pass those along. He ran a 4.68 40, 4.34 shuttle, jumped a 34.6″ vertical, and tossed the ball 42.5′. He's a powerful, sudden athlete who served in a lot of different roles in high school including strong safety and edge-rusher. He might grow into a guy that'd have been intriguing as a Jack DE/OLB backer but I doubt that's his future given the direction OU is going in. Given his play at SS and overall versatility I think he might have a bright future if he moves inside to mike or will. He'd be a plus athlete pursuing the ball from the weak side ILB spot.
Levi Draper: 6-4, 222. 4**** from Collinsville, OK
Draper is remarkably fluid in space for a 6-4 dude and can change directions and run like some of the better OU LBs of yesteryear. I think where Murray or Daley ends up will likely depend on where OU feels Draper fits best because he's the best of the bunch and he's actually been playing the position for some time now. I'm honestly shocked they found a dude that can move laterally this well who's also this tall, he's a dream prospect for a defense that has to defend the spread.
Grade: B-
The problem I see for OU is that they took mostly guys with raw talent that will need to be groomed and taught to play the position. Linebacker is becoming increasingly difficult to play at a high level in the Big 12 because of the way offenses attack the position mentally and spatially. The Sooners did well to get some athletic guys but they'll have to prove they can teach the position well or it won't translate.
Defensive back
Oklahoma has landed so many great athletes here over the last few years yet so many have failed to pan out and left them without good options at cornerback. I figured Stanvon Taylor was a can't miss athlete but he never amounted to anything. Michiah Quick seemed similarly gifted but he got injured and then kicked out of school before he tapped into his own potential at CB. The Sooners are very fortunate to get Jordan Thomas back for one more year and they really need to find another lockdown option AND some other guys that can play.
At safety the Sooners need a guy or two who can cover down over a slot but also some traditional intimidators that can lock down the middle and tackle.
Ryan Jones: 6-2, 219. 4**** from Charlotte, NC
Jones is a big, fluid kid from the South that played some WR/CB in high school despite being larger than some B12 LBs. Interestingly, I tend to think he might end up at LB because as athletic as he is, I'm not sure if he can hold up on the back end in the Big 12. He's really good at enforcing deep zone and playing the ball in the air so he might stick as a free safety but such a big, powerful kid that moves so easily would make a lot more sense in this league as a linebacker.
Robert Barnes: 6-3, 195. 4**** from Southlake, TX. IT #21
I also have doubts about Barnes sticking at safety, given his 6-3 frame and likely destination as a 220 pound thumper. Barnes is faster than Jones though and a little more athletic to cover range on the back end. At Southlake Carroll they used him largely as a boundary safety that would help them get extra numbers in the box and many of his highlights consist of him running plays down to the field that were probably run to avoid him. Boundary safety would be his likely fit at OU, or perhaps even weak side linebacker.
Tre Norwood: 6-0, 175. 3*** from Fort Smith, AR
Norwood is a good athlete that played some spread-option QB in high school and showed a lot of wiggle and acceleration running the ball. In coverage he's pretty physical with a frame that has room to add more productive weight and he's comfortable using his eyes to guide his feet in deep zone. With this size and range he projects pretty darn well as a corner in Oklahoma's preferred cover 3 defenses.
Justin Broiles: 6-0, 175. 4**** from Oklahoma City, OK
Broiles has pretty loose hips and good size and might be able to hold up playing press coverage but he's also a physical hitter and a good tackler in the open field. I think he's probably a nickel or cover safety for Oklahoma, particularly if the previous two safety prospects don't end up panning out trying to cover ground on the back end at 220.
Tre Brown: 5-11, 178. 4**** from Tulsa, OK
Brown is an elite athlete, the best of the entire class for my money, and his testing results are stupendous. 4.45 40, 4.12 shuttle, 39″ vertical, and 38′ power toss. That's one of the best athletes joining the Big 12, period, and to get that in a guy that's 5'11" is pretty great at cornerback.
He plays flat footed at times on film, which you can't really do at CB but he easily got away with because of his speed, and used the cheat to impact the run game. When you see a guy that's not huge but is insanely fast using his athleticism to help create opportunities to support the run that's generally a good sign. He'll have a lot to learn at OU but with his quicks he seems like a no-brainer.
Grade: B-
The numbers here are good but two of these guys are kind iffy fits at safety in the Big 12 and you need real numbers to be able to play sub-packages and avoid having glaring weak spots in coverage. It's amazing to me that OU would fail to bring in more obvious coverage athletes given how many times in the last few years they've struggled to have enough on the roster. On the bright side, Brown and Barnes seem very likely to contribute at a high level and the overall level of athleticism here is high. If they have a higher hit rate than in the past they should be fine but the margin for error isn't great.
In summation…
The Sooners signed a lot of guys that have real athleticism and versatility but lack obvious fits in a modern defense. This used to be their calling card, signing tons of athletes and them teaching them to play an aggressive brand of defense but they've lost a lot of their knack for aggressive, confident play since pushing out Venables. If they can find some roles for these guys and produce some Jordan Evans' and Eric Strikers' from this bunch, guys that learned how to translate athleticism and versatility into productive roles, then perhaps upcoming Oklahoma defenses will really be something to behold.
On offense they signed a massive group of OL and a cast of skill players that individually range from "quite good" to "potentially elite" but whom altogether with Chris Robison will likely prove to be devastatingly effective.
I see a normal Oklahoma class that's likely to produce teams that win a Big 12 title or two but will probably still struggle to be as complete and deep as you need to go to the playoffs and beat the better teams at that level. I'm not sure why they were rated as high as they were, honestly, because besides at WR I don't see much different from the quality that they normally sign and I've noted the challenge of trying to win by recruiting WRs.
The missing edge to be had for OU is in recruiting DL and DBs so whether or not that crop pans out will likely be more impactful than whether Rambo and Lamb turn out to be as good as we all think they might be.