Kenneth Murray is currently the second highest ranked, draftable Big 12 prospect on ESPN.com's big board. No. 1 is his teammate CeeDee Lamb, who's a pretty non-controversial option due to solid athleticism (for his position) combined with obvious skill and completely dominant film. No. 3 is apparently Ross Blacklock, which I think is pretty questionable but maybe we'll talk about that another time.
Kenneth Murray is a really interesting guy to rank so high. My man Derrick Klassen did a thread on him over at Twitter in which he came away shocked by Murray's lack of linebacker skills combined with his extremely high draft rating:
That's a running video of multiple examples where Baylor runs GT counter and Murray misplays it the same way every time. There's other clips below as well in the thread.
Murray is a pretty fascinating player with a strangely long history in the Big 12 as a starting linebacker for a perennial contender. The more I've reflected on his career at Oklahoma the more I think that his NFL upside isn't necessarily what's been projected from him.
Kenneth Murray's profile
I've read a couple of bits on Murray here and there and they are a nice peek into the level of analysis that goes into a lot of reporting on the draft. I kept reading things like, "field general," "three-year starter," "tackling machine," "highly instinctual," and "day one starter."
It's true that Kenneth Murray started as a freshman at Oklahoma in 2017 and that he had some big numbers statistically. In 2017 he had 68 tackles, seven TFL, and one sack. In 2018 he had 155 tackles, 12.5 TFL, 4.5 sacks, and two pass break-ups. Last year with Alex Grinch he had 102 tackles, 17 TFL, four sacks, and four pass break-ups.
Those are big numbers for a "middle linebacker" and he's played in a ton of big games, albeit with generally poor results for his team. Then Murray showed up at the combine and dropped the following numbers:
6-2, 241 pounds, 4.52 40 time, 38″ vertical leap.
Off the field Kenneth Murray is an outstanding character who works hard at his football craft and doing what he can for his family (three special needs siblings). He was also an outstanding character for Oklahoma that helped them keep a flailing defense just intact enough in 2017 and 2018 to win the Big 12 and reach the playoffs.
Lots of NFL teams see the production, the athleticism, and the character and say "yeah, we're going to bet on that."
Murray's time at Oklahoma
Murray was listed as a 3-star outside linebacker coming out of Houston back in the 2017 recruiting class cycle. Texas wasn't particularly interested in him under Charlie Strong and whether Tom Herman and his staff wanted him or not it was too late to try and pry him from Oklahoma by the time he took over in Austin. One of many raw talents from the state of Texas that went on to stardom in Oklahoma, including one of many linebackers.
Murray tested at a SPARQ with a 4.68 40 and 34.6″ vertical at 6-2, 215. The 26 pounds of muscle he added at Oklahoma only served to make him even faster and more explosive, he probably also learned a thing or two leading up to the combine on how to run a 40 well. He actually played safety at Elkins High School but because of his size he was an obvious future linebacker. Here's what I wrote about him in my 2017 Oklahoma class breakdown:
Kenneth Murray: 6-2, 215. 3*** from Missouri City, TX. IT #26

We have some Sparq numbers on Murray and you know how I love to pass those along. He ran a 4.68 40, 4.34 shuttle, jumped a 34.6″ vertical, and tossed the ball 42.5′. He's a powerful, sudden athlete who served in a lot of different roles in high school including strong safety and edge-rusher. He might grow into a guy that'd have been intriguing as a Jack DE/OLB backer but I doubt that's his future given the direction OU is going in. Given his play at SS and overall versatility I think he might have a bright future if he moves inside to mike or will. He'd be a plus athlete pursuing the ball from the weak side ILB spot.
Of course Mike Stoops was running a two-gap, 3-4 defense at the time and had to plug Murray in immediately as a two-gapping inside linebacker. What a tough start for the young kid.
I had an interesting interaction with Murray at Big 12 Media Days in 2018 in which I asked him about the defense's struggles with inside zone, spread run schemes. You can go back and look at Stoops' defenses from 2012 through 2018 and repeatedly find his units getting gashed in big games by teams that use different tactics to confuse gaps and lead the Sooners to leave interior lanes wide open.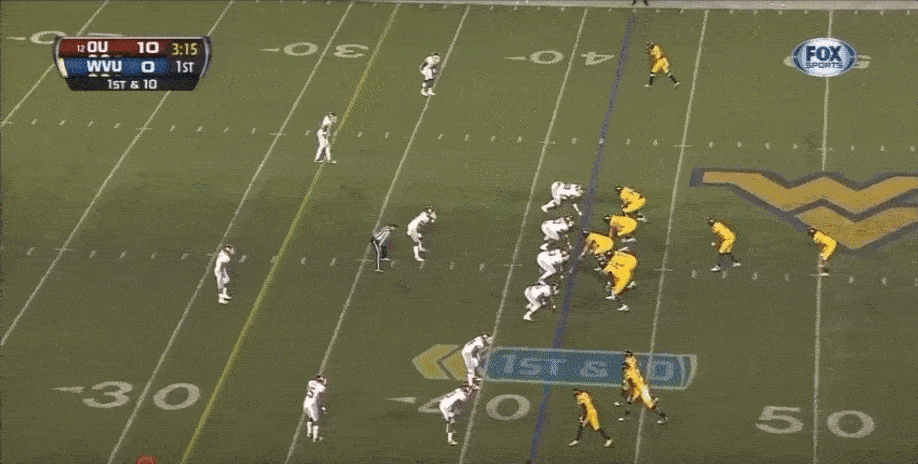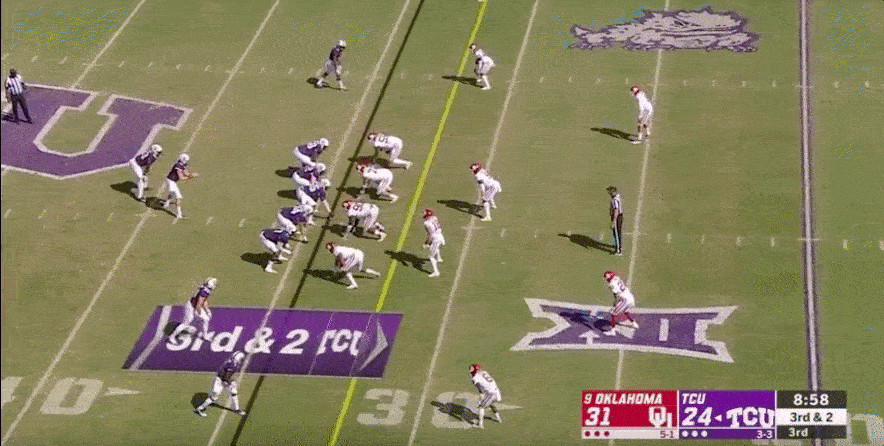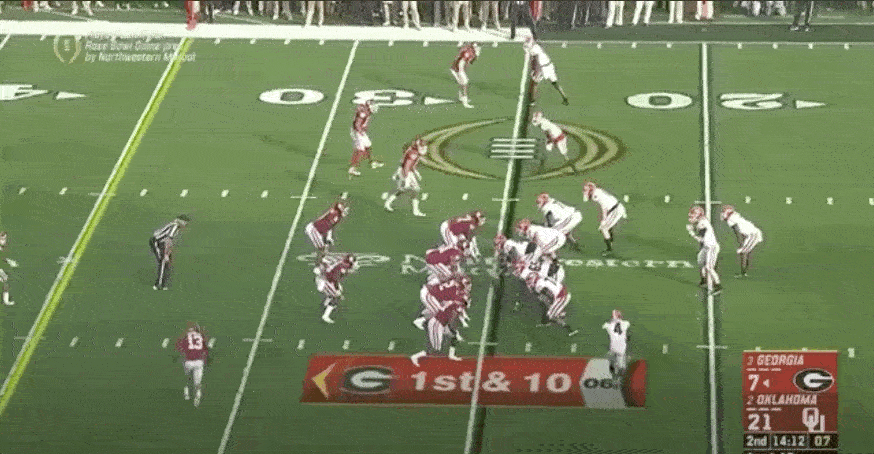 He broke down that last one against Georgia for me, largely in a way that absolved himself of blame because he was chasing the tight end in man coverage. I tend to believe him, the Oklahoma defense back then was a complete mess and it appears the Sooners got caught (and washed out) in a man-1 blitz.
At media days in 2019 I asked him about finally moving from middle linebacker to the weakside, which always seemed a better fit for an athlete of his caliber. He paused for a moment and then said, "I'm still at middle linebacker." I'd heard otherwise, obviously my sourcing was off on that one.
But the way that Alex Grinch used Kenneth Murray in 2019 wasn't really like you tend to see from a middle linebacker. He was almost always either covered up or playing in space like an outside linebacker. His highlight plays are generally either him catching a team with a stunt or running a play down in space with his speed. His coverage assignments tended to be either "man up the running back" which he could do pretty well, or "get depth between the hash marks and close on the ball" at which he looked great when chasing scrambling quarterbacks and not particularly useful in terms of matching routes.
You're not going to find much film of him using his eyes to process multiple things at the same time, just clips where he sees something and can arrive to make plays that most college linebackers can't reach.
Finding a role in the NFL
From what I can tell, Murray's projection to the NFL is based on hypothetical growth that could occur when his athleticism and work ethic are applied at a professional level.
Alex Grinch and Mike Stoops probably didn't give Murray the best possible foundational education on linebacking but the assumption seems to be that it'll come once he's in the pros. There's a few problems with that assumption. One is that his pro playbook will ask vastly more of him than they did at Oklahoma in terms of assignments and processing and his likely draft placement is going to mean that he's under a lot of pressure to figure it out sooner than later. Another is that he's built up years of habits on how to find the ball as a three-year starter at Oklahoma and will need to figure out how to reprogram himself.
I don't think there's an outcome here in which Murray is drafted, quickly takes over an inside linebacker job, and offers high level play.
However, he's an explosive athlete with a 6-9 wingspan and a lot of range when dropping into space. His work on stunts and his ability to get depth on drops is all pretty fantastic, what if in the NFL Murray was finally able to officially play outside linebacker?
I'd be curious to see what he might be capable of if his list of skills to learn in the NFL was more restricted to basic outside linebacker run-stopping duties and then being able to make zone drops all over the place like James Harrison. Coming out of Kent State at 6-0/242, Harrison was undrafted and initially cut by the Steelers because he couldn't figure out all of their complicated zone blitz schemes. Eventually he was cut, cut by the Ravens, and came back a much better and more focused player. A few years later they cut Joey Porter and promoted Harrison to starter, leading to a six-year stretch in which he averaged 10 sacks a year and 4.8 forced fumbles.
Murray is no Harrison, but as a 9-technique outside linebacker after a few years in the system, I wonder if Murray could be an effective pass-rusher and zone-dropper. He has the length and speed to get good depth on his drops and his lateral quickness allows him to stunt and blitz into multiple gaps. Maybe he grows into an impactful player inside as well but you're looking at a time investment beyond what his "three-year starter" and "high character" profile would suggest.
I've watched anti-spread defenders, particularly from the Big 12, be poorly evaluated for their NFL fits for a long time now. Just by having the athleticism to handle himself in space, there were plays available to be made by Murray. If you can run 4.6 or better at linebacker then you'll make a lot of tackles in the Big 12 by default. The real stars of the 2019 defense were the trio of Jalen Redmond, Ronnie Perkins, and Neville Gallimore who made such a mess in the trenches that he was free to find the ball and close with speed.
The NFL will require that Murray actually demonstrate high level skills that he hasn't yet shown. If I had to guess, I'd say his ultimate upside might be as a free agent on his second team after a few years of sitting and learning. There's just an awful lot of Malik Jefferson and Gary Johnson to his game.
********
Learn more about the rough and tumble Big 12 conference and how it stresses linebackers in my book.