In this piece over at Inside Texas I was aiming to explain how Big 12 run games work on a foundational level and why Texas has sucked at defending them despite consistently boasting of having the biggest, most athletic LBs.
Now, setting aside the issue of whether Texas' LBs are actually the biggest and most athletic in the league after everyone's been in college S&C for three years or so (sometimes probably yes, other times quietly no) there's a lot of universal B12 content in here.
Some choice sections:
Woody Allen once said that 80% of life is showing up and perhaps nowhere is this more true than when attempting to stop the run against Big 12 offenses.
I know Allen was kind of a villainous figure in some ways but this quote nails the essence of how to stop B12 teams. It's all about simply getting your guys into the right gaps at the right times, do that and the battle is essentially won because most B12 teams aren't capable of driving defenders off the ball.
I also broke down what was arguably OU's best run play last season: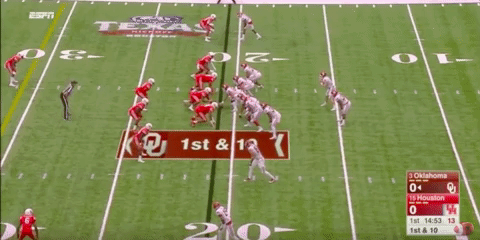 It's a QB GT counter trey combo'd with a RB bubble screen. I'm kinda curious why they didn't run this with Mixon more but whatever, it was highly effective. If and when Kyler Murray is the man in Norman I think it's safe to assume this will remain a major part of the arsenal.
I also crack open the Bison textbook for an example of what great run D from a 4-3 Over quarters defense looks like. That's a textbook that Mike Stoops and his players should be cramming into their studies every night, imo. They've got an awfully long ways to go.
My own personal takeaway from researching and writing the article can be found in this paragraph:
Without a plan that involves every defender playing on the same page, you can't hold up against these running plays designed to pull you apart before running down your throat. Even when you do have a very sound defense, you're going to get beat at times and you need to have occasions where you win up front to balance out the equation.
It's hard to get the gaps right all the time and to avoid getting gashed in space at some point or another by a run or quick pass. You need some plays that swing the balance in your own direction and the nature of football, with its four down structure, gives the defense one major advantage they have to make the most of. That's the fact that a largely sound defense that doesn't give away freebies and successfully inflicts negative plays is going to come out ahead more often than not in preventing touchdowns.
Inflicting negative plays depends on either having a really effective and sound blitz package you can turn to regularly or having a DL that frequently beats blocks and makes plays in the backfield.
Everyone loves to riff on Big 12 defenses and throw out all kinds of criticisms but the one that is true and should stick is that the league truly lacks difference making DL, particularly difference making DTs.
The teams in 2017 that have the DL to wreck things before they get started will be at an enormous advantage in terms of winning the league. We'll dive into that as this offseason progresses.