It's about that time of the year, time to make up my preseason All-B12 list and rank where I think the league's top players are likely to finish at the end of the year. You can see my projections for the 2015 season or the 2016 season and gauge for yourself my prognostication skills if you like. Mostly this is just a fun way to summarize expectations for the coming year.
One thing that I often like to do is actually stick to positions, leaving left tackles at left tackle, listing guards, and building out a defense that could actually see the field. I've come to peace with the fact that the award lists aim to reward impact players and doesn't punish them for tending to be clustered in key positions. That's sensible, but I'm going to stick to positions again this year.
Offense
Quarterback 
1st team: Baker Mayfield, Oklahoma
Gotta give the nod to Mayfield, who's been making plays and making the most of his situation for three years now (basically) in the Big 12. He opens up a lot of possibilities for an offense, he hits guys, and he makes off-schedule plays with regularity.
2nd team: Jesse Ertz, Kansas State
Mason Rudolph is going to be a more popular pick, I imagine, and is probably second behind Mayfield for most first place votes on ballots around the league. However if Ertz has a healthy enough season to build on what he did last year then he could have a season akin to what Collin Klein did in 2011 or 2012 and that's more valuable than a lot of people seem to realize. Rudolph, Will Grier, and Shane Buechele could all end up winning first team and I wouldn't be shocked. It's a deep year at the position. Here's my response though to anyone that doesn't like Ertz finishing this high: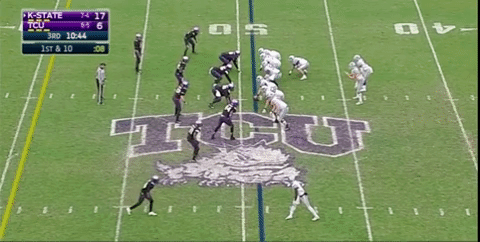 Running back
1st team: Rodney Anderson, Oklahoma
The challenge at RB, more than any other spot I'd argue, is knowing whether to acknowledge true greatness or anticipate which guy will blow up thanks to a favorable situation. Whoever wins the starting job at Oklahoma is almost always going to have an awesome season, for instance. I'll never forget voting Keith Ford no. 1 for that reason only for Samaje Perine to steal his job and run for almost 2k yards. This year Anderson seems to be the main talent by all accounts so he gets the nod.
2nd team: Justin Crawford, West Virginia
Crawford ran for 1100 yards at 7.3 yards per carry last year, which is pretty magnificent. He'll need to stay healthier this year but the blocking and supporting cast should be comparable or better than last year. Mike Warren of Iowa State has a shot here as well and Kyle Hicks has been many people's preferred pick. Whoever wins the job at Texas will be set up for big success but it's not clear who that will be. The staff loves Chris Warren but he's had trouble staying healthy.
Kansas State's Alex Barnes has to get a mention here because while he'll probably run for something like 800 yards as a cog in a multi-faceted machine, there's a chance he could go for something like 1500 as their main workhorse.
Ancillary
1st team: Winston Dimel, Kansas State
The son of the OC gets a few different uses for the Wildcats in their offense, sometimes leading for either the QB or RB, other times taking short-yardage carries, then occasionally popping down field after showing a block to burn teams on the pop pass. He's a good one.
2nd team: Dmitri Flowers, Oklahoma
I really like Elijah Wellman at West Virginia, I suspect Britton Abbott will be key here at OSU, and there's a good chance Baylor's Kyle Boyd has a fun and eye-catching year if they build a good 22 personnel package and he can lead out on cornerbacks.
Flowers is a solid blocker though with a lot of experience, the ability to run some routes, and an opportunity to be much more involved thanks to OU losing their two main running backs from a year ago that often shared the field.
Flex back
1st team: Kavontae Turpin, TCU
Jalen McCleskey was the best perimeter weapon in the league last year, although he was more than that, but I'm betting on Turpin having a big year now that he's healthy and eligible and all that. If Turpin beats him out for postseason first team he can probably also steal his belt as the league's "most outstanding tiny person."
2nd team: Jalen McCleskey, Oklahoma State
I'm knocking McCleskey down just a tad simply because the Cowboys will have so many receiving options this coming year that his touches and impact are likely to be redistributed somewhat. Other considerations here are TCU's Shaun Nixon, whoever wins out at Texas amongst Devin Duvernay and Armanti Foreman, and OU's JUCO RB Marcelias Sutton.
Iso receiver
1st team: James Washington, Oklahoma State
This is my term for receivers that are out there to destroy teams over the top and command double teams that free everyone else up. James Washington has been close to the best in that regard for two years running now, I put him over Westbrook last year but realized later I was wrong. He'll undoubtedly finish here or second team this year if he's healthy.
2nd team: Collin Johnson, Texas
This is much more speculative than many of the choices I could have made, but the 6'6″  212 pounder is likely to be the household name that most mention if Texas has a big year under Tom Herman in 2017. He had a solid freshman year but is capable of so much for, for instance: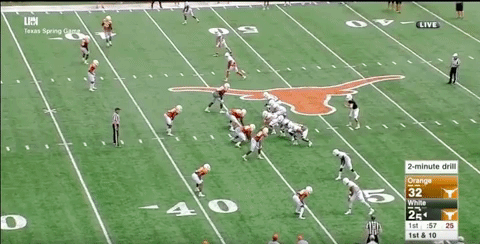 He has quick footwork for such a big man and also a willingness to drag guys forward after the catch and use his size to bully people. So it's hard to either press him up or leave him space underneath with help over the top. But if you don't help over the top…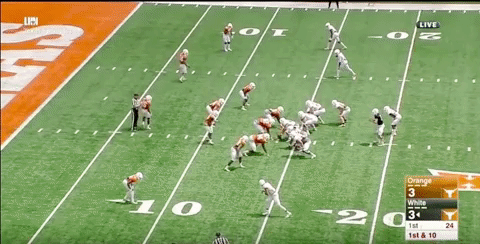 He's just a big, easy target to hit on fade routes and back shoulder throws on the sideline. Great hands, massive catch radius, and plenty of speed and footwork to get the separation he needs. I think he'll have 10+ TD catches this year and he's been working closely with Buechele for two full years now.
Possession receiver
1st team: Mark Andrews, Oklahoma
I realized it would be dumb to list Andrews with the ancillaries, a designation I like to use for the guys that are basically mobile blockers and versatile adjuncts to an offense. He does a little blocking but he's not that, he's a possession receiver and will likely be the best one in the league next season. I'm betting that he expands his route tree this season and gets a lot more targets.
2nd team: David Sills, West Virginia
I'm guessing Sills is a favorite target for Will Grier this year and Grier is going to put the ball in the air quite a bit so that means Sills could end up with a lot of big catches and some big numbers. For possession receivers I'm looking at guys that are asked to get open from different parts of the field on key third downs, which will likely be Sills' main job next year.
There's a good chance one of OSU's amazing backup receivers wins honors here, like Marcell Ateman, Chris Lacy, or Tyron Johnson.
Left tackle
1st team: Connor Williams, Texas
Williams gets a surprising lack of respect considering that virtually every scout in the game has him pegged as the most talented tackle in the nation and best guy coming into the draft in a year or two. Also considering that a very high percentage of D'Onta Foreman's 2k rushing yards last season came running left to where he was consistently creating creases in defenses. Look around the preseason lists and you'll see guys like Brown or A&M's Koda Martin edging him out…not here.
2nd team: Orlando Brown, Oklahoma
Brown is a fantastic OL though, even if he's not quite as good as Williams, and he's excellent on the pull in their counter schemes and hard to get around in pass protection.
Scott Frantz of Kansas State and Aaron Cochran of Oklahoma State are a pair of guys that could sneak on here on the postseason list if one of the guys above are injured.
Left guard
1st team: Ben Powers, Oklahoma
Powers is pretty strong in run blocking and good in pass protection, so he gets this one narrowly right now.
2nd team: Patrick Vahe, Texas
Vahe is probably a better run blocker than Powers or my next highest guy, West Virginia's Kyle Bosch, but he hasn't proven it in pass protection yet which is why he's 2nd here. There's no better run blocking tandem though than Williams-Vahe on Texas' left side save perhaps for Williams-McMillon. Another guy that could end up 1st or 2nd team is Kansas State's Abdul Beecham who was really solid in a few starts last year before getting hurt.
Center
1st team: Reid Navjar, Kansas State
For my money he's the most versatile, skilled center out there right now. Schlottmann and Texas' Zach Shackelford have promise but Navjar is good right now on zone, gap/man schemes, and denying quick blitzes inside.
2nd team: Austin Schlottmann, TCU
I like Schlottman more as a screener and obstacle in the middle than a guy who can cover up big nose tackles or get out and maul LBs at the second level. He's really solid though overall.
Right guard
1st team: Jake McMillon, Texas
Jake may end up at center, and if he does he'll probably be first team there. He's one of the best run-blockers in the conference at any position and the second best OL at Texas right now.
2nd team: Dru Samia, Oklahoma
Samia is surely better in pass protection than McMillon thanks to his superior size and experience at RT but he doesn't have the same impact moving people at guard. TCU's Matt Pryor could be good here next year and Iowa State may plug in Michigan transfer David Dawson at this spot.
Right tackle
1st team: Dalton Risner, Kansas State
Yeah, lots of Wildcats on here but their QB ran for 1k yards last year and four of them are returning starters this year so what can I say? Risner was a good freshman center in 2015 and a mauling RT in 2016.
2nd team: Bobby Evans, Oklahoma
What makes OU so scary this coming year is how much quality they have at every single OL position. Evans might be their LT of the future after Brown moves on and in the meantime he's a really solid RT for them. Zachary Crabtree of Oklahoma State gets a nod here as well, West Virginia's Colton McKivitz has potential, and Iowa State needs Jake Campos to have a strong year here for them.
Defense
Strongside end
1st team: Malcolm Roach, Texas
Roach is going to split time playing as a true DE, moving inside on passing downs, and then standing up on the edge so I won't put him in the edge-rushing category but he'll end up on this list because he'll probably have around 10 sacks this coming season.
2nd team: K.J. Smith, Baylor
Oklahoma State has a bunch of guys who could be good here like Tralund Webber, Jarrell Owens, and Cole Walterscheid but it's hard to look past the disruptive potential of Smith who stunted his way to some nice playmaking last season despite having to spend a lot of time at 3-technique and is really a very versatile and impressive DL overall.
Nose tackle
1st team: Will Geary, Kansas State
The nose tackles are at advantage here from the fact that there simply aren't very many good ones around the league. Everyone uses them, but most teams are just hoping to have guys that can maintain the line of scrimmage and push the pocket some on 3rd down. Will Geary is legitimately good and disruptive, although he has to work his way back to the team. Keep an eye out for his potential successor, Mitch Copeland, another stocky little disruptor.
2nd team: Chris Nelson, Texas
Nelson was really solid last year and likely to make a leap into his full-blooming self as a redshirt junior this season. He knows how to battle double teams and push the pocket and can also long-stick and reach outside gaps with some force. I think he'll play mostly 3-tech this season but he'll have a nose-type role in terms of holding the point of attack.
Defensive tackle
1st team: Neville Gallimore, Oklahoma
I've been a big fan of Gallimore's since OU signed him, seeing him as having that rare combination of natural size and athleticism that is so hard for everyone to find. Most Big 12 teams find solid guys that can learn to fight in the trenches and then pack as much weight on them as they can. Gallimore was designed by God to move around with fluidity and athleticism at 280+ pounds. OU's move to a 4-down scheme will probably help him most of all.
2nd team: Daniel Wise, Kansas
This is a tough one, Daniel Wise for Kansas is the most established option here and is entering year three after two really good seasons in Lawrence. Trey Dishon for Kansas State and Poona Ford for Texas are also really good, really disruptive players that might end up earning 1st or 2nd team honors when all is said and done but Wise has proven more and he'll be playing with…
Edge-rusher
1st team: Dorance Armstrong, Kansas
Remarkably, Kansas will have one of the better DL tandems in the Big 12 despite being a consistently terrible team. Just goes to show how important it is that you have quality everywhere before having stars anywhere. I know there will be a lot of competition for this spot but Armstrong had 10 sacks last year despite being the focal point of every opponent's gameplan.
2nd team: Obo Okoronkwo, Oklahoma
Reggie Walker could steal this spot, as could Mat Boesen or another Frog, or perhaps an up and coming Longhorn. Breckyn Hager could end up here if he was moved to this position. All that said, Okoronkwo was one of the better defensive players in the league last year when healthy
Inside-backer
1st team: Ty Summers, TCU
Summers exploded onto the scene last year with a 121 tackle season and he's the most impactful LB that Gary Patterson has had since Paul Dawson in 2014. Patterson crowed about getting faster at LB after Mallett and Dawson moved on but they've lacked the power and impact at the position since then and only restored it when Summers worked his way into the starting lineup.
2nd team: Chad Whitener, Oklahoma State
One of the few true inside-backers in the league, Whitener knows how to find the football and he's physical about working his way to get there. He'll be playing behind a rebuilt interior DL but this is his senior year and third year as a starter working with Glenn Spencer so he's a pretty established commodity at this point.
Trent Tanking for Kansas State is worth a mention here, as is David Long at West Virginia who could qualify as an inside or outside-backer. OU's Jon-Michael Terry has promise here down the road and Texas is still trying to find their guy. Clay Johnston at Baylor could have a breakout year this season or the next playing middle LB for Rhule in Waco.
Outside-backer
1st team: Taylor Young, Baylor
For outside-backer I'm looking at guys that split time between playing as an inside-backer and also getting out in coverage some or on the edge or up the gut as blitzers. Taylor Young has split time between will LB and a jack LB, he'll probably be at the former on most snaps next season. Rhule's scheme is going to ask a lot of him in terms of covering ground laterally while rewarding him by allowing him to fly to the football so he should have a big year as a result.
2nd team: Malik Jefferson, Texas
I made Malik my DPOY last year in anticipation of a breakout year thanks to the role I knew he'd be playing in the Texas defense but he failed to master the fundamentals of inside play that allowed his other attributes to matter. I think whichever of him and Ed Freeman ends up starting and being featured in the Texas D this year will earn All-Big 12 honors. I'm betting on Malik for now.
The rest of the media has Travin Howard here and he's a good player but not as disruptive to opposing teams as either of these two guys are likely to be next season.
Space-hybrid
1st team: Caleb Kelly, Oklahoma
This is the term I'm using this year for guys that line up in different places but have the primary role of erasing space and attacking offenses. It looks like Kelly will play some space-backer this year and perhaps some DE/OLB or ILB/S but all that is not totally clear yet. At any rate, he's a big and formidable athlete that other teams will have to keep track of.
2nd team: Kyzir White, West Virginia
Normally the TCU strong safety would be here by default but I'm not sure I believe in Ridwan Issahaku at that position and the Frogs don't have anyone proven here yet. Howard could end up there but we'll see. Anyways, Kyzir was very good here last year and likely to make a big leap now that he has a full season under his belt and a full offseason to adjust and expand his game.
I think Lenoy Jones will play in this sort of role for Baylor this coming year, we'll see how effective he is in the role.
Support safety
1st team: Nick Orr, TCU
Orr can and does do a lot of different things in the Frogs scheme, sometimes covering wide swathes of space, other times dropping down to support the run. OSU will be hoping to get something similar out of Ramon Richards this year after moving him from CB and if they do, he'll end up being first or second team at year's end. More teams should be moving their smarter and more physical cornerbacks to safety if they can afford to do so.
2nd team: Tre Flowers, Oklahoma State
Flowers has come a long way since he started in 2014 as a true freshman and had a pretty mixed season. Last year he was regularly in good position over the top to break up plays, make tackles that stopped big plays, and generally provide safety for the Cowboys in the deep middle. He could have a much better year in 2017 now that they may have better CB play around him.
One of Texas' safeties may break into this list this year but it's hard to know which one at this point, probably DeShon Elliott. Kansas' Mike Lee has a lot of big fans but I see him as being comparable to Flowers or Kamari Cotton-Moya at this point. West Virginia's Dravon Askew-Henry is good in this role as is Kansas State's Kendall Adams.
Cover safety
1st team: P.J. Locke, Texas
Last year Locke was quietly one of the better nickel DBs in the league but he didn't play as much as he should have thanks to Charlie Strong's insistence on using a ridiculous 3-4 package to try and get more of Texas' good OLBs on the field to disrupt opponents. This year he has a chance to shine while playing a lot of man coverage on the league's slot receivers while also blitzing the edge some in Todd Orlando's blitz schemes.
2nd team: Steven Parker, Oklahoma
Parker has been providing good man coverage skills in the slot for two full years now in Oklahoma, not that the Sooners have managed to parlay that into much thanks to shoddy play elsewhere in their defense. Perhaps this year they can finally translate it into something more productive. I've hypothesized that they could move Parker into more of a support role with Kelly in the nickel-LB spot, they should also consider playing him in the nickel more and moving Kelly in but that would require getting reliable play from other safeties on the roster.
Travon Blanchard would fit here if he's reinstated and has a strong season.
Cornerback
1st team: Jordan Thomas, Oklahoma/Kris Boyd, Texas
This is a tough one, there's lots of good corners around the league and many have more skins on the wall than Kris Boyd but I'm expecting a breakout season and then entry to the NFL draft from the Longhorn.
2nd team: DJ Reed, Kansas State/Ranthony Texada, TCU
I'm giving the 2nd team honors here to a pair of guys that played really good football in 2016 over other guys like Texas' Holton Hill, Iowa State's D'Andre Payne, or whoever ends up being great at West Virginia simply because they have the skins on the wall. I thought Duke Shelley was probably the better player over Reed but after rewatching some KSU film I was struck by how hard and tight Reed closes on the ball. They're both really good, as is Texada's opposite Jeff Gladney. Baylor has a pair of solid guys in Jameson Houston and Grayland Arnold that should have an interesting year playing in Rhule's man coverage schemes this year.
Those are my teams, any thoughts?