I came to peace a year or so ago with the fact that All-Big 12 teams don't reflect the actual positions and roles in the league in a given period of history but just try to stuff in all of the guys that had a major impact that season. With a few exceptions like the center and the fullback, these lists are always stuffed with outside receivers and tackles because teams stack their best athletes at those positions.
That's fine, but for my own lists I like to make a team that reflects the actual roles and positions in a year and who played them well. That means that some of the best players in a season get left off my list while I include a few that may not prove that memorable, such as some guards or inside-backers. I also have a few unique position designations borne out of an attempt to capture where the game is today in terms of real positions and roles rather than archaic 21 personnel/4-3 depth charts that are no longer relevant.
Here's my 2017 preseason picks and postseason picks for some perspective or if you're curious. Let's do this…
Offense
Quarterback
1st team: Will Grier, West Virginia
Grier had a really strong 2017 but failures in a few big games and then the unfortunate snapping of his finger diving for a pylon against Texas cut his season short and eliminated any chances of Grier cracking the All-B12 rolls for the season. But now Mason Rudolph and Baker Mayfield are gone and the path is clear for the RS Senior to win this award with a 4k-yard passing season.
2nd team: Sam Ehlinger, Texas
This is probably the toughest slot to choose on the entire list. Everyone in the conference emphasizes QB play and most everyone is elevating a young guy in 2018 to take over the job. The winner of the Skylar Thompson-Alex Delton battle could have a big year, Kyler Murray is finally getting his big shot to shine in Lincoln Riley's offense, the Texas Tech QB always puts up big numbers, Kyle Kempt is one of the more sure things in the league, and Charlie Brewer over at Baylor has an amazing spread QB skill set. Maybe Shawn Robinson will surprise as well, God knows that kid has talent.
I'm rolling with Ehlinger because his fit in Tom Herman's offense is fantastic, the Longhorns have an identity this year and narrowed down their go-to guys around him, and I'm very confident that Ehlinger will go into this season on a mission after a promising freshman year. I'm expecting something like 3k passing yards and 800 rushing (after removing sack yardage, although he doesn't get sacked much) for the sophomore signal-caller.
Running back
1st team: David Montgomery, Iowa State
As I've noted, one of the most important subplots to the 2018 season is whether or not Iowa State can finally block some lanes for this dude. Montgomery has the most complete skill set of any Big 12 RB, he has the burst to pull away when he has a crease, he can bounce runs, he can catch, and he can run people over while carrying a heavy workload over the course of a season. People will note that it's hard for him to end up as the All-B12 choice at RB because of the lack of help but the dude ran for 1146 yards last year with bad blocking so if the blocking is solid…
2nd team: Rodney Anderson, Oklahoma
Rodney Anderson is arguably every bit as good as David Montgomery although he's benefitted from much better blocking. The Sooners will undoubtedly lean heavily on him and if they'd leaned on him more against Georgia they may have played Alabama for a national championship, the Dawgs were really struggling to tackle Anderson.
I gotta include this GIF of Justice Hill tho: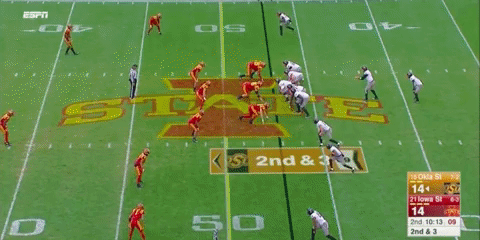 Hill is a pretty tough runner in his own right but he also has some lethal bounce that makes their lead zone runs supremely deadly because he can bounce, bang or bend the runs so effectively. He may finish above either Montgomery or Anderson with a 1500 yard kinda season if OSU can keep him healthy and throw the ball well enough to complement him. K-State's Alex Barnes is also underrated and could end up on this list if he gets enough work.
Ancillary
I use this term for the guys that regularly see action in a supporting role, typically blocking or running flat routes, distracto-routes, or check-release routes after helping in pass protection.
1st team: Adam Harter, Kansas State
This is something of a hunch pick. Chase Allen will be the most popular hunch pick since he may be moving into more of a featured role in the Iowa State passing game but it's really, really easy to imagine the winner of the K-State fullback job lighting people up in the blocking game while adding a few TDs as a short-yardage Wildcat QB or in their POP pass game. Harter snagged a one-handed TD catch in the K-State spring game and I don't think that was just for show.
2nd team: Britton Abbott, Oklahoma State
The Longhorns are hopeful that Andrew Beck will prove worthy of inclusion on this list but it's really hard to differentiate between all the different blockers who get little action in the passing game. Chase Allen is a well regarded guy that might make a leap this coming year but I haven't seen enough from him yet to suggest he's that much better than Beck or Trevon Wesco of WVU.
Abbott was great last year in OSU's scheme and played a vital role finding and clearing out LBs and edge guys. He's arguably the most proven blocking ancillary so he's getting the nod for now.
Space-back
I like to use this term for guys whom teams aim to get the ball in space for what they can do once the ball is in their hands. Sometimes that means deep routes but it usually means screens, quick routes, sweeps, and occasional action out of the backfield. Nowadays these guys are increasingly getting action running down the field as teams look to eliminate easy screens and quicks with evolving defenses.
At any rate, these guys are still "wind em up, get them in space, get them the ball" guys who's primary attribute is being blazing fast.
1st team: Marquise Brown, Oklahoma
The winner of the 2017 Darren Sproles water bug trophy for most outstanding tiny person is back to defend his crown! He'll have a lot of competition, as is typically the case in this league, but he's a frontrunner by virtue of having that award. The problem is that Baker Mayfield was brilliant at hitting him on the plays Riley would draw up and he's now gone. I think Murray can find him as well but Mayfield was truly exceptional at disguising designed plays and then hitting people in stride.
2nd team: Jalen McCleskey, Oklahoma State
I wanted to go with Kavontae Turpin here but with two MOTP award winners back that just wasn't going to happen. Additionally, Turpin may also have to fight with Kennedy "Mach" Snell and freshman Taye Barber here and you could make a case that TCU used Jalen Reagor in this role as well last year. #TurpinTime has just never gotten the touches he needs to lock down the coveted MOTP trophy.
Baylor has a few guys that will contend here like Trestan Ebner and Jamycal Hasty, arguably Chris Platt as well. Iowa State is bringing Deshaunte Jones and Kene Nwangwu to the party.
Possession receiver
1st team: Lil'Jordan Humphrey, Texas
I'm betting on the Texas offense in 2018 being largely defined by having two big, physical hybrids in the middle of the field that teams can't match up against between Sam Ehlinger (6-2, 230) and Lil'Jordan (6-4, 230).
Texas iso'd Humphrey up some underneath last year and his shocking lateral quicks made him like a super flex TE but he didn't get as much focus or attention in the system as he will in 2018. Not nearly as much.
2nd team: Gary Jennings, West Virginia
Jennings is the guy that Grier would find last year when they needed to move the chains. Holgorsen has gotten really good at developing these guys, slots that know how to find space underneath and present a good target at the sticks, Jennings is the most recent product. There's a good chance Dalton Schoen will serve in a similar role for Kansas State this year and perhaps make noise for inclusion on this list.
Some other options here are new OU flex TE Grant Calcaterra, flex/hybrid weapon Jalen Hurd for Baylor, and maybe Chabastin Taylor for K-State.
Iso receiver
This is the guy where teams hope to get him in man coverage and then, when they do, are throwing him the ball down the field. I've decided that I don't really have enough spots on my team to only acknowledge one of these guys. Most every B12 team would sit one of the other skill spots I have listed here to play a second iso/outside guy if they had one.
1st team: Denzel Mims, Baylor/David Sills, West Virginia
Denzel Mims is probably the most terrifying receiver in the Big 12. He's got good hands, he's a big target, but he's also just insanely fast and fluid. It's going to be a lot harder for teams to take him away next year with all of the other young talent in Baylor's WR corps and Charlie Brewer coming back.
I listed Sills as a possession guy last year but he's really not that, he's an outside guy that West Virginia would specifically isolate in the red zone. He's absolutely deadly in that role.
2nd team: Hakeem Butler, Iowa State/Ceedee Lamb, Oklahoma
Shoutouts to Collin Johnson of Texas and Tyron Johnson of Oklahoma State, either of whom could end up first team at season's end without shocking me. Butler and Lamb have more skins on the wall at this point. Butler is going to get a ton of targets from Kempt next year on the outside replacing Allen Lazard and the man had 10.1 yards per target just last year. He's a no-brainer for any All-B12 list.
Ceedee Lamb was really effective a year ago and I think (again) OU had a decent shot at taking down Georgia if they'd leaned more on out-executing them with Lamb rather than trying to outsmart them down the stretch. Like Brown, there's a chance his numbers fall due to the decline from Mayfield to Murray but he was too good last year as a beat up freshman to leave off right now.
It's hard to know where exactly Jalen Reagor will fit, last year he was on the outside but they used him more like a space-back and he didn't get a ton of action overall. He could make a leap and win here but I don't know if we'll see his full potential until Shawn Robinson is a junior.
Left tackle
1st team: Bobby Evans, Oklahoma
This is a little tough for a few reasons. It's not totally clear whether or not Evans will even play LT this season after playing RT a year ago but my best guess says that he will. He's a good athlete and one of the better run blockers in the league, probably the best overall OL in the Big 12, so he gets the nod at the top spot.
2nd team: Calvin Anderson, Texas
Here come the charges of homerism, can you hear them? Oh that's right, they were already deafening after I put Ehlinger 2nd team.
Anderson was really solid but not phenomenal at Rice for three years before graduating in that time (impressive) and transferring to Texas. Thing is, he's really athletic and solid in pass protection and the Big 12 isn't overflowing with great pass protectors. K-State's Scott Frantz is solid but often had help from a TE, Yodny Cajuste is good and may end up on this list after the season but he's not great. Anderson is comparable to most of the competition here and there's a solid chance he makes a leap in a contract year.
Interestingly the list here is a tad thin so maybe someone will emerge and surprise. There's also Jake Fruhmorgen from Clemson (transferred to Baylor) that could snatch the top slot. Fruhmorgen has a really troubled past, having left Clemson for personal reasons and then going to Florida before quitting football three days later. He's possibly the most talented tackle in the league it's just hard to know where he's at right now. Travis Buffy of Texas Tech is back after a solid year as well. Lots of solid options, I tried to pick the guys most likely to be great.
Left guard
1st team: Marcus Keyes, Oklahoma State
A review of OSU's blocking revealed Keyes was probably their best run blocker, him or the departing Zachary Crabtree, and he's back. At 6-3, 300 or so he's much more of a natural guard whereas most of the guards in this league are tackles that couldn't hack it outside and got bumped inside. I've argued before that I think there's a market inefficiency in recruiting shorter maulers that are never going to be tackles because the tall, athletic guys that don't make it at tackle aren't necessarily going to be good at rooting out a quick, 6-1, 290 pound DT either.
2nd team: Julian Good-Jones, Iowa State
JGJ played center last year for Iowa State and I believe he's played every position on the OL for them at some point or another. They're moving him to guard this year to make room for a rising young Campbell recruit along the OL (Collin Newell) and as an interior OL guy he's a major contender for a top slot on the list. If his move works out and he ends up on this list at the end of the year then Iowa State probably made a strong bid for winning the conference.
A review of the 2017 season showed that Patrick Vahe had a better year than I initially realized and he could make a bid here. K-State's Abdul Beecham and OU's Ben Powers are other contenders and I had Powers here last year. I had Tech's Madison Akamnonu pegged for tackle out of HS and now he's their entrenched LG. This position is weirdly stacked in the B12 right now, I'll try to be judicious when making picks for All-B12 at the end of the year.
Center
1st team: Johnny Wilson, Oklahoma State
The 'Pokes are overflowing with riches inside after big Larry Williams was granted a 6th year of eligibility so they're moving RG Johnny Wilson to C for this season. He's pretty solid on their zone concepts and now he can combo with Keyes to open holes for their lead zone game. The league isn't really well stocked with great centers right now but there are lots of guys that have played the position and could potentially make a leap in 2018.
2nd team: Adam Holtorf, Kansas State
I almost went with Sam Tecklenburg of Baylor here, the converted TE flashed from time to time last year as a first year OL and eventually won the starting center job which he's now taking into his fourth year as a collegiate athlete and second year as an OL. It's easy to see him making a leap…it's just that he has a fair ways to leap.
Similar story for third year starting center Zach Shackleford at Texas, it wouldn't shock if he broke out after another offseason and all of the continuity he's now enjoying in terms of scheme and teammates. But last year Shack failed to stabilize the OL through it's turmoil and regularly had bad snaps. As likely as a leap from Shack is him losing his job if Texas can afford to move someone else inside.
It's not clear if OU will turn to young Creed Humphrey or old veteran Jonathan Alvarez here, the winner of that battle has a shot to get on this list. Meanwhile Holtorf had a strong 2017 after replacing the retiring Reid Navjar and is now entering his fourth year in the Snyder program.
Right guard
1st team: Dru Samia, Oklahoma
This was easy, Samia is a really talented lineman and returns to his RG post thanks to the emergence of Cody Ford to win a tackle job for the Sooners.
2nd team: Jack Anderson, Texas Tech
Anderson had an impressive freshman year and is now back. He seems the best candidate from a Tech OL that returns all five starters to crack this list and should have some chances to shine with the inevitable increase in runs Kingsbury will be calling with one of either McLane Carter or Jett Duffey bringing some running ability to the offense.
Tyler Mitchell may have been a dumb overlook here on my part, or the aforementioned Larry Williams.
Right tackle
1st team: Dalton Risner, Kansas State
Another no-brainer. Risner is probably the second best OL in the league behind Bobby Evans although he's more of a run blocker despite his outside alignment. This is his fourth consecutive year starting for K-State and he'll probably have a big season looking to make his senior run count.
2nd team: Derek Kerstetter, Texas
Kerstetter was the bright spot on a bad OL in a bad season of offense for Texas. He was far from brilliant but he was pretty darn scrappy and effective at times despite being pressed into service as a 280 pound (maybe) true freshman. After an offseason with Yancy McKnight he's safely up to 300 and possibly the best OL on the team. It's possible he'll move to center but most likely that he'll stay here.
I considered Colton McKivitz and Lucas Niang here as well.
Defense
Strongside end
1st team: Breckyn Hager, Texas
Hager will probably avoid some of the dirty work he had to perform last year as a 4i that won his job at midseason but with Charles Omenihu opposite, they'll probably keep crashing Hager into the B-gaps while looping Omenihu wide opposite and inserting an LB.
Hager recently got the nod as one of Bruce Feldman's freaks, his exceptional vertical and increasing body mass have always been evident. At the HS level he was a one-time two star committed to Baylor where his older brother was a star MLB. I asked a HS coach in the area about him and was told, "that kid is just underrated because he's white. He nearly killed one of our tight ends." Father Britt Hager was a Permian Panther MLB and is the all-time leader in tackles at Texas after playing the same position there (he'd play Breckyn's spot in today's game). Hager plays the game with similar abandon and had 10 combined sacks over the last two years as a mostly situational player. I think he'll get 10 more this year as a full-time, featured weapon.
2nd team: Eli Howard, Texas Tech
Howard is more of your straightforward, 4i-technique strong side end. He's out there to hold tackles at the point of attack and free LBs to run to the football without obstruction. Ezekiel Rose of West Virginia and Cole Walterscheid of OSU are some other options here. OU is plugging Kenneth Mann into this role I guess, they must not be super confident in him because they tried to get Notre Dame grad transfer Jay Hayes and then he bailed for Georgia.
Nose tackle
1st team: Ross Blacklock, TCU
Blacklock had a really nice RS freshman year at TCU and now he's a third year player that will still be flanked and backed by good players. If the Frogs contend for a B12 title then a leap by Blacklock will likely have been a significant factor, he made their 4-1.5 front work last year in a way it hadn't in previous seasons.
2nd team: Ray Lima, Iowa State
Lima had a similarly big impact for ISU last year as Blacklock did in year one in Ft. Worth, but they were both left off the list because DeQuinton Osborne did a lot of damage for OSU and Poona Ford was dominant at Texas.
I also still like Neville Gallimore and think he could have a nice year in 2018 freed up to do what he does best, holding the point, in his new role as the nose at OU. Ira Lewis was really good for Baylor last year and could easily crack the rotation here or at DT, ditto his young teammate Tyrone Hunt.
Defensive tackle
1st team: Daniel Wise, Kansas
Wise is going to be playing for a contract this year on a team that might go "defeated" and endure a coaching change during the season depending on what timeline their new AD thinks is best for pursuing the next Jayhawk HC. Probably he'd rather have a head start to backchannel and will can poor David Beatty at first opportunity. What that will mean for Wise's season I don't know but he has a lot to play for personally. The fear would be that he embraces a more selfish style to get numbers.
2nd team: Trey Dishon, Kansas State
There are some other guys here like Corey Bethley at TCU or Darrion Daniels at OSU, even Amani Bledsoe at OU, that might have strong 2018 campaigns. Dishon is the heir apparent at K-State though and reports from spring had him making a leap.
Edge-rusher
1st team: Ben Banogu, TCU
Banogu was no. 2 here behind Obo Okoronkwo, who didn't a Mat Boesen opposite to help relieve pressure nor a Chris Bradley to run stunts with. Most people, including yours truly, expect Banogu to have an even bigger year moving over to the RDE spot to get after the blind side.
2nd team: Charles Omenihu, Texas
At 6-5, 270 and regularly aligned as a 4i-technique, Omenihu is as much of a SDE as he is a weak side guy but Texas plans to get his length and pass-rush outside on the edge more this season either with more true four-down fronts or else with insert blitzes that have him loop wide. This is a contract year for the Longhorn and he'll be playing opposite Breckyn Hager so he'll have every opportunity to get after it. If that doesn't work out for big numbers than Jaquan Bailey of Iowa State will take this spot.
Shock troopers
This is a new positional designation that I think will have increasing relevance in the coming years of Big 12 play. Previously I had one designation that was sort of a catch all for hybrids that I termed "space-hybrid" to denote hybrids that blur the lines between different LB and DB spots. I'm using "shock trooper" to denote guys that have the versatility to drop into coverage but will also regularly come charging at the line of scrimmage to try and cause disruption.
1st team: Ty Summers, TCU
Beyond being one of the better true inside-backers in the league, Summers is also capable of playing down as a DE, even as a 4i-technique like Breckyn Hager, which is why he gets the nod for first team here. The word on the street is that the Frogs will replace Mat Boesen with big L.J. Collier, but if they need more speed on the field they have more than enough LB depth to spin down Summers into that spot to get another LB or safety on the field.
2nd team: Malcolm Roach, Texas
It's not clear where Roach will play for Texas this coming season, which is partly why a new positional designation is needed. It's possible that he'll play a sort of hybrid DT/LB role in which he regularly inserts into the A and B gaps as the fourth pass-rusher as a part of Texas' three-down dime packages. He may also play as a more traditional 3-4 OLB, or he may not play a ton.
Caleb Kelly sorta of figures here as well although Mike Stoops will probably just use him as a standard weak ILB. David Long also sorta counts in this regard and he's fairly effective just because of his quickness and aggression but the "shock" he brings is purely by surprise and speed, if you get someone in his way then he can be totally neutralized.
Inside-backer
There's a lot more guys to choose from here because many defenses are still playing two of these guys rather than slimming down in emulation of the successful dime defenses of 2017. I'm only listing one starter here though because while every team wants one really good one, you don't really want to play two in the modern B12. For this role we're talking about guys that mostly play as traditional "read flow, beat blocks, make stops" guys in the middle of the field.
1st team: Marcel Spears, Iowa State
He plays somewhat outside but it's basically an inside-backer position and he's terrific in it. Despite being only like 215 it's really hard to block this guy because he's lightning quick, diagnoses well, and clearly has some power. I think he'll have a big year in 2018, I've seen countless guys block down on him and fail to make good contact or prevent him from making the tackle.
2nd team: Gary Johnson, Texas
This is tough over the K-State guys that are always supremely well coached (Elijah Sullivan and Da'Quan Patton), or Joe Dineen of Kansas who had an absurd number of tackles last year, or Dakota Allen of Texas Tech. The expectation in Austin is that Johnson is going to break out this year though after closing out the second half of 2017 really strong when he won a starting job. He's one of the more athletic guys in the league, ran a 10.6 in HS, as he learns to diagnose more quickly in the Orlando D he's going to do some impressive things. He may also get moved into another role, clearing space here.
Dineen gets nods because of his high volume of tackles but the Jayhawks play him at depth and will trade a few yards here or there for him having room to run to the ball without getting blocked. It's a good strategy and he's good at it but he doesn't have the same impact as Spears or Johnson. Allen is a legit player and may end up winning out.
Space-hybrid
For this position we're talking guys that might play as a sorta sam/nickel hybrid or as a full-time dime that splits time playing in the box or out in space. Think Travin Howard for this designation. More teams need to find and deploy these guys in lieu of one of their inside-backers.
1st team: Willie Harvey, Iowa State
Harvey was almost a shock trooper last year, playing as a sort of hybrid sam that mostly lined up out wide and forced the ball back in but occasionally hit the edge as well. He had a strong, disruptive season and will unquestionably do so again in his final year with Campbell.
2nd team: Jawuan Johnson, TCU
Jalen Pitre at Baylor, Justus Parker at Texas Tech, and then one of a half-dozen candidates at Texas including Gary Johnson, P.J. Locke, Demarvion Overshown, and Josh Thompson might qualify here. Looking at the TCU roster they don't have an obvious candidate to replace Travin Howard, certainly no one more obvious than Johnson who played as a super productive nickel LB at Northern Illinois before transferring to the Frogs. Johnson is a good pick for Newcomer of the Year.
Box safety
This is your safety that tends to be relied on to support the run, typically it's the nickel or the boundary safety. Teams should play these guys as the "space-hybrids" but most still have a role for their boundary safety as an active run stopper.
1st team: Greg Eisworth, Iowa State
As effective as Iowa State was in their 3-3 dime structured D a year ago, they could be much better with Eisworth working as their new favorite option at box safety. He's a big hitter and very instinctive player that was able to enroll for the spring out of a JUCO and lock down a starting job replacing the estimable Kamari Cotton-Moya.
2nd team: Kenneth Edison-McGruder, Oklahoma State
The 'Pokes are embracing a new style of defense in which the nickel is turning the ball back in and playing as more of a CB/S hybrid rather than attacking the edge as a flexed out sam LB. Consequently, they're moving McGrudger from that nickel spot to the boundary safety, who the ball will now be funneled to (in addition to the strong safety). At 6-0, 220 he figures to be prominently involved in helping to support the run this season.
TCU's Ridwan Issahaku may serve in this role this year, their D normally uses the position manned by Innis Gaines here and it's hard to know how their structures will change with Nick Orr moving on. Both of them will likely get some heavy action from time to time.
Support safety
1st team: Denzel Goolsby, Kansas State
Last year was Goolsby's first in K-State's SS position, which is where they often have their best DBs like Ty Zimmerman or Dante Barnett. He had some ups and downs but provided some pretty clean play on the back end and is now poised for a big fourth year (third at safety, I believe).
2nd team: Kenny Robinson, West Virginia
Robinson came in and played lights out down the stretch, leading the Mountaineers to move Dravon Askew-Henry to SS in the spring to keep Robinson where he'd been. It'll be interesting to see what he does in year two with better players in front of him.
Other options here are Kansas' Mike Lee, Kahlil Haughton at OU, Jah'Shawn Jamison at Tech, or Niko Small at TCU. Either Innis Gaines or Ridwan Issahaku are likely to end up being better than these guys and may end up here or elsewhere on the list.
Cover safety
This is the safety that a defense tends to defer the most coverage stress towards. That could be the strong safety or the nickel, sometimes even the free safety if they like to spin him deep into position to cover up for everyone else. Normally this is the guy who's primarily responsible for covering a team's best slot receiver or protecting the middle.
1st team: Brandon Jones, Texas
Jones racked up a fair number of tackles last year given how much of the year he spent dropping into deep 1/2 field coverage to the field and freeing the nickel to be aggressive. He's back in that role this year although he'll undoubtedly get more action covering down on slots or playing at shallower depth. He flashed a lot last year as a sophomore and then reportedly had a big spring starting to put it all together as a third-year player. That's how these things tend to go.
2nd team: Brendan Radley-Hiles, Oklahoma
If Boo Radley doesn't end up on the postseason lists in some capacity it'll be a very bleak sign for OU's season on defense. He's pretty good in coverage, that much is obvious, and supposedly he's going to force OU into more nickel packages in 2018.
There aren't as many obvious candidates here as well. Thabo Mwaniki could break out in a role like this at OSU, Verkedric Vaughns figures to play a role like this at Baylor this season. Dravon Askew-Henry is playing the SS spot for WVU this year but that seems as much to make room for Kenny Robinson as it does to make the most of DAK. Innis Gaines is probably my favorite pick here after Radley.
Cornerback
1st team: Kris Boyd, Texas/Brian Peavy, Iowa State
Boyd is the best pure cover corner in the Big 12 and had a strong back half of the season after struggling early. He's in a contract year now and his fourth at Texas, he's also really strong in run support and will likely get a few different tasks over on the boundary for Texas this year.
Peavy is really solid in coverage, really solid against the run, and has been at this for a while. He's in a contract year as well.
2nd team: Tre Norwood, Oklahoma/Jeff Gladney, TCU
These are your up and comers. Norwood locked things down really well down the stretch for OU while Gladney started to come along for TCU and will likely win their lockdown job for the coming year.
Harrison Hand and Grayland Arnold at Baylor aren't scrubs and Hakeem Bailey at West Virginia has gotten positive reviews. Davante Davis at Texas is big and talented but needs to prove he won't let guys run by on coverage busts or else one of their young guys may replace him and even sneak onto the list. Parnell Motley of OU is no scrub, their CB situation looks better than it has in a while.
Those are my teams, any thoughts?