I just got a look at the coach's selections for the All-B12 team, it was pretty solid. I mean they list like six DL or something silly like that to make sure that everyone who had a standout season is recognized which is reasonable. The main purpose of a list like that is to give a snapshot in time of who the real players were in a given year so their method makes sense.
My All-Big 12 team is #content, a fun debate in the moment that won't necessarily be a reference point for anything in the future, which gives me the freedom to actually have the debate about who was the true cream of the crop at each spot without having a first team OL with four left tackles. Here was my preseason All-B12 so you can see how close I was to having this season pegged properly and also get more clarity on how I delineate the positions.
Let's do this…
Offense
Quarterback 
1st team: Baker Mayfield, Oklahoma
No-brainer. He's the Heisman and the best player in the country. Sorry if you don't like him because he taunted your team, people don't like Tom Brady either but he's still the best. I think Mayfield is going to end up translating to the NFL in a way that his detractors don't expect and it's going to drive them nuts.
2nd team: Mason Rudolph, Oklahoma State
Rudolph had a predictably great season. He's pretty much your model college passer for a "fun and gun" type offense, in the mold of a Chris Weinke, Jason White, Brandon Weeden, etc. Give him a couple of simple options and a run game to conflict defenders and let him rip. Will Grier was also solid this year but between his injury and the struggles West Virginia had with committing to the run I think Rudolph is the right call here. There wasn't much other competition here with Jesse Ertz going down.
Running back
1st team: David Montgomery, Iowa State
This is the best back in the league, the most complete guy with a big box of tools in the run game or the pass game. He's explosive, he's shifty, he's powerful, here he is making something of nothing against the Sooners: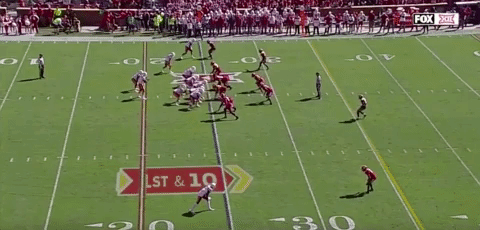 Caleb Kelly got burned in the cutback lane all season but this one…that's just tough. Montgomery is hard to tackle.
2nd team: Rodney Anderson, Oklahoma
Anderson was my preseason first team back but Oklahoma didn't make him "the guy" until after the Texas game. His performance against Texas Tech, 23-151 with five catches for 139 more yards, was one of the more dominant performances of the season. He's a speedy freak and probably the second most concerning back to gameplan for in the league after Montgomery.
Ancillary
1st team: Dmitri Flowers, Oklahoma
I basically just flipped no. 1 and no. 2 from my preseason list. Flowers had a fantastic season and the Sooners used him in a lot of different fashions. He flared out to block on screens, lined up at TE and blocked down on counter, executed lead and trap blocks from the backfield, and was a target in their play-action and RPO game. Just a phenomenal all around season.
2nd team: Winston Dimel, Kansas State
Another solid year for Dimel but he had help from TE Dayton Valentine in the K-State offense and didn't carry quite the same load this year. He seems to have lost his "primary goal line back" distinction this season or else maybe K-State wasn't on the goal line as much.
Space-back
In my preseason list I had a designated "flex-back" for guys that teams would work to get in space, often on the perimeter. Teams don't really do that anymore though, in part because most Big 12 defenses cover down on screens so you can't really get guys open on those as easily. So instead these are just speedsters that are taught a few different ways to get the ball, on crossing routes or deep play-action shots, often with concepts that get them the ball on the move.
1st team: Keke Coutee, Texas Tech
Texas Tech under Kliff Kingsbury is more or less unstoppable at getting speedy receivers running free down the field. This year it was Keke Coutee, who finished with 1242 receiving yards and nine TDs. Next year it'll probably be Coutee again since he'll be back as a senior. I'm really curious to see the Red Raiders next year with Kliff, I think retaining him was probably the right call since he's an offensive genius and David Gibbs is starting to figure out how to play defense in the Big 12.
People don't have enough patience for young coaches, Mike Gundy wasn't Mike Gundy at OSU for a few years and then he started figuring stuff out. Even at a big school you gotta give a coach time to figure stuff out, expecting guys to be Bear Bryant in year one is just plain dumb.
2nd team: Marquise Brown, Oklahoma
Hang on a second…drumroll….
Congratulations Marquise Brown! You are the winner of the 2017 Darren Sproles water bug trophy for most outstanding tiny person!
*music starts*
"Isn't he tiiiinnnny? Isn't he woooondeeeeerrrfuuull?"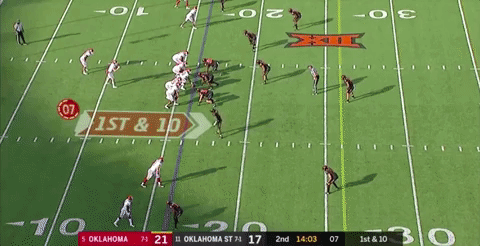 The Darren Sproles water bug trophy for most outstanding tiny person
981 receiving yards, 13.8 yards per target, six TDs, and a credible replacement for Westbrook's deep threat abilities that allowed OU to keep chugging along this season without the Heisman finalist.
Iso receiver
1st team: James Washington, Oklahoma State
No brainer. Mason Rudolph throws an amazing deep ball and has a full command of the Oklahoma State offense but a lot of times he's just throwing downfield to a spot and then it's on James Washington to get there. He's virtually always there and just one of the most terrifying weapons the Big 12 has seen yet from a school that regularly has exceptional and dominant downfield WRs.
1418 yards, 13.3 yards per target, this dude has defined the "fun and gun" style of the Oklahoma State offense for the last three years. I'd say it's nice he's now gone but honestly, I figure Tyron Johnson or some other fellow will probably replace him and Gundy will keep on keeping on.
2nd team: Denzel Mims, Baylor
Mims' production wasn't quite up there with some of the other good outside receivers in the league but a major factor in that was Baylor being terrible on the OL, rotating three different QBs over the year, and struggling to run the ball or field healthy WRs elsewhere to prevent teams from ganging up on him.
He also had a few drops here and there, but the dude is insanely fast, he's big, and he's going to become a nightmare as soon as next year when Baylor is able to put more around him. All his potential is perfectly summed up in this clip: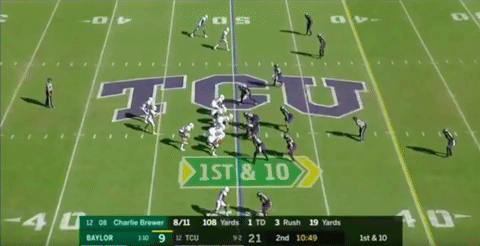 Called off because the LT gets too far downfield on a split zone/shallow RPO and it's ruled off. Brewer hits a pretty tight window and credit to TCU for forcing him to hold the ball and encouraging the LT to get too far downfield but still…Mims is all kinds of explosive and fluid. Next year they'll connect on more of these and it'll be just awful for everyone else. Allen Lazard was good too but he's really more of an outside possession receiver than a downfield threat.
Possession receiver
1st team: Mark Andrews, Oklahoma
I'm sticking with my preseason picks, where I had Sills no. 2 and Andrews no. 1. Mark Andrews had a great year and will finish it over 1k receiving yards thanks to the playoff targets he's about to get and although he wasn't as money as Sills in terms of TD, I think his overall impact for the Sooner offense is probably understated.
He had 11.8 yards per target and at 6-5, 254 he's an impossible matchup over the middle. The Sooners have foregone the threat of the quick bubble screen to the slot for the last few years in exchange for having a slot they could push up on the line of scrimmage to allow the WR outside of him to play off and avoid press coverage. When that's a tiny guy like Dede Westbrook/Marquise Brown or a freshman like CeeDee Lamb that's a huge deal.
Additionally, Andrews size and ability in the slot combined with Flowers' ability as a mobile blocker, really makes it hard for teams to find personnel packages to match Oklahoma. The Sooners can go up tempo from 11, 20, and 21 personnel and still throw any spread set out there that they please and you often have to find a way to match it without substitution and without getting an overmatched DB on Andrews. TCU had to roll with Niko Small last weekend and Andrews caught seven balls for 58 yards and two scores.
Quick aside, the great passing teams that have won a national title this century (to my memory) all had a pro-style, flex TE like Andrews on their roster.
2nd team: David Sills, West Virginia
I loved Sills' potential coming into the year playing in the West Virginia offense with Will Grier at the helm but I didn't foresee him being as good as he has been. It was apparent from his limited snaps at WR in the past that he knew how to run routes and get open and that he had great body control and hands. I'm starting to think coordination is a much bigger deal with wideouts than most of the other factors we look at with recruits and Sills has great coordination.
Anyways, 18 TD receptions and 10.1 yards per target speaks to a wildly effective target. He probably can't go over the middle like Andrews, especially not at the next level, but he's money on the outside.
Left tackle
1st team: Orlando Brown, Oklahoma
The star of the best OL (by far) in the Big 12. Good in pass protection but also a dangerous guy to find in front of you and on the move on their counter-trey scheme or blocking down on said scheme. He should be moving on now after four years in the Sooner program, curious to see how OU replaces him but they do return three (maybe four-ish) starters up front and have 5-star freshman Brey Walker (6-7, 320) and 4-star JUCO Tramonda Moore (6-6, 330) coming in. I've not watched either much save for some incidental clips I saw of Walker while watching Casey Thompson junior games. They fit the typical OU mold of being obscenely massive though.
2nd team: Jake Campos, Iowa State
First or second team should have been Texas' Connor Williams but he missed most of the year with a knee injury. Campos had a strong year for the Cyclones and is more or less an ideal spread OT. He knew the protections and where help was, could get wide in pass drops, and could control DEs or climb up to LBs on runs. Really strong player, Iowa State benefitted majorly from having him healthy this year, I've been high on their trajectory but I do wonder how well they'll replace him.
Left guard
1st team: Ben Powers, Oklahoma
Powers has some solid punch at the point of attack for the Sooners and was solid all year, holding off Cody Ford that many OU fans figured would end up taking the job. I really thought Texas' Patrick Vahe or Jake McMillon would win recognition here but the former was somewhat exposed as leaning on Connor Williams while the latter was solid but played hurt some.
2nd team: Josh Sills, West Virginia
Sills is sort of a "tallest midget" winner here. He's a promising guard that played both spots for the Mountaineers this season and was solid as a puller or straight ahead blocker. Reviewing film to compose this list made clear to me how much the league recruits height, fails to get punch and quality at guard, and then ends up with their best players at tackle or center.
It'd be really interesting to see what a team lining up 6-2, 290 pound scrappers in a three point stance might accomplish in this league because defenses would not be used to facing it.
Center
1st team: Erick Wren, Oklahoma
It's going to be hard not to just trot out the first team Sooner OL on this list because they're all pretty darn good. Wren was somehow a walk-on…much like the guy he snapped to, and he was very good this year. He has good athleticism for pass protection, connecting on down blocks in the GT counter game, or reaching guys' shoulders on outside zone. As I've long noted, guys that are shorter than 6-2 but have quick feet, smarts, and toughness are often a steal.
2nd team: Austin Schlottmann, TCU
Schlottmann spent some time at center and some at right guard, but he played here mostly and I'm including him largely as a way to acknowledge the performance of the TCU OL in the run game. Seems like Matt Pryor has been getting more credit for the effort but in my admittedly limited viewings I've tended to think Schlottmann was the stronger player.
Right guard
1st team: Dru Samia, Oklahoma
Samia is athletic enough to play tackle but the emergence of Bobby Evans allowed them to move him inside. Curious to see next year if they move Evans to the left side and bump Samia back out to tackle or if they have someone coming up the ranks they like to win a tackle job, keeping Samia inside where he's also been great.
2nd team: Matt Pryor, TCU
Pryor is a tad overrated, imo but there's not a ton of awesome competition here so he gets the nod. He was generally good at getting his hands on defenders and preventing penetration, which in a spread concept with backs like Kyle Hicks and Darius Anderson is evidently enough to allow you to do real damage.
Right tackle
1st team: Dalton Risner, Kansas State
Risner continued to maul people this season despite losing his partner in crime, Terrale Johnson and missing the feature K-State runner Jesse Ertz for most of the year. He was still often the focal point for their run game, including their deadly Dart scheme executed from the 11 personnel package that paired the QB with a FB: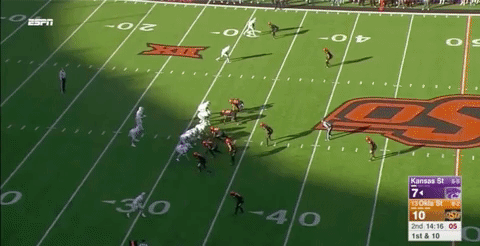 Lots of teams love to run dart at an odd front with the TE blocking down but K-State likes to run it away from the TE so they can seal the backside and give the QB time to go through a passing progression before following the tackle. It's nasty stuff and depends on the pulling tackle being able to find in space, which Risner consistently did. He was also good at the point of attack controlling defenders.
2nd team: Zachary Crabtree, Oklahoma State
Crabtree was strong in pass protection this season but also often a guy that OSU would look to run the ball behind. I wonder if he could have played LT but he was strong on the right side and now they'll have to replace him and the LT. Next year could be a bit tough in Stillwater.
Defense
Strongside end
1st team: Eli Howard, Texas Tech
Texas Tech went to a hybrid under front this year and stuck with it pretty consistently as Gibbs worked to figure out how to finally stop or slow Big 12 offenses. They still weren't great but they were much improved and they leaned on Howard playing as a disruptive 4i-technique to the field in order to pull it off. He held his own against Texas' Connor Williams at the end of the year and kept young MLB Jordyn Brooks and nickel Justus Parker pretty clean throughout the season.
2nd team: Breckyn Hager, Texas
I was going to go with DJ Ward here but decided to give Hager a spot. The Texas hybrid player started the year at back-up Mac LB and situational pass-rusher, then ended up stealing a starting job in the 3-2-6 dime package because he was so ferocious crashing into OL as an undersized 4i-technique. In limited snaps he managed eight tackles for loss and four sacks while serving to help Texas play their dime package against even 11 personnel packages down the stretch.
Nose tackle
1st team: Poona Ford, Texas
Texas ended up dominating the second half of the schedule on defense, even while losing an NFL CB to suspension, because they were able to shut down the run from a 3-2-6 dime package. The primary reason they were able to do that was the strong play of their 4i-technique DEs and the domination inside by NT Poona Ford and MLB Malik Jefferson. Ford was a major disruptor all year and commanded double teams that generally conceded a tackle for minimal gain by Malik.
2nd team: DeQuinton Osborne, Oklahoma State
The Cowboy nose tackle was very quick and disruptive this year and made a ton of plays in opposing backfields, hence his nod here. I didn't watch closely enough to know how well he did from down to down but my impressions were strong. I hold Ross Blacklock primarily responsible for TCU's great success playing with a small defensive front this year in the Big 12 and nearly went with him here. Hat tip to Marquise Overton of OU as well.
Defensive tackle
1st team: Daniel Wise, Kansas
Wise was fantastic this year, Kansas was really let down by Dorance Armstrong not matching his effort. That and a million other factors that went into Kansas being terrible for the umpteenth time in a row. 17.5 tackles for loss this year and six sacks, pretty awesome.
2nd team: Will Geary, Kansas State
Kansas State tended to put Geary at 3-technique more this season while asking Trey Dishon to eat blocks inside as a nose, both were great and that's reflected in the solid numbers by their LB tandem Trent Tanking and Jayd Kirby. Nod of the cap to Baylor's Ira Lewis who will probably show up here next season.
Edge-rusher
1st team: Obo Okoronkwo, Oklahoma
Obo was at times the most dominant defensive player in the league, but he fell off a bit down the stretch. I don't know if he got dinged up or just took on too much attention from opposing blocking schemes and didn't have enough help around him (glances at Caleb Kelly) to allow him to get loose more. The dude pressured people hard all year though and abused just about everyone he drew in isolation.
2nd team: Ben Banogu, TCU
Mat Boesen had 11.5 sacks on the year and led the league, but I didn't forget that five of those came in a single game against Baylor. Boesen was a really good player this season but I like Banogu more as an overall defender and even pass-rusher (8.5 sacks in his own right).
Inside-backer
1st team: Malik Jefferson
Jefferson started the year at Texas' "rover" position, which is a weak side LB spot, and then moved back inside to MLB where he'd been playing so that Texas could get talented JUCO rover Gary Johnson on the field. He finished behind only Joe Dineen of Kansas in tackles for the league and made teams intimidated to run the ball downhill despite facing a dime front.
2nd team: Ty Summers, TCU
Hat tip to Kenneth Murray and Clay Johnston who are here to stay. Also to Dakota Allen of Texas Tech, who was a very close finish behind Malik and Summers. Finally to the Chief of Police in Ames, Joel Lanning, who played pretty dang well as an inside-backer this year while also serving on offense and special teams.
Ty Summers was his normal great self as an inside-backer while also spending some time as a DE before Gary Patterson became content that Boesen and Banogu could handle those duties well enough.
Outside-backer
1st team: Joe Dineen, Kansas
Dineen was everywhere for Kansas this year, always in the right spot and sometimes there ahead of schedule. He was more of a pure LB for the Jayhawks than a coverage guy but he did play in space some and closed well on the ball (obviously, dude had 113 tackles).
2nd team: Willie Harvey/Marcel Spears, Iowa State
Hat tip to Texas' Gary Johnson, who may end up being better than either of these guys but didn't start for the full season. He'll be a featured component to the Texas D next year and a preseason 1st teamer, probably.
This is kind of a cop out but these two linebackers did a lot to make Iowa State's 3-3-5 viable along with nose tackle Ray Lima. This was a good year for linebackers and nose tackles in the Big 12, lots of teams had good ones and few had really bad ones. Ranking them I'd go:
Texas: Poona Ford and Malik Jefferson
TCU: Ross Blacklock and Ty Summers
Iowa State: Ray Lima and Joel Lanning
Space-hybrid
1st team: DeShon Elliott, Texas
The Thorpe finalist was second on the team in tackles, picked off six passes (and it should have been more), and forced three fumbles. They used him a lot down the stretch in a robber position vaguely akin to Brian Urlacher's job in the Bears' tampa-2 D…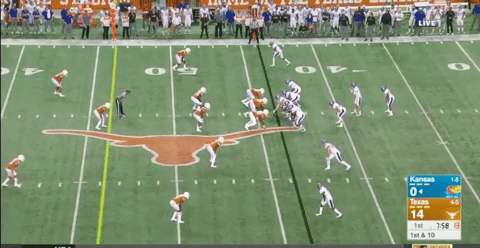 …and also on the boundary edge or as a free hitter behind the LBs in normal quarters schemes. At 6-2, 210 he was a big physical force for the team that helped clean things up in the dime defense.
2nd team: Travin Howard, TCU
Howard was his normal self, playing out in space and closing on the ball, playing the run with speed and precision. He rarely struck me as exceptional but he was always a nice player to have for the Frogs and did some tough jobs that you can't always convince a 210 pound former safety to do. Well done these past three years, Travin.
Their scheme just asked him to be a strong side linebacker but his range made their defense into a nearly de-facto dime at times while his toughness (and that of Ridwan Issahaku, interestingly enough) allowed them to play games and overload the box without just getting run over.
Support safety
1st team: Nick Orr, TCU
Orr was good in deep coverage for the Frogs, allowing them to continue to work out their man coverage package that they used to load the box and simplify their defense against run-centric RPO squads. He didn't stuff the stat sheet too much with five passes defended and 50 tackles but he played with good range and had a hand in TCU's positive numbers in preventing big plays.
2nd team: Kamari Cotton-Moya, Iowa State
KCM edges out Tre Flowers for me, who was less comfortable with the angles in run support at free safety then he'd grown at strong safety. Tech's Jah'Shawn Johnson was also solid here, Texas' Brandon Jones is a guy to watch for next season.
Cover safety
1st team: Kyzir White, West Virginia
Kyzir ended up spending most of the season out in space this year, cleaning up on the edge, playing to the field in cover 3, or playing some man coverage on slot receivers. He was good there, although it was strange to see the Mountaineers counting on getting extra help from Dravon Askew-Henry or Toyous Avery when the big White was out wide. Eventually they started playing big, 200-pound freshman Kenny Robinson over the top more and were rewarded for it. White is moving on now but he had another good year with 70 tackles, six tackles for loss, three INTs, and two forced fumbles.
2nd team: Ramon Richards, Oklahoma State
Richards beats out Steven Parker here simply because he had more of a substantial impact on the games. Parker it always seemed was racing around to erase someone else's mistake or else getting beat. He never really put it all together at Oklahoma, or I should say hasn't yet since he could still have a clutch performance to help them secure a title. He should have been the starting nickel but Mike Stoops insisted on trying to use Caleb Kelly there.
Cornerback
1st team: Ranthony Texada, TCU/Holton Hill, Texas
Texada has been doing it for a while now in the Big 12 and this year was just more of the same from last year. TCU often puts a lot on their cornerbacks and Texada generally holds up very well for them.
Holton Hill was one of the best defensive players in the league before he was suspended at the end of the year. He'll probably be the highest drafted DB in the next class from the Big 12.
2nd team: DJ Reed, Kansas State/Kris Boyd, Texas
Oklahoma got spotty play from their cornerbacks this season. Jordan Thomas was strangely a shell of himself before going down with injury. Parnell Motley had a strong first year but he's not yet one of the four best cornerbacks in the league. Kansas State was good at corner with Reed and Duke Shelley with Reed edging out Shelley as the better of the two. Both of the Wildcat CBs and their starting SS (Denzel Goolsby) and FS (Kendall Adams) are back next year so that's really something.
Kris Boyd was bad to open the year against Maryland, made mistakes here and there in the mid-season, and then by the end of the season against Texas Tech was playing like the best cornerback in the entire league. He'll be back next year playing for an NFL contract.
Those are my teams, any thoughts?