With the season and recruiting classes firmly in the rearview mirror I was keen to check in on something I didn't devote much time to previously, the status of the #RhuleofLaw defense.
I studied Temple fairly intensively last offseason partly because they were an interesting team that won a fascinating league and partly because Baylor was hiring Rhule. I wrote three pieces on some of their defensive attributes under Rhule:
1. This piece on how they used freak walk-on DB turned DE Haason Reddick.
2. A breakdown of the Tom Herman-Matt Rhule showdown in the 2015 AAC championship.
3. A preview of how Rhule and Phil Snow's defense would translate at Baylor.
Now I've finally revisited this defense based on how they handled the potent offenses of the Big 12. The AAC is filled with some challenging offenses, many of them which employ Gulf Coast O strategies that are hard to defend, but few of which bring the same kind of vertical passing element that is commonplace in the Big 12. There have been many top notch defensive coordinators that came to the Big 12 and were surprised or had to adapt to the high level of QB play they encountered. Texas has hired a lot of big name DCs over the years and I've watched closely as they've had to rework their packages to adjust. Will Muschamp embraced base nickel and lots of two-deep coverage early back in the late 2000's, Todd Orlando went base dime last year.
So what did Rhule do in his first attempt at the Big 12 and how close is Baylor to realizing the new vision as a defensive stalwart in an offensive league?
Rhule's philosophy on defense
The more I've watched Rhule's defenses the more clear it is to me that he has two primary influences. The first is Joe Pateron/Jerry Sandusky and the defense he learned at Penn State.
I know, I know, I know. No one wants to hear something like, particularly not Baylor fans. Here's the truth though, Rhule played LB for those two men at Penn State and it's clear that his defensive playbook is very similar to the one that Paterno used for years and years at State College.
Paterno was really ahead of the curve (or maybe Sandusky and the staff were, I don't know much about who was responsible for what) with the multiple 4-3 defense that Penn State was playing back in the day. They'd mix Under and Over fronts based on situation and were pioneers of the zone blitz.
You watch Rhule's defenses today and they are also built around building the Over and Under fronts in a variety of ways while using the zone blitz to attack opponents. I think his playbook is still built around being multiple with the 4-3 in part because it's an evolved form of these older defenses that were designed for a different era. Rather than starting over with something designed to be simple and sound against most anything a defense could face, like Phil Bennett's (from Bill Snyder and Dave Wannstedt) 4-2-5 quarters, I think the Rhule defense is an extended carry-over from another era of defense with tons of options and checks.
This may also be due to another major influence in Rhule's style which was evident when you watched the fellow dissecting plays in the 2017 playoffs from the coaches' room. The dude knows a ton of football and a million ways to "skin the cat" so to speak and he likes to carry a lot in his playbook to give him options for handling different approaches from offenses. It's more of an NFL mentality, which makes sense given that Rhule coached in the NFL and is occasionally rumored to be heading back although those rumors are kinda fishy.
So when Phil Snow says that it usually takes until year two for their defense to take hold, it's almost certainly because they are installing a very multiple package and teaching a lot of technique and scheme.
Normally I'm not a big fan of that type of approach in college because I think it's hard with player turnover, hard to utilize against up-tempo spread offenses, and probably makes it hard for the offense to get ahead. But Temple jumped from 113th in S&P+ under Rhule in 2013 (year one) to 11th in 2014. Obviously these guys know how to teach defense and you can see examples on film from 2017 where Baylor was on the cusp of successfully executing their vision.
The 2017 Bear defense
Rhule and Snow played a lot of 4-3 Under in year one at Baylor. The Under defense is traditionally one of the stoutest, best run defenses the game has ever seen and it was a major part of Bob Stoops' ascendance as a defensive coach in the 90s. It was designed to box in runs with big, physical players on the strongside and allow an athletic weakside 3-technique DT, LB, and often a safety to wreak havoc running to the ball playing behind stout, downhill guys at strongside end, nose tackle, and middle linebacker.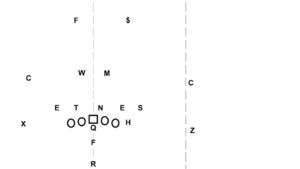 The goal is to encourage offenses to try and run at that B-gap bubble that is handled by the triangle of the nose, middle LB, and strongside end, all of which are chosen for their ability to be hard to move off the ball. Of course, as you can tell from this diagram it's designed for the I-formation and denying a feature RB from having finding a crease to hit.
Adjusting it for the spread offense is very difficult and most teams have given up on it, but Rhule used it extensively at Baylor last year on standard downs. The challenges are in forcing the edge when there's no TE and your strongside LB has to play in space and in keeping a stout MLB in position to play downhill in the B-gap rather than getting caught in space.
Rhule likes the Under though and he likes to have a defense where his LBs can run to the lead block of an H-back (where the action typically is going to be) rather than staying in their lanes and plugging ordinary gaps while a DB has to come and fill the new gap created by an H-back inserting himself somewhere on the line.
So Rhule had a few ways to run the scheme to handle this issue and allow his LBs to always be the first responders against the run: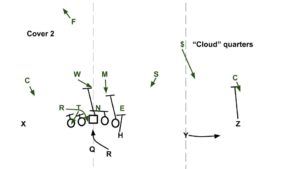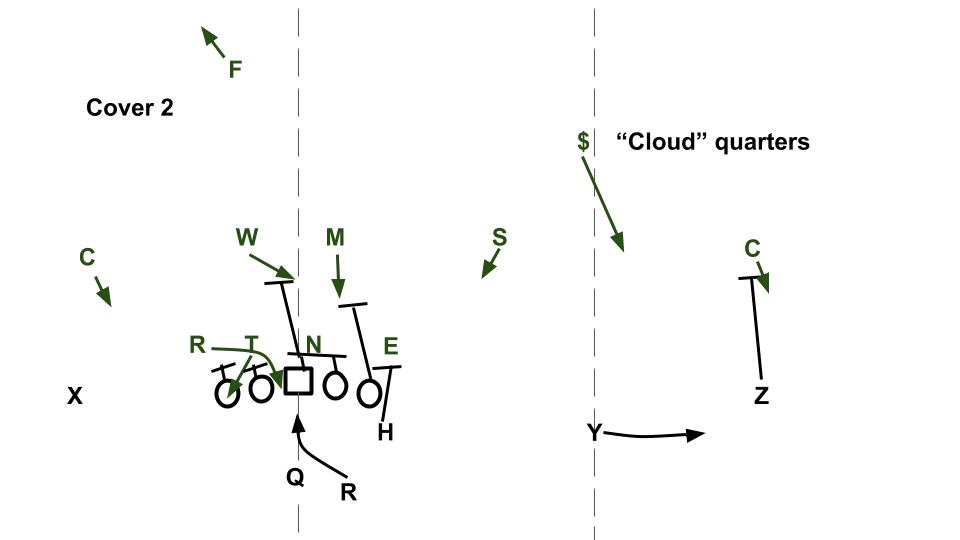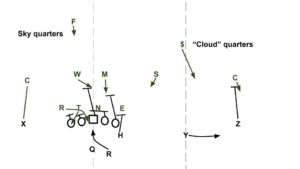 Here's how it looked in an actual game: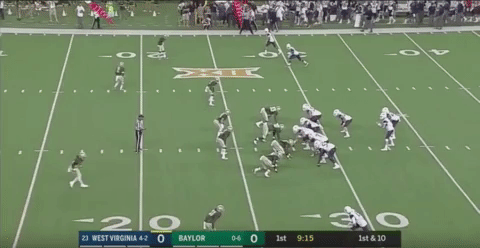 This is my favorite version of their Under (with a stunt) call. They're playing cover 2 over the solo-side WR, which is often a guy that you don't love to try and cover in man coverage without help. To the field they're in the somewhat precarious "cloud" coverage with the sam/nickel LB playing the edge aggressively and the strong safety and corner back left to handle the slot WR and outside WR 2-on-2.
You have to play blocks really well with your corner and your strong safety needs to be a good open field tackler for that to work.
However, in the box the Bears are in great shape. If the 3-technique gets a good jump he can basically box the play in to where the inside LBs and rush DE/OLB hybrid are all flowing to meet the lead block and outnumber the play. Their execution here is a bit off because instead of spilling the H-back's block and forcing the ball to go outside where the sam LB is coming, DeMarco Artis gets kicked out by the H-back and gives up a crease. Sam LB Henry Black (probably starting here again next year) still cleans it up with minimal damage inflicted and Artis is apparently moving to MLB this spring after a freshman season in which he understandably struggled with this strongside end role.
The second diagram has the CB man up that receiver while the free safety stays flat-footed to either help him inside or come down and help clean up against the run game. If Baylor can get good boundary coverage this coming year from Harrison Hand or Temple transfer Derek Thomas and then Blake Lynch proves a good tackler at free safety then I think you'll see more of that next season.
But even with better execution, this call is still pretty vulnerable out to the field to something as simple as a bubble screen or other quick pass: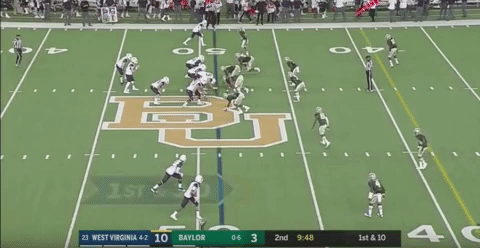 Nothing back breaking but that's a pretty easy gain to just give away. Ideally your field corner can handle playing a little tighter to limit the space outside but if you play aggressively there you become vulnerable to play-action shots over the top.
When the Bears wanted to play their 4-3 Over defense they would mix in Rhule's cover 3 or cover 1 schemes more often behind them. The 4-3 Over defense was popularized by the success of the Miami Hurricane teams that squashed everyone back in the day. They played the 3-technique DT to the strongside so that instead of looking to box the ball in with burly DL and the mike-backer to the benefit of a speedy weakside LB or hard-charging safety, the goal was to spill the ball to a trio of LBs that were all pretty quick.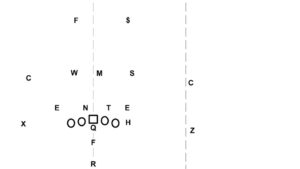 With it's emphasis on speed and typical pairing with quarters coverage it's tended to be more easy to adapt to the spread era. Gary Patterson's 4-2-5 is basically a full-time nickel package built from 4-3 Over principles.
The trick here for Baylor is that this front is different and requires different fits from the defensive backfield, and more to the point, playing man coverage and a single-high safety really changes up your assignments. For instance…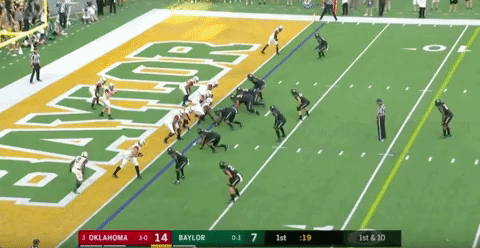 The 3-technique is now aligned to the TE side in the Over front with Blake Lynch in and playing man coverage as a strong safety. They still have the sam/nickel (Eric Ogor here) on the edge but he might just be blitzing. This appears to be a straight man coverage call that went wrong because MLB Clay Johnston was playing it like the Under-quarters front: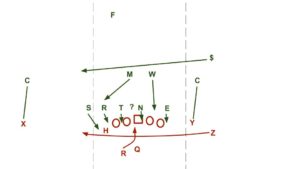 In the Under quarters defense the LBs would "rock back" here and key the H-back so that they could arrive at the point of attack but in this man defense, the sam is down in the box over the TE and they need to plug straight ahead. Johnson starts to rock back and gives up that A-gap directly in front of him. Then Davion Hall made a weak play trying to clean up from the deep safety position and there was no one else…Boomer Sooner rolls for the seven millionth time that day.
Oklahoma is running the same basic run concept as West Virginia was above, inside zone with an H-back picking off the end to allow the OL to get downhill on the LBs, although they had different action going on elsewhere on the play. However, Baylor was playing it out of a totally different defense and they missed their assignments in the different call, at least Johnston did and that's all it takes.
There's no reason Baylor couldn't play quarters behind their Over front (indeed that's the norm) or man/cover 3 behind the Under (ditto) but the real trouble is that their players had to go from playing one base defense with its own set of rules under Bennett to playing multiple defenses under Rhule. Those defenses included the Over and Under fronts, cover 1, quarters, Tampa-2, and then the slightly different "fire zone" calls that are basically cover 1. It's a lot to get under your belt so that you can play any of them like it's second nature and then beyond that, to be able to disguise between them before the snap like Rhule prefers.
Bear breakthrough in 2018?
Phil Snow has been quoted as projecting a major improvement this year but then a real breakthrough in 2019 when the LBs are older and better. Most people are interested though in whether this thing is on track and whether the Bears will graduate from being a speed bump to a nasty pothole. The latter has a shot at bowl eligibility.
The notable areas where improvement was needed a year ago were in the Bears' play at DE, LB, and S. As noted above in the under front, Artis and the DEs didn't always do their job of spilling blocks and plugging inside and they didn't have much impact over the course of the season. The Bears often relied on a double ILB fire zone to get pressure.
The inside LB tandem of Clay Johnston and Taylor Young was solid, they just didn't know the D inside and out yet, while the safety positions were a revolving door that rarely protected the D and offered next to no value-add.
From what I can tell of Rhule's comments in the media, the LB tandem in 2018 will probably be Clay Johnston in the middle and then Jalen Pitre at weakside LB with Henry Black reprising his role as a sam/nickel. I had Pitre pegged as a safety in my 2017 Baylor breakdown and he was the only carryover from the previous staff but his future seems to be as the next Stephaun Marshall and he's now walking around at something like 5-11, 215.
Finding a guy that can run sideline to sideline in this defense to feature as a clean-up man at will linebacker often means moving down a safety to play as a sort of pseudo-dime. The LB crew for Baylor looks pretty solid overall although they need Johnston back and better and Pitre to catch on quickly on the weakside. I don't know much about the plan for DE although Greg Roberts is back, Xavier Jones is back, and A&M transfer James Lockhart might offer a little more athleticism at the Rush-end spot.
Safety is the major area to watch, particularly in looking for improvements. They're moving Blake Lynch from his role as gopher and occasional press-corner to playing (free?) safety in 2018. Lynch was a freak athlete in high school that played for a really strong Gilmer team that also had prospective Tech starting QB McLane Carter and star Texas CB Kris Boyd (also his little brother DeMarco) and was coached by Jeff Traylor who went on to be an ace recruiter with the Longhorns and is now with Chad Morris at Arkansas.
Blake Lynch is typical of the kinds of players you can find in Texas, big, explosive athletes that often focus on offense in high school and not infrequently at QB in the spread, who need to be fashioned into hard-nosed defenders. That's been Gary Patterson's calling card at TCU and success at Baylor for Rhule is going to mean having similar success in Waco. If Blake Lynch can become a physical eraser at safety that can drop down in the box or be an intimidator in deep zone while disguising his destination to the concerned QBs trying to key him then the 2018 Bears are probably going to be pretty decent on defense and the Rhule project will be on track.