Matt Rhule walked into a tough situation, a true fixer-upper if you'll forgive me, in taking over Briles' Baylor program. Beyond the acrimony over the scandal that took down Briles and much of the leadership at Baylor, Rhule also came to find a gutted roster and a recruiting class with only a single committed player.
If I'm a Baylor fan I'm pretty frustrated with the BOR for allowing all of this to take place and at the departed staff for mailing in the 2016 season and setting Rhule up for tough times ahead. That left Rhule with two distinctive challenges in this class. The first was to set himself up to transition from grabbing overlooked kids in New Jersey and the north east to connecting with Big 12-caliber talent in Texas where he'd virtually never done any scouting or recruiting.
The next was to do so with enough quantity and quality to patch up a devastated roster and to do so without grabbing a bunch of kids that may prove to be as troublesome as the ones that got Baylor into all of this trouble in the first place. How do you vet enough kids to allow you to sign 27 players that you can be confident will stay out of trouble in Waco? The new Baylor head man is going to have to channel all of his inner Coughlin to maintain a #RhuleofLaw.
Beyond the sticky politics in Waco right now, Rhule is also trying to provide Baylor a new edge over the rest of the league as a team that prioritizes defense in their culture and loads up on versatile athletes to allow for flexibility and supremacy on that side of the ball. That means grabbing a ton of versatile players and grabbing a ton of good DBs or else you aren't doing nothing on defense in the Big 12.
Offensively it looks like they'll be very Oregon-esque and if I'm a Baylor fan I'm hoping that what they mean by "NFL elements" is that they mimic Lake Travis and run a spread-option offense with a lot of checks, motions, and options that requires a versatile roster of hybrid skill players. After all, they already signed the trigger-man from that unit.
That would be a wild departure from Art Briles' cookie cutter, plug and play Veer and Shoot offense, but it'd be fun and it'd probably be effective provided they signed the right players. It'd also jive well with a defensive approach.
The challenge is in trying to grab players with hybrid capabilities and upside on either side of the ball when you need two dozen or more and you only have a few months to find them. Let's see how they did.
Offense
Quarterbacks
In the short term there's an obvious priority for Baylor to make the most of Zach Smith, and not just because he's basically the only QB on campus but also because he has real talent. In the long term I think they'll want someone that can handle a lot of complexity and be a decisive trigger-man in an option-heavy system. That's what the Oregon system is all about and if you want to add more hybrids and "NFL" concepts into the mix then it's all the more true.
Charlie Brewer: 6-1, 188. 3*** from Austin, TX
People often misevaluate Lake Travis QBs and they've been doing so for as long as I can remember. No one thought much of Todd Reesing but he took Kansas to the only BCS bowl in their sad history. Everyone bought high on Garrett Gilbert but he struggled to make the most of his physical talents. Michael Brewer was probably pegged about right but Baker Mayfield was obviously wildly underrated.
Charlie Brewer will prove to be more like Baker Mayfield or Todd Reesing in my estimation, both of whom were underestimated as athletes because of their lack of size. I think much the same has happened for Charlie, consider this play…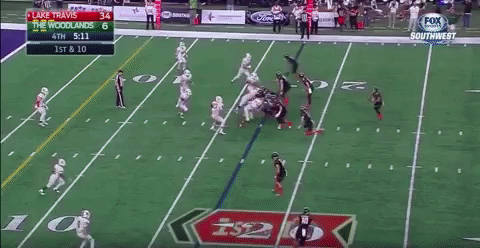 …that's Charlie Brewer on the catch and Cade Brewer (Texas TE) on the throw. You can get a lot more info in that column linked above on how the Lake Travis offense worked and Brewer's part in it but let me just sum up Charlie Brewer with a few quick attributes:
He's accurate, he understands the game at a high level and knows how different routes and options affect a defense, he's got enough arm strength and more than enough quickness and athleticism (obviously), and he's unlikely to be a total bust.
Grade: B
I'm very high on Brewer but it's a tad strange they didn't take another player, if even a athletic project that was more likely to end up at WR then QB.
Running backs
At Temple the Owls very much wanted to be a team that could run the ball, run clock, and protect leads. Their go-to feature was throwing the ball with Phillip Walker, and really it was leaning on his off-schedule playmaking. However, they had two 900 yard backs a year ago so it was hardly an afterthought. Their main play was outside zone, which makes best use of backs with some size and some "plant and go" ability to read blocks, turn up the field, and run through leveraged defenders.
Abram Smith: 6-0, 196. 3*** from Abilene, TX
I heartily approve of going to west Texas to find some overlooked players and Smith is a good fit for what they want. His test numbers: 4.59 40, 4.4 shuttle, 31″ vertical, 37.5′ toss, that's a kid who's a good athlete overall but who's fast and powerful if he has a chance to get going downhill. Well, while outside zone is a finesse scheme for the OL it's a "turn your shoulders and get going" scheme for the RB. Smith is a nice fit if he can add productive weight and be a little stronger before he gets up to speed.
Johnathan Lovett: 6-1, 194. 3*** from Marlton, NJ
Ah, our first New Jersey kid. Rhule made his living at Temple converting tough, New Jersey athletes into versatile dogs that operated in packs on his defense. Lovett could fit there, but it looks like he'll play RB. He has good hands, he's powerful and stiff arms some kids to the ground on the run, and he's a very good athlete overall that played RB, special teams, and safety for his school. Basically they tried to put him in position to impact the game at all times, a very positive sign. Baylor had to win him over some B1G programs like Rutgers, Iowa, and Michigan State, the latter two of which clearly know RB eval.
Lovett is also nice fit if they want to be mean and motion the RB around to create matchups against coverage because his hands and overall skill set are so versatile.
Grade: B
Both of these guys project well to an outside zone scheme and both balance the ability to be potential "volume-carry" guys with home run potential if they hit a nice crease. Lovett also has some experience on D and would probably be a really good safety prospect if he didn't work out here, although I expect he will.
Ancillaries
So, this will be an interesting component to Baylor's new approach on offense. They're talking up a big game on being multiple and comparable to the NFL and of course at Temple they'd often get in 22 personnel and just try to run the ball down people's throats at times. All that requires that you stock up on blocking TEs.
The Oregon offense or "Lake Travis option" that Brewer is familiar with is more about spreading the field, hybrid flex TEs, and using the option rather than sheer size and brute strength to run the ball. Either way, they need some players here to develop.
Tyler Henderson: 6-4, 230. 3*** from Kyle, TX
Henderson performed two primary roles for his HS team, the first was being a big, flex target on the perimeter that could win fade routes against man coverage with his size or attack the seam on play-action. The second was operating their wildcat run game. He was pretty good in both roles, he's pretty fluid (enough to pick out a crease on power and hit it) and has enough speed to get going when he finds a window (maybe a 4.8 guy), but he's not a terrifying athlete by any means. His upside will depend on embracing the world of blocking so that his receiving ability will be magnified by playing off the threat of him throwing an important block.
Grade: C
BJ Thompson could fit here as well but I'm pretty confident he'll end up on the DL for a few different reasons. Henderson is a fine take to maintain the position if you're planning on being more of a spread squad that uses 11 or 20 personnel. They need a lot more here if they want to load the field with bodies and play neander-ball, so I'm guessing that we'll see more of a spread-option approach.
Wide Receivers
In the past Baylor has basically taken the fastest straight-line guys they could here and then thrown them the ball on the move (mostly) while running in straight lines. Because of the geometry created by the Veer and Shoot offense, this was very effective. Now they'll want guys that are a little more well-rounded to run West Coast-type passing concepts, although they were getting there by default because their offensive success was allowing Briles to recruit the most all-around gifted offensive skill players in the country. If they're going in a spread direction then they need numbers here.
RJ Sneed: 6-2, 180. 3*** from Cypress, TX. IT #56
Sneed is a really nice take for the new style of offense. He's big, will probably play at 200+ easily, and he can already run pretty sharp routes. He's not as good of an athlete as the guys that Baylor is used to signing but he could be very valuable as a chain-mover. I don't really think he'll become a deep threat but I wouldn't rule it out.
Gavin Holmes: 5-11, 178. 3*** from Justin, TX. IT #57
Holmes is a very explosive athlete who ran a 4.43 40 in the sparq test and jumped a 33.9″ vertical, both of which tell you there's a lot of fast-twitch muscle fiber in those legs. He's pretty good at attacking the ball in the air and does his best work when he's gifted a little space to work in. If they can get him in the slot or otherwise off the line of scrimmage he's a guy that can hit them some home runs.
Trestan Ebner: 6-0, 188. 3*** from Henderson, TX. IT #78
Another 4.4 burner and maybe the Bears' best hope of finding a guy that can line up outside and command safety help over the top although he also fits inside. Ebner explodes off the ball and is adept at running by people, when he's 205 or so and a little more skilled with his routes he could be really nasty. Reminds me of Kansas State's Byron Pringle.
Grade: C+
This is a good group, roughly league-average in a league where everyone has really good WRs. If Ebner grows into an ISO guy then they'll be very happy with this class.
Offensive line
This is the big one. Every time a new coach takes over a program it's my belief that he should stock up on as many OL as possible so that in the "make or break" year three and year four he has some veterans that were chosen and developed to execute his preferred style of play. I make an exception here for Herman who inherited a talented and young group that was already chosen to do exactly what he wanted to do anyways.
My suspicion based off Temple film and the offensive hires were that Rhule wanted to move towards outside zone, which works best with really mobile and really scrappy players that are developed with redshirts. Quick feet, scrappiness, and chemistry/technique are really the name of the game with that scheme. Size matters less so long as everyone's on the same page and everyone's fighting to work to where they need to be. Of course if everyone is also 6-5, that won't hurt anything.
Eleasah Anderson: 6-4, 280. 3*** from Houston, TX
I'm not buying OT in Anderson's future (where he's listed by 247) but it's nice to see how often he was used as a puller while playing tackle at Alief Taylor HS. He's good at finding defenders on the move and then turning their shoulders, which projects well to being a pulling guard at Baylor and also to learning how to execute outside zone. He has a mauler's mentality and will end up being pretty big overall.
Khalil Keith: 6-5, 280. 3*** from Alpine, AL
It's strange that Baylor was able to find and snatch this guy out of SEC country. His other main offer was from Ole Miss and you definitely get the sense that everyone saw what was coming down the pipe for Ole Miss from the NCAA which made Baylor the beneficiary. The Bears have to be concerned about some of the indicators stemming from the fact that their main comp for this kid was another school that just got sanctioned, as well as the fact that the OC they stole from Ole Miss (Matt Lubick) just bailed for a lesser job at Washington. Are sanctions coming for Baylor as well?
Anyways, Keith is a nice prospect with some pretty good feet and also the ability to play low and drive people which could translate to guard if he doesn't develop well outside at tackle. He looks like he's playing against children on film, I'm guessing this was small town ball, but he does move well.
Ryan Miller: 6-2, 270. 2** from Carroll, TX
Miller is the kind of guy that outside zone makes into a better player then the ranking suggests provided he moves well enough and has some fight in him. I think he'll reach the necessary weight of 290-300 to play in the Big 12 and Southlake Carroll was an outside zone team last year so he's already well developed in these techniques. He's a project at center but I wouldn't be shocked if he played early provided that he gains enough weight in time for the season since playing at Southlake Carroll means he's had exposure to a lot more conditioning and development then, say, Khalil Keith.
Henry Klinge: 6-5, 295. 3*** from Carroll, TX. IT #82
Now this I really like, the Bears reunited the right interior of the 2016 Carroll Dragons to be their own. Eric Nahlin thinks that with looser hips he can become a tackle and Baylor was able to get something of a steal here because Klinge missed his junior year with injury and thus missed on some offers when everyone was filling up on more known commodities. If he can play tackle then play him there but if Miller emerges at center it could sure be beneficial to maintain the chemistry of these two guys playing next to each other for another few years.
Xavier Newman: 6-3, 272. 3*** from DeSoto, TX. IT #60
Newman was the LT protector for Shawn Robinson at DeSoto in their championship run and obviously a key feature of their run game as well. He needs to add weight but he has some nice length and major athleticism that could even see him stay outside at tackle in a more run-heavy scheme. There's been lots of projection of him inside at center but I saw him make a few errors in the championship game that make me think he's a bit aways from calling out combos and protections for the rest of the OL. Anyways he could be an amazing guard but if he masters things then perhaps center. Either way he's likely to be a major asset for their run game and OL overall down the line and is certainly a fit for what Rhule wants to do.
Jason Moore: 6-3, 270. 3*** from Frisco, TX
Moore is 16 years old, wants to become a doctor, and passed up a scholarship to Princeton to play at Baylor. All of those things are really bizarre for a B12 football player. What's intriguing about him for Baylor is the unexplored upside of a kid that's already really athletic, has a long wingspan, and will unquestionably be larger (and perhaps taller) after a redshirt and a few years in the program then he is now. The concern with a kid that wants to be a doctor and has always played against older kids is whether he relishes the physical nature of football and how he'll hold up playing against grown young men in college. At least, that'd be your concern if you hadn't watched his HUDL highlight entitled "Pancakes and Ice Tea." The kid likes to mix it up, which is probably also your best chance at understanding why he isn't heading to Princeton next fall.
I think they'll need to keep him in the weight room, the dining room, and the study hall (I guess) for a few years before he sees the field but it's possible that Moore is the left tackle of this bunch down the road.
Grade: B+
I'm amazed that Baylor was able to get this much quality and quantity in the class and all of these guys project easily to an outside zone/spread-option kind of team in the mold of an Oregon. They may not have found a cornerstone left tackle in this group and virtually all of them will need time before they have to see the field and play major roles so there could be major growing pains. When Rhule is up against it in year three or four though and needs a nice season to secure an extension, he'll be glad he took these kids.
Defense
Defensive line
Rhule plays a single-gap defense that could be called a 3-4 but really operates like a 4-3 and just happens to utilize versatile DE/OLB types on either side to allow for some flexibility with blitzing. On the inside Temple was known for playing really sturdy but also really versatile DTs like Matt Ioannidis who was an absolute stud. They need versatile guys to play on the outside, some guys that can hold the point of attack inside, and ideally a guy that can do some damage inside in the pass-rush.
Rob Saulin: 6-6, 250. 2** from Pennsville, NJ
Saulin played DE in high school and is listed as a "SDE" by 247, like virtually everyone else listed here in the 2017 Baylor DL class. As I hope will become clear, probably none of these guys are going to be playing strong side DE at Baylor, they were chosen for their athleticism and frames in the hopes that they can be molded into Matt Ioannidis-like DTs. Saulin is a solid athlete but I think he'll probably end up growing into a sturdy nose tackle down the line that comes off the field on passing downs. He's quick enough that he'll be hard to block when his 6-6 frame comes with 300 pounds.
Chidi Ogbonnaya: 6-5, 247. 3*** from Houston, TX
I really like Ogbonnaya, and not just because he calls himself "the Nigerian nightmare" on his HUDL highlight. He played mostly nose tackle at Langham Creek and he played with some depth, like two or three yards off the ball, in order to build up some steam and buy time to read flow. He won't be able to do that down the line at DT for Baylor but in some of his engagements with opponents he demonstrates a ton of punching power and stopping power so I don't think he really needs it so long as he learns to read blocks well. He'll be a real load when he's 280+.
James Lynch: 6-5, 285. 3*** from Round Rock, TX. IT #99
Lynch might be yet another promising guard prospect for the Bears or he might be part of the short-term fix up front where Baylor lacks guys that can hold the point of attack in the run game. Phil Bennett's 3-2-6 defensive package last year was really fun and clever but it would have worked a lot better if they'd had Lynch around to help rotate in at DT and fight double teams for a series or two.
De'Marco Artis: 6-2, 220. 3*** from Seminole, FL
I kinda suspect that Artis is really something like 6-0 flat, but I don't think it particularly matters in the Rhule defense. He's excellent at turning the corner in the pass rush and he's also good at darting inside, getting skinny to win a crease, and then exploding after the QB when there are opportunities to win inside. He's a great fit for the DE/OLB spots outside in this defense and could easily learn to do real damage stunting in the blitz game as well.
Justin Harris: 6-6, 250. 3*** from Gonzalez, LA
Harris played a "buck" or "jack" type DE/OLB position in high school, which is amusing to behold because he's so much bigger than most everyone else on the field. He's a bit too stiff to project there in college, but like most everyone else on this list, give him a few years in S&C and learning from Coach Elijah Robinson and I think you'll see something positive come out.
Cole Maxwell: 6-5, 230. 3*** from Allen, TX
Maxwell was a dominant 3-technique at Allen, that perennial powerhouse, and that's where he projects in college as well. I can understand the hesitation from services with giving another star to a kid who's about 50 pounds underweight for his projected spot. Well, they list him as a "SDE" which seems to be their "run home to mama" designation for every promising DL that comes out of high school at a tweener weight. I'm pretty sure that Rhule and co see a Ioannidis starter kit here and have little concern about this kid finding places on his 6-5 frame to pack on weight. He's really flexible, uses his hands very well, and plays hard. When these hands are coming from a 6-5, 290 pound dude in a 3-technique alignment he's going to be very tough to deal with.
BJ Thompson: 6-5, 220. 3*** from England, AR
Thompson is one of the more intriguing prospects of the entire class and how Baylor chooses to use him will say a lot about what kind of philosophical approach Rhule will have to winning in the Big 12. Thompson is really athletic, he has awesome lateral burst and he's already 6-5 so when he's working at DE it's very difficult to win the edge on his side. He also has great hands, either for beating tackles in the pass-rush or catching balls thrown when he's running down the field. If they really want to get after people on offense they should probably play Thompson there but his appeal as a pass-rushing DE who's athletic enough to drop into coverage is probably too alluring for a defensive coach.
Grade: A-
I almost want to knock the Bears for taking so many kids, but obviously they'll redshirt as many as possible so they can grow into the jobs they'll be performing in the future. The biggest issue for Rhule, besides what he'd do on offense, was going to be how he would do at finding and developing DL that would allow him to establish the defensive #RhuleofLaw in the offensively dynamite Big 12. Well, it looks like his answer is to gather a huge collection of high upside, large and athletic DL and then give them time and high level training in his program. I didn't realize there were so many players like this potentially available for a school like Baylor, if all these players turn out like I think they could then this project might go very well.
Linebacker
Perhaps this will prove the greater challenge for Rhule then finding athletic projects along the DL because the nature of B12 offenses doesn't change the game for DL like it does for LBs. As I noted in my breakdown of Rhule's showdown with Herman in the 2015 AAC title game, that game swung on a few matchups in space between star Temple LB Tyler Matakevich and Houston QB Greg Ward, Jr. Ward won those matchups decisively and it broke the Owl defense.
You need smart, hard-nosed players here but you need them to have real lateral quickness. Finding and developing guys like that was unquestionably a particular strength of Phil Bennett's.
Bryson Jackson: 6-2, 195. 3*** from Mansfield, TX
Jackson was really good in a sort of hybrid DE/OLB role at Lake Ridge HS that I don't think he's likely to play at Baylor. Now, the Bears did use Pat Levels in this role some in the past year but Levels played low and with a lot of leverage…and the Bears also got run over quite a bit on the perimeter. I think the hope here is that Jackson can grow into a 215 pound OLB that's still an effective blitzer but also learns to read flow and play like an ILB, ala Elijah Lee at Kansas State.
Ashton Logan: 6-1, 220. 3*** from Temple, TX
Logan is a really solid athlete with explosiveness test results (4.76 40, 4.53 shuttle, 30″ vertical, 32′ toss) that mark him as a bit iffy at safety but potentially a plus at OLB where he'll likely end up at Baylor. He has some real stopping power that he can generate from his hips and not forward momentum that will be really valuable at LB, he'll just have to learn all of the important keys and techniques that come with moving down into the box.
Terrel Bernard: 6-2, 215. 3*** from La Porte, TX
Bernard is one of the better takes in the class, IMO, precisely because he projects really well to ILB and because that skill set is becoming so valuable in the Big 12. He runs to the ball with a lot of aggression and confidence and at one point in his highlight used a jump step to avoid an OL before firing downhill and lighting up a RB. This is your mike of the group.
Grade: B-
The Bears got one guy in Bernard that I think is likely to prove capable of playing ILB and then a pair of guys that they'll have to teach to be LBs but each of whom are plus athletes. Football Scoop named Mike Siravo "LB coach of the year" for 2016 so that's promising for their ability to make the most of these kids. That's to say nothing of the pretty nice LB talent that Bennett left behind.
Defensive back
Rhule and his staff already understand that the key to winning in the modern era is to have tons and tons of feisty and versatile DBs on your roster so that you can get into nickel and dime packages to erase space on the field and avoid matchup problems. They were excellent at this at Temple so it's just a matter of whether they're able to open new pipelines to talented and fiery young athletes here as well. They like to mix zone and man coverage and the ability to play man is probably one of the key attributes they're looking for in order to allow the overall versatility.
Jalen Pitre: 6-0, 197. 3*** from Stafford, TX
Pitre was at one time the only commitment left with Baylor. As it happens, he's a pretty solid fit for what Rhule wants to do on defense. He's good playing on the edge as a run-force defender and he shows some good abilities playing in underneath zone as well. He'll have to learn to play man coverage and translate there to fit ideally in this defense but if he falters there he still might fit at free safety.
Trevon Lewis: 6-0, 180. 3*** from Houston, TX
Lewis played at Lamar with Grant Delpit (4-star, LSU), Anthony Cook (5-star, hopefully Texas), and D'shawn Jamison (4-star, hopefully Texas) in what has to have been at one point one of the most talented secondaries in Texas HS football history. His role was as a free safety who got to knock people out and play clean-up behind all those other talented players. You'd think that a second-fiddle DB in that group might not be that great but check out his test results: 4.63 40, 4.26 shuttle, 33.2″ vertical, 35′ toss. That's an above average athlete for the safety position in the Big 12 and his film is good as well.
I think Baylor will play him on the boundary in their free safety position and allow him to use his range to erase ground or come up and make his presence felt in the run D.
Harrison Hand: 6-0, 183. 3*** from Cherry Hill, NJ
Sparq score on this kid: 4.4 40, 4.42 shuttle, 40.8″ vertical, 39′ toss. The shuttle is bizarrely unimpressive but the other numbers scream "FAST TWITCH ATHLETE!" Naturally Rhule would turn to his NJ connections to land some studs to fill out this Baylor class. Hand had a handful of solid offers, some from schools like West Virginia, Pittsburgh, and Virginia Tech that know DBs. His film shows a kid that played mostly downhill and would seem to project most cleanly as a field safety but with all this athletic ability I'm sure the Bears will look to try and teach him cornerback.
Timarcus Davis: 5-11, 165. 3*** from College Station, TX. IT #83
Davis has really loose hips and can turn and run with WRs with ease but he's also supremely athletic and capable of breaking on routes and flying in a straight line. I'm honestly confused why A&M didn't offer, pretty much everyone else in the world did. Here's his sparq test results: 4.63 40, 3.95 shuttle, 45.8″ vertical, 35′ toss. That shuttle and that vertical tell you that this kid is pretty much impossible to beat within a 10-20 yard area, he's just too sudden. I think he could be a lockdown corner for them in time.
Grade: B+
Solid numbers here and some really good players. I'd bump them up to a A- if Lovett ended up at DB rather than RB but again, I don't think that'll happen. Four players will probably be a good number since they did have a bunch of DBs left over by Bennett that were really pretty solid. Travon Blanchard, Davion Hall, and Jameson Houston all have some eligibility left and should be pretty important to this next Baylor season. This crop should help replace them in following years.
In summation…
It's remarkable how many high upside players that Baylor was able to find and sign in such a short period of time. The fact that Rhule loaded up in such a short period is a testament to making good initial hires that were familiar enough with the region to point him in the right direction.
Rhule keeps checking off boxes and giving positive indicators that he has a plan for making Baylor competitive in the Big 12 and that he knows how to execute the plan. It's easier to score high by my standards when you sign 27 kids but it's not like they filled up on bread here, many of these players have some real upside in the particular systems that will be installed at Baylor.
Finally, credit to this staff for being willing to take long-term projects and not trying to patch things up with JUCOs. I don't know how he could have vetted all these kids effectively in such a short window of time but these kids are probably safer bets then if they loaded up on JUCOs in a similarly short time period.