Because of the nature of Briles' Baylor program towards the latter end of that regime, before things went horrifyingly wrong, it has become a bit easy to forget how Briles built that program in the first place. After consecutive Big 12 titles in 2013 and 2014 the Bears were cruising in recruiting, snatching up highly touted kids across the state like QB Jarrett Stidham and WR KD Cannon. They were also occasionally fielding higher ranked recruits like Andrew Billings and Ahmad Dixon that belied how much of an overlooked and underrated roster it was that Briles was winning with in Waco.
The best team that Art Briles put on the field was the 2013 squad, which won the Big 12 and went 11-2 and 8-1 in the Big 12 with losses to Oklahoma State and UCF that came largely due to lack of roster depth or injury luck, depending on how you want to look at it.  The Bears took on OSU without Tevin Reese, arguably their best player on offense and 2013's probable MOTP had the injury not taken him out, and they battled UCF without LB Bryce Hager. Worse, they played UCF WITH LB Brody Trahan.
Anyways, here's what that 2013 roster looked like, starting with their offense which ranked 3rd in S&P+: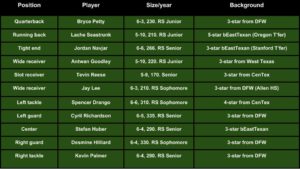 And the defense, ranked 26th in S&P+: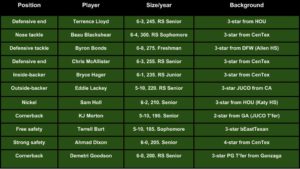 Art Briles had a two-part strategy to building out his roster with enough talent to win the Big 12.
The first key was finding fits for his system, players that could be redshirted and developed in his "Veer and Shoot" offense or Phil Bennett's "4-3 Over quarters" defense.
The brilliance of the Veer and Shoot offense was in its combination of the best of spread tactics, option football, and power run/play-action passing. Through repetition, pace, simplicity, and spacing Art Briles turned the deep pass into the modern equivalent of the option pitch.
Guys like Tevin Reese or Antwan Goodley, who were a blur in a straight line but lacked ideal attributes to play like traditional WRs, were freed up by Briles' simplified route tree to simply run down the field into open grass against slower defenders or even take the play off if they knew the ball was going elsewhere. He did the best he could on OL to fill out the tackle rotation with good athletes and struck gold with Spencer Drango, an athletic 6-6 260 pound kid from Cedar Park HS (my alma mater) for whom Baylor was the best in-state offer (save for a late desperate push from Texas). Otherwise he just tried to grab kids that were as massive as possible to shove opponents around in Baylor's angle and double team-intensive rushing attack.
On defense Eddie Lackey and Demetri Goodson are perfect examples of the kinds of players that Bennett was learning to maximize with his matchquarters system. Above all, Bennett wanted speed and athleticism to match up tight on opponents. He kept his defense fairly simple, typically just lining up in press-quarters on play after play and putting pressure on opponents to try and beat them deep or risk quickly punting the ball back to Bryce Petty.
Eddie Lackey was an absolute monster in this system because of his tremendous lateral speed and Bennett was one of the early DCs in the Big 12 to realize that a smaller guy with Lackey's speed was much more valuable in the modern era than the big plugger. Demetri Goodson was a plus athlete, as evidenced by his basketball scholarship to Gonzaga, and it made sense to translate his perimeter defense into playing press coverage on snap after snap.
The Bears really hit their stride in 2013 also because they flipped Sam Holl, a physical safety from Katy with great football IQ but limited range, with Ahmad Dixon who was a burning fast, downhill safety that they had up in the box. Holl thrived playing in Dixon's underneath space-backer role and Dixon learned how to take advantage of playing with a running start from safety to help shut down the run. The DL was only okay (although with legit talent backing up the veterans on the 2-deep) but the defensive backfield was truly one of the finest the Big 12 has seen this decade.
In Briles' visual and rep-intensive practice format everyone became a maximized master of the relatively simple schemes put into place on either side of the ball.
The other part of Briles' strategy was to happily accept transfers from other schools, even players with baggage that could prove to be character risks. I'm not sure why RB Lache Seastrunk wanted out of Oregon although his admission to that program was certainly shrouded in scandal, but he ended up doing spectacularly well when brought back home to Texas and plugged into Briles' system. Between JUCOs and transfers from other programs, the Bears were regularly able to plug in some talents that they were otherwise struggling to find in recruiting like DE Shawn Oakman, DTs Phil Taylor or Jeremy Faulk, or Seastrunk.
So between redshirting 2/3-star kids that had potential within Briles' schemes or taking on bluechip transfers, Briles was able to build out rosters in Waco that were competitive within the Big 12. Many of them have had less clear fits and projection into the NFL where size matters a bit more and offenses don't rely on triple-option/RPO attacks to move the ball.
Rhule's approach to making Temple into a competitive program was entirely different.
If Briles was taking kids that he saw as perfect fits for a brilliant offensive and defensive system and supplementing them with transfers, Matt Rhule was snatching up kids that he thought had overall athletic ability and then fashioning them into versatile players with a rigorous developmental system.
Here's a look at his best Temple team, the 2016 AAC champions, starting with the 79th ranked offense per S&P+: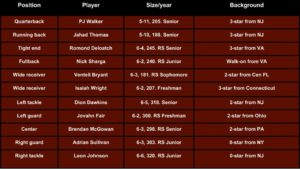 And now his defense, ranked 16th by Defensive S&P+: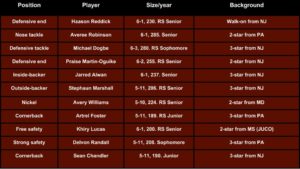 Whereas Briles was loading up on 3-star Texas kids thanks to the allure of his system and his connections across the state accumulated over decades of coaching, Matt Rhule was loading up on 2-star kids mostly from NJ thanks to connections he had all over that state but increasingly in Pennsylvania as well.
You can see some of the same principles at play in terms of snatching up lower-ranked players and developing them over multiple years and redshirt seasons. You can also see a similar approach to flooding the field on defense with smaller athletes.
The difference in recruiting was that while Briles picked up guys he thought could be maximized by his unique system, Rhule picked up guys with athletic upside that he figured he could mold into stars with his practice regimen and culture.
Baylor currently has 22 players in the NFL after this last draft while Temple has 19, despite picking from a much thinner talent pool than Baylor, because Rhule was turning guys like Praise Martin-Oguike or Delvon Randall into well-rounded players with diverse skills that would be attractive to the pro ranks.
Whereas Briles would supplement his recruiting classes with talented transfers from other programs, Rhule supplemented his roster with walk-ons that ended up getting fashioned into useful players or even stars by his demanding culture. Nick Sharga and Haason Reddick were arguably the best players on offense and defense respectively and both were walk-ons. You can read about Reddick here while Sharga was a hard-nosed wrestling champion that took to fullback and Rhule's ground and pound style like a fish to water.
The 2016 Temple Owls were 10-4 and 7-1 in ACC play with defeats to Army in the opener, Penn State (34-27, Memphis (34-27), and then to Wake Forest in the bowl game without their head coach (34-26).
Art Briles had a bit more success overall at Baylor than Rhule did at Temple, mostly because his overall strategy for turning a mid-level program (resource and talent wise) was stronger than Rhule's and resulted in some strong defenses in addition to elite offenses. Rhule hadn't quite figured out how to build a great offense in Philly before Baylor hired him though I think S&P+ underrated it a tad. They were excellent at four minute offense, Walker was hard to handle on third and long, and they were average or poor at most everything else.
How does Rhule's approach to roster building translate in Waco?
I don't pretend to know much about New Jersey high school football other than that it seems to produce an exceptional amount of talent and much of it flies under the radar. I do know, however, that Texas produces even more and that Art Briles' tenure at Baylor saw the program draw in alumni investment that has that program competitive with all but the top dogs for Texas talent.
I also know what Rhule brought in for his first Baylor recruiting class and what he did was load up on high-upside athletes of the sort he won with at Temple. The recruiting angle isn't really going to be an issue, Rhule's eye for talent and program approach to maximizing it should produce results over time. The more interesting questions are how will he supplement his roster to gain extra talents that can be the difference between a winning season and a league title? And how will he make the most of Texas' unique HS ball?
A walk-on program at a public university like Temple is a different animal than at an expensive private school like Baylor. The Briles Bears saw walk-ons contribute here and there but while Rhule might find some hard-working Sharga types, like former marine and future starting fullback Kyle Boyd (no relation), it may be harder to get guys like Haason Reddick on campus.
But Rhule has shown some creativity thus far, such as recruiting Baylor wing Ishmail Wainwright on seeing if tight end may be a better path to a career as a professional athlete than basketball. They're also bringing in Tennessee transfer Jalen Hurd, probably to take a crack at the same position, and I don't get the sense that Hurd is available because of off the field problems like a Shawn Oakman or Sam Ukwuachu.
The advantages unique to recruiting at Baylor are in Texas' store of highly developed players. Players like Charlie Brewer or RJ Sneed in this last class come to college with AP credits in spread 101 (or even 201 and maybe 301 in Brewer's case) and while they may or may not have athletic upside remaining they do have skill development upside to master complicated techniques and schemes thanks to already having the regular college tactics and techniques under their belts. If Rhule can work out how to leverage those skills to build pro-style offenses in Waco that actually work, that could allow him to match or surpass what Briles accomplished in Waco.
In the meantime, it's a whole new approach to roster building that will require redshirts, physical practices, and time before we really see the fruits. Briles wasn't bringing in all of the same sorts of kids as Rhule will target and the players he recruited came to Baylor to run tempo practices where they score all day, not to mash into each other in full pads all the time. It may be awhile before Rhule gets total buy-in and gets enough of his kinds of kids to totally overhaul the culture and roster in his image. It'll come though, he'll have a long leash to make it work.
***
I collected here some materials on some of Rhule's major coaching influences. I haven't read these works but I know that he gleaned a lot from Tom Coughlin (which he talks about regularly) and that he also gleaned a lot from Paterno's Penn State program (which he understandably talks about quite less).
The guide to eagle and stack defenses by Penn State LB coach and eventual DC Ron Vanderlinden (now at Army) was long regarded as an industry standard on those systems and serves as a guide to the origins of what is now the Rhule defense. We'll talk more about that when I break down the changes from Phil Bennett's system to Rhule's new defense in Waco.
Hard-nosed, working class values have long defined football culture and guided the better Giants and Nittany Lions teams that Rhule learned from.