I had a few brief interactions at B12 media days with Jalen McCleskey, Dana Holgorsen, and Justin Phillips I've transcribed here. We'll start with Dana Holgorsen, who seemed bored and irritated by the time I headed over to his booth at the breakout session.
Holgorsen
What did you make of some of the dime defenses we saw last year from Texas and Iowa State?
(Staring down at his phone) Sounds like, uh, what we do on defense.
(Staring at phone, then looks up)
Do you know what we do on defense?
3-3-5 with pretty small linebackers so you can approach it.
Sounds like our defense. When I would watch Iowa State and Texas on defense I'd be like golly, that sure looks like what we've been doing for five years.
Do you think that they got any of it from you guys?
I know they did. I mean, that's the game though.
What do you feel is, do you think that's going to take over, will you see more teams steal it this season?
If we're any good they will.
What do you think is going to be the next adjustment. When you guys talk about how to attack that kind of scheme, what do you think is the next trend or counterpunch?
Wishbone. 
Wishbone…I don't think you're being serious.
Whaaa? (laughs)
(SID chimes in) "it's hard to stop, wishbone."
Heck yeah it is! I don't think we'll go there this year but who knows who our QB is a year from now. All these nickel and dime guys, make em tackle.
Takeaways
Kurt Bohls of the Austin American Statesman had been running around for two days trying to get quotes for some article about the 50th anniversary of the Wishbone so I think that's why Holgorsen threw it at me as the "solution" to the dime defenses that "had been stolen from Tony Gibson."
For the record, West Virginia was mixing in the 2-robber coverage Iowa State build around and I wrote about it a few years back. West Virginia has not utilized quarters though like these defenses, hasn't played true dime personnel but utilized smaller LBs and played them like LBs, and hasn't been as effective as Iowa State or Texas was a year ago.
There's little doubt that ISU and Texas took it up a notch last year, but there's also little doubt that West Virginia was ahead of the curve in playing an 8-3 style of defense.
Rest assured that West Virginia isn't actually moving to the Wishbone when "whoever their next QB is" (Jack Allison, duh) takes over.
Jalen McCleskey
I don't know if you noticed but, back in 2016 you won the (drumming on table) Darren Sproles water bug trophy for most outstanding tiny person. Last year it went to Marquise Brown. Do you have any thoughts on that or competing for it this season?
(Smiling) Well, I didn't even, I didn't know who got it last year. I knew I got it in 2016 but I didn't even see who had got it last year. But uh, I'm just going to go out there and just compete, and just do whatever the coaches need me to do.
What kind of mentality does it take to play both as a smaller guy on a field with some big guys around but then also in the slot when you're over the middle?
Just have to be tough, knowing that sometimes you may get hit but just holding onto the ball, cause it hurts a lot worse if you drop it. And you're still gonna get hit.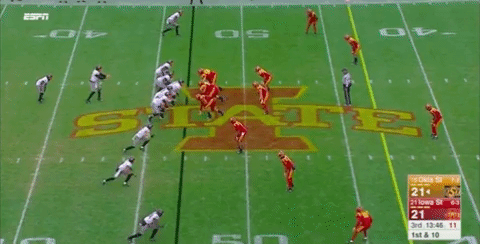 Last year you got mixed in some, especially as teams were playing that dime defense and dropping that safety in the middle of the field and dropping way outside and then it was you over the middle. You almost put Texas away with one of those. Is that a big emphasis for you this offseason is that something you know is gonna be a big part of this coming season.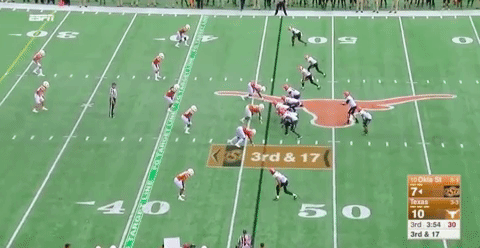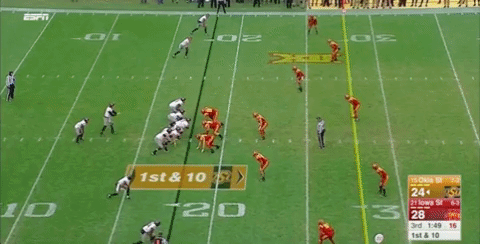 Well it's just week by week and what their schemes are. You know everybody's schemes could be different going into that week.
Takeaways:
It'd be nice if the Darren Sproles water bug trophy for most outstanding tiny person had a sponsor and there existed some number of tiny ones that I could give out. If anyone out there is interested in sponsoring the award let me know.
I got a kick out of Jalen McCleskey acknowledging the award and showing some pride and humor about having won it. I think he's likely to win it again this coming year and go down with the all-time greats. Also, seeing this guy in person, he's certainly eligible, not a huge guy Jalen McCleskey, lotta heart though.
Justin Phillips
How has the defense changed under Knowles?
Uh, we're a lot more aggressive this year and we're going to play to our speed a lot more.
Does that include you moving at all? Maybe to middle linebacker or are you still back home at will?
Nah, I'll be middle linebacker this year, kinda leading the defense…
Really?
Yeah, and just taking on that leadership role as a senior and make sure guys are in position to make plays.
Does that mean Bundage next to you or…who's looking at that will?
Yeah, right now is Bundage next to me. Crazy, crazy Cal, cuckoo Cal we call him.
That's Bundage? Cal?
Yeah, he's a maniac so, I'm excited for him.
How much confidence do you guys have in the new scheme? Is this something that gives you confidence are you still working it out and understanding it?
Nah, we have a lot of confidence, uh, just from bringing a lotta guys back on defense. And now this defense is something new that offenses haven't seen from us yet. So we're excited to get out there and show guys what we can do with it.
How do the young safeties look in this?
Uh the safeties are looking good, you know, everybody's learning their pieces, learning their roles. We got some guys that already played last season so, wherever their role is, wherever they fit at, they're gonna produce and I have a lot of faith in those young guys.
Takeaways
I had noted just last week that for this new defense OSU should not only replace their "star" linebacker with a CB/S hybrid like Duke had done but they should also replace one of their inside-backers with former "star" Calvin Bundage. Obviously me and Knowles see the situation similarly because he's done exactly that.
I wish I had asked who was playing that hybrid position but given how willing Phillips was to hand out this information maybe it's already public.
(Checks google)
Hard to tell, but my guess is Malcolm Rodriguez plays SS and Thabo Mwaniki plays the hybrid spot.
Phillips as a MLB with Bundage next to him is the makings of a great LB tandem and they have a solid front ahead of them. I think OSU will be hard to run on next year but the pass defense is more dicey.
I didn't get a chance to talk to Mike Gundy but the B12 media was abuzz about him saying former walk-on Taylor Cornelius was "the guy" heading into fall camp. What no one seems to have noted is that Gundy always said "heading into fall camp" which left open the possibility that Dru Brown (who hasn't played yet) could take the job either before week one or during the season.
It's possible Cornelius will win the job, I'm sure OSU would like to continue to run dig-post for Tyron Johnson outside at the Z spot and Cornelius has reps and the arm to do it. Still, I don't think it's written in stone yet.