A re-occuring topic on this blog is the art of playing defense in the Big 12. The league is known for its offenses while the defenses often have scorn heaped on them, sometimes justifiably, but it's clearly hard to play great defense in this league and the teams that can do it tend to stand out.
This morning at Football Study Hall I published a piece on the sorts of things that B12 defenses are up against while detailing how Kliff Kingsbury's Red Raiders looted Stillwater. Oklahoma State seemed like a real contender in the league after the Boise State game. Taylor Cornelius made some throws and also made some impressive runs while new DC Jim Knowles revealed a defense that could bring a lot of pressure and that could do so through the A/B gaps, which the is the real key to busting the Air Raid.
Then they went up against an Air Raid team and got smashed. Not a good sign. Their wideouts are quietly as good as they've ever had. Tylan Wallace was a nightmare for Tech to cover, Tyron Johnson is dangerous on the other side, and even without Jalen McCleskey they have what they need in Dillon Stoner to create the dig-post and shallow cross stresses that they've lived on for the last several years.
Cornelius looks like a more mobile Daxx Garman, so they need to find the next Mason Rudolph but short of that their program appears to be in solid shape in the coming years.
For the 2018 season, only three teams at this point really look like they can get the offense/defense balance right in order to emerge unscathed through round robin play.
TCU: Not there yet
My preseason assessment of TCU was that yes, they are more talented than they've been in recent years and yes, they'll probably still be good on defense, but there's too much young and unrealized talent to put it all together.
Then Shawn Robinson turned the ball over six times in two weeks facing Ohio State and Texas teams with NFL athletes on defense and that was that. The Frogs have a system and a plan on offense that is going to yield some major results in coming years. Their mix of screens, zone-read plays, and occasional option and single-wing QB run game puts a lot of stress across a front and helps create chances for guys like Jalen Reagor to win over the top. Next year their entire starting lineup on offense returns save for Kavontae Turpin. It's going to be a nasty unit, it's just not there yet much like this Oklahoma State team.
On defense, they're actually a little better than I expected. They have three things going for them that are really hard to contend with for an offense.
One is the Cory Bethley-Ben Banogu pairing at 3-technique DT and DE. Those two are really quick off the ball and each are very comfortable both in space or attacking blockers. The end-tackle twist that they call 10x a game or so is one of the most devastating stunt combos I've ever seen. The guard always struggles with Bethley before handing him off and is almost never able to turn and meet Banogu before he's turned the corner and darted inside him to get a free run at the QB.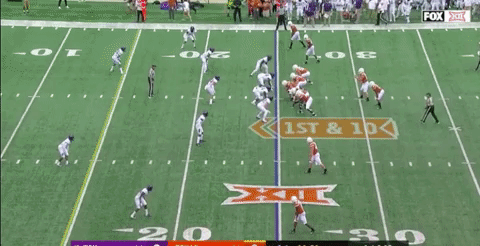 Another is Garrett Wallow, who I described in my Texas-TCU post game column as Gary Patterson's spirit animal. That dude is obviously absorbing Patterson's vast knowledge of B12 offenses and his speed and aggressiveness in the box makes him a nightmare. He's going to finish the year with 15-20 run stuffs and just be touching the surface of what he might accomplish in future years.
Finally, the Innis Gaines and Ridwan Issahaku strong/weak safety tandem is a really good one for closing and making tackles in the run game. I'm never impressed by Niko Small but these two are clearly good ones for the Frogs.
Next year they'll lose Banogu and Issahaku, Bethley and Wallow will be back and even a year better, Ross Blacklock may be back and good, and then there are other young athletes across their defense that will be emerging. DE is an issue but it's one they've dealt with many times before. The people who were saying that TCU's two-year malaise on defense was related to losing Dick Bumpas and Patterson needing time to replace him and build trust with his defensive staff look credible this season.
Texas Tech: Nice, but no
Alan Bowman was a really good find, but then I noted that in my Texas Tech class breakdown. It was widely assumed that Tech's WR corps was going to take a hit after losing so many valuable contributors, then the guys sitting on the bench came in and started making plays like the old guys did.
Two things people overlooked: 1) Kingsbury loaded up with receivers in some of his earlier classes and they had guys that have been sitting on the bench every Saturday but catching hundreds of balls in practice every year for multiple years. The odds that Ja'Deion High wasn't going to end up looking so many other water bugs or that Zach Austin wasn't going to elicit comparisons to Wes Welker, Danny Amendola, or Eric Morris was always exceptionally low. Antoine Wesley was more of a surprise but these things happen.
2) It's Kliff Kingsbury and the Air Raid. Reloading and retooling on offense is what they do, they're never going to suck at scoring points.
So why aren't they being bumped up into the contender range? Mostly because they started as outsiders and have only now been bumped in my estimation from "not contenders" to "could win eight games." To get from there to "maybe a contender" is another leap. But also because I don't trust this defense or Alan Bowman to keep winning big games against other teams.
The defense was boosted heavily both by Tech's success at ball control against OSU and the inaccuracy of Taylor Cornelius. The Raiders still had legs to get after Cornelius in the pass rush when OSU was trying to play catchup and the Cowboys couldn't or wouldn't lean on Justice Hill in the lead zone game (they started with some misguided attempts to hammer Tech with GT counter) as a part of their comeback efforts. So most every play was Tech dialing up four/five man pressures while bracketing the most dangerous OSU receivers and then Cornelius failing to hit guys while running for his life. That is not going to be the context every week.
Another issue is that Alan Bowman doesn't always protect the ball. He's loose and freewheeling about flinging the ball around because that's how Kingsbury coaches his QBs to be but he's young enough to be fooled or surprised by the coverage variety and range of good B12 DBs. They ran the ball well against OSU but they did it with speed and with tricks that may not work every week. The Red Raiders may put together a really nice season and secure Kingsbury more time to keep the defense growing while Alan Bowman becomes his version of Graham Harrell, but I just can't see them winning the league.
West Virginia: Intriguing, we'll see
The Mountaineers' solution to their problems at strong side linebacker was one that I vaguely pointed at and now wish I'd thought through more carefully. They put Sports Treatise favorite Jovanni Stewart at Sam and gave him his old HS mission to go crash into the line and wreak havoc on the edge.
Longtime readers may remember that I went all in on Stewart being a good college player despite his 2-star rating when he paced the greatest defense in Texas HS history at Katy back in 2015.
The defense Stewart was a part of is going to go down as one of the greatest defenses that the state of Texas has ever seen. Playing at the highest level of Texas football at the height of the spread era they shut out 10 opponents, including their semifinal opponent. I should probably write about them at some point.

Anyways, Stewart was the edge-backer in this legion of death-bringers and would regularly play force or blitz on the edge or inside. He basically played Eric Striker's position but he honestly reminds me of Tyrann Mathieu, he's got a similar savagery and effectiveness to his play thanks to ultra-quicks and confident play. I see him as a nickel, or "spur" in Mountaineer parlance, that everyone eventually feels dumb for overlooking.

I know recruitniks are going to laugh so I'm including his senior stats and hudl here:

Dude had 101 tackles, eight forced fumbles, 10 pass break-ups, and 10 sacks. Maybe I'm just being thrown off by the Katy "system" or maybe this kid is a football player who everyone is ignoring because he's on a great team, he's undersized, and he played linebacker in high school.

I'm all in on Jovanni Stewart.
Here's K-State trying to run a zone-read against Stewart on the edge as a 9-technique.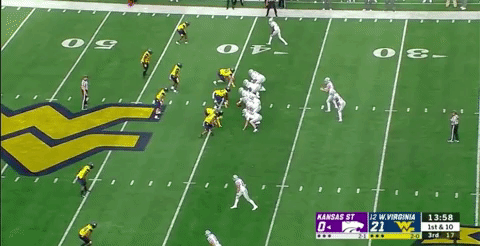 Sorry Wildcats, that dog won't hunt. But while it's obvious that when he's an extra man on the edge he could be effective, what happens when he has to play blocks?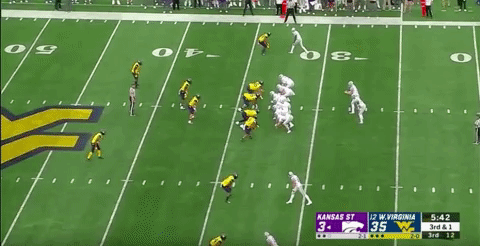 This is a rare play where Skylar Thompson's tendency to flee the havoc of the inside gaps for greener pastures on the bounce paid off. But note that Stewart blew up the pulling guard AND the RB on a QB counter play. Presumably if you can get someone sized up on him it's a problem, like it is for all of West Virginia's LBs, but if he has a running start and time to diagnose the play he can be a problem.
This was the right call by West Virginia, to double down on being fast and versatile rather than overhauling their structure or playing some stiff walk-on at LB in adherence to traditional defensive structures (no offense to Shea Campbell).
The concerns with the Wildcats are (still) what happens if teams can run the ball inside and the LBs have to plug gaps against oncoming guards rather than trying to run by or around people? What happens when teams bracket David Sills V and make the Mountaineers run the ball? The West Virginia OL returns a lot of starters but they didn't look like much against Kansas State last weekend and they still don't seem particularly committed to running the ball.
I figure we'll learn more about Iowa State after they play TCU in a must-win game and the upcoming contest in Dallas is going to settle a lot between Texas and Oklahoma. We'll try to get to Baylor soon, just to see how they're coming along. I bet Rhule has a good idea of how to attack Oklahoma (hint, you blitz Kyler Murray) but obviously the Bears are pretty overmatched so it's hard to confidently project them executing their plan on the road.