This is probably the biggest week of the year for the Big 12 in terms of their standing as a national conference unless the league puts a team into the playoffs (doubtful). For reasons I've articulated here a few times, the Big 12 can't quite compete with the other major conferences. The demographics of the region are too sparse and Texas-focused to allow for as many big time programs as you get in the SEC, ACC, or B1G and the Pac-12 and even AAC are typically the peers to the Big 12.
However, the Big 12 does have a large number of programs that truly care about football and currently have an amazing collection of coaches that know how to take mid-tier Power 5 resources and build something closer to upper tier Power 5 teams. Then you also have Oklahoma and Texas, the former of whom has really defined the ceiling for the conference and the latter of whom has squandered one of the best positions in college football to the tune of one national championship over the last 48 years.
All that big picture rambling aside, I've got some thoughts on the big games this weekend and some ideas about how they might go and what they could portend for the 2018 season.
Boise State +2.5 at Oklahoma State
I've been a little hypocritical this week. I've noted that S&P+ seems to see the 2018 Texas team as I have, namely as a team that's been reasonably solid and not great on both sides of the ball and which has a chance to end up being a pretty overall team that contends for the Big 12. I heard a story about a casual-ish sports gambler living in the Austin area that saw USC +3.5 and put down six figures on the Trojans. That's where the typical perception is down in the Austin bubble regarding this team after a loss to "4-8" Maryland and a seven point win over "2-10 Tulsa."
Of course Maryland went 4-8 after losing two different QBs for the year to injury and Tulsa nosedived to 2-10 after a 10-3 season because they tried to replace pocket passing Dane Evans with running QB Chad President in the veer and shoot offense which is predicated around using the pass to set up the run. All that to say, neither of those teams are as bad as their 2017 records suggest.
So when S&P+ and Vegas both saw Texas as a slight favorite over USC I was eager to say, "see, I'm not not the only who sees things this way."
But when Vegas (definitely not S&P+) told us that Oklahoma State is about equal with Boise State? I urged a friend who'd bet against Texas (not the 6-figs character) to hedge by betting heavily against OSU.
As Steven Godfrey has been humorously noting, 2018 looks like the year that we get the return of the "Murder Smurfs." The turn of the decade Boise State teams that would beat the hell out of a different opponent every week.  Last week Boise outgained UCONN 818 yards to 193…
Heading into the year Boise looked like a very promising team. They have 10 starters returning from a very strong 2017 defense, one of their best since Pete Kwiatkowski left with Chris Petersen, although the one guy who left was 1st round draft selection Leighton Vander Esch.
On offense they had a slow start in 2017 before starting to get their OL rolling and run game off the ground, in part because they settled on Alexander Mattison at RB and he rewarded them with a 1k yard season. Their big question marks on this side concerned how they'd replace star wideout Cedric Wilson, who had 2640 receiving yards and 18 TDs over the previous two seasons.
No big deal, they plugged in a "sophomore" LB named Riley Whimpey who'd just returned to campus after serving his two-year mission for the LDS Church and have been great on defense while fourth-year starting QB Brett Rypien has been lighting opponents up throwing to veterans Sean Modster and AJ Richardson.
The name of the game in Boise is nearly opposite to Mike Gundy's approach to building top teams in Stillwater. At Oklahoma State they look for players that have high level athleticism and potential and then they mold them into football players over years of development in their system and schemes. The Gundy offense is designed to squeeze as much value as possible out of a small number of offensive concepts by using tempo, a field general QB, and spread spacing and balance.
Boise looks for versatile football players, guys that may not have any elite measurables but are solid or good at a large number of skills and then they build multi-use tools on either side of the ball that allow them to methodically break opponents down with ever-shifting formations, concepts, and leverages.
Both approaches are great and have generated strong results for either team. The problems for Oklahoma State in 2018 are these:
Their defense is in a more larval stage of development in a new scheme going up against one of the most multiple, well prepared, and mentally taxing units in the country.
They're in a transition phase at QB, currently relying on former walk-on Taylor Cornelius because he knows the system and how to distribute the ball in it while their other more talented QBs do not.
I expect OSU's defensive approach, which is designed to cut off angles and force opponents to play in a box, to fail on a systemic level as Boise breaks "the box" and out leverages their defenders with various tricks and run/pass conflicts. The OSU offense, designed to allow the QB to figure out where the favorable leverage is and get the ball to a playmaker, could very easily break down as the Broncos show shifting looks where the extra run defender or deep safety help is impossible to suss out until after the snap when it's too late.
I think the Murder Smurfs are going to bring devastation in Stillwater.
Pick: Boise State +2.5
Iowa State +17 at Oklahoma
Y'all ready to sigh and shake your heads at me? I noticed a few things about Kyler Murray in that UCLA game that I'm curious to see play out in the coming weeks.
One observation is that he's fairly contact shy, which isn't really a bad thing at all since he's not particularly large, he's really good at evading people, and he's a fantastic slider. I noticed some OU folk on Twitter like my boy Allen Kenney annoyed at his tendency to run 40 yards to gain 4 on some of his scramble drill plays. I think that's actually a strength for a few reasons.
You want this guy to stay healthy all year. He's not big, you can't be totally sure how he'll respond to playing through injuries with the baseball contract looming, and Austin Kendall is unproven and also dinged up.
Presumably it's pretty tiring to run around like he does, but it's not as tiring for him as it is for the defense. Oklahoma's defensive front was GASSED at the end of the RRS last year because Mike Stoops' anti-spread adjustment off the Iowa State debacle was to play nickel personnel and man coverage most every down. That was eventually exploited by Sam Ehlinger scrambling against guys who had their backs turned, 22 carries for 110 yards.
Oklahoma has a ton of good wideouts that are hard to cover and can mess you up after the catch. For Murray to avoid scrambling in order to distribute the ball (which I know no one is complaining about) makes this offense very dangerous.
My takeaway watching this game was "screw dropping back and spying this guy, I'd be pressuring him all day."
What do you do when you have a QB that likes to use his elite quickness to avoid tacklers, can have trouble seeing over the line, and throws well on the run to a cast of excellent receivers? You bring pressure, lots of it, pressure like this: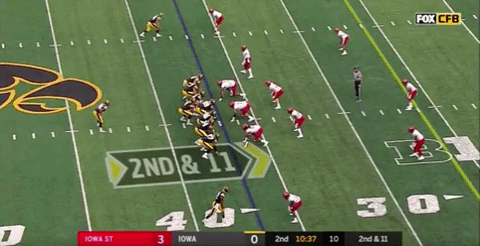 I broke this down the other day, recapping the Iowa State performance against rival Iowa. It's a six man pressure firing a defender into either A-gap from a different starting point with three deep defenders playing cover 3 technique but then just two guys under neath that are starting on the hash marks and reading the QB's eyes to take away his hot routes.
This is a really smart pressure to include in the Iowa State defensive package, which is now built more on their 3-3-5/dime structure defense that regularly drops eight into coverage. It's also going to be an excellent test of Kyler Murray's current quarterbacking skill level.
You can't respond to this blitz by trying to scramble wide because the edge guys are taught to play contain, the goal isn't to win the edge but to overload inside the A-gaps. You also can't just throw it hot because they have guys sitting on those routes (you also tend to get a lot of batted passes as a result of dudes running right at the QB). You need to feel this pressure coming and get the ball out on a line to a hitch or comeback outside where the CBs are often bailing to deep 1/3 coverage, or else you need to hold up in protection long enough to allow the QB to move his eyes and feet from the first hot route to the next read.
It's possible that Murray will just fire balls out on a line that beats the hot defenders (or CBs) and a little less plausible that he might escape these pressures. It's also very possible that he'll struggle to see these things coming from Iowa State's amorphous pre-snap looks, struggle to see over the coming waves of LBs, and bail into sacks, intentional grounding penalties, and batted passes.
On the other side of the ball, Iowa State looks like a solid but not great test of Oklahoma's new look run defense. The Cyclones struggled against Iowa's defensive front at times but they played pretty well inside and got some push and they are going to come right at the Sooners with some clever looks to try and clear out the box and make them prove they're tough inside.
The loss of Rodney Anderson looms in this game because he's one of the hardest RBs to tackle in college football and the Cyclones are a very good tackling team.
So far this season the Sooners have overwhelmed their opponents with their sheer athleticism, the Cyclones are several times more sound than FAU or UCLA and are going to be the first team with enough discipline and skill to make the Sooners win a fist fight. I think this will be a hard fought game, if OU blows them out I may have to re-evaluate the Sooners unless it's a consequence of Kyle Kempt being out and back-up Zeb Noland playing terrible football. That's another lame possibility for this game, that the Cyclones won't be at full strength.
Pick: Iowa State +17
USC +3.5 at Texas
I broke this one down over at Inside Texas, went up today($). The issues that Texas was concerned about against Tulsa will be very different than what they're facing from USC. This opponent is much more in Todd Orlando's wheelhouse of teams he knows how to crush.
USC is struggling while they get JT Daniels going. Hopefully for Clay Helton's sake they don't can him and then hand a very promising roster over to some other guy. Especially a guy that won't utilize a system that makes the most of passing talents like Daniels or Darnold.
On the bright side for USC, their D is playing well and faces a Texas that is missing star freshman RB Keaontay Ingram, who will have to wait a week or so to have his inevitable 100-yard breakout game.
One final note on Texas, last year they had to settle on senior Tristan Nickelson and freshman Derek Kerstetter at LT and RT, respectively. Kerstetter was underweight and, well, a true freshman trying to survive out wide. Nickelson was a 6-9, 310 pound JUCO transfer that missed his RS when he had to be pressed into action and was always a stiffer, developmental project that never got the time and development he needed. They desperately tried to use sophomore Denzel Okafor at LT but he just got beat regularly and so Nickelson had to hold it down.
This year Texas has Rice grad-transfer Calvin Anderson at LT and RS freshman Sam Cosmi at RT. Anderson is a much better athlete than anyone who played the spot a year ago and in his fourth year as a starter at the position. Cosmi is a powerful player on top of being a great athlete and will probably slide over and replace Anderson next season. Consequently, Texas has seriously upgraded both ends of their weakest position from a year ago.
Pick: Texas -3.5
Duke +6 at Baylor
I've been waiting for this game to tell me who Baylor really is this season. Of course Duke lost their QB so we may not get too clear an idea. However, the Blue Devils have a smashmouth spread concept and a good running game that mauled Army when I tuned into that game. They also seem reasonably stout on defense.
Baylor is favored by six so they must be playing well to this point. I'll let y'all know what I make of the Bears after this one is over.
Pick: I dunno
Houston -1 at Texas Tech
I figure Tech sticks with Alan Bowman. He's got a big arm and throwing to T.J. Vasher is the main thing they have going for them right now.
Houston has been dealing out pain with D'Eriq King at QB. King was ideal for the Major Applewhite "Gulf Coast O" they were running in emulation of what they'd done with Greg Ward, Jr and they have another coupla guys like him in Bryson Smith (playing WR and QB for them) and Julon Williams (playing WR currently). Of course they're going Veer and Shoot instead with Kendal Briles, where pushing the ball down the field is a bigger part of the formula.
If they can get these guys playing like RG3 (I mean, to the extent that's reasonable) in which they use their legs to guarantee time to throw down the field, that could be pretty dang effective. I'm betting Houston tears Tech apart and the "fire Kingsbury" drums start to beat louder.
Pick: Houston -1
TCU +13 vs Ohio State
I broke this one down at SB Nation this week and evidently triggered a lot of Frog fans online with my diagnosis of the game, as well as some other fans that insisted that Ohio State needed to come out running rather than chucking it deep.
Personally I tend to think I've got a better feel for each of these programs than most. I've written on each a ton over the last few years and have covered TCU's issues with play-action spread teams as well as Ohio State's need to be a better play-action team to realize their title-winning potential. I've also written on Shawn Robinson since he was a recruit, Ohio State's issues with the spread, etc.
My feel for this game is that Dwayne Haskins is going to murder TCU throwing to these wideouts down the field unless the Buckeye coaches are too dumb or stubborn to realize that running into Patterson's smaller fronts is exactly the trap he's setting for you.
After this game TCU may look even more vulnerable than they really are. Their passing game just isn't there right now but their run game can be and they showed last year that they could win games by running it, taking care of the ball, and playing defense. I think they'll be a little worse in all three categories this season, but they could still be a 7-8 win team. I'm not currently buying them as B12 champs but they haven't been crossed off the list of possible contenders either.
Pick: Ohio State -13