I had a chance to look at Iowa vs Iowa State finally and wanted to get a few thoughts down on week two and the prognosis for the Midwest teams before circling back (tomorrow perhaps) to break down all of the enormous week three games around the league.
Kansas actually won and they have that club foot speed back (Pooka Williams) from Louisiana healthy and playing now. He ran the ball 14x for 125 yards and two scores against Central Michigan, you may remember him from my breakdown of their recruiting class.
Kansas is still terrible and lacking in infrastructure but Pooka is a problem. Hopefully for the sake of Kansas fans he doesn't save Beaty's job and they can hire someone that makes better use of his talent. I'm not actually sure that Bret Bielema would make the best use of him but you never know and who knows how likely Bielema is for that job anyways.
That's all I really have to say or want to say about Kansas right now, let's talk about Kansas State, Iowa State, and the "can they win the B12?" list.
Iowa State
There were two big questions with Iowa State heading into this game. The first was, exactly how good this defense is going to be this season? My assumption has been that a team that was sound in year one and innovative and occasionally dominant in year two was most likely to make a leap in year three. However they were replacing the Ames Chief of Police (Joel Lanning), disruptive DE JD Waggoner, and all three starting safeties from their 3-3-5 pseudo dime look.
The answer is that they look better in year three than in year two and may indeed have even made another leap from "legitimately good defense on a national scale" to "elite defense."
Check out true freshman MLB Mike Rose here…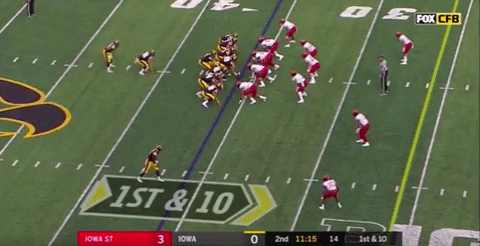 As you can see, Iowa State is good about getting defenders running to the football. They're in the 4-down look here because Iowa is in a double-TE set and DE Jaquan Bailey and Sam Willie Harvey spill that ball hard while freshman Mike Rose runs it down.
That set up a passing down in which the Cyclones revealed that they are currently making heavy use of the 3-deep/2-under, double A-gap zone blitz that Michigan State made famous at the start of the decade.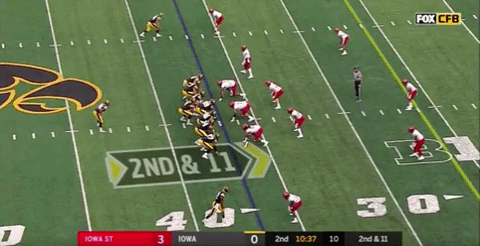 As you can perhaps tell from this clip, if you can get the ball out fast to the right hot read here then the blitz can be beat. The problem is that the two underneath defenders start on the hash marks and they key the QBs eyes. If you want to get the ball out fast against this blitz you're better off sending it outside the hash marks because those hot defenders are going to pounce and jump on anything but a meager check down.
So then it's either hit the quick hitch/fade/whathaveyou outside and beat their corner, beat their hot defenders with a laser, or get your eyes to the second key underneath who will likely be wide open. But you have to do all of this against a pressure that's designed to overload your interior protection scheme and have contain guys on the edge waiting to bring you down if your instinct is to scramble for time.
Kyler Murray vs the double A-gap blitz could be the story of week three.
The other big question for Iowa State was whether their OL is ready to own the line of scrimmage and open running lanes for David Montgomery. Because of the quality of Iowa's DL, that question remains unanswered. The Cyclones remain effective and dangerous at creating matchups for their wideouts and hitting them with QB Kyle Kempt but they couldn't always buy him enough time against the Hawkeye pressure and he was sacked four times and knocked out of the game.
That could be a problem throughout the year but it was A) truly week one for the Iowa State OL and B) one of the best fronts they'll play this season.
In the run game things were fairly mixed. They couldn't really block Iowa on their zone concepts and their "center under guard" inside zone tag was a bust most of the game when the guards couldn't block down to open the B-gap and the center would end up either turning back to stop a LB from running under the blocks for a TFL or trying to help push a big Hawkeyes out of that B-gap.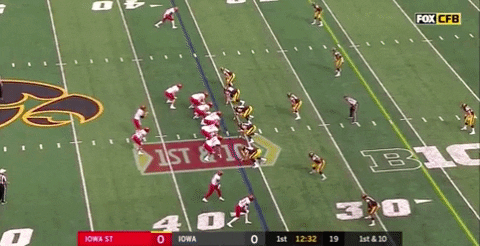 On this play they barely manage to lead into the right gap only for a down safety to clean up at the line of scrimmage.
There were some positives though, like this third and five run when they called a dart/iso play: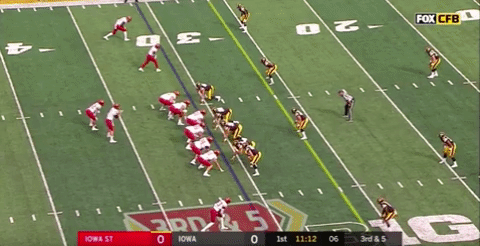 Montgomery was more patient here to just follow the push of his OL rather than trying to bounce the run. There were other times when he seemed to be pressing to make something happen and ran afoul of DEs that were positioned to shuck the Cyclone tackles if he tried to bounce. On this one? The tackle says "no, the hole WILL be here!"
I think there's a reasonably good chance the Cyclones will run the ball much better this season but it's still a big question mark since they literally have not done it yet in any game. Their contest with Oklahoma will tell us a lot about both teams. For now I still think Iowa State may be good enough to compete for the Big 12 title.
Kansas State
Bad week for the Wildcats. I had a lot of trouble last week balancing my reactions from the week one games. I was urging caution on Oklahoma and Texas because I didn't see enough to make me think my preseason thoughts about either team were off (still don't, btw). But then I really wanted to ditch Kansas State from the B12 contender list after watching their QB play against South Dakota.
After watching them against Mississippi State I'm about ready to do so but I want to give Skylar Thompson just a little more time. The Wildcats are not very good with Delton at the helm, he's just too poor a passer and anyone that can force him to throw to beat them is going to feast.
Thompson last year presented as a guy with good quickness but who lacked the Collin Klein toughness running between the tackles and then as a very promising passer that could stretch the field and throw on the move. My biggest concern on his behalf was how effective his passing could be in this offense without a Byron Pringle running routes for him…I think I actually underestimated how big a factor that really is.
Skylar Thompson doesn't scan the field quickly and get the ball out. He's throwing to wideouts that are going to be open only in precise windows and that precision isn't there. Meanwhile, his lack of running ability between the tackles hurts the rest of the offense by diminishing the crucial ingredient to the Snyder magic.
Take a look at this play that resulted in a fumble (which K-State recovered):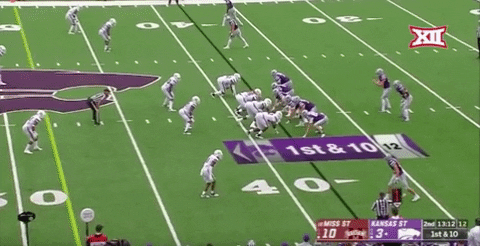 He's got lead blockers set up for him on the perimeter to run QB power and then sees Bulldogs waiting at the point of attack and thinks "nah, better not." Then the cutback lane is filled by one of the MSU freakish DL so he thinks, "I'll reverse field!" Then he's mercifully aware enough to realize that's going to result in a loss of at least seven yards so he dives for what he can.
It's hard to be a good power runner when your instinct upon seeing guys in the hole is to run away. Check this play out that occurred a few snaps earlier when K-State called QB dart/iso for Thompson: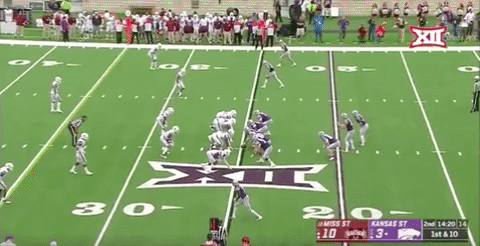 You're either the hammer or the nail in the trenches and Thompson isn't a guy that's looking to bruise his way. He was probably right in this instance to duck since that safety was going to kill him, but that then seemed to make an impact on him for future plays.
What you're looking at with this K-State team is one that needs Alex Barnes to be the feature component to the run game with Thompson serving as a guy that can pull the ball if the backside key defender crashes or who can run a QB draw on third and five now and again. More than that, he needs to ignite K-State's RPO game to help relieve pressure off Barnes.
But there are other problems too. Losing TE Dayton Valentine and FB Winston Dimel is hitting this team much harder than I expected. I was talking with my man Kevin Flaherty about this the other day and the Wildcats don't really have the bruising blocking ancillaries right now they've had in the past. Dimel actually wasn't that physical a player but more of an ultra-versatile and assignment sound lead blocker that could be counted on to seal a lane. Dayton Valentine was like a 6th OL and Blaise Gammon has not been that.
Check out the run call after the one in which Thompson was nearly erased from existence: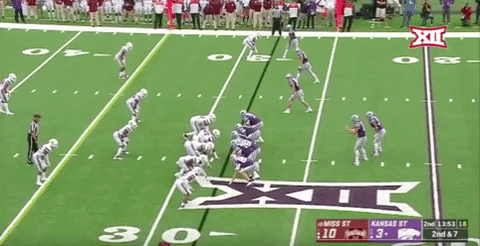 Gammon loses the edge on the sweep play and he loses it at the perfectly wrong time since the pullers have committed to leading around him.
If Kansas State doesn't have guys on the field that are going to be more sound and physical than their opponent then that's it, turn out the lights the party is over. They're not going to be the more athletic team. There were similar problems on defense where they got taken apart by Mississippi State's own version of the modern option and QB run game with Collin Klein facsimile Nick Fitzgerald.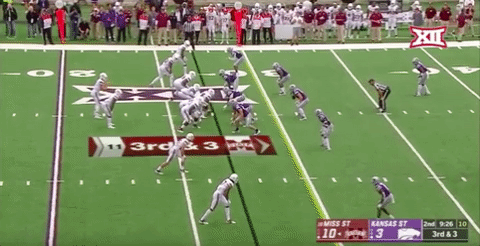 LOL at Fitz leaving like four yards or so on the field while jaunting to the sideline after an untouched 30-yard run. The Wildcats had trouble fitting the run against Mississippi State, to say the least, and they had trouble being the more physical team. DT Jordan Mittie was pancaked here, just totally flattened to the turf…on a draw. As was Dishon, to say nothing of the Wildcats' apparent lack of a plan for the QB run on third and three.
This game was an anti-Kansas State game of the sort we saw glimpses of when they played Texas early last year before they started to put things together.
All that said, Mississippi State is a very good team that might be competitive at the top of the SEC West this season and Kansas State has a lot of time to try and work out how to become a much better team in Big 12 play. You're on notice though K-State, the first time you get tossed around in Big 12 play I'm erasing you from the "has a chance to end the year with a ring" list.