The Big 12 championship game raised an interesting question for me about Oklahoma's 2018 season and moreso their 2017 campaign. What if Lincoln Riley had promoted Ruffin McNeil to DC sooner?
Against the Texas Longhorns in a championship game with a playoff berth on the line, McNeil finally found his best 11 from the Oklahoma roster and got them playing together in what was one of the best defensive performances by this team of the last several years. Watching the Sooners execute a viable strategy that included shading help to the right players at the right times and mixing in some attacking moves was like watching one of LeBron James' Cavs teams suddenly flip a switch in the playoffs and play passable defense.
Ruffin's solution for this game included:
They benched the freshmen safeties and rolled with junior Caleb Kelly and sophomore Tre Norwood over the slot while Robert Barnes remained on the boundary.
They rolled help to ensure that Lil'Jordan Humphrey was always bracketed or that the Texas run game was always outnumbered with a credible run defender (Barnes or Kelly).
They showed awareness of the Texas offensive playbook, personnel, and tendencies and mixed in calls to stay ahead of the Texas adjustments (mixed in some sky coverage on play-action downs) and to attack tendencies (the corner blitz).
Texas still did a fair amount of damage in the game but OU made them work harder to hit their base plays. It was obvious that OU's defenders had done their homework and actually absorbed the teaching of McNeil and the defensive staff.
Here's an example of the kind of overload, playoff-style defense that OU played in that game: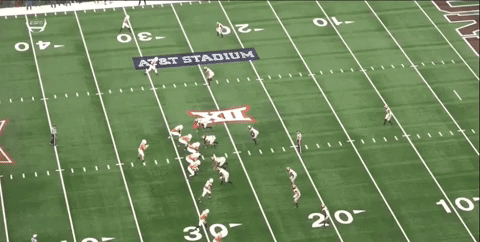 Robert Barnes gets the pick but Tre Norwood incurred a DPI that negated it by holding Lil'Jordan Humphrey. What's most interesting is that OU is playing a "single-high" coverage here except that the deep safety (Robert Barnes) basically starts on the boundary hash and immediately cheats to the boundary. Texas had the TE and RB flexed out to the field and then Lil'Jordan Humphrey, Devin Duvernay, and Collin Johnson (in that order) lined up from the RT to the boundary sideline.
OU responds by playing what amounts to cover zero on the RB and TE with Parnell Motley and Caleb Kelly. Curtis Bolton, Tre Norwood, and Tre Brown are aligned on the three receivers to the boundary with Barnes over the top. Kenneth Murray is spying on Sam Ehlinger to prevent the scramble. Obviously they busted this coverage and Bolton failed to carry Duvernay but OU was ready to live with that in order to keep Tre Norwood (often with assist) on Humphrey.
Here's the corner blitz that produced the safety, utilized earlier in the game: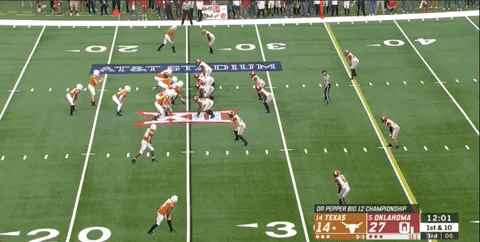 That's a gameplan blitz, an auto-check for the defense that they had were executing when they had Texas with the RB and TE both aligned to the field and were expecting a play-action pass off the tight zone play. Texas had their RB helping that way this time to pick it up (not so on the safety) but they lost Ronnie Perkins on the inside stunt before Ehlinger could find Humphrey.
Next up are the Alabama Crimson Tide, who have more weapons amongst their skill player group than Texas as well as better pass protection, better run game, and probably a healthy-ish Tua Tagovailoa. However, at least Ruffin is figuring out some guys he can trust and has them buying into his gameplans. That gives OU a much better chance of outscoring their opponent than if things once again hinged on Kyler Murray and the offense scoring on virtually every possession.