There's been an amusing trend in Gary Patterson's public appearances recently, both at his signing day presser and then at a coach's convention, where he's noted that TCU's reputation is better out of state than within the state of Texas. Because of his garrulous and self-referential nature he can be fascinating to listen to as a student of the game but probably not the strongest recruiter or the best at first impressions.
It's a difficult process to translate success as an "over achiever" into becoming the "it" school for recruits. It's hard for guys that make their way as hard-nosed, cultural enforcers to make the conversion to being big time salesmen.
Yet for his frustration, TCU landed the no. 33 ranked class per 247 and finished no. 3 in the Big 12 behind the big two. Perhaps what Patterson is referring to is the fact that of their three blue chip signees, two were from the Midwest and only one was from Texas. But he still built out the core of this class with 15 Texans.
Of note in this class, besides the fact that they pulled a blue chip QB from Iowa and a DT from Ohio:
-Like Mike Gundy they opted to get a punter from the Pro kick academy out down under.
-They signed three guys from a loaded Newton team (bEastTexas). One of them didn't make it in though for some reason. That team went 15-0 and were rarely tested, they were a 3A team with more D1 talent than many a 6A squad.
-Patterson went defensive-heavy in this class, taking 18 guys on that side of the ball after taking 10 a year ago. The imbalance is kinda wild.
-The Frogs needed short term and long term help at QB and the DL. The former position room lost Shawn Robinson when he surprisingly transferred to Missouri, I get the sense the state of his relationship to Patterson and/or the other coaches wasn't in a good place after last season.
The latter lost stud DE Ben Banogu and his counterparts L.J. Collier and hybrid Ty Summers as well as another couple of guys to attrition. DE is an essential, playmaking position in this defense so that was an obvious area of concern. So Patterson and his staff performed the new rites and summoned the transfer portal…
…out of which sprung QB Alex Delton from Kansas State and South Carolina DE Shameik Blackshear.
Delton was terrible as a passer for the Wildcats, often making throws that looked like the ball slipped out of his hands (although Robinson did that too), and regularly struggling to see the field clearly. My guess is that Sonny Cumbie thinks that with Air Raid reps throwing the ball that Delton's mechanics and consistency could clean up in a major way.
Blackshear is a guy that had a lot of injuries and was looking for a fresh start to find snaps. At SC he was a big strong dude that wasn't really all that explosive for the edge nor did he have full command of the spot, but he's a 6-5/270 pound upperclassman with some athleticism so he could be useful somewhere along the DL. He was once a 5-star but injuries in HS and then gunshot injuries in college sapped some of his potential. I guess Patterson is just taking a flyer on him to see if he might be able to give them something. The portal wasn't particularly generous, perhaps Patterson's sacrifices were insufficient.
Here's my breakdown of the 2018 class, which begins with me explaining how I overlooked the Frogs heading into 2017 but why I still wasn't all that bullish on them for 2018. At this point I think it's safe to say that either Patterson has figured out how to get back to having top defenses every year. Here's a look at the actual 2019 class, which includes a few more options at both of those spots.
Defense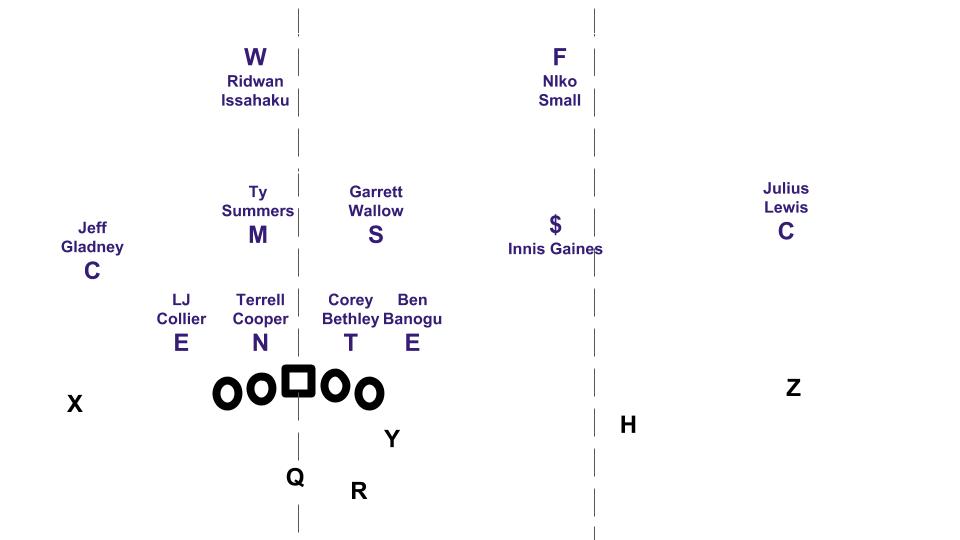 Secondary
The secondary is perhaps the lifeblood of the TCU program. The safeties get moved around by Patterson to try and find the perfect balance of "bend don't break" with swarming an opponent's tendencies. His ability to churn out tendency-jumping guys that can execute flexible gameplans is perhaps without peer at the college level. If I could have Gary Patterson or Nick Saban to design a gameplan for my defense to win a championship it'd be Gare, no contest. They always need fresh meat to factor in at safety, much of which ends up getting converted into spread-busting linebackers. I try to anticipate that when I can and had Garrett Wallow pegged there two years back.
These days the weak safety needs to be pretty good in coverage since he gets a lot on his plate, the free safety has to be rangy and smart to play in space, and the strong safety needs to be physical to handle moving into the box. At corner they need guys that can play the sideline without help over the top, so speed and ball skills are pretty essential. It's hard to jump tendencies and attack opponents if your safeties have to drop into cover 2 half the time so the corners end up being very important.
Donavan Collins: 5-11, 170. 3*** from Cedar Hill, TX (Cedar Hill)
Collins is an interesting CB prospect. He's run 11.73 in the 100m, not terribly impressive for this position, and has film where he's playing a lot of zone. He's effective enough with short area quickness and very smart about his positioning, he often plays faster than he is. Collins is also physical underneath both in coverage and supporting the run. He's a smart player and it's nice to have guys like that, I don't know if he'll be able to hold up in their system or not. Perhaps if he has an ace opposite him.
Deshawn McCuin: 6-0, 177. 3*** from Jacksonville, TX (Jacksonville)
Inside Texas no. 84, McCuin is a raw athlete at this point who's school just tried to put him in positions on both sides of the ball where his athleticism could have maximal impact. He's probably at his best right now just playing off and leaning on his speed (<4.6), tackling, and then ball skills when he arrives. With his skill set he should get a look at CB first but he doesn't have CB 101 credits that will carry over.
Trevius Hodges: 5-9, 171. 3*** from Waco, TX (Midway)
SPARQ: 4.59 40, 4.16 shuttle, 39.3″ vertical, 35′ power toss
LaDainian Tomlinson's family member is unshockingly one of the better athletes in the whole class, albeit with speed and power that's packed into a small frame. For all his twitchy athleticism, he's also very physical and did most of his work in HS murdering crosser over the middle and supporting the run from safety. He could play either free or weak safety or perhaps be molded into a cornerback.
Dee Winters: 6-1, 192. 3*** from Burton, TX (Burton)
IT no. 95 is a really good all-around athlete who's already shown a lot of comfort playing physical on the edge either as a box safety or even on the end of the line as a DE. He's a pretty easy projection to strong safety, potentially LB someday.
Tony Wallace: 5-10, 180. 3*** from Independence, KS (Independence CC)
Wallace is an uber-quick JUCO corner who's small, not terribly great against the run game, but very skilled in coverage. TCU has done well with guys like that in the past, playing them to the field and leaving them alone in space without a ton of help deep but also without a ton of responsibility other than staying on their man.
Milliard "Nook" Bradford: 5-10, 180. 3*** from Fork Union, VA (Fork Union Military Academy)
Bradford is actually a native Texan who went to the military academy to get his grades right for college and is now already at TCU. This dude absolutely glides in the deep field and covers a lot of ground on the back end without much effort. I think he'll end up at free safety, helping over the slot or inside of the field corner. The Frogs need guys who can handle lots of space back there and this guy makes it look easy.
Keeyon Stewart: 5-11, 160. 3*** from Houston, TX (North Shore)
SPARQ: 4.55 40, 4.4 shuttle, 34.9″ vertical, 27.5′ power toss
Stewart played strong safety for the 6A champion North Shore team. It should be noted that North Shore often likes to play tight quarters or even cover zero with their DBs to maximize the overall athleticism of their team and allow their front to swarm HS OL. It works really well because of guys like Stewart. He's excellent in coverage but also uses his speed to close and tackle. I think he could be molded into a boundary corner with time, he has the tenacity to go up with the best and stay on them down the field.
Josh Foster: 6-0, 165. 3*** from Newton, TX (Newton)
Foster hits much harder than you'd think from a 165 pound dude and his frame is going to allow him to get much closer to 200 where his aggression and speed will be even more lethal. He's also a really good overall athlete and erased some guys in coverage on defense (played some QB on offense). I think he's the best bet in this group to handle the difficult coverage and occasionally intensive run support duties of the weak safety position. That's saying a lot too because guys like Stewart and Hodges look very promising in that regard as well.
Grade: A-
Part of me wants to complain that they took so many guys here, another part of me is laughing at myself for thinking that a B12 team could take too many DBs. Especially when Patterson is likely as not to add weight to some of them and move them to another position. They got guys that project to every position, I do think they could have gotten away with taking 1-2 less, but they should be well staffed for years to come.
Also, the transfer portal makes it easier to oversign at a position and make up for it later. Of the positions where you still don't want to do that, DB is not one of them, so Patterson should perhaps be commended for being ahead of the curve in gaming the portal era.
Linebackers
TCU likes speed here, like everywhere else. They tend to play techniques up front at DT that make it hard for the guards to get to the LBs, they'll move around in different fronts and play to matchups or schemes to try and make it as difficult as possible for opponents to get OL releasing up to these guys. As a payment for this service, the linebackers are expected to be very quick to the ball and athletic enough to play tight pattern-matching coverage against all the spread passing in this league. Hence the move of safeties to this spot that occurs on the reg.
Zach Marcheselli: 6-2, 220. 3*** from Broken Arrow, OK (Broken Arrow)
Marcheselli plays really quick and looks light and fast, I think 220 might be generous and 6-2 almost certainly is. He's really good at seeing backfield action from an overhang/OLB spot and then closing and fitting interior gaps with good leverage and timing. For Patterson it'll just be about teaching him to translate his athleticism to coverage while their S&C works to make 6-2/220 a reality.
Wyatt Harris: 6-3, 218. 3*** from Aledo, TX (Aledo)
One of two signees from the Ft. Worth powerhouse. They have a pretty interesting defense, playing four-down but using both OLBs outside the tackle box as overhangs. I'm not totally sure how it works but it works quite well and they won the title. Harris played some safety, some OLB, and at times some DE for the Bearcats. He's very quick laterally and is legitimately at least 6-2 and 210. He reads plays well and I think he'll actually prove much better once he's a Mike LB rather than when he was on the edges.
Dylan Jordan: 6-3, 215. 3*** from Pittsburg, KS (Pittsburg)
Another super athlete from Alex Barnes' HS up in Jayhawk land. Think Elijah Lee with this guy. At the sam LB position, which gets placed on the edge quite a bit, he could be an absolute terror. He has the speed (11.07 100m, which translates to 4.6 speed or better) and the proven skill to run with receivers down the field OR to use his quickness to take the edge on the blitz. He doesn't currently know how or look terribly confident trying to fit interior gaps, but Patterson has taught smaller guys to do it. If he could figure out that side of things he could be an absolute monster because of his abilities in space and on the edge.
Grade: B+
All three guys look very promising and will be plugged into a system that makes a lot out of skill sets like these guys bring to the table.
Defensive line
As I just mentioned in the previous section, the DTs get a lot of grunt work in this defense. Attacking guards and looking to get low and make themselves a nuisance for the opposing OL. They killed with big Ross Blacklock at the nose in 2017 but they've also been killing it with smaller, quicker Corey Bethley as a 3-technique that can execute stunts. The Bethley-Banogu "end under tackle" stunt destroyed many an OL last year.
The DEs are more like OLBs. They'll often play standing up and their job is to set the edge, box plays in for the linebackers, and then be the feature of the pass rush. They're still DL and will need to engage with OTs but they get set up to play on the edge quite a bit.
Adam Plant: 6-5, 245. 3*** from Las Vegas, NV (Bishop Gorman)
247 didn't include him in this class for some reason. He had committed to Arizona State for 2018 and then didn't end up there for some reason or another, then made his way to TCU and is there now for spring ball. He's a big, tall guy that knows how to leverage his length in the pass-rush or in run defense and is just quick enough to make it work. He's not slow but not super explosive either. His future will be determined by how his body responds to their S&C program and whether he can develop good enough pass-rushing moves to justify staying outside if he ends up at 280.
Colt Ellison: 6-4, 235. 3*** from Aledo, TX (Aledo)
IT no. 63 and another Bearcat, Ellison missed the last half of the season with an injury and so he didn't put up the same kinds of absurd numbers he dropped as a junior. Dude had 13.5 sacks as a junior and added 6.5 more in 2018 before he went down, he's blazing fast off the edge and knows how to use that quickness to either win the corner or to set the edge against the run. Really powerful athlete, amazing first step.
Earl Barquet: 6-3, 236. 3*** from Marrero, LA (John Ehret)
Okay, I've seen enough of this Louisiana DL now to know what we're looking at here. The state produces an inordinate number of bouncy athletes with frames that will inevitably push up to 280 or so once they're introduced to college S&C. Barquet is listed at DE but in HS he played his inevitable college position, 3-technique DT. He knows how to take on blockers, handle double teams, and he's way too quick to keep out of the backfield. Should be a good one down the road.
Soni Misi: 6-2, 305. 3*** from Santa Rosa, CA (Santa Rosa JC)
Misi is sort of your stereotypical Polynesian JUCO DT. He's really thick and strong but he's also pretty quick off the snap so OL rarely have the leverage or angles they need to get under his pads and move him off the ball. He's also got some quickness and motor to execute stunts, he should find it easy to execute the TCU DL techniques. If Ross Blacklock isn't good to go I think Misi could start at nose in 2019.
Parker Workman: 6-3, 240. 3*** from Ephraim, UT (Snow College)
Workman is a relentless, pass-rushing DE with an all-too fitting last name. He can beat guys on the edge and is really nasty when he's wide off the ball with enough room to build up some momentum. Once he has that he can either swat away arms and win the edge, blow through a guy, or win inside. He had 11 sacks in eight games last year. (EDIT) Since he's already on campus I'm inclined to pencil him in to start at DE next year. He'll have to beat out some good athletes that have been waiting but they went and added this guy for a reason.
Thomas Armstrong: 6-3, 220. 3*** from Hollywood, FL (Chaminade-Madonna Prep)
None of these guys have a better first step than Colt Ellison, but Armstrong doesn't have a worse one and he's a little looser and more flexible overall. He was an insanely dominant OLB/edge player in HS, inflicting 28 TFL and 18.5 sacks last year while mixing in highlights like this:
He was able to rag doll that QB to the ground so hard that I'm pretty sure the impact of the fall knocked him out cold. I'm not celebrating a concussion here just noting that this kid plays fast, hard, mean, and powerfully. Think Mat Boesen with more growth potential and more time under Patterson's tutelage.
Karter Johnson: 6-3, 302. 4**** from Pickerington, OH (Pickerington)
The crown jewel of the entire class, Johnson is an absolute freak:
I'm not sure how he slipped to TCU, but they won him over competing against some Big 10 schools like Nebraska and Michigan State. Why didn't Michigan or Ohio State get in the mix? Beats me, dude looks like Rashan Gary on these highlights only he's actually willing to play inside at DT. Corey Bethley has been fantastic for TCU the last few years but this guy could be 150% of what he's been.
Grade: A
This is probably the best DL class in the Big 12, and not just because of the high volume of recruits but also the high level athleticism and potential in these guys. Patterson was recruiting hard on defense this cycle, he's aiming to produce his magnum opus in the coming years, I reckon.
Offense
Offensive line
TCU is primarily a zone blocking team, mostly with inside zone. That's still typical of Air Raid teams, that like to recruit big OL that can be hard and tiring to get around in pass protection. Inside zone also makes for a good foundation both for building a diverse run game, having lots of ways to block all different fronts, and creating flexible players that can move around. It's simple and all-encompassing, which means that if you rep it a ton you can get really good at it without needing a lot else, freeing up time to work on other things.
Anyways, the best inside zone prospects are often guys with tackle size and borderline tackle quickness. You want to get coverage on all of the DL to prevent penetration and then rely on the RB, the spread spacing, and the double team to create running lanes. That said, you often find teams killing it with shorter (6-2/6-3) guards in this scheme that are quicker and better at getting fit on DL and driving them off the ball. TCU has tended to take some of each, I think it's a little more important to them to produce good run blocking units than to have superior pass protectors everywhere. They throw a lot on RPOs, screens, and play-action anyways.
Brannon Brown: 6-5, 295. 3*** from Helotes, TX (O'Connor)
IT no. 87 is a big bully on the football field. He locks onto assignments and finishes them into the turf before the whistle blows, even to a fault. At the higher levels you need to learn when punish a guy and when to move on and find new targets to maximize the potential of a block and a play. Despite his height, Brown is a guard in college and was a guard in HS. He's just not quick enough for tackle, but he is quick enough to find guys when pulling on power and counter and when he's working with down angles or more straight ahead inside zone schemes he gets to his man and drives them.
Marcus Williams: 6-6, 285. 3*** from Longview, TX (Longview)
Williams was the LT for a completely dominant Longview team led by 4*** junior QB Haynes King. He was operating in a more pro-style, under center style of offense that had him blocking outside zone quite a bit. Williams can change directions easily and reach guys in space as well as get under dudes and drive them on more downhill run concepts. Great athlete, great project with tackle upside pending how well he takes to the kick step and new techniques.
Andrew Coker: 6-7, 310. 3*** from Katy, TX (Taylor)
IT no. 43 was a target that Texas chased hard but they couldn't pull him away from TCU when they came later in the cycle. Coker is really powerful with quick feet, loose hips, and some nasty power that he liked to use to throw guys to the ground if they lost their footing or didn't give him their full attention. I don't know if he'll end up at LT or not but RT is a good bet and he's a good enough athlete to translate inside to guard easily if tackle doesn't work. He's not going to be a guy that teams get under and push around.
Grade: C+
Three guys here that translate well to the scheme and should give TCU some promising players in the pipeline. The numbers are a little low but at least the quality is good.
Ancillaries
You heard it here first that TE Pro Wells probably wasn't going to make a big, early impact for the Horned Frogs. Perhaps he'll show up this year, who knows? Mostly though the Frogs prefer to play with wide receivers on the field and use the QB and zone-read game to account for a sixth defender rather than blocking him. When they do want to block him, they do it with blockers like Cole Hunt and not seam-stretchers. TCU under Sonny Cumbie has been trying to carve out an identity as an Air Raid team that pays equal or greater attention to the run, which is tough to do, so they have tended to emphasize toughness over skill from their ancillaries.
Zero takes
Grade: D+
Presumably they may be taking on walk-ons or making position changes to find some guys that could be developed into blockers here. I'm never too hard on teams for not recruiting heavily here. The guys that people get excited about often have to be willing to learn to block to make the position work and they don't always take to it all that well. Meanwhile, teams often plug in walk-ons (Britton Abbott) that are more eager and willing to get the blocking side down and then get a few targets in the receiving game.
Running backs
Plant and go inside zone runners are the name of the game. TCU has had a good knack for finding guys that may or may not stand out with their size and measurables but who have the first step quickness to make the most of running lanes when they appear. Great inside running isn't robotic, it's about seeing the windows and being able to hit them as they come.
Darwin Barlow: 5-11, 195. 3*** from Newton, TX (Newton)
SPARQ: 4.57 shuttle, 25.1″ vertical, 30′ power toss.
Barlow's SPARQ measurables are pretty poor, he's also run an 11.64 100m, which translates to something like 4.6 or 4.7 speed. Barlow is really smooth though and plays fast, which gave him the nod as IT's no. 48. He has a great feel for inside running and his get off from his first step is vastly better than the 25.1″ vertical would suggest. He was great at changing direction and finding lanes inside or getting wide. Good all-around back here.
Daimarqua Foster: 5-10, 195. 4**** from Wichita Falls, TX (Hirschi)
IT's no. 56 ran a 10.79 100m dash as a junior, which is just plain fast. You're talking true 4.4 speed at that point. Of course his first step is lightning and his speed doesn't merely translate to having amazing acceleration through gaps but he also knows how to keep his legs pumping and break through tackles as well. As you'd expect, he can bounce runs outside and loves to win the sideline with his speed but he cuts back even more frequently and turns his body to run with lean through the hole. When a guy with 4.4 speed has a good feel and knack for inside running, that's a great take in this offense.
Grade: A-
I think Foster is a homerun take for the Frogs and Barlow is a good guy that fits the scheme and could become good down the road. It's no small matter that they did well here, either. Patterson is a "hybrid-bro" after all, he'll tolerate the Air Raid system to an extent but he also wants to be able to run the football and win with defense. Getting guys that can serve as feature backs in their offensive scheme is more essential than at other programs.
Wide receivers
TCU tends to emphasize speed here more than a lot of other schools. Cumbie has maintained the Leach mantra of "throw it short to guys who can score" while emphasizing screens and quicks on RPOs as their more primary way of doing that then the "mesh" crossers of Leach. They also love to find guys deep on play-action, of course, when they can get 1-on-1s. When they had Josh Doctson he wasn't quite in that realm, more of just a big and well rounded receiver that could do anything. So they'd move him around to make sure he could find room to run in and then target him. The problem at TCU has really been that they haven't had good enough passers to do all that much for their receivers.
Mikel Barkley: 5-11, 165. 3*** from San Marcos, CA (Palomar College)
This JUCO looks a lot like the sort of guys that OU has been plugging in every two years at Z receiver and then turning into an All-B12 guy (Dede Westbrook, Marquise Brown). He's skinny and light, but ran a 10.87 100m in HS, can high point catches and has no problem going up for contested balls, and overall seems to embrace the fact that he's out there playing a contact sport. He turned 25 catches into 583 yards and nine TDs last year. He could play early, probably in the slot but he's at his best on the outside.
Blair Conwright: 5-11, 176. 3*** from Lubbock, TX (Coronado)
SPARQ: 4.58 40, 4.34 shuttle, 35.5″ vertical
Not a great sign, perhaps, that a WR from Lubbock wouldn't end up with a Texas Tech offer. I don't know what the disconnect was though, this guy put up huge production in high school and is an extraordinary athlete. He has a lot of control and can easily downshift and slow down to re-accelerate on a dime. He moves like a guy that's 5.9 but he plays much bigger, like he's 6-2 and 200+. Perhaps his competition was just small but he's totally dominant and made some impressive catches on film. He could play just about anywhere.
Grade: C-
These two guys fit what TCU wants to do really well, one issue is that it's a small class and Barkley has limited remaining eligibility. Good players though, WR probably won't be a problem in upcoming seasons for the Frogs.
Quarterbacks
The emphasis TCU has placed on the zone-read and four-wide spread sets to create spacing and set up their burners to run wild on screens makes things harder for them at QB. They need a guy that can handle the option game and then push the ball out wide and on target, they essentially built this offense around Trevone Boykin and then tried to recruit more guys like him. It keeps looking like they've done exactly that, but then each new guy either can't stay healthy (Shawn Robinson, Justin Rogers) or just can't match what Boykin did (Kenny Hill).
A fascinating thing to watch this season will be whether they turn to Mike Collins at QB and have to adjust their offense to help him out in the run game rather than asking him to run the zone-read multiple times a game. For that they'll need a TE. Alternatively, perhaps the job could go to Delton, Rogers, or early enrollee…
Max Duggan: 6-2, 190. 4**** from Council Bluffs, IA (Lewis Central)
SPARQ: 4.58 40, 4.10 shuttle, 33.5″ vertical, 42′ power toss
Duggan's skill set is such that it's almost like he was built in a lab to be great at QB. Not only is he quick and fast but he also has a really strong arm to push the ball down the field. So he can stress a defense at opposite ends of the field in a way that the spread tends to weaponize in spectacular fashion.
Much like Kyler Murray at OU, he has the arm strength to wait a beat for things to open up down the field. This can be deadly on ultra-spread concepts like dig-post, where successful defense depends on the safety credibly being able to play both routes for a long enough window of time to allow the pass-rush or the limits of the QB's arm strength to thwart the play. The latter won't work against Duggan. He's also got the breakaway speed and willingness to cutback runs to turn a blown zone-read coverage into a 50 yard TD run. Great sounding player, no?
The only concerns are that he demonstrates the sorts of habits you often find in guys like this (see Tanner Mordecai) where he likes to wait for things to break open and then rely on arm strength to still hit them down the field. He doesn't throw with a lot of anticipation or make a lot of quick reads on his clips. They'll need to give him a million reps so he can get used to playing with a quicker trigger as a decision-maker and to do so in a way that protects the football. Once he gets there, his natural gifts are exactly what they need to make the offense work again.
Grade: B
I'm giving Duggan the same grade as McIvor because while his natural gifting are better, I'm not as confident in his decision making or that his skills will translate into him becoming a reliable distributor. I mean, we see this all the time, every year right? The guys who can throw the football over the mountain are just as likely to turn into Uncle Rico while the dude who's had to learn how to distribute and throw on time into windows ends up the better player.
In summation
2019 TCU is, in my estimation, one of the most likely teams to make a legitimate push for the Big 12 championship. The two guys they took via the portal are at the only two major questions marks for this team, QB and DE. If they find a game manager that can distribute effectively to their backs and Jalen Reagor while finding a DE or two that can rush the passer at a high level then this team can play with anyone.
I don't know about QB, I wouldn't bet on either Alex Delton or Max Duggan being the answer next season. They have other options though, it's totally plausible that Mike Collins could grow enough to make it work or that Justin Rogers could get healthy. DE on the other hand, I can't imagine them not finding a good rotation out of the incoming players and guys already on the roster. The Frogs have done their work here to be lights out on defense in 2019 and for the foreseeable future.