I overlooked TCU in my preseason prognostications of the 2017 Big 12 football season. I probably oversteered a bit for having missed West Virginia the previous season and I also underestimated Gary Patterson's ability to fix the defense with so many returning starters and Sonny Cumbie's ability to mold Kenny Hill into a good game manager.
Now they are one of many trendy picks for Big 12 champions in 2018 based off their strong 11-3 2017 campaign. I have some issues though with the 2018 Frogs. For starters, they're losing the OL that made their run game into a dimension that could control games and allow their defense to carry the day. OL Austin Schlottmann and Matt Pryor were a brilliant tandem in their zone run schemes and Joseph Noteboom and Patrick Morris were also strong players and multi-year starters.
Meanwhile on defense the team is losing Mat Boesen, Travin Howard, Nick Orr, and Ranthony Texada. The losses up front aren't terrifying, Howard and Boesen were good but Patterson makes a habit of building good LBs from all kinds of spare parts. Ty Summers will either return as a really good middle LB or else spin down to replace Boesen at DE and either way, nose tackle Ross Blacklock returns to protect the LBs and star DE Ben Banogu returns to get up to all kinds of havoc.
It's on the back end that things are worrisome. Texada was the best TCU CB by a safe margin and Nick Orr was their best safety and brought them a lot of flexibility with his coverage range.
Meanwhile, they're really chugging along as a program with a strong 2018 class we'll break down here that will inevitably help fill some of these holes in the short term or long term. Here's a glimpse of how Patterson's recruiting has gone this decade: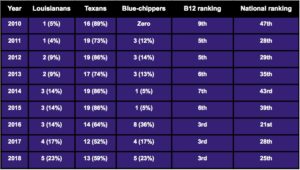 Patterson has gone out of state more and more over the course of the decade, particularly reaching into Louisiana which I noted a year ago is filled with the kinds of raw athletes that his program has always been built around. He's landing more and more 4-star players as well, including five in this class, so their blue-chip ratio should be higher in upcoming seasons, even if that was never really important for them in the past, and still well short of the 50% mark.
Here's how things are looking in Fort Worth.
Offense
Quarterbacks
Like fellow Raid bro Kliff Kingsbury, Sonny Cumbie has largely targeted athletic QBs that could boost the run game with their dynamic talents. The reasoning seems to be that if the Air Raid practice regimen and scheme can make 5k yard passers out of pocket performers that lack top shelf physical talent than perhaps it can make something of dual-threat players who don't have a strong command of the passing game.
Michael Collins: 6-5, 210. 2** from New Canaan, CN (Penn transfer)
Collins is probably the best kept secret in the Big 12 right now. He was on track to be the next foundational QB at Penn, who's been an Ivy league power of late, but he decided that despite his predecessor being drafted he wanted to play on a bigger stage in college and foreswore the prestigious Penn degree in exchange for an Air Raid diploma. Now he's competing with Shawn Robinson for the starting job after sitting out the 2017 year as a transfer.
I haven't seen what he did at Penn but his HS film shows a guy that reminds me of Garrett Gilbert but with more touch. His team ran a four-wide spread and he was sitting back in the pocket spraying the whole field with tosses. The impressive thing about him was his accuracy and ball skills knowing when to use his strong arm to rip a ball through a window and when to lob a more catchable ball. He's not unathletic but not Robinson either and probably wouldn't be getting much work on the option. His HS film revealed a guy that I'm not sure always saw the field as clearly as say Baker Mayfield, but then the Air Raid can simplify the picture for people.
The QB battle at TCU may depend on the surrounding cast and what Cumbie feels the team needs from the QB in order to unlock the highest potential.
Justin Rogers: 6-4, 210. 4**** from Brossier City, LA (Parkway)
Sparq score: 4.76 40, 4.38 shuttle, 36′ vert, 36.5′ toss
Rogers is a plus athlete with a big frame, the kind of guy that LSU has squandered at for as long as I've been following college football. Not this time, now the tall, freakishly athletic QB is headed to TCU to see if the spread can unlock potential that the pro-style offense hasn't. Even in TCU's system though I think Rogers is a few years away from being ready to play. His footwork is a bit inconsistent and most of their HS passing game was based off under-center play-action concepts.
He has a big arm though and throws a great fade route and, of course, he's a lethal runner. His fluidity and height would probably make him a dynamite WR prospect but it'd be dumb to move him there before checking how well he sees the field and handles a more drop-back heavy passing game.
Grade: A-
Rogers is another guy that Cumbie is going to test for spread compatibility in the search for the next Trevone Boykin. He's a fantastic raw talent for that search and can potentially match Boykin's ability to match downfield passing with run game superiority due to his athleticism. Meanwhile Collins is the kind of guy that nearly always translates to the Air Raid in a major way and he should offer them a high floor if Robinson or Rogers don't pan out and perhaps a high ceiling even if they do simply because he has some NFL-level physical skills.
Running backs
TCU is still a zone team, running lots of schemes that call for a plant and go runner that can make a decision and then get where he needs to go with burst and power.
Fabian Franklin: 5-11, 207. 4**** from Hattiesburg, MS (Hattiesburg)
Franklin is a nice get for the Frogs, who have recruited RB pretty darn well over the last several years and have a nice collection of talent already in Ft. Worth and headlined by Darius Anderson. Like Anderson, Franklin is excellent at cutting back on a dime and with real burst. He accelerates and decelerates with ease and will thrive setting up LBs to get picked off by slow moving combo blocks in this offense.
Grade: B-
TCU keeps landing great guys here to keep the stable full if perhaps not necessarily overflowing.
Ancillaries
TCU used a TE more last year with Cole Hunt on the roster. I think they tend to recruit or find guys for their roster that can be developed into good blockers, either at H-back or inline, and then beyond that they look for matchup value-add.
Pro Wells: 6-4, 235. 3*** from Senatobia, MS (Northwest Mississippi CC)
I'm not very confident in Wells in this offense. He's not much of a blocker on his JUCO film, picking up pretty easy assignments and executing them without much passion or aggression. He's fast in a straight line and his hands seem reliable, but he does lots of his damage when he gets a free release into the seam and I wonder what would happen if that wasn't there. I think his higher rating is a factor of people seeing him catch lots of passes and run by people without a nuanced understanding of how the modern TE position works. Or maybe he'll turn out to be a freak and I'll look dumb, we'll see.
John Stephens, Jr: 6-4, 206. 3*** from Logansport, LA (Logansport)
I'm sticking Stephens here because I don't know what to do with him. He evidently grew very quickly in high school and is now 6-4 with a 7'0″ wingspan while still being rail thin. Naturally at that size he played WR in high school and was very difficult to handle running fades and hitch routes, interestingly he was pretty quick and hard to tackle with the ball in his hands after catching hitches and comebacks.
Of course once he arrives at TCU he's going to gain a TON of weight, kinda like Texas' Charles Omenihu who came to campus at 220 or something and is now something like 6-6, 280. How big is Stephens going to get? Where will he end up? In one sense you love guys like this who are simply good football players that are going to end up being massive athletes but in another sense, he's a tad worrisome simply because it's hard to know what he'll be. The hope would be that in three years' time he's the freak receiving TE that Wells is supposed to be.
Grade: C+
I'd go higher if I was more confident that Stephens will even be a TE rather than a DE or just a big, powerful outside receiver. I'm not sure that Wells will bring much value-add to the roster which is why even with Stephens here the grade isn't much higher.
Wide Receivers
TCU is still an Air Raid offense that prefers to use four receiver sets to create two-man concepts in the middle of the field and to provide RPO options outside for the QB to hit off their run plays. Pretty much all types of WR can apply and find a role.
Bryson Jackson: 6-0, 182. 3*** from Humble, TX (Kingwood Park)
4.76 40, 4.28 shuttle, 31.4″ vertical, 33′ toss
Jackson is a good athlete with solid hands that runs by a lot of guys on film with a combination of his natural speed advantages and solid route running. I don't have much to say about him, his drive and willingness to work hard will be what sets his ceiling in college, his pure ability is comparable to what you see from every other WR take in the Big 12 without any elite attributes.
Chase Van Wagoner: 6-1, 180. 3*** from Lucas, TX (Lucas)
4.8 40, 4.07 shuttle, 35.2″ vert, 34′ toss
Van Wagoner is bigger than Jackson, his first few steps (and probably his speed in the first 10 of the 40) are good and perhaps elite, and he's really smooth changing direction and breaking off his routes. I think he's the ideal guy to work Air Raid concepts to the field because he's hard to bump off routes, really quick cutting, and he's good with the ball in the air. He runs some really good flag routes on film that would easily translate to the Big 12 game.
Te'Vailance Hunt: 6-2, 185. 4**** from Texarkana, TX (Texas High) IT #13
Without having seen the Baylor recruits yet, I'd say that Hunt is the best WR take in the entire Big 12. He's just a no-brainer, absolutely dominant at the HS level and can do just about anything he wants to do. I couldn't find any 40 times save for his own listing of 4.4 which I usually just add two tenths of a second to but am hesitant to do here. He looks fast, as fast as you could want in a WR, and he pulls in some one-handed catches that look like something from an Odell Beckham highlight.
It's hard to imagine him not being a 1k-yard guy in this offense for at least one season.
Grade: B
Decent numbers and a range of takes in terms of quality. Everyone has guys like Jackson and Van Wagoner, Hunt is actually kinda special even though most everyone seems to have at least one really good WR every year. I think he could be a Blackmon or Doctson type talent, hence the above average grade here.
Offensive line
TCU put a clinic on effective zone blocking last season and, as I keep noting, keeping Schlottmann and Pryor together either at center and guard or guard and tackle allowed them to consistently run the ball on teams across the conference. If they can continue to execute outside zone at that level then they don't need to be supremely athletic every year, they just need to be disciplined and cohesive because they put a big emphasis on double teams and climbing off the combo blocks properly. TCU has been growing into the kind of team that can recruit a bunch of "obstacles" and translate it into a solid protection and run game group. They've tended to have some pretty talented left tackles though.
Esteban Avila: 6-4, 308. 3*** from Grand Prairie, TX (South Grand Prairie)
Avila played LT in high school but he's definitely kicking inside to guard in the Big 12. He's pretty light on his feet but not enough so to make up for the lack of height. If he were this quick and 6-6 I'd like him at tackle but at 6-3 or 6-4 I only like him learning to combo block as a guard.
Kris Dike: 6-6, 290. 3*** from Van, TX (Van)
Dike is the hypothetical 6-6 Avila. He's not a brilliant athlete but he's not a bad one either and at 6-6 that makes for some nice ingredients to build a starting-caliber tackle down the road. His HS had him do a lot of different things and he was good at pulling, finding guys in space, and caving in a DL inside of him. With added strength and flexibility maybe his ceiling is a passable LT but RT is my best guess.
John Lanz: 6-3, 295. 3*** from Denton, TX (Guyer)
A mauling left tackle/swiss army knife from Guyer where they crank out good run games behind fierce OL. Anytime you see a guy from Westlake, Aledo, Guyer, Southlake Carrol, Katy, Midway, etc you know you're getting a guy that was well drilled and developed for college schemes. That's often what sets apart the consistent powers. Lanz is a really physical blocker but he is at his best with some angles and doubles to help him along. 247 has him listed as a center, he's probably got a good football IQ since Guyer moved him around some beyond LT to make the most of his ability and also he's not terribly tall. I think maybe I like him more at guard though with a quicker guy inside of him at center to make sure the DL are lined up for him to shove them around.
Ian Burnette: 6-4, 305. 3*** from Wimberly, TX (Wimberley)
Burnette's older brother was the heir apparent at center for Texas back in the day until he made a disgusting, racist joke when Barack Obama was elected and Mack Brown kicked him off the team. Younger brother shares some attributes in terms of playing mean and physical on the field. He's good at throwing cut blocks and used that skill set regularly at DT to submarine goal line and short yardage attempts by opponents. He could probably play any of the three interior OL positions but he's not quick or long enough for tackle.
Anthony McKinney: 6-8, 330. 4**** from Council Bluffs, IA (Iowa Western CC)
TCU found themselves an Orlando Brown, and by that I mean a massive giant who's athletic and skilled enough at the art of OL play that it allows his immense body to be a force on the field. He's hard to get around because of his length and mass and he's quick enough to get to spots on the field and use angles to his advantage to present imposing "wall" challenges for linebackers trying to reach the ball carrier. He'll probably start next year since he's an early enrollee. Watching these guys and looking back I get the sense they may need to find another quick-fix at LT down the road even if they're in good shape everywhere else.
Grade: B-
I liked last year's group here and the 2016 crew which is now stepping into prominence. They needed some numbers here and got it but they didn't get as much athleticism. What they did get are a bunch of guys with good size and the kind of toughness and tenacity that you want to see in an OL. I think they may pan out pretty well if they continue to teach them as well as they have previous groups. Landing McKinney was important but they need to find more athletes with length in the future.
Defense
Defensive line
If you insist on playing a four-down front in the era of nickel and dime base defense then you really need your four-down defenders to have a real impact and control the flow of the game. Normally teams aim to have really disruptive DT play but TCU has aimed to use both tackles to hold the point of attack while the DEs do the attacking. So they need some sturdy DTs that can move laterally and hold up OL and then some game-changers on the edge.
Izaih Filikitonga: 6-2, 270. 3*** from Euless, TX (Trinity)
247 has this guy listed as an OLB or WDE but that's nonsense, he'll play inside for TCU. He's not athletic enough to be a real difference maker on the edge although he is solid at pursuing the ball and scraping over against runs like the Frogs regularly use their DEs to do. Where he has some real upside is in learning to beat blocks up front with his read and react style.
Ochaun Mathis: 6-5, 235. 3*** from Manor, TX (Manor) IT #63
Mathis is a good one, although like Eric I'm highly skeptical of the 6-5 listing. He's really good on the edge against the run, if you leave him unblocked he'll square up and force a muddy read before closing and making the tackle AND he'll often do it while shoving and holding up the tackle so that he doesn't get a free release at the LB. If you run away from him he'll pursue the ball and make hustle plays chasing things down. He definitely has long arms however tall he actually is and he has some explosive burst he engages after reading plays that suggests he might become a good pass-rusher.
Grade: C-
TCU filled up on bread here a year ago and they haven't been landing enough of the kinds of guys I think they'll need to field good DEs. They've been doing fine recently because Ben Banogu fell into their laps and JUCO Mat Boesen was a good one but they'll need to find more creative solutions down the line to find more good DEs. At DT they'll be fine, last year's takes are panning out fine and Ross Blacklock will be a four-year starter.
Linebacker
The best TCU teams are keyed by good ILB play from the two guys holding down the middle of the field in their 4-2-5. Patterson has found these guys in a variety of ways, sometimes taking conventional HS LBs, sometimes spinning down safeties, and other times moving guys here from other spots (Ty Summers, HS QB). They need at least one of them to be able to really play in space (Travin Howard) but both need to be good about reading run flow and fitting behind the DL to spill balls to the safeties on the perimeter. Both are pretty essential to allowing Patterson's structure to stay relevant, the space-guy needs to be a real athlete and the remaining true inside-backer needs to be a classic, in the box kind of player.
Jacoby Simpson: 6-0, 225. 3*** from Houston, TX (Aldine MacArthur)
Simpson is pretty fast playing downhill but Aldine also played him at a pretty deep depth so that his speed was particularly troubling for HS OL trying to pick him up or find him before he darted by to make the tackle. TCU will play their sam (I think that's what Howard's position was while the mike stays in the box more) with more depth and width to try and be halfway to being in coverage or in the box and Simpson might translate there. He makes a few plays in coverage on his HUDL, again largely because he's playing with so much depth and doesn't have to take good drops to be able to explode into the scene against routes. If he's getting heavier or playing in the box he needs to learn to read plays faster to play with the same style.
Ben Wilson: 6-2, 220. 3*** from Sumner, WA (Sumner Senior)
Want to know how to make sure that you don't get gashed playing nickel or dime against spread to run teams? When you have a LB on the field that can do this: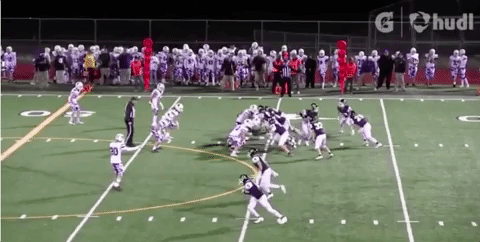 He blows by the OL with an angle trying to cut him off while making good use of his hands, squares up while moving with nice lateral quickness, and then buries the ballcarrier. Wilson is a great Mike take that maybe can play DE if he ends up being a super-powered athlete like Summers. This was a really nice take for TCU, he'll have value somewhere and probably as a leading tackler at LB.
Grade: B
Simpson is probably a league average take but Wilson is above average and taking two a year while also loading up on safeties is a good way to ensure that you always have enough raw materials to field good backers. Patterson has earned a lot of trust here, quite frankly.
Defensive back
TCU has always been about the five-spoke secondary which lends them flexibility and allows them to mix disguise and versatility to swarm whatever opponents want to do. The best TCU teams are the ones with DBs that have been around Patterson long enough to soak up some fraction of the football knowledge that guy has. To allow their swarming style to work though they need CBs that can hold up on islands down the sideline to free up the safeties to move around. They've also been using the weak safety recently to cover a lot of ground and check off a long grocery list whereas before it was the free safety that had the hard job. Patterson's insistence on being able to keep his six box defenders in the box complicates things in the modern era.
Derius Davis: 5-9, 160. 3*** from St Francisville, LA (West Feliciana)
Davis is pretty twitchy but I can't find much on him save for 200m times, which are good and suggest the 40 and relevant football speed is there. He plays mostly safety on film and is a willing hitter in the alley but you figure at 160 he's destined for corner in college. Best thing for him is probably a redshirt to work on CB coverage technique.
ArDarius Washington: 5-8, 175. 3*** from Shreveport, LA (Evangel Christian Academy)
Looks like Patterson was aiming to sign every tiny defender in the whole state of Louisiana. Unlike Davis, I think Washington sticks at safety as he's an even more violent and hard hitter and has a thicker frame to hold up in collisions with big backs. His film at both safety or RB includes him fearlessly blasting through the hole/alley. Orr played weak safety without much size but free safety is probably the better fit for a rangy tiny in this defense.
Hidari Ceasar: 5-11, 175. 3*** from Monroe, LA (Richmond)
What'd I just say about tiny Louisianans? Like the other two Ceasar played safety in high school but I think he's for sure destined for CB at TCU. He has some impressive snaps where he's playing deep off the ball and picking up slot receivers in tight matching coverage down the field after playing off them. With his quicks and length he has the raw tools to become a really good CB in time.
Trevon Moehrig-Woodard: 6-2, 190. 3*** from Spring Branch, TX (Smithson Valley) IT #52
TMW played mostly corner on film and I'm sure that'd be the most exciting place for him to end up for the TCU staff since his length and physicality could make it easier to press up on receivers. He's pretty bouncy but whether or not he could carry verticals without help is a bit iffy. Obviously with his frame and physical play he could slide inside to a safety position and strong safety might be his best fit since he could bring some of the physical coverage to the spot that Sam Carter or Denzel Johnson brought when they manned that spot.
Taye Barber: 5-9, 185. 3*** from Cypress, TX (Cy Springs) IT #54
Sparq score: 4.53 40, 4.00 shuttle, 33.5″ vert, 38.5′ toss
Barber is the best pure athlete of this entire class, save maybe for Hunt or Wilson who's numbers I don't know, and even better he's a pure football player. Cy Springs runs some kind of traditional, 80s style offense in which all of the backs take turns running the ball or blocking so a lot of his highlights are him throwing some really good blocks on the perimeter to spring other players. Further speaking to his high football character and IQ is the fact that he holds offers from Stanford, Brown, Rice, Columbia, and Yale…
He could be the next amazing slot receiver if he or the TCU staff likes, he has the ball skills and is lightning with the ball in his hands. I think Patterson moves him to CB though to be the next Jason Verrett. You can always get by with some Bryson Jackson's at WR but it's hard to find the Jason Verretts.
Atanza Vongor: 6-1, 200. 4**** from Grand Praire, TX (South Grand Prairie) IT #21
Sparq score: 4.68 40, 4.26 shuttle, 37.1″ vert, 37′ toss
There's not a lot of obvious difference between Vongor and Texas 5-star prospect BJ Foster, imo. Both have similar athleticism and can break down and tackle in the open field while playing with a lot of range, both are guys that can make an anti-spread D significantly better.
The fit in the TCU defense will be interesting and may reveal a lot about where Patterson feels he needs to weight his personnel these days. Back in the day you'd stick an athlete of this caliber at FS in this defense but now Patterson is loading up on tiny, rangy athletes so you needn't necessarily stick a guy that can tackle like this at FS when you have guys there that can do that job. Weak safety may be the better fit and would allow him to do some of everything, strong safety is also possible but it'd make less use of his downhill range and ability to break down and tackle.
Grade: A-
It's hard to do much better than to land athletes like Barber and Vongor that could anchor your secondary and then to surround them with guys for whom athleticism won't be the question. Especially at TCU where toughening up athletes into hard-nosed and smart players is the strength of the program. Maybe this grade should be closer to B+ but I think Patterson and his program will reward my higher grade with what they make of these guys.
In summation…
TCU did well here at most spots, grabbing guys that either fit what they do or have major athleticism that could result in high ceilings if developed well. They aren't super imposing in this class in terms of fielding freak athletes to play in the trenches but they will probably do okay and Patterson has often managed to find freak athletes that can play in the trenches from overgrown skill players, JUCOs, or the transfer market anyways. Seriously, how did they get Ben Banogu? That guy was surprisingly good.
As far as next year, most of these guys won't be relevant save perhaps for Collins and definitely McKinney. TCU needs to find some real players on defense, particularly in the secondary, to be good again next year. They also need for the young crop of OL to be half as good as last year's group and then to get help from Robinson or Collins in the form of sharp RPO tosses or QB option runs. TCU needs to be better at QB than Kenny Hill was in terms of playmaking. He was a solid player that could use his quickness to make things happen now and again but they need a guy that can produce explosive plays.
Down the road I think they'll have that, but in 2018? We'll have to see what this offseason produces.